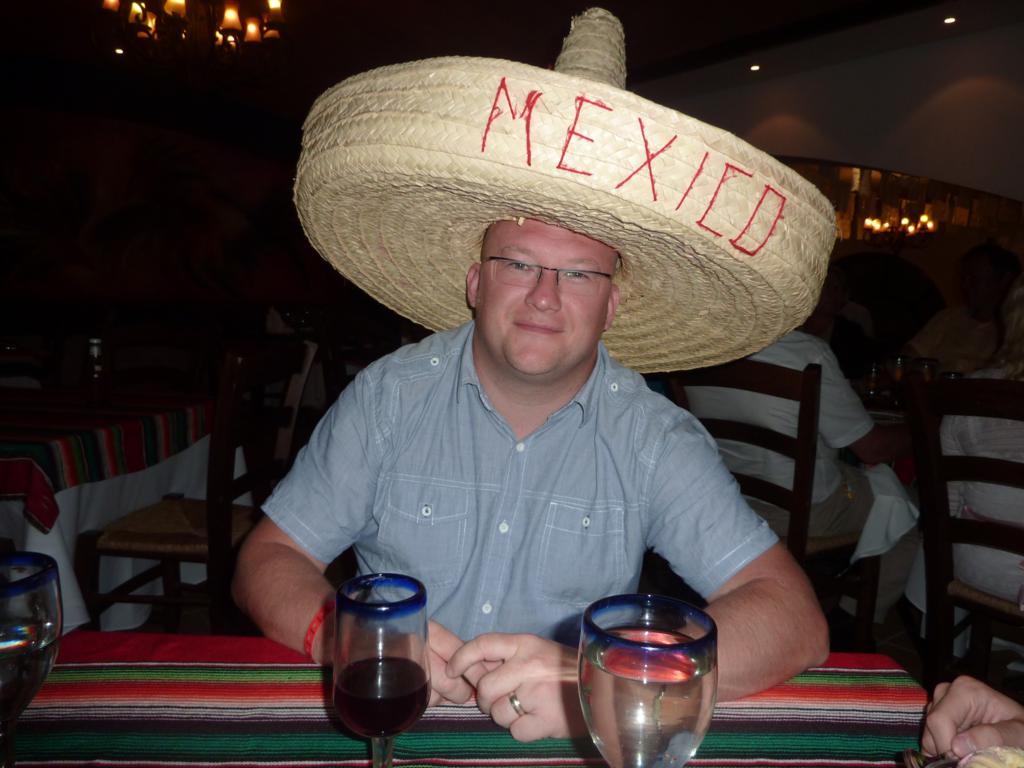 The Glovers' Family Holiday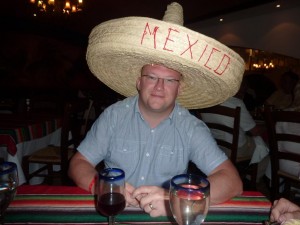 We were up early and eager to get to the Airport, I booked my meet-and-greet parking through Holiday Extras which is a great way to park your car at Manchester Airport. You simply drive to the airport terminal meeting point and hand your keys to the fully insured chauffeur who will park your car for you. It was the first time I'd done this and it took all the stress and strain out of the parking process, so you can unload your bags and walk straight into the airport terminal.
We checked in and upgraded to the premium cabin service as there were a few seats left, it was more a treat for my son who has never flown premium before. Then we headed of to the Escape Lounge which I have used before to get away from the hustle and bustle of the airport. What a great way to relax and chill out whilst waiting for boarding.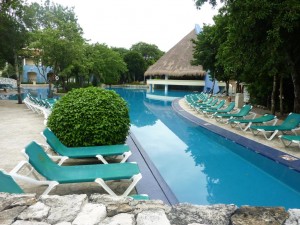 We flew with Thomson Airways and their premium service was very good, priority boarding, wider seats and a further extra 4 inches of legroom, drinks were included plus upgraded meal service and there was a very good choice of films.
We arrived in Mexico and collected our bags, the weather was nice and warm, just what we needed. We met our Tour Operator, Jumbo, whom I've used on previous occasions. We were met with 'welcome home Glover family'! It was one of our previous drivers, he handed us a cold towel and a nice refreshing bottle of water. We were on our way to the Occidental Grand Xcaret,a 60 minute journey. I opted for a private transfer as we did not have to wait around for anybody else and it was a lot quicker than the normal transfer.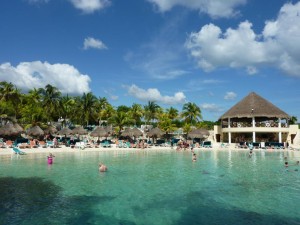 Filled with the fascination of an eco-archaeological expedition into an undiscovered natural paradise, the Occidental Grand Xcaret is less than an hour away from Cancun International airport plus it is only a short drive to Playa del Carmen. The resort winds around the lush tropical gardens, native Mayan ruins, miles of tropical rainforest and the Xcaret eco tourism park where you can swim with dolphins, observe jaguars in their natural habitat and explore the Mayan culture.
We arrived at Occidental Grand Xcaret, where we were met with a cold towel and a refreshing drink which went down nicely. A speedy check in later we were heading to our room to drop the bags off and freshen up so we could go and hit the pool. We had a junior suite which is spacious; it had a decent sized bathroom and big wardrobes for clothes and lots of shoes. Facilities included: 2 double beds or 1 king bed, stocked mini-fridge, safety deposit box, hair dryer, cable TV, telephone with data port. Each mini-fridge has water, beer and a selection of soft drinks that are replenished every other day. The dining options at the hotel were very good, we had a choice of 11 restaurants with a wide variety of cuisines, a mixture of Buffet and A La carte options, a reservation is required for the A La carte restaurants. The buffet for breakfast and lunch was good and offered lots of choice.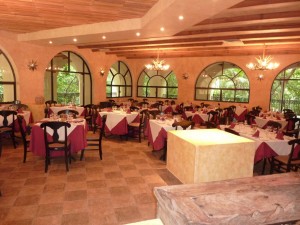 We ate mainly at the A La Carte restaurants for the evening as we found the food and service was very good. Our favourite restaurant was the Mexican as the food was amazing. Throughout the day we had lots of activities to keep my son and I busy whilst my wife just sat back and relaxed around the pool. Table tennis was the main activity along with a lot of games of Water Volleyball. The Evening Entertainment was very good and the entertainment team made it enjoyable for the kids. In a nutshell the Occidental Grand Xcaret is a good all round property that's great for families who are looking for a really good deal.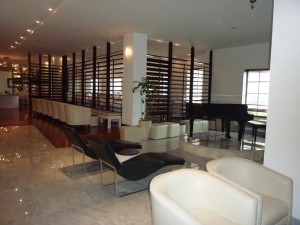 Situated on the breathtaking beaches of Mexico's pristine Riviera Maya, the Royal Hideaway Playacar effortlessly blends world class service with impeccable style. As the world's first adult only all inclusive resort to earn the prestigious AAA 5-Diamond Award, the Royal Hideaway serves guests an unforgettable vacation experience with infinite opportunities for luxuriant indulgences. Magnificently appointed villa accommodations, attentive concierge service and an opulent full service spa comfort guests with a revitalising atmosphere, courteous care and rejuvenating treatments. Located on one of the Yucatan Peninsula's most stunning stretches of beachfront and just 45 minutes from the Cancun International Airport, Royal Hideaway Playacar is the perfect place to toss your cares into the sand and decompress amidst sheer luxury.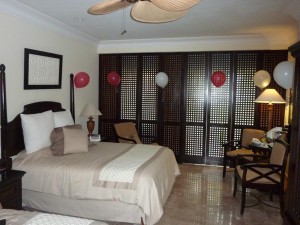 We arrived at the resort where we were met by our bell boy who took care of our bags and escorted us to the check in desk where we had champagne and cold towels waiting for us. We were greeted with welcome Mr & Mrs Glover which was a nice touch. Check in was very relaxed and informal. As we had checked in early our room was not available and we were escorted down to the deck for lunch as my sons stomach was rumbling. The waiters looked after us and we had a fantastic lunch with a lovely bottle of red wine and we had a great view of the ocean from where we were sat. The atmosphere around the pool and the beach was very relaxed, the beach butler never stopped, he was very busy getting drinks for the people on the beach, straight away I fell into the calm relaxing atmosphere. After lunch we met our bell boy at our room which had been decorated with balloons. He opened the door and the room was filled with balloons plus a bottle of champagne and a nice big chocolate with happy birthday written on the plate in icing. The room was very nice and the beds were extremely comfortable. As the weather was not great we went to the lobby and had afternoon tea which was very British.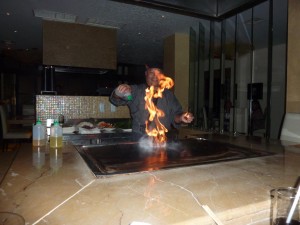 As it was getting on we made a reservation for the 'Azia Pan-Asian Speciality'. The sun came back out and we then went down to the beach for a walk. The beach is one of the nicest beaches on the Riviera Maya. We ate at Azia Pan-Asian Speciality which was an assortment of gourmet specialities from the Far East with an emphasis on Japanese cuisine. The menu, designed & prepared by a team of culinary masters will amaze you with authentic Oriental favourites including Thai. We had our own teppanyaki table where we had our own personal chef cook for us. We had a really nice meal and a few glasses of red wine. At the end of the meal all the waiters and chefs came out to sing happy birthday to my wife which was a nice touch.
As it was a whirlwind stop we were checking out early and were heading of to our next destination, but not before we had breakfast. The omelettes at this property are the best I have tasted plus the variety of fruits and other options were very good. Now it was off to our next destination, Dreams Tulum.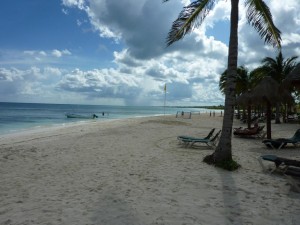 Dreams Tulum sits on two miles of powdery white sand with everything to make the whole family happy. A short drive brings you to a lush ecological nature preserve. And you are right on the ocean for snorkelling, catamarans, sailing, windsurfing, kayaking and ocean trampoline. Take an easy-guided bike tour to the ancient Mayan ruins of Tulum, one of the world's great mysteries. Dreams Tulum brings guests Unlimited-Luxury®, superior amenities. Unlimited Luxury which includes outstanding gourmet dining. Nine restaurants offering different venues that offer superbly prepared meals along with premium branded drinks which are unlimited and require no reservations.
On check in at Dreams Tulum we had been upgraded to a Premium Junior Suite with garden view. The room offers contemporary decor, king bed or two double beds, separate living area with a sofa, marble bathroom with shower and Jacuzzi bath tub.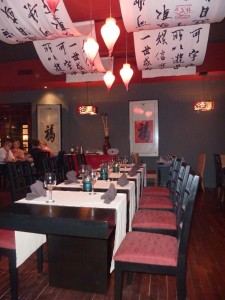 Breakfast at the world café was very good and had a good choice of food on offer. Every morning I would have an omelette and on the second day the lady remembered how I liked mine. My favourite restaurant was the Himitsu, my wife enjoyed the Bordeaux and my son really liked the Seaside grill as he had a massive rib eye steak which he really enjoyed. We ate at the seaside grill for my birthday and the waiters made a real fuss and sang happy birthday to me plus made me a big chocolate cake which was very nice although my son ate most of it. The service was always friendly and welcoming, your glass is always being topped up and the mojito went down very well. We had a choice of 6 bars to chill out and relax at plus the beach bar service was very good. There was always someone on hand to get you a refreshing cocktail or soft drink to quench your thirst, whilst sitting back and catching some rays. This is what my wife enjoyed doing whilst me and my son were playing volleyball, tennis, kayaking & lots of other activities.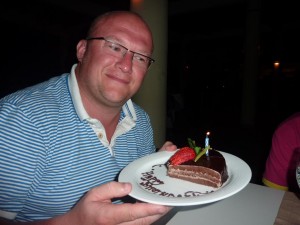 The explorers club at the resort was fantastic for the younger children, a lot of people we met out on their holidays thought it was the best children's club their child had been to as the range of activities were fantastic.
The evening entertainment was very good and the American Idol was fun to watch.
Dreams Tulum is a great place for families, plus honeymooners and groups. Whilst we were there we saw a couple of weddings as it is such a special place to get married. There is a traditional chapel in the resort plus you have the beach where you can be surrounded by family and friends.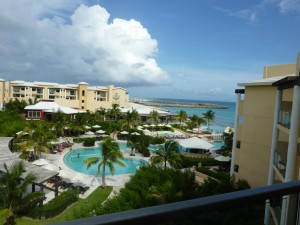 Located just 12 miles from Cancun International Airport and minutes from the quaint fishing town of Puerto Morelos, situated on the Riviera Maya crystal white sand and refreshing azure waters. Guests will become immersed in a setting where style and sophistication meet relaxation and comfort.
Check in was very smooth and efficient, we were met with a glass of champagne and a cold towel. We had been given a Junior Suite with ocean view for our stay. The view from our room was stunning. Each suite is truly exquisite featuring beautiful views of flourishing gardens or crystal clear ocean. This unique property features 550 luxurious suites each complete with private furnished balcony or terrace and Jacuzzi for two. All finely appointed suites offer king size or two double beds, marble floors, air-conditioning with in-room climate control, daily refreshed mini-bars and 24-hour room and concierge. As part of the privileges of Unlimited-Luxury Now Resorts are offering the chance to stay at one and dine at a the nearby Now Sapphire where you can enjoy dinner and live entertainment.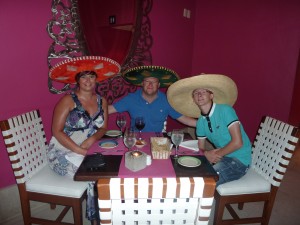 You can expect culinary perfection within eight gourmet, reservation free restaurants and six happening bars and lounges. Day and night, from local standbys to the internationally inspired dishes and drinks, it's all brought to you full of ambiance and free of reservations. Offering 8 restaurants: 1 buffet, 6 à la carte and a café. No reservations are required. All restaurant openings rotate throughout the week. The Co-co café is brilliant for an early premium coffee and deli snacks in a casual and relaxed atmosphere. After my morning walk I would pick up something for my wife. The 'Spice' Restaurant was our family favourite. Taste the best in Asian Cuisine, seated beside tranquil fountains and nearby wooden formations around an indoor Zen Garden with three Teppanyaki tables, a Sushi Bar and Pagoda. The resort also Offers 6 bars and lounges, serving premium brand domestic and international brand beverages, ranging from swim-up to a nightly music lounge.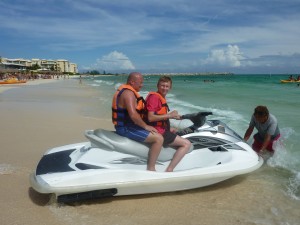 The resort offers lots of all day activities for every age. You'll be jumping in with both feet for cool water activities or kicking up sand on a beach adventure. My son and I did a lot of Kayaking and table tennis and we all as a family went on the escorted bike tour of the little fishing village of Puerto Morelos which was a short bike journey away. We did a little bit off souvenir shopping and it was really nice to meet up with the locals who made you feel very welcome.
My son Rhys and I went on the wave runners which were a blast, we had great fun however I let him drive most of the time and I was holding onto him very tight. We went skipping over the sea very fast. Kids have no fear and one wave that we hit seemed to keep us in the air for ages!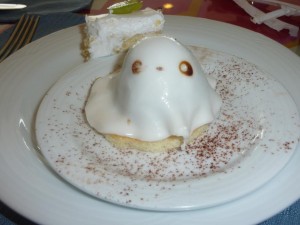 As a family we mainly relaxed around the pool as the atmosphere was really nice and the pool staff were fantastic along with the entertainment team. Everybody made you feel very welcome and the service for the drinks around the pool area was brilliant.
Evening entertainment was very good and the best night was Halloween, the resort made a fantastic night. They turned one of the restaurants into a Haunted house which was great and was a little jumpy. I sent my in wife first, my son and I could not stop laughing as she was screaming and jumping it was a great night and the evening show was brilliant with all the dancers dressed up in costumes. If you are away with your family for Halloween make sure you pack costumes for all as it is great fun.
Overall our family holiday was great we had lots of fun and really enjoyed our time at all the properties. One thing I need to mention was the quality of food and service that we had experienced, it was excellent. My wife and son were very happy and if they are happy so am I.
If you would like any further information or need the right family holiday for you please feel free to give me a call and I can match your requirements to the right hotel so you can have a great time like we did.