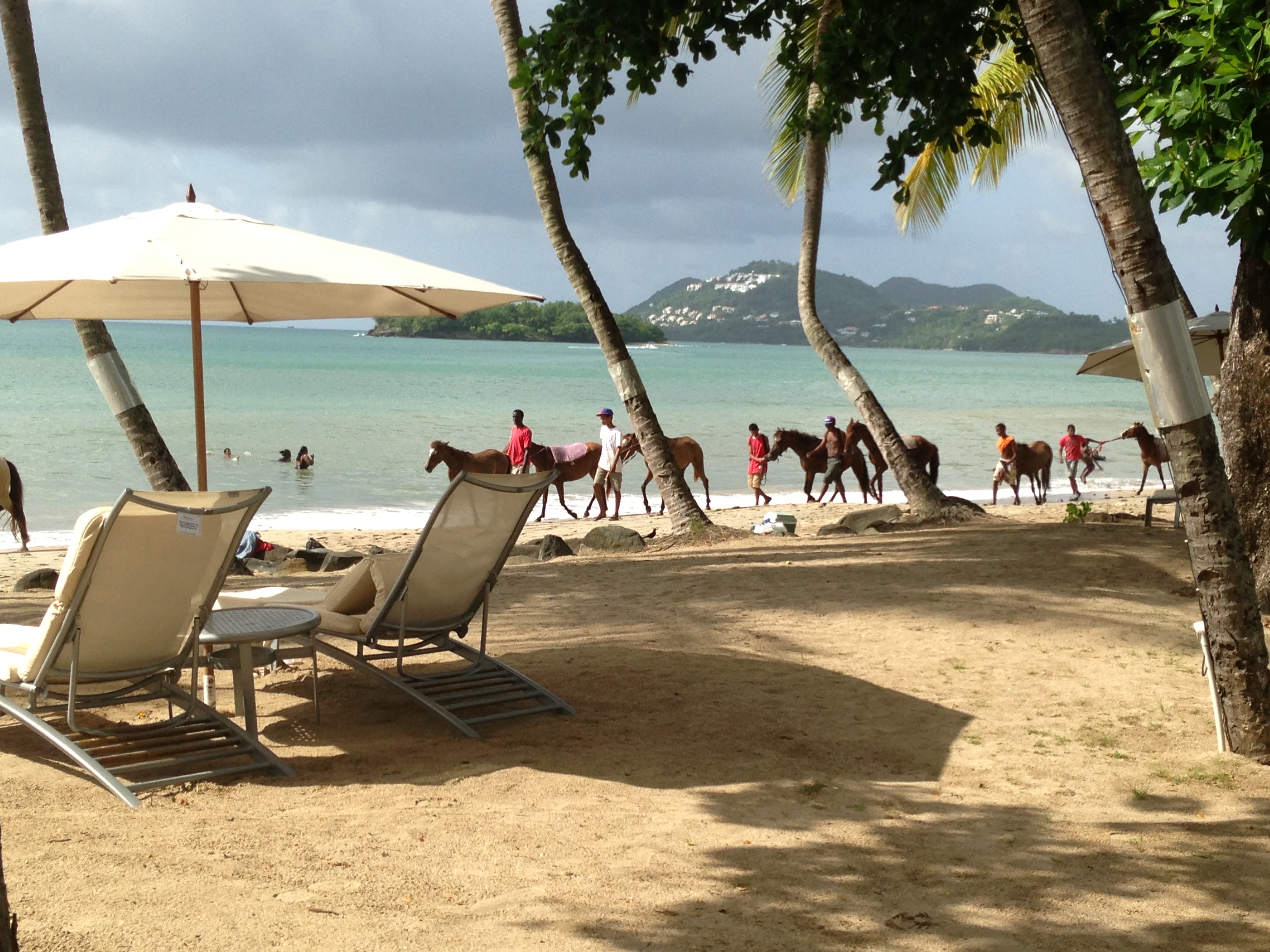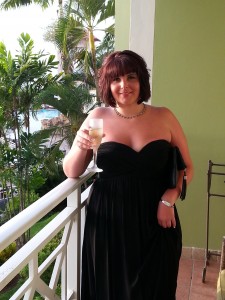 The staff at Rendezvous warmly welcomed us as we arrived at the hotel's entrance, and took us to the lobby bar where we were greeted by the manager and some delicious rum punch. As you can imagine our first impressions were second to none, and the check-in was exceptionally quick and easy. There was no paperwork, no moving around, and no need to lift a finger! All we had to do was soak up the gorgeous ocean views. After a long flight the last thing you want to do is to start signing things and passing over credit cards and luggage, and Rendezvous really understand these feelings. We couldn't have asked for a more ideal check-in.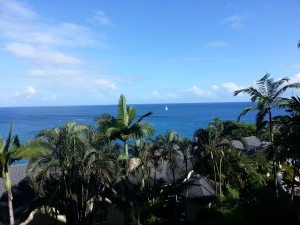 Our Room

The manager took us over to our room as soon as we were ready to move. He showed us around our accommodation and even asked us if we required anything else such as fresh water, milk, and fruit. Our room was an absolutely stunning Seaside Cottage. It had its own little decking area with sun loungers, tables, chairs, a sofa, and a dressing area. We immediately knew that this holiday would be beautifully indulgent, as we found ourselves confronted with an ornate four poster king size bed and a lavish bathroom just opposite. In the bathroom there was a big bath, a refreshing shower, a generous sink, and a dressing area with a lovely selection of spa amenities. In order to create the most romantic break possible, Rendezvous exchange in-room televisions and WiFi for direct beach access. It was luxurious, welcoming, and comfortable, and we couldn't wait to discover everything else that Rendezvous had to offer.
Trysting Place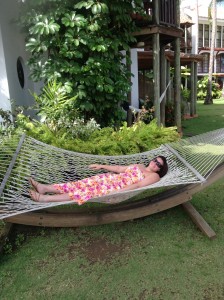 There are two wonderful restaurants onsite: one is a French a la carte restaurant, and the other a buffet style restaurant. The buffet style restaurant has a different theme every night, and in order to keep the food fresh and exciting the French restaurant changes its menu every 4 days.
The French restaurant is called the Trysting Place, and creates a fantastic atmosphere, using intimate, low lighting and a live evening solo act. You really do feel a fantastic ambiance as you walk into The Trysting Place, which serves as a perfect accompaniment to the delicious food served by the restaurant. The meals were prepared faultlessly, and there was a brilliant choice of dishes on the menu mixing French, Caribbean, and steakhouse cuisine to create options for everybody. The waiters and waitresses did everything they could to help you get the most out of your meal, even suggesting wines to best compliment the food that you had ordered. On top of all this, each three course meal was finished off with aromatic tea and coffee, making each meal an experience worth remembering.
The Terrace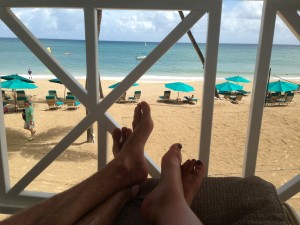 The buffet restaurant is called The Terrace, taking its name from the Rendezvous terrace on which the restaurant is situated. Looking out over the beach and the sea, The Terrace offered fantastic views to complement the freshly prepared food available at all of the buffet stations. They also host a casual beach BBQ every Thursday evening where people gather on the beach to enjoy great food and live music in excellent company. This is a fantastic chance to socialise, make new friends, and enjoy the gorgeous beach surroundings.

Bars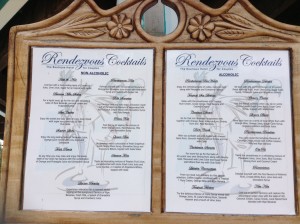 If it's a drink you fancy, then Rendezvous will not leave you disappointed. There are 4 bars all serving premium branded drinks, and each bar has its own welcoming charms and interesting atmospheres. The Terrace Bar is open from midday until midnight, overlooking the beach and sea. The Pool Bar open from 9am until sunset provides snacks through the day like hot dogs and nachos, and also has a swim-up section so that you can enjoy drinks in the pool! The River Pool Bar is open from 10am until sunset, and offers a chance for quieter poolside drinks in a very relaxed atmosphere. The Champagne Bar, open from 7pm until the last couple leaves, offers a vintage champagne hour every evening between 7 and 8 set to the music of a live pianist. This is a really stylish, unique way to enjoy quality drinks as part of a romantic getaway.
Entertainment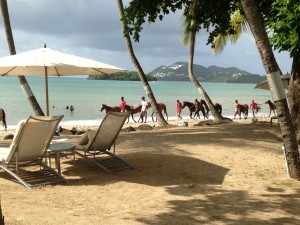 Like everything else I experienced at Rendezvous, the entertainment was designed to be calming and relaxing. The event organisers at Rendezvous are exceptionally helpful, providing a list of what is taking place throughout the day with times and locations clearly stated, and a wide variety of activities were hosted. In the evenings there are live acts such as solo guitarists, pianists, and even casino nights, and during the day you can make the most of tennis lessons, water skiing, yoga, aqua aerobics, volley ball, golf lessons, and scuba diving. The scuba diving is worth a special mention, as it is free 6 times a week if you are a certified diver, and all of the amazing actives are included as part of the all inclusive package. The hotel even has a shop, a gym, and a spa on site. There is never a dull moment at Rendezvous!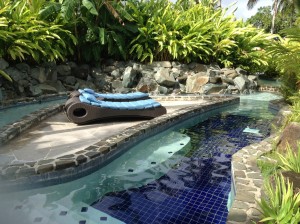 Pools
The main pool provides a swim up bar at the front of the property with lovely views looking out at the sea, making it a fabulous place to enjoy a sunset drink. The second pool is set in a quieter location towards the back of the property near the spa. It's a fantastic retreat with secluded sun loungers, a lovely hot tub, and a beautiful lazy river with four tucked-away corners that allow you to enjoy your own personal space. It is beautiful, sequestered, and very romantic.
A Beautiful Hotel
Overall my stay at the Rendezvous was absolutely amazing. The hotel's beach goes on for miles, as if it was endless, and it's right outside all of the resort's rooms. It's a fabulous beach, and creates an incredible landscape to wake up to every morning. Rendezvous is a very personal, romantic, and relaxing hotel, and I simply can't recommend it enough! I loved every minute there and would go back tomorrow!