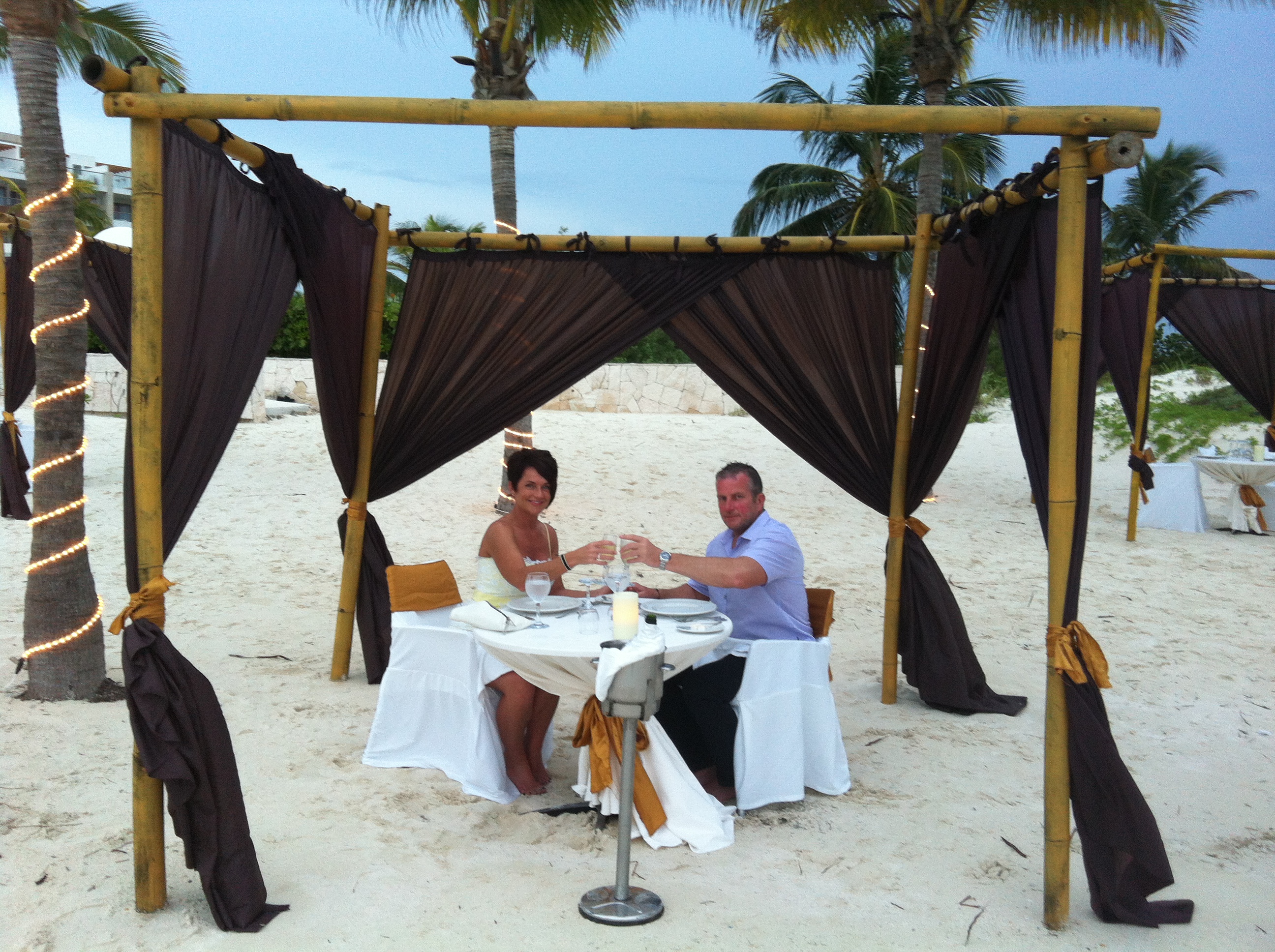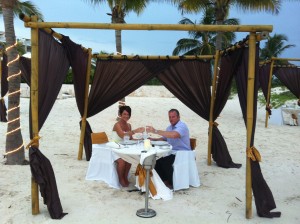 When Mike and I decided we wanted to get engaged I contacted Blue Bay Travel and had a long chat with David. I asked David if he were to get engaged abroad where would he go? He suggested Excellence Playa Mujeres, and it was every bit as perfect as he had described.
I had read so many fantastic reviews on TripAdvisor that I wondered if Excellence Playa Mujeres could possibly meet my expectations, but it surpassed all of them! We arrived by private transfer at the hotel and were met with cold towels and a lovely champagne cocktail, alongside a chorus of "Welcome Home". Check in was swift and our bell boy took us to our swim-up suite.
A Beautiful Room
It was simply amazing, the room was so beautiful.  We had a pool right in front of our patio and another pool just a couple of steps away from the entry to our room. We knew immediately that everything about this hotel was dedicated to luxury, so we unpacked eager to explore the rest of the resort. The hotel had a beautiful lobby home to the majority of the resort's restaurants, as well as a Martini Bar which serves the most fabulous cocktails. On our first night we ate at the French Restaurant Chez Isabelle which became our favourite as the week went on, so much so that we dined there 3 times!
After a very comfortable sleep we spent our Engagement Day sunbathing on powder white sand, swimming in the warm, crystal clear sea as we drank mimosas. Waiter service was available on the beach and around all the pools. Mike loved Icebergs, made by topping a Corona with a frozen margarita. We had a delicious lunch at an open restaurant by the pool called The Grill, and then spent the afternoon lying on a float in the lazy river which runs around the hotel.
A Delicious Meal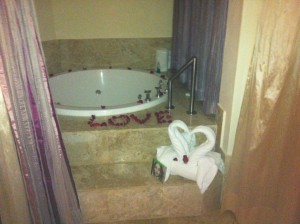 For the evening of our engagement we booked a Romantic Beach Dinner, and it was absolutely perfect. There were five private gazebo's on the beach, and when we arrived Mike got down on one knee and asked me to marry him. It was so wonderful, and the meal was beautiful under the gorgeous stars. Everything was as romantic as I had dreamed. The service was exceptional, and the waiter was lovely and took lots of photographs for us. After our meal we spent time in the Martini Bar before moving on to an outdoor bar called Kafe Cafe, and when we made our way back to our room we found the bed and Jacuzzi decorated with rose petals. The day could not have been better!
A Future Together
The rest of the holiday was also beautiful. We ate at the Basmati Indian Restaurant, The Grill, the Mexican, and of course returned to Chez Isabelle several times. All of the food was excellent and the service from every member of staff was of an exceptional standard.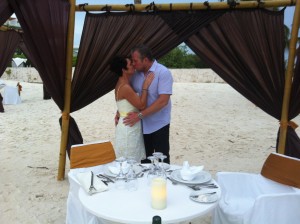 Before we traveled to Mexico for our engagement, we spoke to Blue Bay about our plans to get married, and Chris was so helpful from start to finish.  I gave him our wish list, which involved finding a hotel with a lovely beach that was also suitable for our children.  I have a boy of 13 and my daughter is 20, and Mike has 2 boys of 16 and 22, and on top of that our eldest children have their respective boyfriend and girlfriend. With all of this in mind, we needed a hotel that would provide us with a beautiful wedding location whilst also keep us all entertained. Chris suggested Dreams Riviera Cancun, and arranged for a meeting with the Wedding Manager while we were in Mexico.  The visit went perfectly and the hotel comfortably meet all of our needs. As a result, we booked the wedding with Blue Bay as soon as we returned to the UK.
A Big Thank You
I would just like to say that if you are planning something special, Blue Bay Travel really do go out of their way to help you achieve your perfect holiday. I am really looking forward to working with Nia, my wedding coordinator at Blue Bay, to plan our very special wedding.
Thank you so much to David, Chris, Nia, and Gemma who have all been fantastic throughout this process.
Lou and Mike