Sea Breeze, Ocean Two & South Beach Barbados
Recently we were delighted to welcome the General Manager of Ocean Hotels for a chat, to give us the inside scoop on her three hotels – Ocean Two, Sea Breeze and South Beach. We pride ourselves on our high level of customer service, and it is these brief chats that allow us to garner the little known secret tips which we have become known for when you book with us. Today we thought it would be a great idea to share some of the hints and tips we gathered from Ocean Hotels, so you too can feel like a Barbados expert. Don't forget to keep these in mind when you are next considering a trip to this wonderful Caribbean island.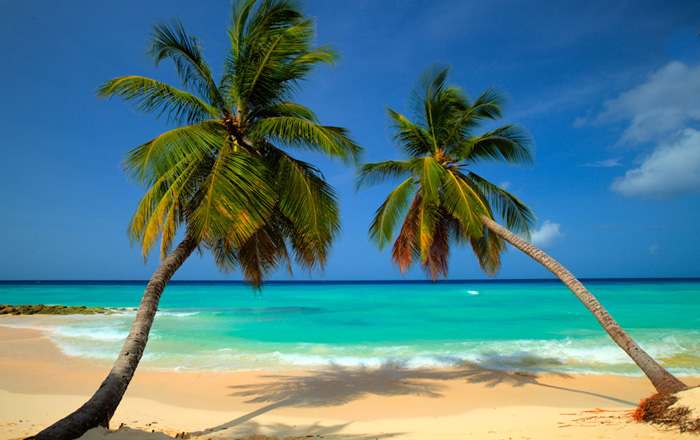 Sea Breeze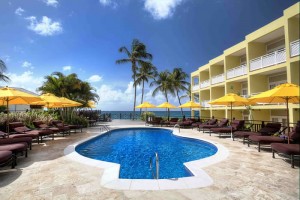 Sea Breeze is a beachfront, all-inclusive resort with what many guests say is the best view on the South Coast of Barbados. Nestled on a secluded corner of the south coast of Barbados, Sea Breeze is fortunate to have access to two beaches as well as a spectacular view of Oistins Bay. Recently renovated, the hotel offers guests superior accommodations, amenities and dining options while maintaining the friendly and relaxed charm of Barbados by remaining wristband-free.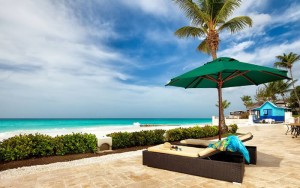 With two beaches featuring excellent swimming conditions, three restaurants to choose from, two swimming pools to lounge by (one adults only), three Jacuzzis to soak up the bubbles, glorious sunshine, water sports, kid's club, and a well-equipped gym and spa, what more could you ask for in a holiday! The three restaurants specialise in a variety of cuisines, meaning everyone will find something perfect for their palate. Unlike most all inclusive resorts, Sea Breeze offers you the opportunity to enjoy à la carte dinners at least 6 evenings per week, making your holiday a culinary adventure that gets everyone involved.
Top Tips
•  The 700ft of beach frontage affords ocean views from just about everywhere on the property. There's no need to scramble to get a picture perfect spot in the mornings!
•  Sea Breeze offers complimentary WiFi, available in all guest rooms and in most common areas. Use your iPads or tablets to keep in touch with family at home and send them images of your gorgeous tan as you relax poolside or by the beach in the warm, tropical weather.
•  Sea Breeze's privileged location affords it access to two separate beaches: an eastern beach with umbrellas, sun loungers, non‐motorised water sports, and drink service, and a more secluded, rugged beach that exudes natural charm without sacrificing cushioned chaise loungers, individual shades, and drink service.
•  If you decide on a ground floor room, request room 101 – you'll have your own personal steps down to the adults only beach (Western Beach) which is very quiet and serene – perfect for honeymooners. This is the closest you'll get to a private beach in Barbados!
•  Booking a One Bedroom Ocean View suite? Request an 'end of building' room – the suites are larger.
•  Planning a family getaway? The Kids Club at Sea Breeze is open late till 9.30pm, and they do movie nights and kids-only meals, so parents can squeeze in some free time of their own during the evenings.
•  Don't forget you can enjoy the indulgent all inclusive package without a wristband!
---
Ocean Two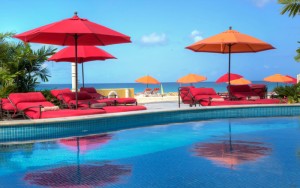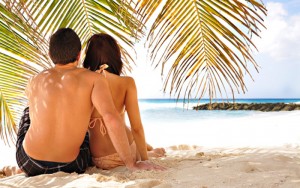 This beautiful hotel provides unsurpassed accommodation on the south coast of Barbados, making the most of stunning beaches, fabulous ocean views, and a welcoming service. To keep you connected with those you love, Ocean Two offers WiFi access and a concierge lounge that are brimming with exciting possibilities. The fully equipped fitness centre is sure to satisfy all those fitness enthusiasts with state-of-the-art cardio and weight equipment in a spacious facility with lots of natural light, and spa services in a private area on the Roof Deck Patio overlooking Oistins Bay add a distinctive flair found only at Ocean Two.
The rooms at Ocean Two are comfortably appointed with a King bed accompanied by a divine pillow top mattress, luxury linens, and plush bathrobes and slippers that ensure a restorative night's sleep. These rooms also come equipped with a flat screen television with a range of TV channels, Movies on Demand, and check in and check out capabilities. The en‐suite bathroom features a double vanity, granite counter tops, and a spacious shower with a rainfall head complimented by a second handheld shower.
Top Tips
•  You're on holiday, so why not spoil yourself with a gourmet meal prepared by your own chef in your own suite. With a selection of menus to choose from, as well as the opportunity to create your own, the expertise of Ocean Two's chefs is open to all.
•  Take advantage of the superb sun loungers on offer throughout the hotel, each one cost over B$1,000, which shines through in the superior level of comfort provided by the memory foam toppers.
•  Use the pre arrival grocery list that is sent to guests to order foodstuffs to be in your room on arrival. A very useful service to create a smoother and more enjoyable arrival to your holiday.
•  Fancy a round of golf? You're only 5 minutes from a premier 18 hole golf course!
•  Don't forget the adults only pool on the roof deck patio! Pure luxury.
---
South Beach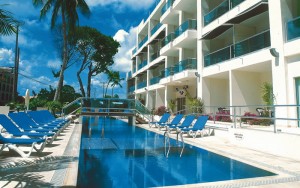 This resort is located on the South Coast in the parish of Christ Church, directly opposite one of the most popular beaches, Accra Beach. Right in the centre of all south coast activity, the intimate South Beach hotel is an excellent value option for families, couples or groups, situated in the perfect location for those seeking to enjoy the best of Barbados, the beaches, shops, restaurants and nightlife. The rooms are beautifully decorated and fully outfitted.
Top Tips
•  The sensational new board-walk starts on Accra Beach opposite the hotel – a fantastic place to wander during the daytime for shopping or the evening for the night-life.
•  Although the hotel is based on a self catering basis and each room comes complete with a kitchenette, all guests are treated to a B&B board basis. No need to worry about sorting your own breakfast out each morning.
•  The hotel provides a hospitality lounge to all guests checking out. This means you can enjoy the facilities of the hotel, including the swimming pool, on your final day before taking a shower and journeying home.
•  Each floor of the hotel has laundry facilities, allowing you to maximise your luggage space to carry home more Bajan souvenirs!
•  A NEW dine-around scheme has recently commenced within the local area of the hotel. This offers guests the chance to sample the delights of up to 24 restaurants locally through the option of paying for food on a per night basis to the hotel.
---
Do you have any top tips for any of the hotels we feature? Tell us on Facebook or Twitter
Issue 1