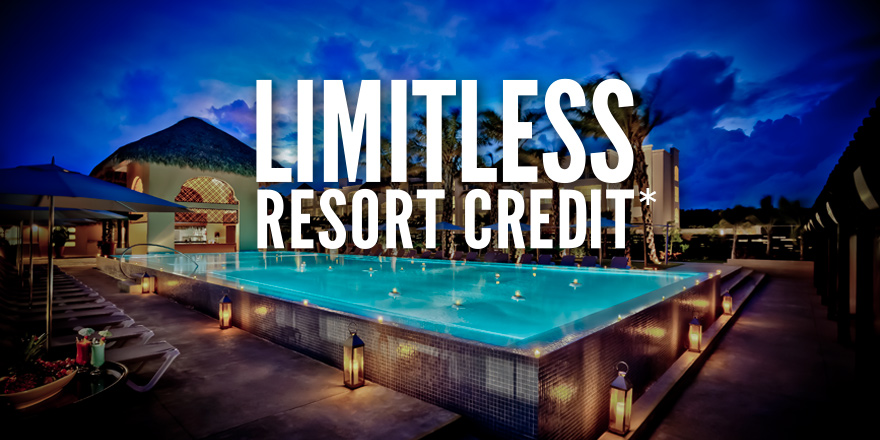 Taking the core principles of rock 'n' roll, and building on a culture of sophisticated style, unparalleled service and beautiful tropical locations, the all-inclusive Hard Rock Hotels are more than a breath of fresh air within the all-inclusive market – they're game changers. Hard Rock is a known and trusted global brand and the experience they offer is unlike any other. Filling the experience with unique Hard Rock touches, such as the vibe, the music and the extensive collection of memorabilia, it all helps elevate the traditional tropical stay to a top-notch escape, creating an unforgettable holiday.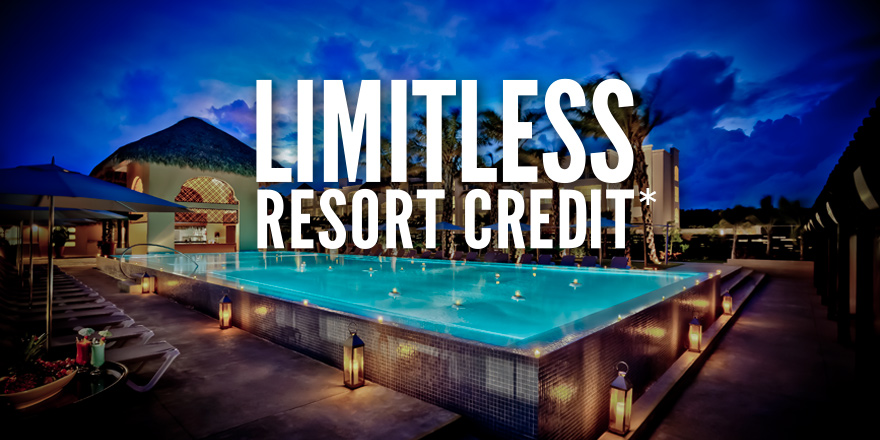 And now Hard Rock Hotels come equipped with Limitless Resort Credit, the first truly limitless resort credit programme where you can bag yourself up to $2,500. Spend it anyway you want, as much as you want, on golf, spa, tours, and more – you won't have limits on your luxury. So ditch the wallet, restrictions, and inhibitions, and unleash the luxury.
This offer, fit for a rock star, is available at all of the All Inclusive Hard Rock Hotels and we have outlined below the plethora of options you'll have to live a no-holds-barred lifestyle whilst enjoying your luxury Caribbean escape.
Hard Rock Hotel – Riviera Maya
Just off the azure waters of the Caribbean Sea, the Hard Rock Hotel Riviera Maya is nothing short of the ultimate crowd pleaser. Live it up with nine gourmet restaurants, world-class shopping and endless style. Channel your inner awesome and head to Heaven, an adults-only expanse with stunning pools and a lavish spa. Bottom line, it's all top-shelf.
Rock Spa
Located at Heaven for adult guests only and loaded with indulgent style, the Rock Spa® offers every guest a personal paradise and total Rock Star zen. The largest spa in the Caribbean with 75 treatment rooms, the exclusive and exuberant Rock Spa® features steam rooms, hydrotherapy current pools, lavish surroundings, and even a personal spa butler to bring you nothing short of paradise perfected. Enjoy everything from massages and facials to renowned Hydrotherapy and peaceful surroundings. It's no limits relaxation thanks to the qualified team of Spa Advisors and a full menu of tantalising services.

Playacar Golf Club
This is golf the Hard Rock way. We're talking championship play, world-class instruction, and stunning views just off the property with an 18-hole Robert von Hagge course. This is more than just a game. And that calls for more than just a golf course.
Located in the ideal area of Quintana Roo, the Golf Club at Playacar features stunning natural beauty surrounded by exotic wildlife and ancient Mayan ruins. Designed by Robert von Hagge as one of the first courses of the modern era, this par 72 championship club was awarded the Trip Advisor Certificate of Excellence thanks to 18 flawless holes and 7,136 yards of challenging play. Tee up and make your approach to rock & roll glory today.

Live large at the Hard Rock Hotel Riviera Maya and enjoy the very best of paradise from only £1,373pp
---
Hard Rock Hotel – Cancun
In the heart of down town Cancun's hotel zone, this ocean-front marvel is only 15 miles from the airport. Each room has panoramic views of the ocean or lagoon and private balconies to enjoy the tropical breeze. The hotel features authentic memorabilia from international music artists alongside 6 acclaimed international restaurants.
Rock Spa
Treat your body, mind, and soul at the rock spa®. Choose from a lavish menu of massages, facials, and body treatments at the spa that will transport you to a different state of mind. Perfect for winding down from a tennis match or simply setting the stage for a decadent tropical escape, the Rock Spa® features 10 individual treatment rooms, 6 couples treatment rooms, and a master spa treatment room with hydro spa tub. If you prefer to have your treatment outdoors, select an air-conditioned palapa style room, available for both couples and individual services.

Riviera Cancun Golf Club
Call upon the professional staff to confirm tee-times, arrange lessons, and help with club rentals. Then take advantage of the lush, tropical greens of Cancun's finest courses. One of Cancun's most beautiful golf courses, the Riviera Cancun Golf Club is home to the unforgettable 18-hole Jack Nicklaus Signature Design course. Featuring splendid greens, dazzling fairways, and strategic bunkering, the course is set on a natural reserve with mangroves, palm trees, lakes, and dunes. The Club House provides the perfect place to relax after a challenging game.
Bring your game. Riviera Cancun Golf Club has the rest.

Kick back and relax at the Hard Rock Hotel Cancun from only £1,451pp
---
Hard Rock Hotel & Casino – Punta Cana
Welcome to a beautiful beach-front setting with lush topical gardens and amazing views of the Caribbean Sea. The surrounding natural beauty, luxurious accommodations and extravagant resort amenities create a spectacular holiday. Every guest room has a private balcony, LCD satellite TV, and a double hot tub. You'll enjoy a plethora of restaurants and bars, delicious snacks, top-shelf drinks and room service – all included.
Rock Spa
Work out, chill out, bliss out. Whatever 'out' you're into, the Rock Spa has got you covered with three seriously rocking, seriously different experiences. From a spa experience highlighted by unique and invigorating features like the innovative ice room and the most complete hydrotherapy circuit in the Caribbean, to one of the most elaborate fitness centres you'll find at any resort, it's kind of hard to pick just one. We suggest a visit to each.
Undeniably the finest spa in the Dominican Republic, Rock Spa® is an expansive 60,000 square foot oasis housing 35 spa suites. While the spa is impressive in size, it has been designed to give guests privacy, signature personalized service, discreet attention, and the ultimate in relaxation and revitalization. Whether it's to prepare for the night ahead, or to recover from the night before, Rock Spa® is most definitely the place to be.

Hard Rock Golf Club
Jack Nicklaus – Golf royalty or a rock star in his own right, the Golden Bear delivers another great performance! Considered the greatest player of all-time, with a record of 18 Major Championship victories, Jack Nicklaus understands what it takes to do it right. The Hard Rock Golf Club at Cana Bay hosts 18 holes of championship golf designed by Nicklaus Golf. At 7,253 yards in length from the back tees, you will encounter all the challenge you desire. A Par 72 course that provides a stunning collection of challenging yet accommodating golf for all players, regardless of skill level or experience. The course meanders through breathtaking Dominican landscapes full of native flora and fauna.

Experience rooms worth tweeting about, infused with the legendary rock and roll vibe at the Hard Rock Hotel Punta Cana from only £1,511pp
---
In addition to the unique rockin' features above, each Hard Rock Hotel also has the following super star ingredients:
Posh Beauty Salon
All adult guests receive the VIP treatment with a full menu of stunning style at the Posh® Beauty Salon. Get ready for a night out and unleash your inner diva with a full set list of treatments. Enjoy never-ending service from the professional and well-trained staff as they take your style to the next level of Rock & Roll glamour. After all, you've arrived. Now it's time to enjoy.
Other Luxuries
•  Romantic & special dinner events
•  Rock Shots® photo packages
•  Select take away products at the Rock Shop
•  Colin Cowie Wedding Collections
•  Exclusive VIP experiences
Remember, all of the above can be experienced using your Limitless Resort Credit. Go ahead – blow it all in one place!
Insider Knowledge Issue 4
By Ben Farbrother
*Terms and conditions apply. Valid for new bookings arriving before 23 Dec 2014. A service fee of 20% will apply to all transactions using the Limitless Resort Credit promotion. Available leisure facilities may differ between Hard Rock Resorts.