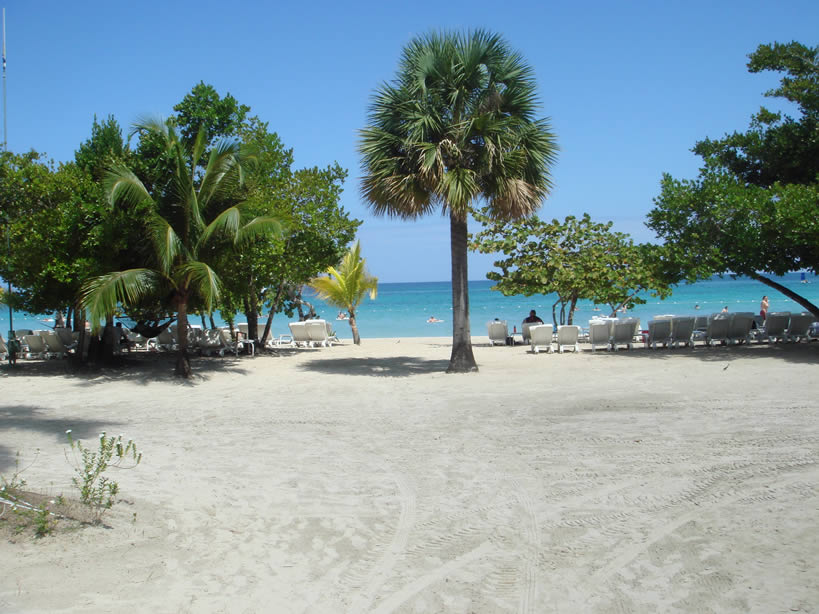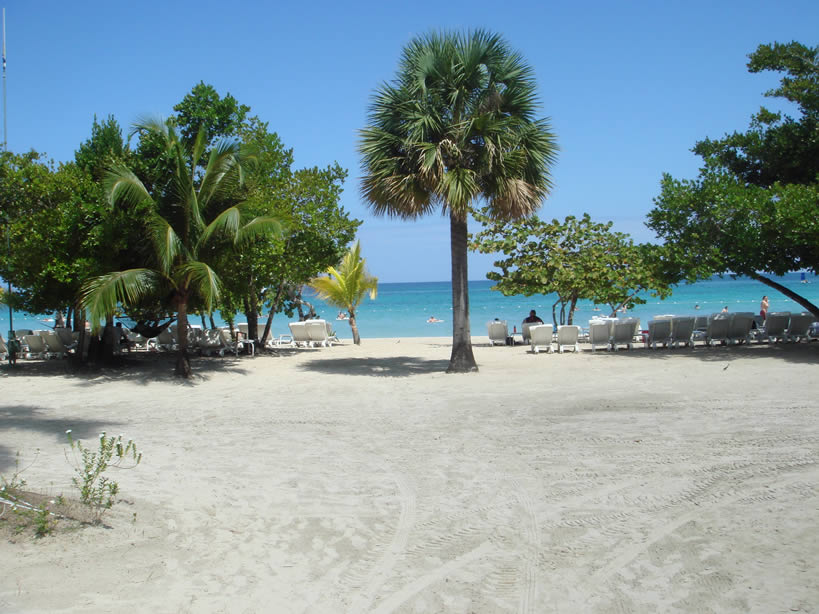 We had not been to Jamaica before and both of us were very excited and looking forward to our Superior All-Inclusive honeymoon. Having only been married 2 days, and a 12 months engagement! (see my previous Mexico blog) – we were going to enjoy this!
After a comfortable pre-flight breakfast and some time chilling out in the Escape Departure Lounge, we proceeded to experience a wonderfully smooth and very enjoyable flight with Thomas Cook to Montego Bay in premium class. The cabin crew, seats, in-flight entertainment and cuisine were all top drawer!
On arrival at Sangster International Airport we were hit by the delightfully dramatic change in ambient temperature, it was 29C at 2pm, and it was glorious! A quick mention that the landing at the airport was more exciting than normal as the runway is on the edge of the gorgeous Caribbean Sea and it looked like we were going to need skis instead of wheels! Welcome to Jamaica!
We were lucky to have a week at Couples Negril, followed by a week at Sandals Negril. Couples Negril concierge met us at the airport and personally directed us to the private Couples Lounge, providing complimentary Red Stripe (other drinks are available) – freezing cold, just what was needed. The transfer journey was taken in a luxury air conditioned minibus with plenty of room and a friendly driver, providing local information ranging from historical buildings to the residence of Lennox Lewis!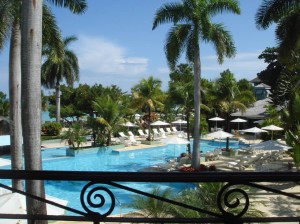 Sangster to Couples Negril took 75mins/50miles, but this was more than pleasant considering we followed the coast road right round the north-western part of Jamaica through some small towns (Lucea & Green Island) and then onto Norman Manley Boulevard. On arrival at Couples Negril we were quite literally met with open arms in the lobby – very welcoming indeed! After a glass of fizz and cold lemon towel we had a brief familiarity briefing, then onto our accommodation. We were allocated one of the refurbished Garden View rooms on the ground floor which was literally steps from the beach and restaurants – perfect!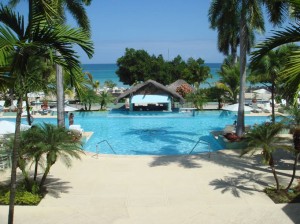 The beaches had white soft sand, the water was turquoise and beautifully warm. The beach was immaculately kept, well maintained and plenty of sun beds with floats and fresh towels and a red flag system for the waiter who was very attentive.
One of the highlights of the whole fortnight was the cuisine at Couples Negril, we have stayed at some choice locations but this was the best. The buffet and A La Carte menu's at the Cassava Terrace restaurant were to die for with a plethora of choice accompanied by friendly staff. Each member of resort staff we encountered was very friendly and helpful, but at the same time they were never overbearing. Charles at the Cassava Bar was wonderful and even went to the kitchen in the Lychee Restaurant to get some tamarind paste to make me a tamarind margarita – thanks Charles!
All too soon it was time to leave Couples, taking a short taxi ride up to Sandals Negril.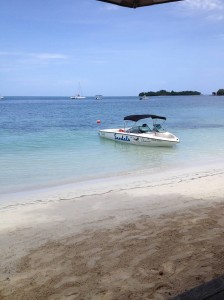 On checking in to Sandals Negril we were welcomed warmly and guided to the Sandals Club Concierge to complete check-in. We were presented with a cold towel and glass of bubbly and within a few moments our butler, Theda, was there to welcome us and escort us to our room. We were lucky enough to have a Caribbean Honeymoon Beach-Front Two-Storey One Bedroom Butler Suite – wow what a room! The balcony overlooked the dive pool and had a beautiful view of the gorgeous Caribbean Sea. Theda gave us a quick tour of the property and left us with a mobile phone so we could contact her or our other butler, Melisha, at any time to make restaurant reservations, bring us food, run a bath – anything!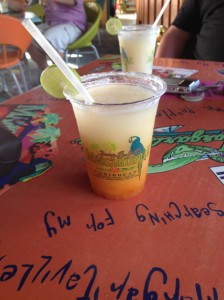 We had most of our meals at the Bayside Restaurant with its panoramic views of the sea and a stage for the evening entertainment. The food was superb with a huge choice, including Jamaican specialities such as Jerk Chicken, Goat Curry and Rice and Peas – heaven! We also dined at the Sundowner Restaurant where I had a lovely steak, the Cucina Romana which specialised in Italian cuisine and the Teppanyaki restaurant Kimono's where we had a singing Teppanyaki chef!
During the second week we ventured on a couple of excursions. We booked the Island Routes Reggae Cruise which was on-board a 65ft catamaran. This took us along the coast up to Rick's Bar to watch the divers jumping off the cliffs (very brave indeed!), we also made a pit stop at Margaritaville on the way back where an excellent frozen margarita was to be had. The excursion also included complimentary drinks and food on board and a DJ playing old and new Reggae music to get us into the island vibe – a great trip with great memories!
We also took part in the One Love Bus Tour – this was booked by us directly with Lembert, a local man with heaps of local knowledge! The bus picked up guests from numerous hotels and then stopped off at a range of local bars for us to experience a more 'authentic' Jamaican atmosphere. Our final port of call was the Negril Escape to see the amazing sunset and watch the locals diving off the lighthouse.
Through some previous research we also took a taxi and headed to Jenny's Bar on the coast road near Rick's Bar. We tried the ackee and salt fish toasties at Jenny's Bar, absolutely divine, and Sasha was ever so friendly here.
Before we knew it, it was time to catch our Sandals transfer back to the airport for our flight home to the UK. We arrived home tired and jet-lagged, but with memories of the most amazing honeymoon anyone could possibly wish for! Both Couples and Sandals resorts are perfect honeymoon destinations as they are Adults-Only and go out of their way to make whatever occasion you are celebrating that extra bit special.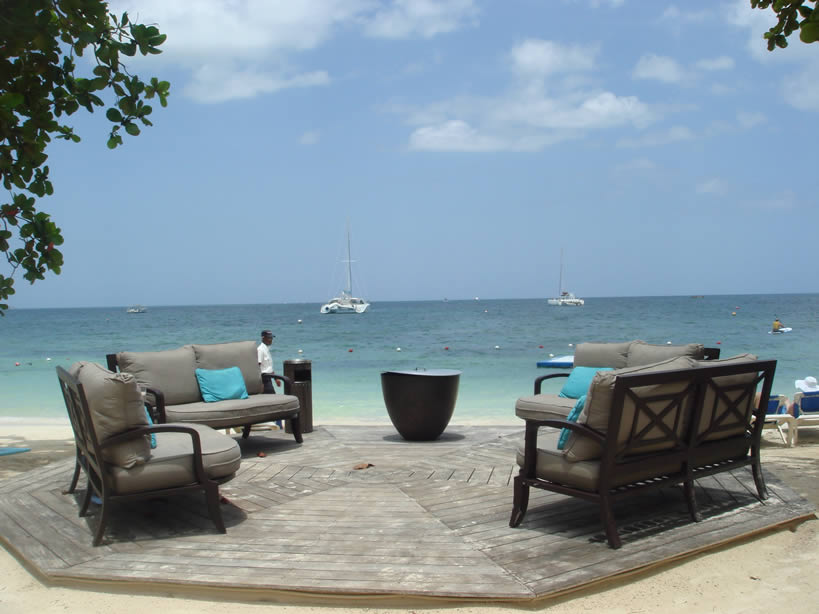 Top Tips:
•  Don't forget your insect repellent! As we travelled during a rather rainy period the mosquitos tended to be rather abundant and hungry!
•  Do some research on local attractions/excursions before you go as these can often be booked in advance saving you time and money.