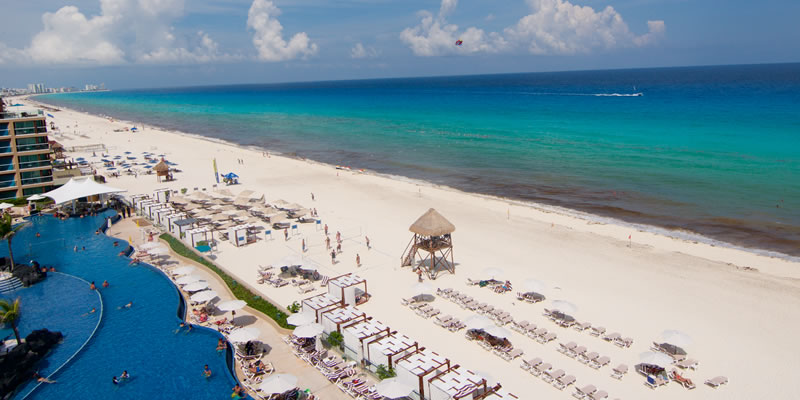 Hard Rock Hotels are unorthodox, awesome, and firmly left-field from every angle. Many Holidaymakers don't know where to start when it comes to a Hard Rock holiday, so I hauled out to Mexico and snooped around a couple of Hard Rock Hotels' newest offerings on your behalf. Today I'm going to walk you though all the basic intel for Hard Rock Hotel Cancun, and espouse all the reasons it needs to be firmly at the top of your holiday wishlist.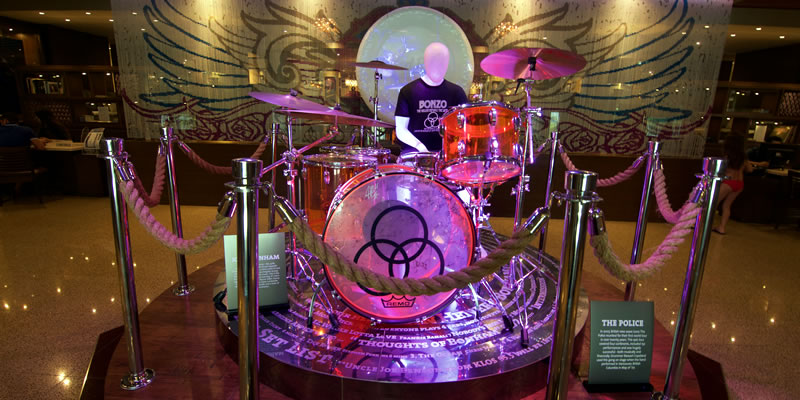 First Impressions
There's something in that purple-black Hard Rock emblem that acts as the envoy for a deep, visceral, sense of excitement. It's a brand well known, and well loved, for its larger-than-life personality and out-of-the-box inclusions, and the drive up to Hard Rock Hotel Cancun held nothing back. The walls themselves called out iconic lyrics from the world of rock through well-loved quotes from U2, Guns 'N' Roses, the Steve Miller Band and many more, carrying memories of the riffs and outlandish dress-up synonymous with the genre.
The Hard Rock Hotel Cancun foyer is a hub of many awesome things, revolving around a belting collection of rock memorabilia. I'd heard tales of the hotel's somewhat "unique" décor, but the Hard Rock Hotel Cancun memorabilia forms an experience in its own right. Over the years the Hard Rock Hotel portfolio has hosted a wealth of rock superstars, many of whom have gifted mementos of their legacies to the Hard Rock family. The items on show at Hard Rock Hotel Cancun range from skinny jeans worn by Slash in the early days of Guns 'n' Roses to Michael Stipe's famous red jacket from the REM heydays.
Each of these artefacts embodies a larger-than-life tale befitting a rock legend, and I'd highly recommend requesting a guided tour so you can participate in their irresistibly offbeat narratives. The tour comes filled with so much rock knowledge that it cannot be conveyed in words, but I did have a punt at capturing the whole affair in video form:
All-inclusive noms
To sum it up in one line, Hard Rock Hotel Cancun has one of the best all-inclusive programmes that I have ever experienced. What really got the attention of all my senses was the dining, and it was a jolly good job I spent much of my eating sitting down. I lost count of the occasions I was thoroughly de-socked by the deliciousness in front of me.
If you're a bit of a carnivore at heart then I can highly recommend Ipanema. It's a Brazilian-style steakhouse that delivers fire-roasted meat directly to your plate. You have a coloured token on your table that you can flip from red (not hungry) to green (give me all of the meat) whenever you like. There's also this outrageously moreish cinnamon-coated pineapple that makes a surprisingly good bedfellow for your meat of choice. Definitely worth getting your chops around it.
If you'd like to try something slightly more traditional then Frida is the place to be, brimming with deliciously fiery flavours and melting Mexican menageries. I can vouch for the churros, too: crispy, crunchy, and served with a chocolatey bath for all your desert-ravaging needs. I could harp on about the food all day, or you could get the facts yourself from the web page over yonder. If I keep going on like this I might drown my keyboard from boundless salivating, which would impair my ability to spin this yarn. Nobody wants that.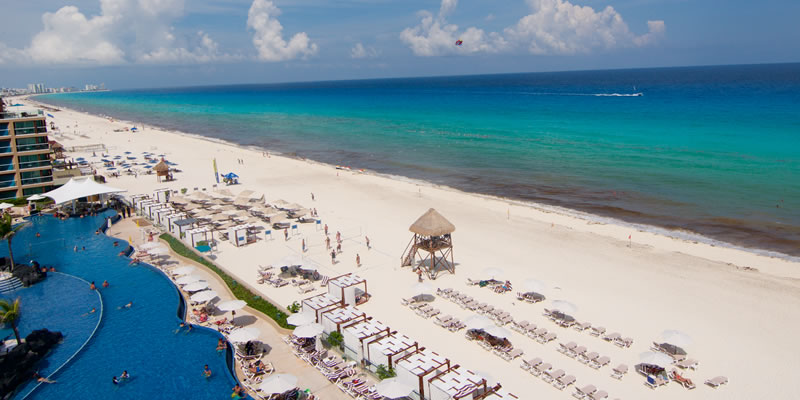 Belting Beachfront
Something the photos and websites really can't encapsulate is the sheer scale of the beach at Hard Rock Hotel Cancun. It's one of the deepest beaches I've ever seen, with swathes of sand-retail for all your sun-worshipping needs. The resort has a fun roster of beach activities on-hand, such as volleyball and snorkelling, and there a handful of independent vendors on the beachfront offering an extended portfolio of pass-times such as jet skiing and parasailing (for additional coin, naturally). There's even a turtle conservation programme that protects precious turtle nests, inviting you to help shuttle freshly-hatched turtles to the sea when the breeding season is in full swing.
Activities aside, the beach at Hard Rock Hotel Cancun is quintessentially Caribbean, with gently rolling pillows of coral-white sand and calm, tropical water. Your mind may not jump to Hard Rock Hotels when it comes to a classic beach holiday, but when was Hard Rock ever an institution that pandered to convention? Hard Rock Hotel Cancun is not only a fun-packed resort, it's an excellent location for peace-seeking beach aficionados the world over.
Rocking rooms
I was given a Platinum Rock Star Suite, and holy catfish that's some swish digs. There are no words; there is only this:
Rock Spa® Treatment
Time at Hard Rock Hotel Cancun wouldn't be complete without rocking out at the Rock Spa®. The sweet smelling aromas and candlelit atmosphere instantly transport you to the world of relaxation. Begin your journey sampling the catalogue of incredible treatments on offer with a wheat bag drapped over your shoulders and the finest complimentary fruit in hand. This is how Rock Stars live. If a Mexican getaway wasn't already relaxing enough, the spa at Hard Rock Hotel Cancun soon saw off any aches, pains and daily stresses. Each individually tailored treatment makes for a boss-level experience and resort credit makes them great value too. Discover rock star service for next to nothing and it's a piece of cake to book. Just ask your concierge team.
Get rocking
If this textual and televisual testament has ticked your tastebuds just tap that lovely orange button for more quality info on Hard Rock Hotel Cancun. If you've been yourself, or have any questions, I'd love to hear all about it in the comments below.
Never be afraid to turn it up to 11, Holidaymakers.

Get acquainted with Hard Rock Hotel Cancun from only £1,233pp