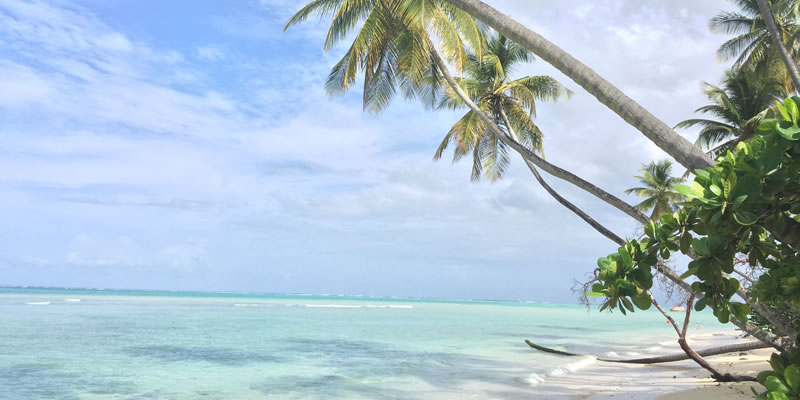 Tobago is a fairly new addition to the Blue Bay Travel portfolio, but it's been greeted with much applause and fanfare. The peaceful atmosphere and unspoilt landscapes make Tobago a unique window into the underlying beauty of the Caribbean. If you're looking to try Tobago for the first time, or simply want to top up your Tobagonian trivia, this exclusive guide will show you the way.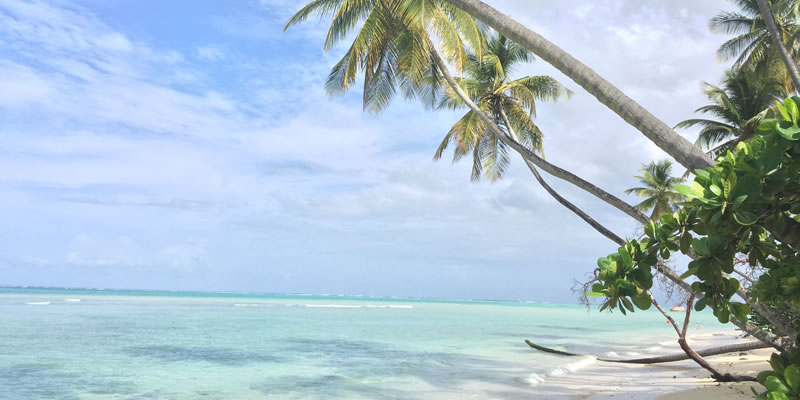 Why Tobago?
As Lush As Ever
For much of its post-colonial history, Tobago was a British colony. This heritage lives in the quaint, quirky, and loveable charms of the island and its locals. The south-west of the island is a well-connected hub of hotels, sweeping coastlines, and independent eateries. In contrast, the central and north-eastern regions are a rugged, jungle-clad paradise that harks back to the original pre-colonial days of Tobago. If you're into diving, the amazing seafloors and wondrous sea life make Tobago an excellent destination for aquatic adventures. Wildlife lovers will also discover an extraordinarily diverse biosphere, filled with exotic birds and tropical foliage. Best of all, Tobago has escaped the radical commercialisation that has swept over other Caribbean islands, with plenty of self-sufficient hotels and establishments brimming with charisma. If you want to experience the natural wonders of the Caribbean without relying on western typicalities, Tobago is a delightful escape from the modern world.
Weather & When to Go
Tobago is one of the most flexible destinations in terms of weather. Tobago's equatorial location produces no real distinction between winter and summer, instead producing two larger seasons: the dry season and the wet season. The former lasts January – May and most days are filled with brilliant sunshine; the latter spans June – December, but isn't as wet as you might think. A meteorological phenomenon known as the Petit Carême wraps Trinidad and Tobago in a microclimate that punctuates the wet season with humid days of glorious sun. The result is a Caribbean destination that offers clement weather for most of the year. You'll probably find the cheapest prices May – June and November – December, so keep your eye out for early summer and early winter travel deals.
Things to Do
Tobago has its fair bounty of coastline backdrops for relaxing holidays, but at its heart Tobago is an island that asks you to walk its hills and hear its music. Here are some of the finest ways to spend your time on Tobago:
•   Go diving. It's an inexpensive destination for learning to dive in one of the world's most beautiful stretches of ocean
•   Walk some of the finest white sands of the Caribbean at Pigeon Point, Store Bay and Englishman's Harbour
•   Snorkel and bathe in Nylon Pool, a metre-deep lagoon near Buccoo Reef
•   Take a boat to Little Tobago, a seabird sanctuary rife with natural curiosities and colourful birdsong
•   Dine at Jemma's Treehouse Restaurant for fresh seafood with a fine view
Getting around
The idea of centralised tourism is new to Tobago, so much of your relaxation, exploration, wandering and unwinding will follow an agenda of your choosing. The south-west of the island is covered extensively by taxis and buses, but relying on public transport makes seeing the northern parts of the island a little more challenging. Tobago is only 40km long and 10km wide and car hire is very affordable (starting from around $35 per day) so driving yourself around is a viable option. If you think that car rental is the way forward, here are some top tips:
•   Tobago drives on the left, so British holidaymakers should feel right at home
•   Some of the roads are fairly twisty, so watch your speed
•   Fuel stations are widespread in the south-western urban areas, but sparse elsewhere – so fuel up whenever you can
•   If you want to explore anywhere beyond the main roads, rent a 4×4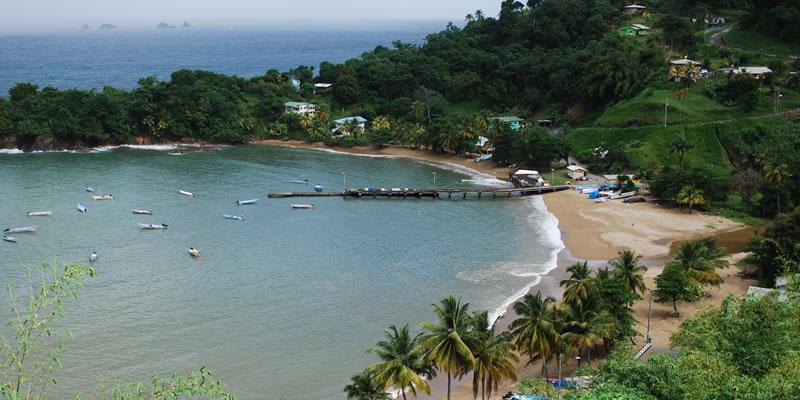 Essential Knowledge
Currency
The official currency of Tobago is the Trinidadian Dollar, but American Dollars are also widely accepted. If you intend to travel around the island and see the sights then we'd highly recommend taking some Trinidadian Dollars to prevent being short changed by the exchange rate. Change is always issued in the Trinidadian Dollar, and the strength of the American Dollar against the Trinidadian Dollar means that local exchange rates will not likely land in your favour. Your local currency exchange may need some extra time to order in Trinidadian Dollars, so let them know as far in advance as possible. If you don't plan on leaving your hotel, you'll be fine sticking with the American Dollar. If in doubt, check the exchange rate here.
Emergency Numbers
Tobago is a safe and exciting island to spend a few sunny weeks. That said, it's always good to be prepared. These numbers should help you in a pinch:
•   Fire & Ambulance: 990
•   Police: 999
•   Coast Guard: 634-4439 or 634-4440
FCO Advice
You can stay abreast of all the latest travel advice from the Foreign & Commonwealth Office right here.
Video Map
Try some of the suggestions in this handy video map for some holiday inspiration. Just click on a point of interest to learn more and watch an exclusive InFocus video, or click the toggle on the top left to see all the destinations at once
Top Tip: View the map full screen by clicking here.
Try Tobago
Now is the time to try Tobago, fully equipped with this expert knowledge. If you'd like to look at your hotel options, use that handy blue button below. You have the info, so make it happen, Holidaymaker.