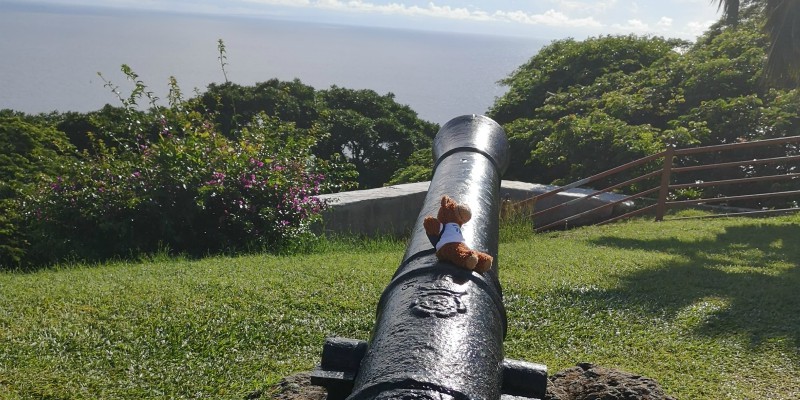 Visiting Tobago recently, personal travel advisor Elizabeth got to grips with everything Tobago has to offer. Read on for her definitive guide on where to stay and what to do in Tobago for the ultimate Caribbean escape.
Answering the question on where to say in Tobago is a tricky one. There are estimated to be 101 things to do in Tobago, your hotel is your base for exploring the island. It's lucky it takes only an hour and a half to drive from one end to the other! Two hotels, Bacolet Beach Club and Tropikist Beach Hotel and Resort stood out to me during my stay. With a great standard of accommodation and brilliant locations, here's why both of these hotels will be on my holiday hitlist when returning to Tobago.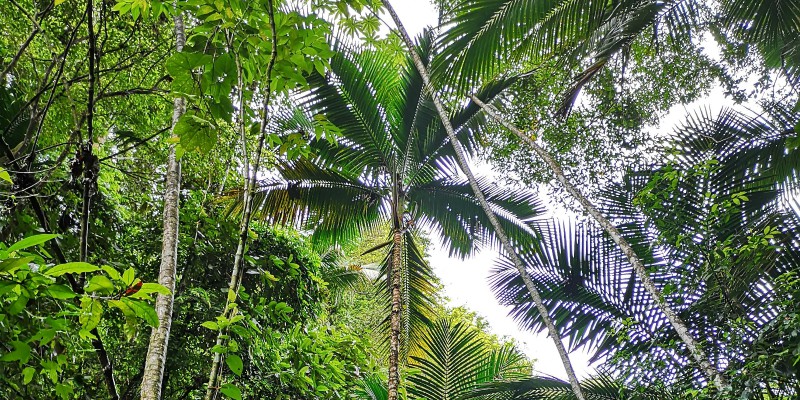 The Beautiful Bacolet Beach
Located in the village of Bacolet, Bacolet Beach Club is only a 20-30 minute walk (5-minute drive) to Scarborough, Tobago's capital, if you aren't tempted to stop for a rum punch on the way that is! As they say in Tobago, "everything is just around the corner". I discovered that in Scarborough there is lots to see and do. For instance, in the day taking a stroll around the botanical gardens, looking at the brightly coloured graffiti along the walls, whilst taking in the views of the ocean.
After 10pm, 'Bar Code' is the place to be. On a Tuesday night during carnival season (February to March), they hold live Soca bands, the local music of Tobago. If you want to get into the holiday mood, listening to 'Hello' by Kes will get you in the Caribbean vibe. Also, throughout the year, if karaoke is your thing head down to 'Bar Code' every Thursday night. Alternatively, if you prefer a more relaxed night staying in at the Bacolet Beach Club, looking out over the ocean from your balcony or one of their two restaurants is the perfect atmosphere.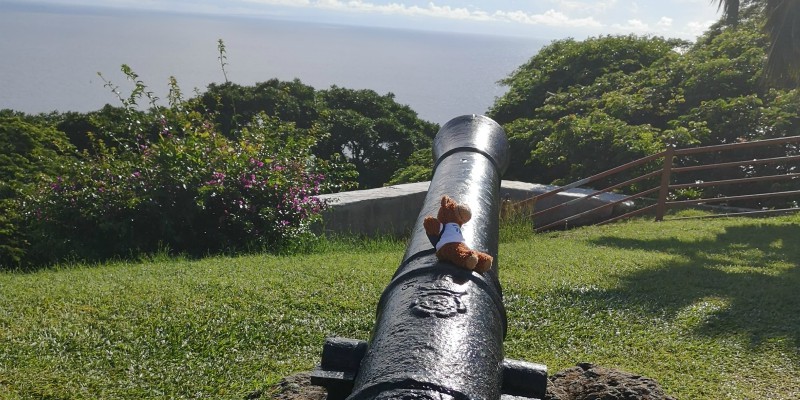 A One-of-a-Kind Escape
What struck me about Bacolet Beach is not just the fact that every room is overlooking the ocean, but the super quirky designs are not something I have seen before. They were all designed by the hotel owner, model Gloria Jones. As you enter the rooms they are spacious and lit by a glass chandelier. All superior rooms have a chasse lounge, they are chic with velvet highlights and embroidered décor. In comparison to other rooms during my stay in Tobago, these are well lit, bright and airy. From the main pool area, it is around sixty steps down to the hotel's own private beach which is situated on the side of the Caribbean Sea. There is a beach bar close by so you can sit sipping cocktails all day long.
With regards to the restaurants on site, it is known that locals pay to eat here and the restaurant of the Half Moon Blue, the sister hotel to the Bacolet Beach Club, can be used across the road. Whilst staying in Tobago I never once had a bad meal and I would highly recommend trying their soup callaloo and any fish options available, as they are caught fresh each day.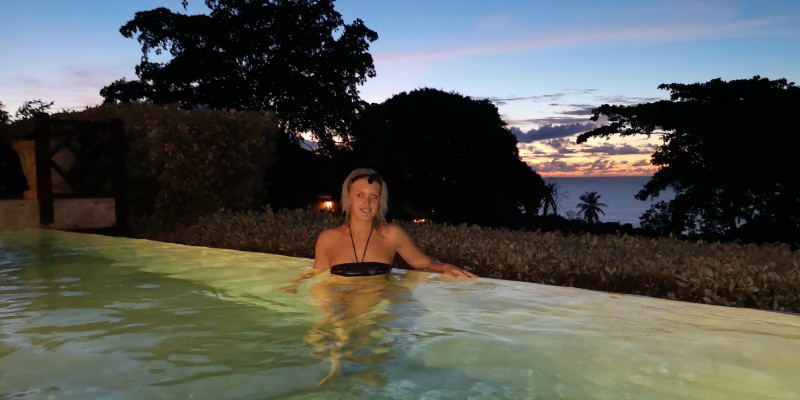 Discovering Tobago with Tropikist
Situated south of the island in Crown Point, Tropikist Beach Hotel & Resort sits only a 5-minute drive from the airport. If nightlife is what you are looking for, Crown Point is the place to be. I recommend trying the bar 'Jade Monkey' over the weekend, only a 5-minute walk from Tropikist. If you are willing to venture a little further, 'Sunday School' is a must for all visitors in Tobago. 'Sunday School' is a weekly event where all the locals will come together for a street party, which becomes lively around 12pm and goes on to early hours in the morning. You'll see a steel band and dance the night away to the mixes of the DJ. What's more, this hotel is around a 10-minute drive from Pigeon Point beach, if staying at Bacolet Beach Club a shuttle service at a small cost is available. This is one of the most beautiful beaches in the world, there is only a two pound fee to visit this beach for the whole day and it is perfect for water sport lovers.
My two favourite excursions during my trip to Tobago took place from this beach. The first was a bio-luminescent kayak tour which is ran by Radical Sports. This was a kayak trip at night where you paddle to the lagoon to see the bio-luminescent plankton. A great experience and good for burning off all of that holiday food. The second trip, run by Waterholics, was called the sunset cruise. You are taken out on a glass bottom boat to Buccoo Reef for a snorkelling stop, then onto the nylon pool to scrub your skin with the natural salt, leaving you looking ten years younger. Finally the trip ends at No Man's Land where a party is held on the island with a buffet, bonfire, music and lots of rum punch.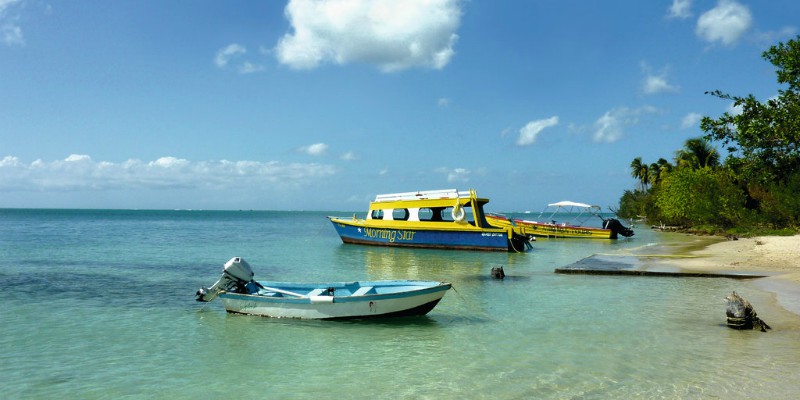 Why I loved it
The reason that I would stay at Tropikist Beach Hotel and Resort is due to the location most certainly. However, this hotel which is classified as a 3 star property, exceeded all other 3 stars I viewed on the island in my opinion. The rooms have all been newly renovated giving them a modern, fresh look and again very spacious and all rooms have an ocean view. Again, this hotel has steps down to the beach which has a PADI dive shop offersing free scuba lessons, perfect for those looking to try out water sports.
Alternatively, if you are more like me and like to lounge on the sunbeds there is a beach BBQ and on the hotel grounds a swim up bar and Jacuzzi. Additionally, excursions can be organised through the hotel such as the Coco Estate tour, Corbin's Local Wildlife, a visit to Argyle falls or an endeavour through the rainforest. At night, this hotel offers entertainment Thursday to Saturday and both restaurants overlook the ocean. If you are looking to venture out, the restaurant Café Coco is a lovely place to eat.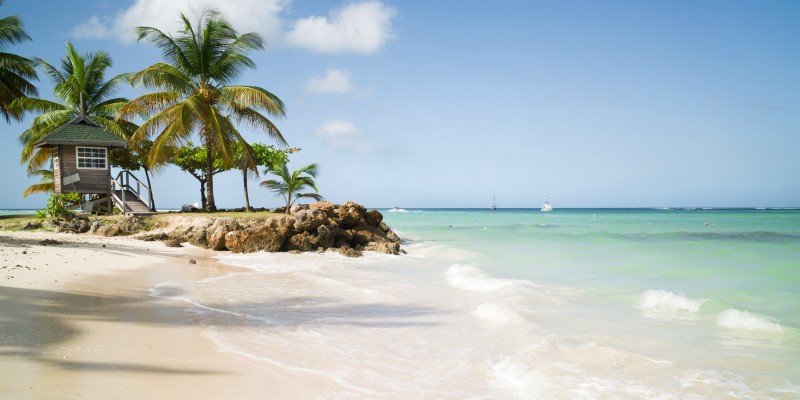 With plenty of things to see and do in Tobago, it is the perfect Caribbean destination boasting the best resorts to make the most of it all. Ready to start your adventure? Click the button below to view our full range of Tobago properties or get in touch with one of our personal travel advisors to find your perfect escape.