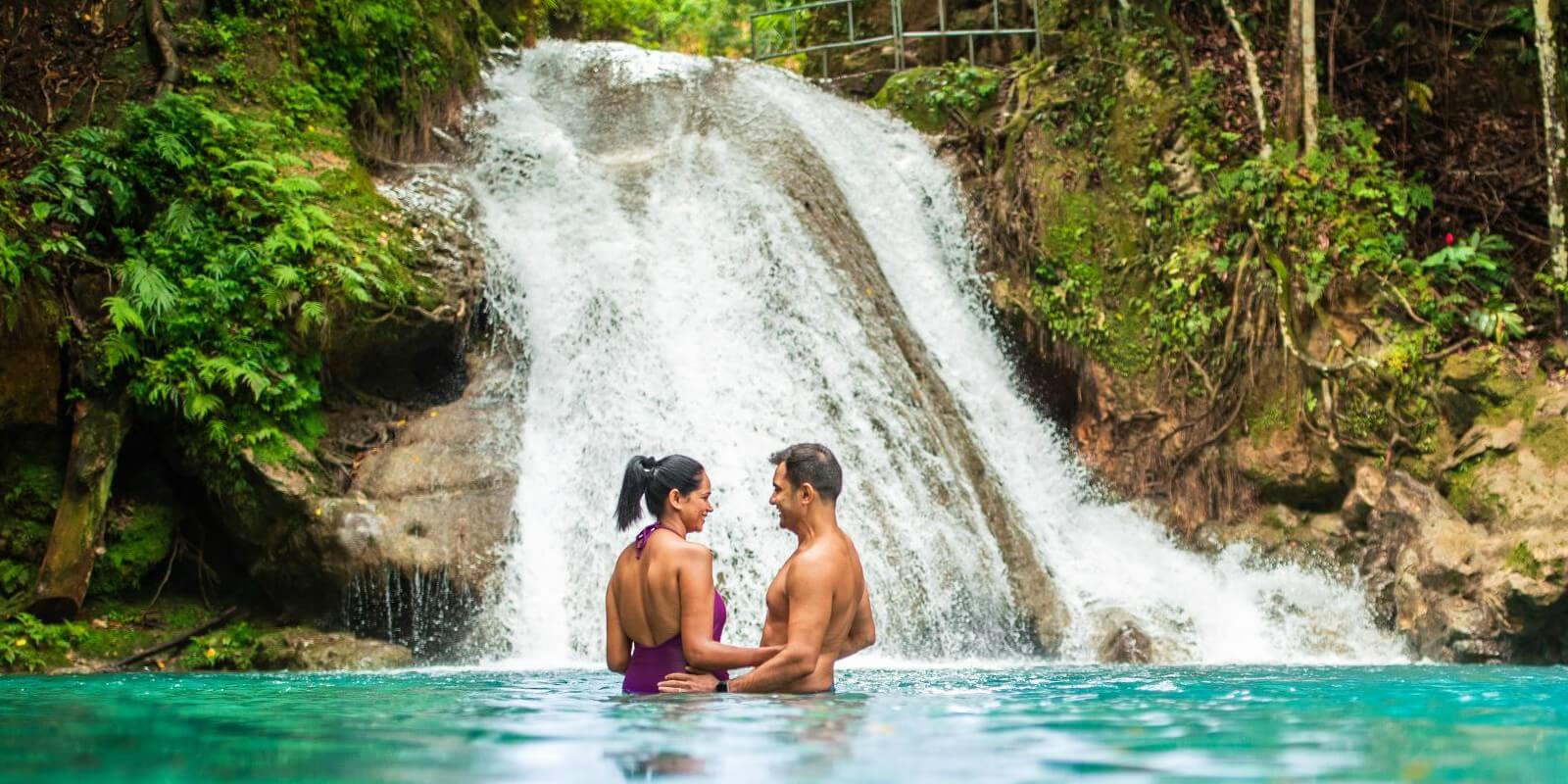 Jamaica is renowned for it's beaches. But what else makes the third largest island in the Caribbean the number one for couples?
What comes to mind when you think about Jamaica? A perfect, romantic island in the Caribbean? Warming sun, white sand and shimmering turquoise seas? Well, you're right.
In truth if you headed for infamous coastal areas like Montego Bay, Port Antonio to the north or Fonthill Beach on the South Coast and held up a postcard of an idyllic Caribbean beach, you wouldn't see any change of scenery when you pulled it away.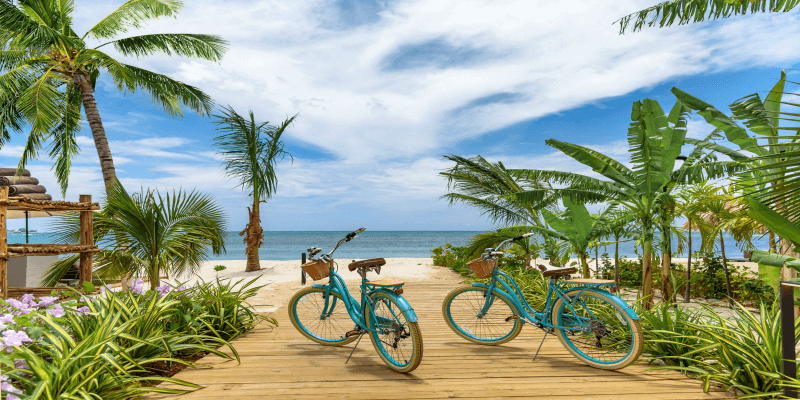 But everyone knows about the picturesque beauty of Jamaica's coastline, right? So we want to focus our attention away from the sandy shoreline. What if we told you there's so much more to Jamaica than just picture-perfect beaches?
Yes, it has to be said, there's not many better places to enjoy a romantic stroll along the seafront than on Jamaica's blissful beaches. But there's other faces to Jamaica that will send your senses into overdrive.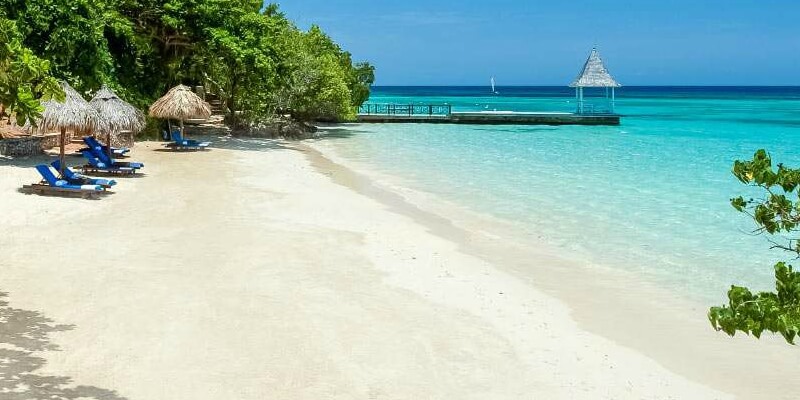 It's a jungle out there
As one of the largest islands in the Caribbean, Jamaica offers a host of hidden experiences. From vibrant town centres that immerse you in a cacophony of Caribbean culture and cuisine, to deep lush rain forests teeming with life and even soaring peaks courtesy of the Blue Mountains.
Diverse geography, an abundance of wildlife and natural sight-seeing opportunities mean that there's a host of excursion experiences to be had in Jamaica. So why not make the most of your time in the Caribbean?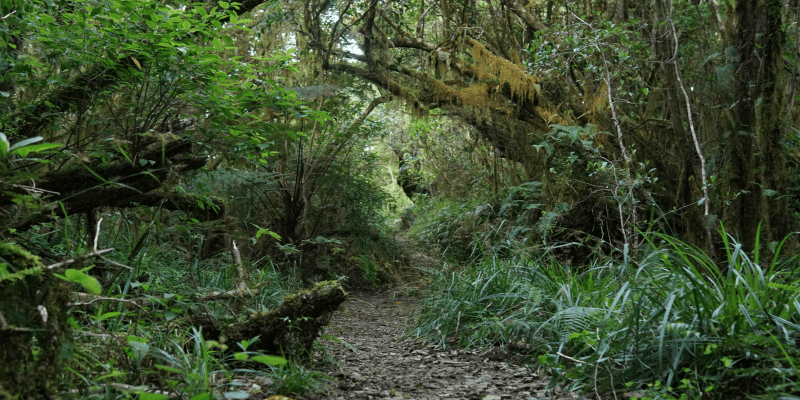 Taking a trip out into the rain forest can be mind-blowing! So why not get some wild excursions booked in. Discover hidden worlds, where you can uncover areas of natural beauty like Dunn's River Falls. Or experience the tranquil heart of Jamaica via a bamboo raft cruise down Martha Brae River.
Enchanting walks through the undergrowth can end with you taking a dip in spots like Port Antonio's majestic 200ft deep Blue Lagoon. Making memories has never looked this good. Resorts like Sunset at the Palms are in the perfect location for allowing you to immerse yourself in the beauty of natural Jamaica, whether you decide to leave the resort or not.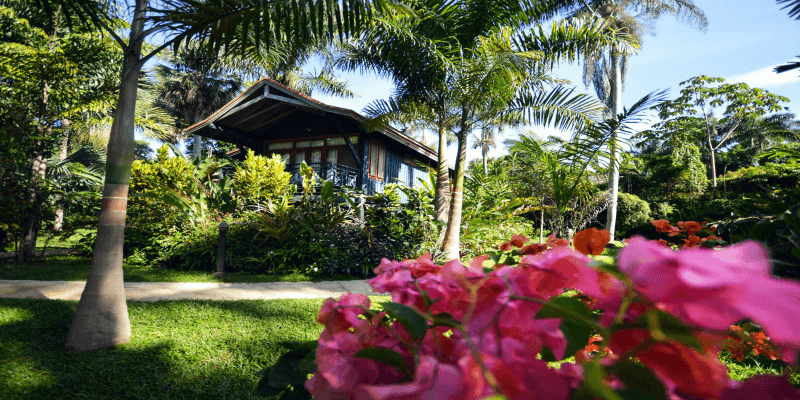 Thrill seekers of the world unite
If you're the type of couple who love feeling more adventurous, then there's also plenty in Jamaica to quench the thirst of the thrill-seekers. Off-road safaris are a great way to see more of the stunning rain forest and the mesmerising wildlife therein.
Taking a trek up the Blue Mountains is perfect for getting your blood pumping and the view at the top will do nothing to slow your pulse. On your way to summiting the spectacular Blue Mountains, why not reward yourself with the stunning views out over the coffee plantations? At the top you get the special experience of seeing Jamaica from above the canopy. Maybe gain a couple of new envy-inducing snaps for your Instagram account too?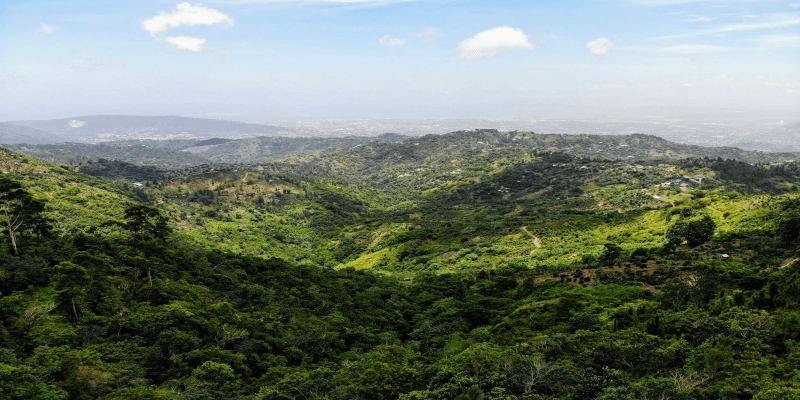 Those looking to hit the bottom of the mountains quicker than they summited the peak, can choose the air or the track for their descent. That's right, would you want a rain forest zipline experience, or would you prefer to channel your inner Olympian and bobsleigh your way down, just like Sanka and the rest of the 'Cool Runnings' gang.
Sandals Ochi Beach Resort is situated in the perfect position to allow you the freedom to really express yourself in Jamaica. The idyllic location of Ocho Rios in the North of the Caribbean island places you at the heart of natural Jamaica with the Mystic Mountains and rain forest on your doorstep.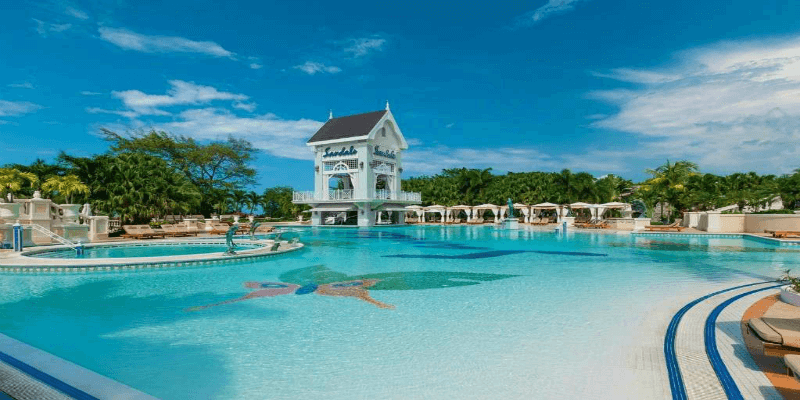 Supreme marine dreams
Okay, so we said there's plenty to do in Jamaica, away from the coast. But we must come back to the water just because there's so much going on there. Plus, if you're there taking in the beautiful sights and sounds of the sea, just the two of you, then we think you should know that there's more to the coastal views than an enchanting sunset.
The waters around Excellence Oyster Bay are teeming with life. Situated on a peninsula, jutting out into shimmering azure scenery. Delicately surrounded by a stunning coral reef you can experience some wondrous sights below the waves.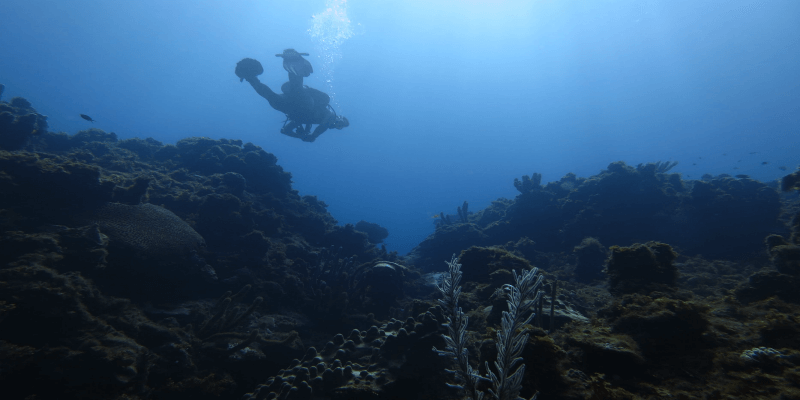 Get your diving kit on, or just head off for a snorkel and see what life is like for the marine beings of Jamaica.
But, just because there's plenty going on down there doesn't mean you have to join it. Private yacht excursions are a great way to take in the plethora of marine life without ending up in the drink. Or if you want to feel close to the sea, then kayaking and canoe classes are super ways of taking in everything the Caribbean has to offer from a more holistic environment.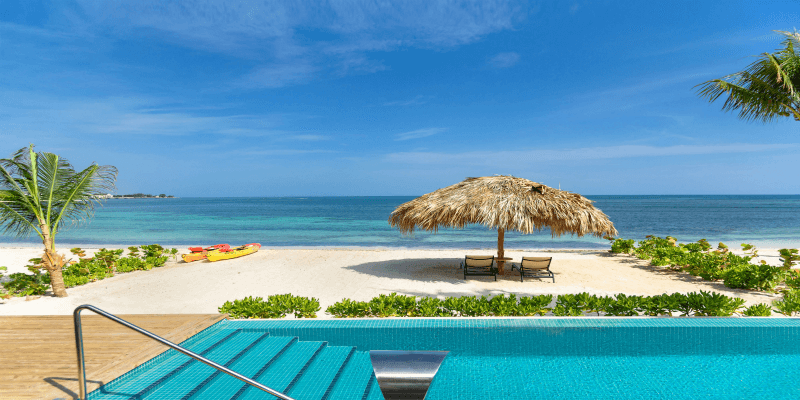 Party the night away
All the fun in Jamaica doesn't stop when the sun goes down. In fact, quite the opposite, the island comes to life after dark. Renowned for it's party atmosphere and awesome music scene, good time hunters will not be disappointed by the nightlife.
A couple of Jamaican exports that are loved the world over are rum and jerk chicken. Why not try some local delicacies as you relax into the reggae atmosphere. If you fancy taking your rum love affair to the next level then the Appleton Estate Rum Tour will give you a fascinating insight into a craft handed down through generations.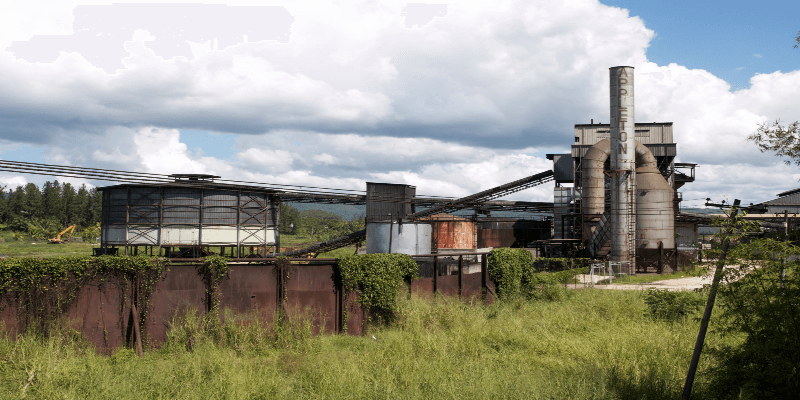 Canoodling couples come to Jamaica
Jamaica has something for every couple, so whether you're looking for a memorable treat for Valentines Day, or a chance to unwind as just the two of you. You can discover as much or as little of this West Indian haven as you like.
Whether you want to head for the depths of the sea or the tops of the Mystic Mountains you'll have to admit, there's definitely more to Jamaica than meets the eye. Plus, there's plenty of beautiful locations to get your phone out and start grabbing some serious "sorry, not sorry" holiday snaps.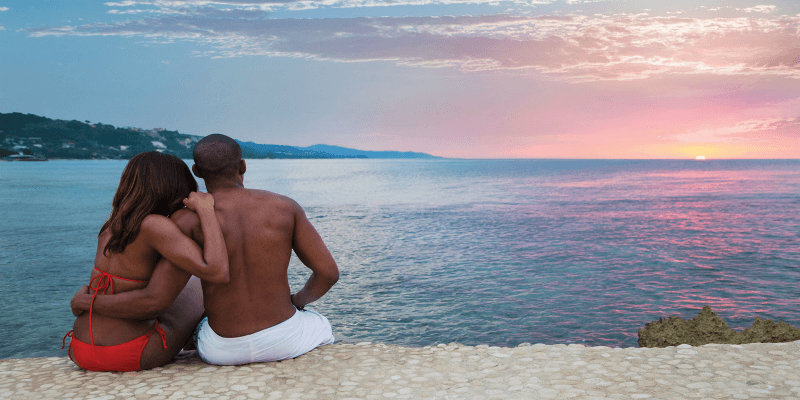 Kicking back is not a crime
Your stay in Jamaica could be completely full of adventure, or completely full of you time. Relaxing by the pool taking in a massage or two, or just catching up on some reading pool-side. Locations like Sandals Royal Plantation are perfect for achieving the latter.
Relax in luxury at the idyllic beachfront location and if you need a hand kicking back, then your very own butler is on hand to help make your stay more hospitable. For the perfect couples experience why not try a massage out on the secluded jetty. Unwind with a rum punch and a massage under the Jamaican sun surrounded by turquoise water. Sounds like heaven, don't you agree?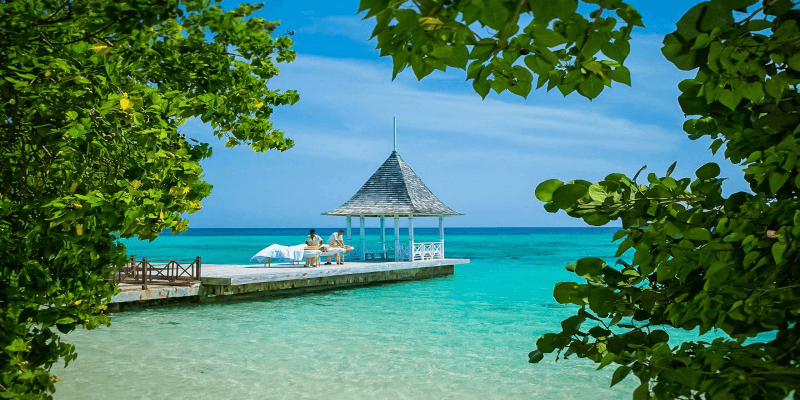 Whether you're thinking about getting away because you like the idea of strolling hand-in-hand staring lovingly into each other's eyes along an idyllic beach, or you want to make some memories this year. Then make Jamaica your destination of choice.
Our experienced and knowledgeable team can help you discover the Jamaica of your dreams. So why not give them a call now on 0844 644 8351 to find out more. Or follow the links below to find out more about our other romantic escapes