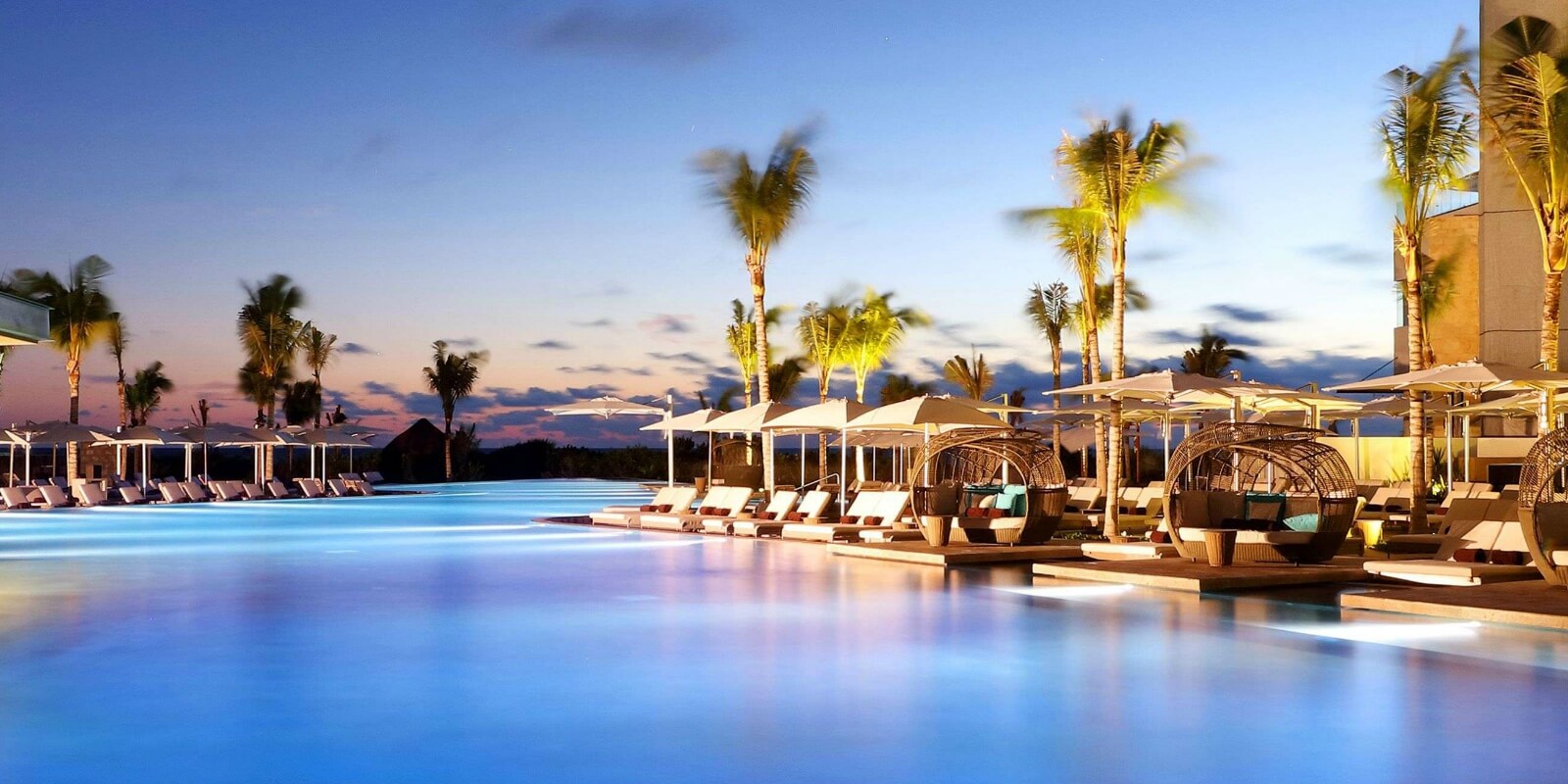 When you think about holidays in Mexico your mind probably jumps straight to thoughts of Cancun. But our Personal Travel Advisor, Makita Harwood, recently jetted off to Mexico and experienced the beauty of Costa Mujeres from TRS Coral Hotel – The Royal Suites by Palladium. Let Makita take you inside Costa Mujeres and TRS Coral Hotel.
Costa Mujeres is a quieter location just 40 minutes from the airport and a 20-minute taxi ride from, vibrant Cancun. This was my seventh time visiting Mexico but my best experience yet! Thanks to the amazing service at we had at TRS Coral Hotel – The Royal Suites by Palladium.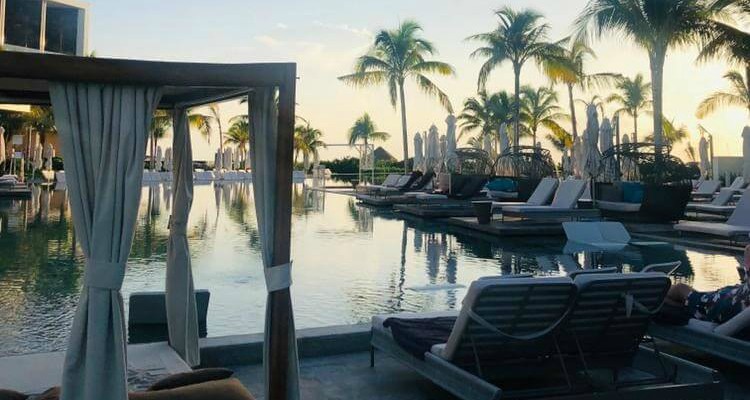 ---
TRS Coral Hotel – The Royal Suites by Palladium is an adult only hotel, the days by the pool were very relaxing with a great atmosphere. There was a live singer or saxophonist playing throughout the day which only added to the excellent holiday vibes.
We loved the main pool and stunning beach areas, where there were plenty of luxury sun loungers and cabanas, great for getting out of the sun for a while. The service around the pool and the beach was incredible, there were swim-up bar facilities or waiters who took care of everything you could want. We were even allocated a Butler to take care of all our needs throughout the stay.
Another added bonus to TRS Coral Hotel – The Royal Suites by Palladium was the 24-hour room service, extremely useful if you just fancied something to eat or drink at any time. That leads us nicely on to our room.
A wonderful place to relax

The pool-side service from the staff is second to none
---
Home from home
A luxurious free-standing bathtub in our Junior Suite

Awesome view from over the gardens and bay from the resort
All the rooms were beautifully designed with chic décor adding to the light and spacious layout. We stayed in a Junior Suite which had incredible views out over the pool and ocean. With a Junior Suite at TRS Coral Hotel – The Royal Suites by Palladium you also get the choice of a king-size or two queen beds.
The bathroom had a very unique luxurious design. A spacious room with a superbly elegant free-standing hydro-massage bathtub, separate shower and toilet. An absolutely perfect space to continue your relaxation after a day by the pool, or to chill out after a busy day of excursions.
---
Somewhere to eat, drink and be merry
There's a fabulous choice of restaurants and bars at the resort. We loved the fact that you could have the evening experience of your choosing. Whether you wanted a fine dining experience with peaceful surroundings. Or if you preferred an evening in the 24-hour sports bar watching all the action on TV, playing pool and enjoy casual dining then you can do that too.
At the heart of the resort is a place called "The Village". We ventured down there most days and found incredible restaurants, bars and shops, all of which were included in the all-inclusive offering.
You can experience outstanding cuisine from all over the world at the resort. From local delicacies to international favourites, there's even a Chic Cabaret restaurant which promises an amazing evening with a Moulin Rouge style show to accompany your meal.
However, my favourite restaurant had to La Bohème. An elegant and sophisticated Parisian atmosphere with excellent food and service inspired by French bistros. We also enjoyed Portofino and Chang Thai the Italian and Thai restaurants.
---
Things to do
Lunch at Green Demon Beach Club is a must!

We loved getting out and taking in an excursion to Isla Mujeres
If you think lounging by the pool, sitting at the swim-up bar and wining and dining in the restaurants sounds great, but you're looking for other options too. Then there's also plenty going on outside the resort. We thoroughly enjoyed our time around the hotel but there's lots of excursions available too, for an extra cost, if you're looking to expand your experience of Costa Mujeres.
My favourite part of the trip was an excursion to Isla Mujeres. The most beautiful island with white sand and crystal-clear waters. It's just $10pp and takes around 30 minutes on the ferry. You can hire golf buggies on the island to go and explore or head off to one of the amazing beach clubs.
We reserved a bed in advance at Green Demon beach club, I couldn't recommend this enough whether it's singles, couples or families. The food was great, the beach is just beautiful and then they had a live band playing in the afternoon. Staying until sunset is a must too! It was the most beautiful sunset I've ever seen.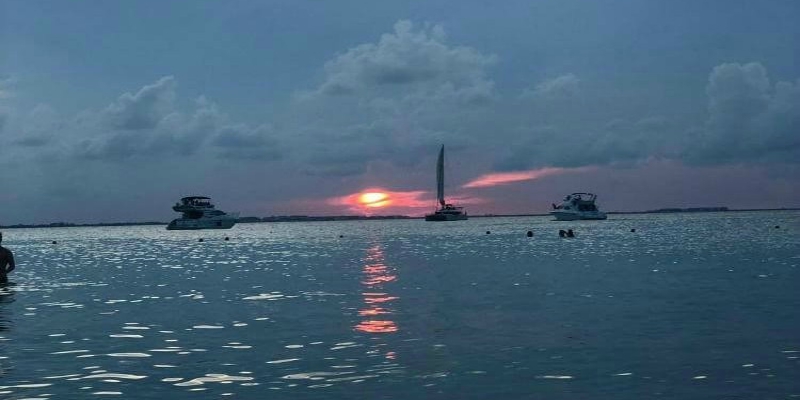 ---
As you can tell, TRS Coral Hotel – The Royal Suites by Palladium offers an amazing experience for those who aren't immediately drawn to the buzz of Cancun. But don't just take Makita's word for it, why not go and experience it for yourself?
Give our team a call to get your Costa Mujeres escape booked in on 0844 644 8351. Or click the button to see more of our options for your Mexican adventure.