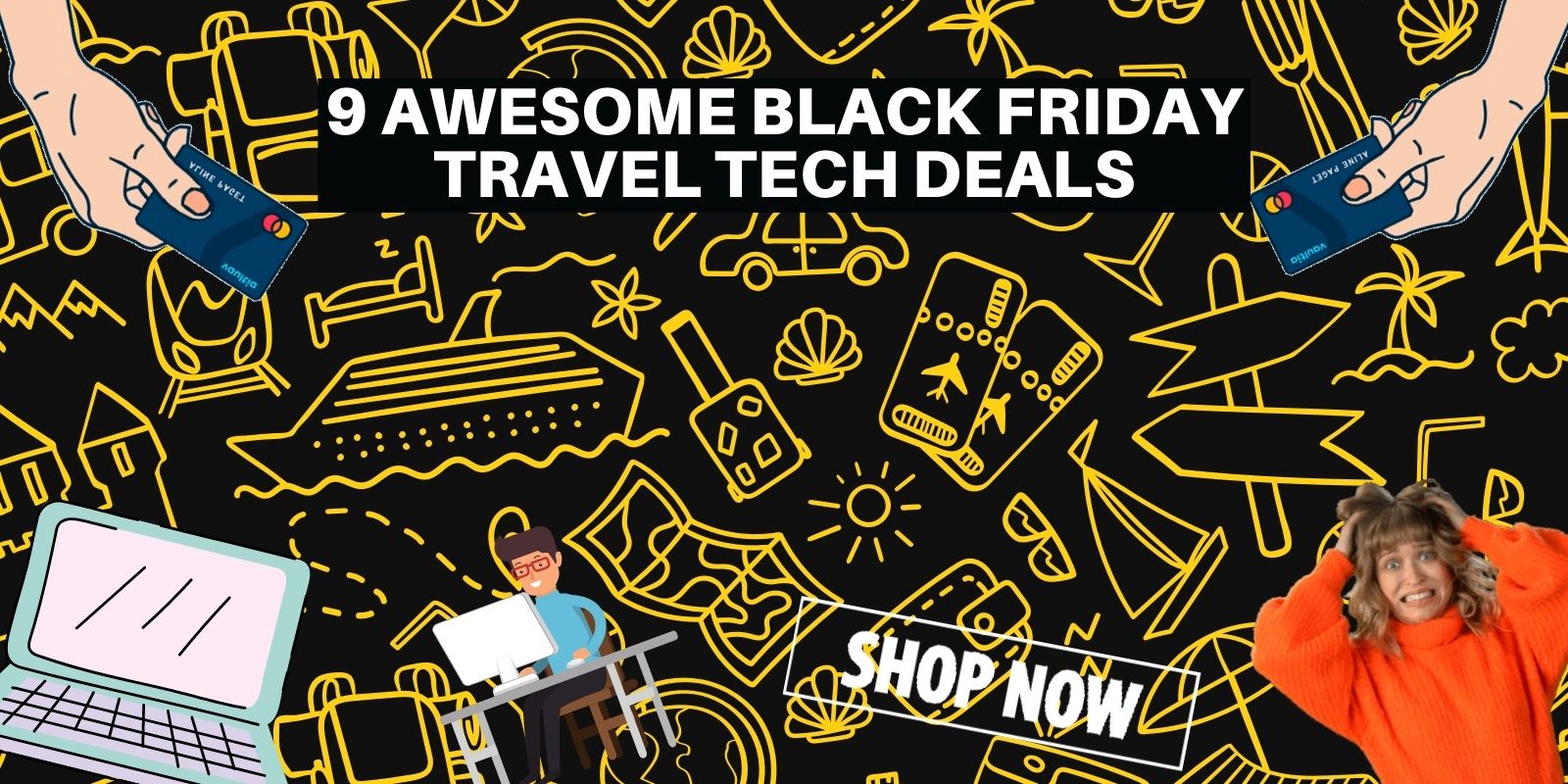 This list of Black Friday top travel tech

offers will ensure your break goes smoothly.
---
It's that time of year again.
Black Friday is back and we're bracing ourselves for everyone around us turning into Martin Lewis, scouring the internet for the best buys on the market.
Luckily, though, when it comes to holidays you don't need to bother with Black Friday gimmicks or trudging to the shops to get the best prices. Our Caribbean Warehouse Subscriber Exclusives are the best holiday deals out there, delivered to your inbox all year round!
---
Get the gadge to suit your trip
But we know not everything's as easy as our Subscriber offers on Black Friday. We're all looking for those must have items to buy cheap.
However, this year you've got us to do all the sales-shopping leg-work for you. And don't worry about the travelling difficulties of the moment, they won't last. But great holiday gadge and the feeling you get from knowing you've got a real steal absolutely will!
So, come, let us hold your hand and guide you to the best Black Friday travel tech to get this year. From tablets to soothe any unhappy plane passengers to LED facemasks to ensure you're looking your best for the sunshine.
---
Now, none of us are exactly coming out of this year "beach ready".
But this Fitbit Inspire 2 offer is a great way to get your hands on a superb bit of gadgetry that'll; a) help you get back to your best after lockdown. B) keep you in shape while you're away. C) won't leave your bank balance looking like it's been on a diet.
Another great thing about this offer from tech giants Currys is, it's actually a bundle and you'll also get to unbox a brand-new Google Home as well!
---
Take our word for it, this is one of the best game console offers out there this year. Honestly, you don't need to go wandering through the miasma of offers. No one need that pain in their life.
The beauty of this bundle from Nintendo is it comes with something for you and the kids. Animal Crossing and Minecraft are the games included in the deal. So you're getting two really popular games, that you'll all enjoy, straight off the bat.
But if you think you'll need more stimulus to help while away the plane journey to your Subscriber Exclusive destination. You've got enough time to build up your gaming library.
---
Just staying with Currys for a second because we had to tell you about this offer. Great for making sure your homestead is spick & span before you go.
The Shark Flexology True Pet Anti Hair Wrap hoover has a whopping £200 knocked of the price! Marked down from £549 to £349.
You might not even want to go away after you've seen how clean your carpets are! Jokes… bring on the sun loungers and cocktails!
---
Treat yourself to a super close wet or dry shave with this Boots offer on the new Phillips Series 5000 shaver.
Keep yourself looking sharp around the pool on your Caribbean escape. The Series 5000 cuts through tough stubble in no time and leaves your skin feeling refreshed, so you're ready to hit the pool in no time.
The shaver comes as part of Boots' "Better than half price" offers on selected Phillips male grooming products and electric grooming products.
---
You can save a bundle on this bundle from Very. Marked down from just under £350, get the Panasonic NA65 Rose Gold Hair Dryer & HS99 Rose Gold Hair Straightener Bundle for just £119!
Away from that AMAZING price tag, though. We know it can be tough for ladies when it comes to keeping the frizz at bay when you're away in warmer climates. So, surely, any help you can get from some Black Friday travel tech would be welcome right?
Imagine how good you'll feel stepping out for your evening meal at the stunning resort you booked for a steal. With incredible hair, having had warming sun on your face all day, cocktail in hand. If you close your eyes and look up, you can almost feel the sun (it's either the sun or you're too close to a bulb)
If that's not an awesome Black Friday travel tech bargain we don't know what is!
---
Now for something a little different.
This LED face mask from Lux Skin is perfect for helping you get your face looking perfect before you jet off.
Tackle any befuddling blemishes or breakouts with a quick treatment in the comfort of your own home, or stunning suite, without breaking the bank.
You might be thinking, because of the price tag, it won't be as good as the pricier models. But, with plenty of reviews and an army of celeb endorsements the Lux Skin LED facial mask boasts a strong fanbase.
---
A simpler addition to your holiday beauty routine. This brilliant LED mirror from Boots is down from nearly £60 to just £28 at the moment.
Now, we know what you're thinking, "if I book at an amazing hotel surely they'll have a vanity mirror?"
Well, yes, you make a strong point. But that would tether your make up application to the bathroom, rather than relaxing and touching up your make up in your comfy bed or the spacious living area.
---
The perfect long flight distraction tactic for you or your little ones.
With a plethora of features including books, games, and apps from Amazon's Appstore including Netflix, Disney+, and Tik Tok. Plus, a two megapixel camera with 720p HD video recording so you can capture all those amazing holiday memories in crisp detail.
---
Add this Disney+ subscription to your Amazon Fire HD 8 tablet and you've managed to box off the family flight entertainment for under £115. And we're sure we'd all pay that to guarantee some peace and quiet at 35,000 feet. Amirite!?
---
One you may not have thought of is this great deal from Ring. Forget leaving a key with the neighbour when you head off on your hols, with Ring you can keep an eye on your gaff from your sun lounger.
Normally the 3 Plus doorbell would set you back around £200. But the good people at Ring have knocked a whopping £60 off this product at the moment, so you can get peace of mind for a lot less!
---
Happy bargain hunting
Black Friday can be a real pain in the caboose, and it probably hasn't been the poster event for benevolence in the past. But, at least now you could end up with some great tech. You could also look around for some must have travel accessories to go with your gadge haul too.
Planning for a family break or even a couple's getaway can be stressful. But our Subscriber Exclusive offers can take the pain out of picking your destination. While these offers and products guarantee a relaxing stay while you're there.
So now you have a better idea of how to pass your time when you're away, where are you going?