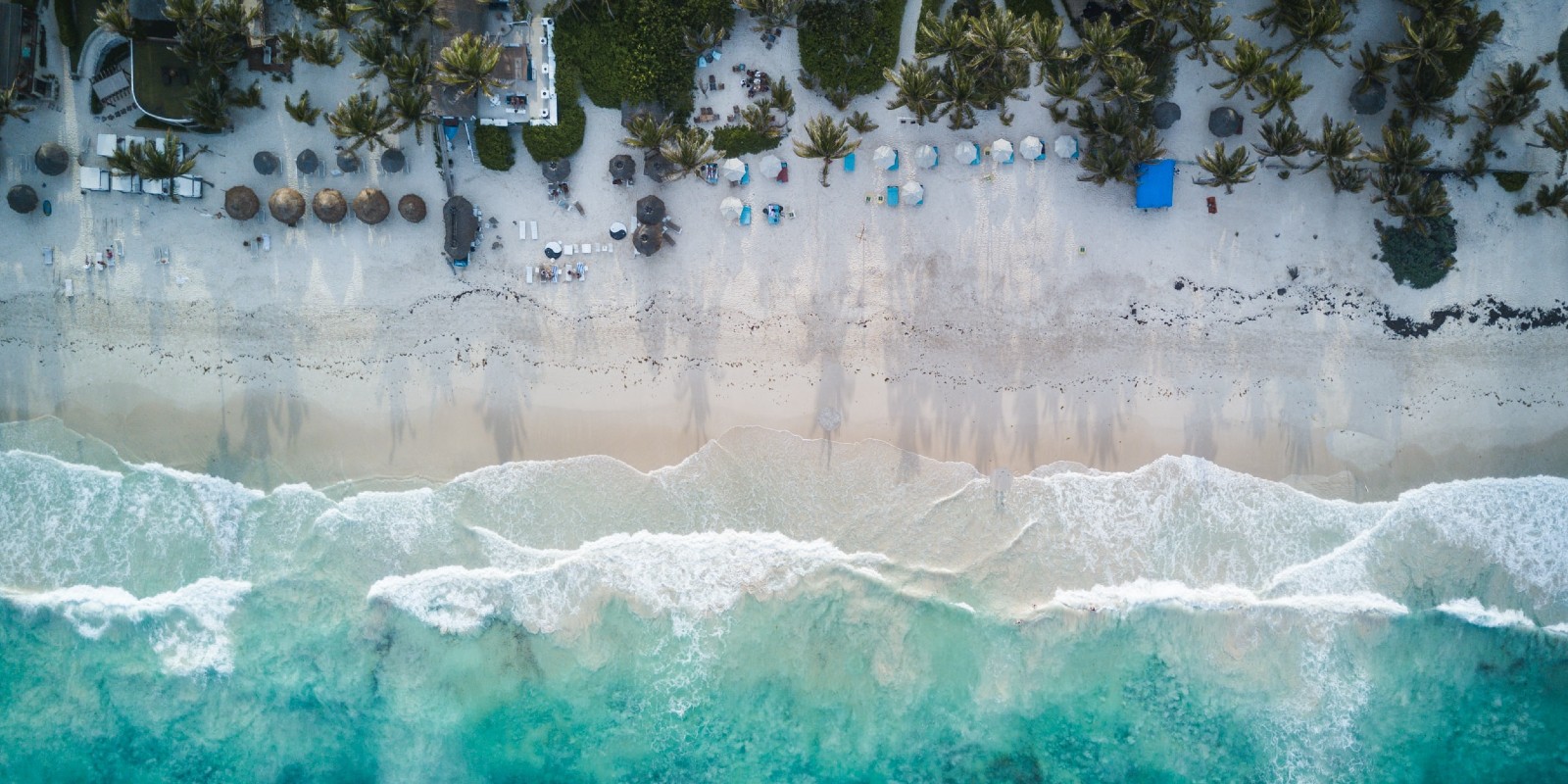 This Mexican marvel is home to a whole host of fascinating things to explore. Let's talk about the top things to do in Tulum.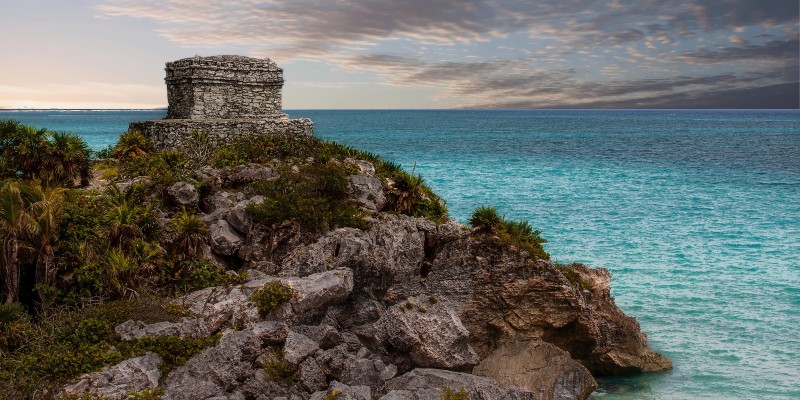 Tulum is perfectly placed along the Caribbean coastline of Mexico in an area known as the Yucatán Peninsula in the state of Quintana Roo. It's location south of Playa Del Carmen and just a 90 minute drive from Cancun, has made it a hotspot for tourists.
Read on to discover the top 10 places for tonnes of fun in Tulum.
---
Tulum's Top 10
Tick off Tulum town
Check out the cenotes
Discover downtown Tulum
Relax at Playa Paraiso Beach
Go back to nature
Explore the Mayan ruins
Taste the delights of Mexico
Engage with ecotourism
Have fun at an adventure park
Give kite-surfing a go
---

---
1. Tick off Tulum town
Once a quiet fishing town, Tulum has grown exponentially into a popular holiday destination. Head over to Tulum town and you'll discover an authentic local vibe. It's the ideal place for an afternoon browse with a range of souvenir shops selling everything you can imagine and perhaps some things you can't! Taco stands are in abundance too along with a few handy places to grab a drink or two. The town itself is also home to a few boutique hotels that offer a friendly place to stay.
While you're in town be sure to strike a pose next to the Tulum sign, complete with swings. It'll make the perfect snap for your social media and makes a nice memento for your visit.
---
2. Check out the cenotes
Cenotes are naturally formed sinkholes specifically found in the Yucatán Peninsula. In ancient times these beautiful waters were used by the Mayans for water supplies. They were also thought to be places the Mayan gods would visit, so many sacrificial offerings would be left at the entrances. Nowadays the numerous cenotes in Tulum attract holidaymakers who are amazed by their natural beauty.
Exploring the cenotes is a great day out and they provide a great opportunity to cool off – simply dive into the freshwater pools and take a swim. Gran Cenote is a must-do. One of the largest cenotes in the area, it has crystal clear waters that will blow your mind. As a bonus it's only five kilometres away from Tulum town.
---
3.
Discover downtown Tulum
For those of you who love to get a feel for somewhere and enjoy a little nightlife, downtown Tulum is just the spot. Weekends in particular see this area of the town come alive. Live music venues become bustling with locals. From mariachi music to DJ sets the sounds of Mexico will be in the air. After a few mojitos we promise you'll be up on your feet and dancing til dawn.
---
4. Relax at Playa Paraiso Beach
Thanks to it's enviable position on the Caribbean coast, Tulum is home to plenty of amazing beaches. Whilst in Tulum, you must spend a day lazing on this white sandy beach, with the sounds of the ocean waves in the background. Playa Paraiso beach is arguably one of the best beaches in Tulum. After spending some time here you'll soon see why it was awarded the Trip Advisor Travellers Choice Best Beach in Mexico, now that's really some accolade!
So, what can you expect from Playa Paraiso beach? Firstly, it's one of many public beaches in Tulum so entry is completely free. Secondly, there are many beach clubs dotted along the coastline if you wish to indulge a little. And finally, think of all the amazing photos you can take of you enjoying this piece of paradise.
---
5.
Go back to nature
If your visit coincides with sea-turtle nesting season then watching the female turtles lay their eggs on the beaches in Tulum is a sight to behold. May to October is the ideal time to catch a glimpse of this natural phenomenon and we promise it's worth staying up late for. Similarly, seeing the sea-turtles in their natural habitat is not something many people can say they've seen. So it's definitely worth doing whilst you're staying in Tulum.
---
6. Explore the Mayan ruins
The Mayan ruins in Tulum are the third-most popular in Mexico after Teotihuacan and Chichen Itza. The archaeological site at Tulum is spectacular. The Tulum ruins are perched on the side of a cliff which makes them unique and unlike any other ruins you'll see in Mexico. Interesting fact for you, Tulum translates as 'wall' in Mayan, you'll see why when you visit.
To learn all about the culture we recommend hiring a guide who will educate you and enhance your knowledge. A top tip is to visit here early in the day before too many people arrive, as it's extremely popular. Deep in the jungle lies the archaeological site of Cobá. The ruins here are just as impressive as those in Tulum but a little less busy so a good alternative if you're happy to take a day trip from Tulum.
---
7. Taste the delights of Mexico
One of the main highlights of any trip to Mexico is savouring the delicious flavours that Mexican cuisine has to offer. We've all tried our hand at making fajitas and enchiladas at home, but if you've never tried an authentic dish whilst in Mexico then you're missing out. Furthermore, head over to Tulum town for the best pick of local food, catering for all budgets there's an option for everyone.
Burrito Amor is one of the most highly-rated eateries in Tulum and it's easily accessible location makes it a great choice. Staff are renowned for being super friendly and the meals are all freshly prepared and cooked. With so many tempting dishes on the menu you'll be spoilt for choice.
---
8. Engage with ecotourism
Another benefit to staying in Tulum is the closeness of Sian Ka'an biosphere reserve. Located just south of Tulum this protected park is home to thousands of species of flora and fauna. You'll get the chance to see creatures like jaguars, pumas and tapirs. Boasting over 1.3 million hectares Sian Ki'an is the largest coastal protected area in Mexico. The whole family will have a great day out here as there's so much to see and learn including exhibits about Mayan culture.
---
9. Have fun at an adventure park
Xel-Há is a fabulous choice for a full day out when visiting Tulum. A wide range of attractions await at Xel-Há. A visit here can be as exhilarating as you like with plenty included in the cost of your admission. Scale the heights of the scenic lighthouse then descend down the water slides into a natural pool, meander through the lazy river and take in the scenery or jump from the Cliff of Courage – if you're brave enough.
Experience the thrills of zip-lining and plunge into cooling waters or explore caverns and jungle trails. Plus, there's even a dedicated children's section of the park so your little adventurers can join in with the action too.
---
10. Give kite-surfing a go
We've already told you how beautiful the beaches in Tulum are but for the daredevils amongst you they offer something a little extra. And the weather in Tulum provides perfect kite-surfing conditions. Couple this with the amazing coastal scenery and you'll see why Tulum attracts so many kite-surfers. Also, the best time of year to try this sport is from the beginning of November through to the end of May when the wind is most consistent. For beginners it's easy to locate an instructor who'll pass on their expert knowledge and have you kite-surfing in next to no time.
---
Riviera Maya we tell you more?
So, that wraps up our top things to do in Tulum.
If this has left you wanting to experience this amazing area of Mexico for yourself then why not explore more of the Riviera Maya.
Click the button below and we'll show you the best resorts in the area.