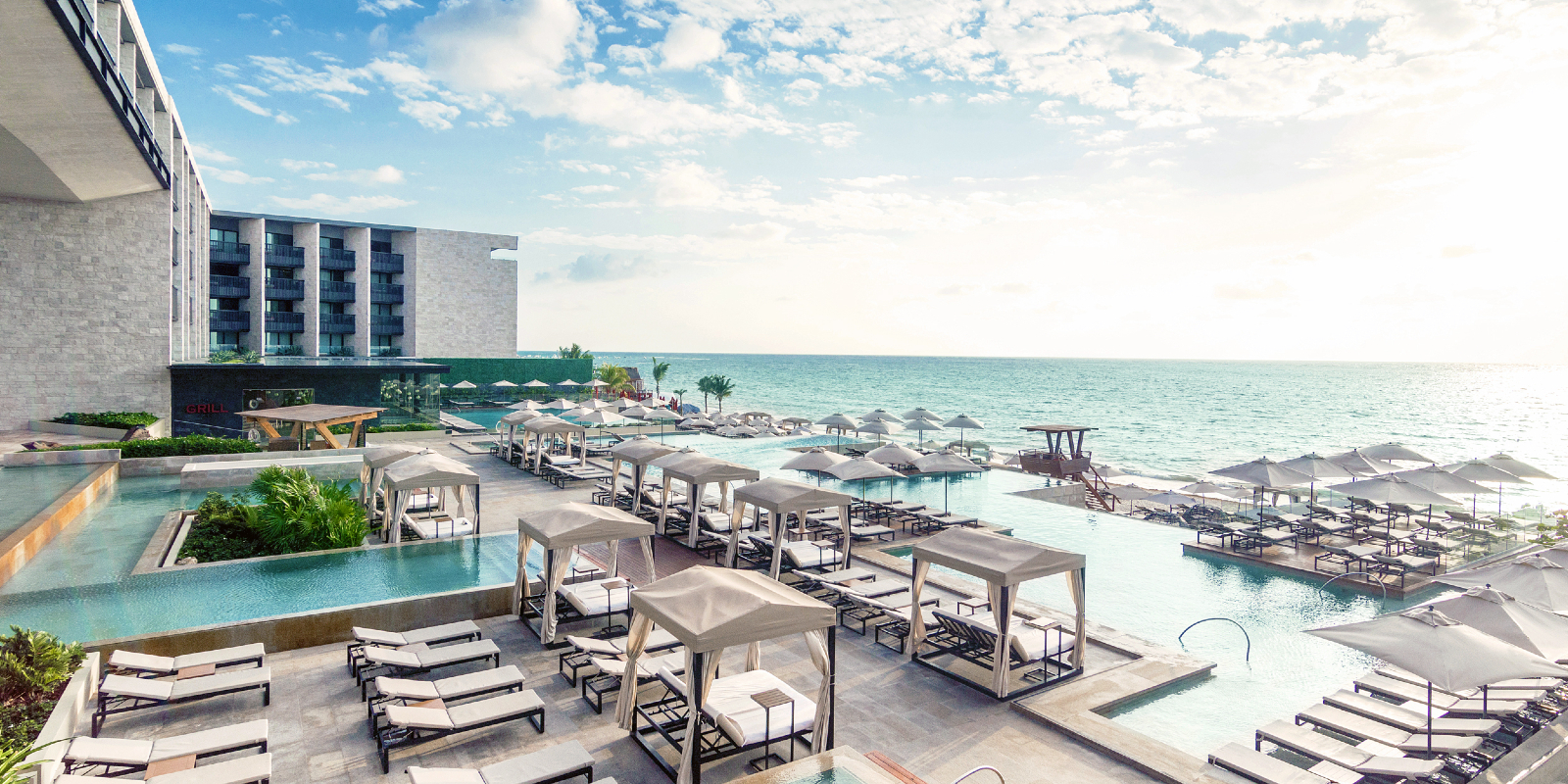 Offering all of the Caribbean perfection in the beautiful Riviera Maya is Grand Hyatt Playa del Carmen Resort. We are ready to Mexi-GO!
This Caribbean getaway is the perfect combination of beachfront bliss, five-star luxury and fun-filled adventure.
Grand Hyatt Playa Del Carmen Resort caters to all ages and holidaymakers. So, whether you're looking for a family break or a romantic couple's trip, this is the resort for you!
Presenting 314 rooms, 4 pool, 3 restaurants and 2 bars, plus a plethora of activities. You will be amazed by this simply magnificent resort.
---
Introducing Grand Hyatt Playa Del Carmen Resort
With a prime beachfront location and ocean-facing pools, you can soak in all of the beachy sunshine vibes every day. Plus, the area of Playa Del Carmen has so much to offer.
From magnificent restaurants and bars, to swimming in natural cenotes and exploring the fantastic landscapes of Mexico.
On top of the incredible location that Grand Hyatt Playa Del Carmen Resort has, the resort itself provides a whole host of activities. There is something to keep you entertained every single day of your trip.
With rejuvenating spa treatments, dance classes and even mezcal and tequila tasting, you won't find yourself struggling to find things to do.
But what about where you'll be sleeping every night? Let's check it out!
---
Rooms and Suites
Prepare to choose between 36 different rooms and suites, yep 36, all with their own private balcony and incredible amenities.
All rooms available come with either a luscious garden view, or a stunning ocean view. Imagine waking up in the morning, stepping out onto your own private balcony with sun rising over the horizon and the ocean breeze around you. That sounds like pure happiness to us.
With a modern and sophisticated style of décor, the spacious rooms present the ideal retreat once your day is over.
Each room also comes with a 47" Flat-screen TV for when you just want to chill out. Robes and slippers, perfect once you've had a refreshing shower after a day of fun-filled activities. Along with a mini bar, so you have plenty of readily available refreshments.
If you really want to up the luxury, how about having your very own plunge pool on your balcony? Take a dip from the comfort of your own room, as you enjoy all of the magnificent views.
When you're ready for a bite to eat, Grand Hyatt Playa Del Carmen Resort have got you covered…
---
Food and Drink
After an activity filled day in the scorching sunshine, you've probably worked up an appetite. Fear not, the master chefs are ready to cook you up a delectable dish. From sushi to traditional Mexican cuisine, it's enough to make your mouth water at just the thought of it.
La Cocina Restaurant & Terrace is your go to for the best local Mexican dishes. With a relaxed atmosphere, you can enjoy every meal of the day at this restaurant with an oceanfront setting.
When night falls, La Cocina transforms into La Terraza where you can enjoy perfect tastes along with a delicious cocktail.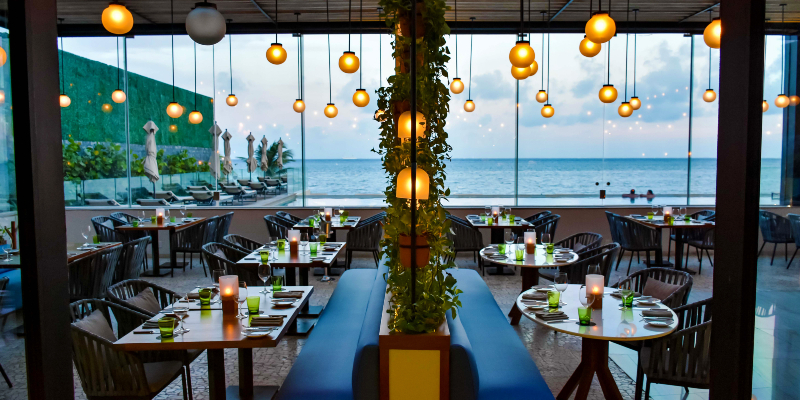 At Sushi n Raw Bar, you can indulge yourself in an explosion of Japanese flavours with a Caribbean twist. The top-quality ingredients used for each dish present themselves with each bite that you take.
Once you're ready to grab a drink, head on over to the Paseo Bar. Here you can enjoy a unique mixture of flavours, all created by the talented mixologists.
Specialising in Mexican distilled spirits, you're sure to experience a taste you may have never had before. Plus, you even get to experience the ocean views here. It's a win-win.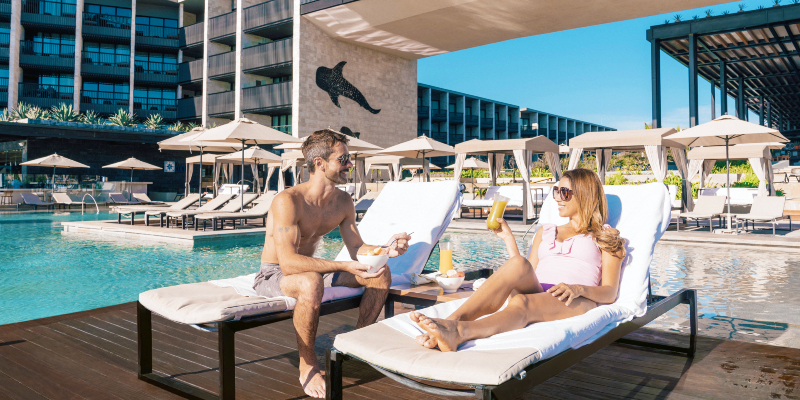 ---
Activities
So, you're probably wondering by now what all of these fun-filled activities are? Well, you'd be here all day if we were to list them all, but trust us, you are going to be entertained!
If you consider yourself a water baby, there's a plethora of water-based fun for you. From sea-touring kayak trips to aqua Zumba, hop on into the water and get started.
Want to try something different? How about an afternoon of Mayan crafts or origami making? You don't have to stick the ordinary holiday itinerary at Grand Hyatt Playa Del Carmen Resort.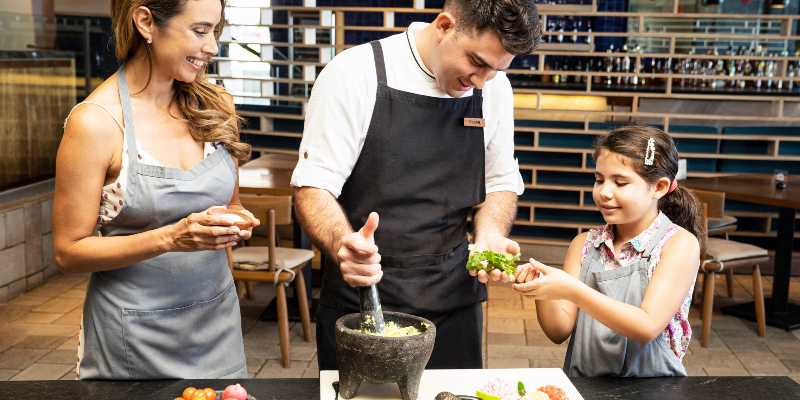 Parents looking to have a bit of free time from the kids are also in luck. The Tortuguita Kids Club and Hashtag Arcade are the best spots to keep the little ones entertained.
But, of course, if you want to spend the day as a family, there are plenty of family-friendly activities. Enjoy some dance classes with the whole family, and maybe improve on that mum and dad dancing…
If you're looking to turn that relaxation up a notch, head over to the beautiful cenote spa…
---
Spa and Fitness Centre
Inspired by the region's incredible natural cenotes, the Cenote Spa provides a tranquil atmosphere. This sanctuary is where you can rejuvenate your mind, body, and soul with a combination of fantastic treatments.
The fully trained therapists offer a selection of massages and body treatments, perfect for targeting each part of your body that needs to feel renewed.
If you are looking to keep up with a fitness regime whilst on your getaway, then the fitness centre offers just that. With state-of-the-art gym equipment, you can still exercise, even whilst in paradise.
---
Ready to book?
We don't blame you if you are eager to book a stay at this beautiful resort. We always have plenty of incredible offers on at Caribbean Warehouse, so just click the big blue button below to request a quote.
Your dream getaway is just a click away!