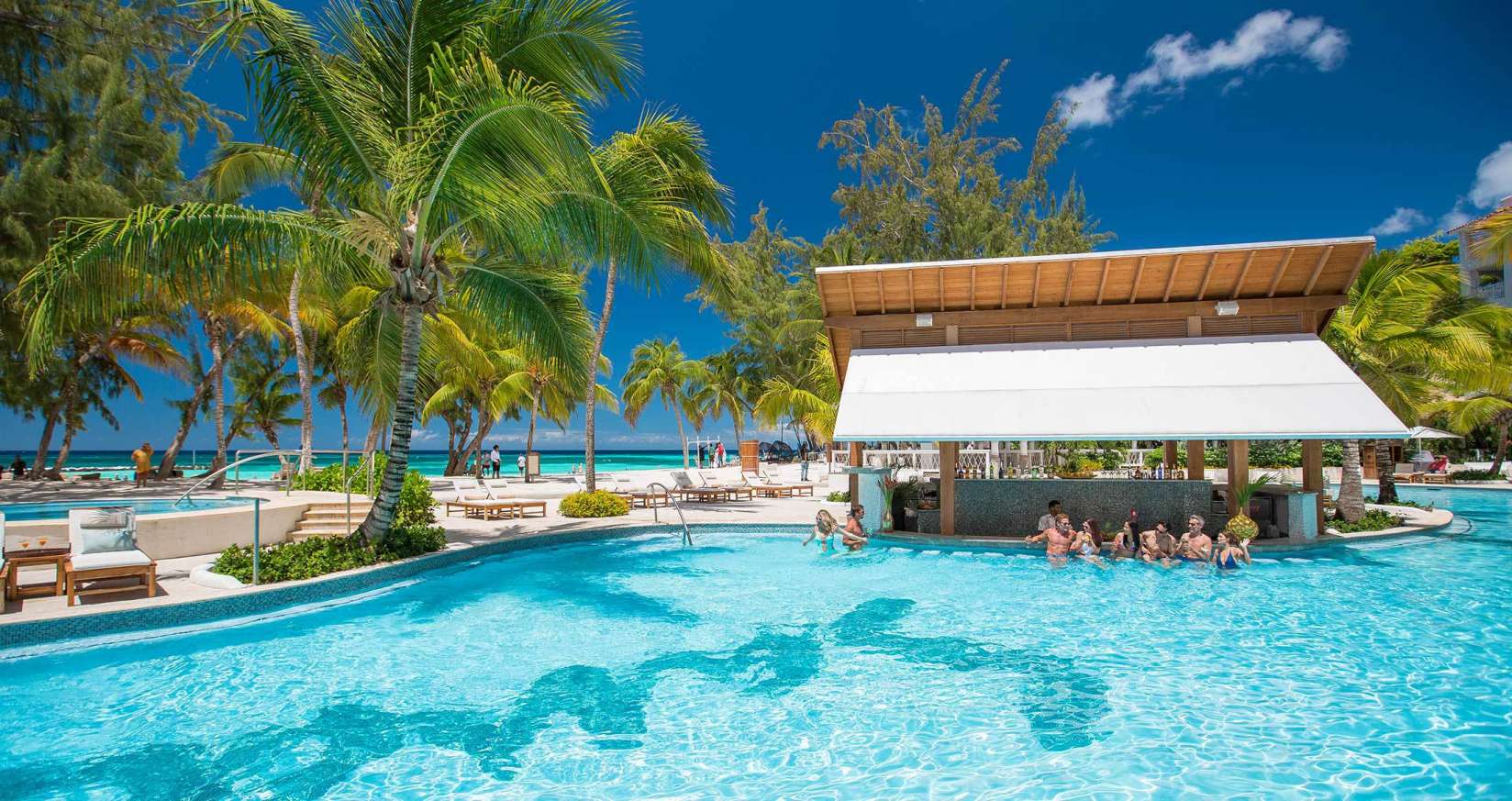 Our insider Lacey recently touched down at Sandals Barbados to give us the full SP on this stunning resort. Find out what she discovered.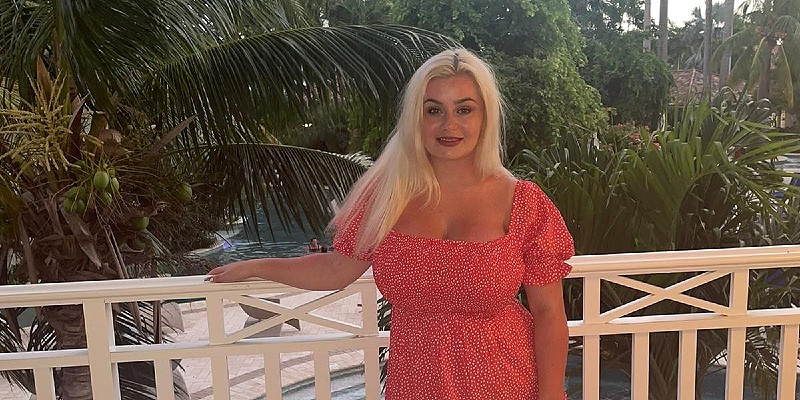 Sandals Barbados has a reputation for being one of the best resorts on the island. So we wanted to see what all the hype was about.
We tasked Lacey with checking out it's award-laden halls and bringing us back a guide to everything you need to know about this incredible destination. Over to her for the details.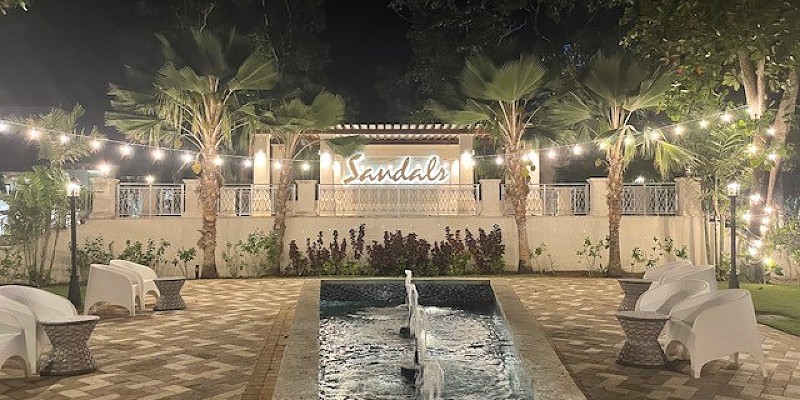 ---
More about Sandals Barbados
Sandals Barbados is located on the south coast of the island. Perched in an enviable position right on Maxwell Beach just 15 minutes from Grantley Adams International Airport, which meant super-speedy transfers.
As part of a huge complex which sees it blend into Sandals Royal Barbados. You can move freely between the two resorts, so don't let anyone say that you can't.
This also means you essentially get two Sandals resorts for the price of one! Benefit from 20 places to eat, plenty of bars, 11 pools and even a bowling alley. It was the perfect resort for us because myself and my partner like to get up and about when we're away, we don't really like lounging around.
Although, while those quick transfers and masses of amenities make it an awesome booking, families should be aware it is more of a couples location.
---
Firstly, is Sandals Barbados safe?
We felt super safe at the resort. All the staff are incredibly polite and there's a mask-wearing policy in place. You're okay to take them off outside. However, when it comes to moving around inside the resort, waiting for restaurants, entering shops, as well as taking public transport, you do need to wear one.
Away from the Barbados COVID safety measures we also felt absolutely safe moving around outside of Sandals. We actually left the resort four days on the trot, and found that outside there's just one straight road. Take it in one direction and you'll end up in St Lawrence Gap, then if you follow it in the other direction you'll be in Oistins.
There are also taxi drivers which will stop next to you when they see you walking and give out their business cards. We asked at reception when we got back one day if these cards and drivers were to be trusted and they said we'd be fine. So the next day we gave one of them a call and asked him to take us to Bridgetown for the day which was a brilliant change.
---
Room type
Our room was a Crystal Lagoon One Bedroom Butler Honeymoon Luxury Suite complete with a balcony tranquillity soaking tub, which is a bit of a mouthful. But it was incredible.
The highlight of the room was definitely the palatial bathroom. With double vanity sinks, a huge central soaking tub and a shower, plus the tub out on the balcony which is covered off by a screen so you're not being overlooked. But, if you like a warmer bath, the bathroom tub was better as it kept its heat for longer.
Another brilliant element to the room was having butler service. You can ask your butler to stock your minibar to your taste. So, if you wanted more beer or water, for example, they would ensure it got replenished accordingly.
---

---
Best restaurant
It was so hard to choose just one restaurant because there's so many of them and they're all good. But I have managed to whittle it down to two picks.
My first choice is Bombay Club, this is Sandals first ever Indian restaurant. Normally I wouldn't be too blown away by Indian food and I've been underwhelmed before by curries on holiday, but this place was amazing. We tried lots of things off the menu just to make sure we were tasting as much as possible, and it was all brilliant. The lamb Rogan Josh was delicious!
Having said that, we also enjoyed Butch's Chophouse. We managed to book this a couple of times via our butler and the steaks were insane! We went all-out one night and I had a T-bone steak and my partner had a steak too, but then we also had a fillet to share. So much food, but so worth it!
---
Best bar
We didn't bother going around too many of the resort bars. The bar in the main pool was more our kind of thing. But, within that, the bar staff were brilliant. If you don't know what type of drink you'd like they'd always try and create something for you. All we needed to do on a couple of occasions was tell them what flavours we enjoyed and they whipped something up there and then.
Meanwhile, the bar at the infinity pool offered a more structured approach with a drinks menu. I'd recommend trying a "Miami Vice" which was like a fusion of a piña colada and strawberry daquiri. Moreover, if you're a rum lover you need to try a drink called "all of Barbados" which I'm sure has every rum ever in it!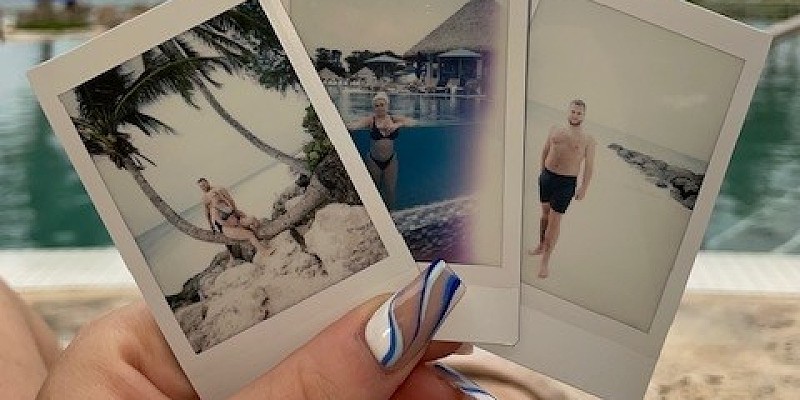 ---
Trip highlight
Although every element of the trip was brilliant, from the Bridgetown trip to the incredible staff and delicious food, my highlight was definitely seeing baby turtles making their way to the sea.
Because we're up early most mornings we got back from breakfast and were settling by the pool one day when we heard someone talking about turtles on the beach. We rushed down to the sand and managed to catch the last 10 minutes of the baby turtles heading down to the sea.
I had originally booked this trip to coincide with the turtles hatching. But we kept having to shift the dates due to COVID. So to be able to finally get to see them absolutely made the holiday for me.
---
Excursions
You can swim with turtles through Sandals, and it was something we've always wanted to do. But we decided to shop around and found a similar catamaran tour which was a little cheaper online. The tour took us over to Paynes Bay, up on the north-western coast.
Swimming with turtles was the first activity on the tour, but we also managed to get in a couple of swims over a reef and a shipwreck too which was incredible. The tour also included dinner and drinks on the boat.
As I mentioned above, they're not "excursions" but we did manage to get out and explore the surrounding area too. Heading to Bridgetown took about 20 minutes. We asked the driver to come back for us in three hours and set off walking around the town, stopping off to take a quick snap at Rihanna's house. In hindsight walking around Bridgetown in 33° heat wasn't the best idea. But we did manage to grab some tasty authentic Caribbean lunch while we were there.
Oistins and St Lawrence Gap were good days out, but due to COVID lots of the shops were closed and there was a curfew in place. This meant it was a lot quieter than usual and even the famous Fish Fry Friday didn't have its normal bounce to it. To be clear, though, there didn't seem to be any curfew in place inside the resort.
---
Heard enough?
If Lacey's trip has got you dreaming of seeing the baby turtles or just feeling the Caribbean sun on your face again, then you can get started on your online quote for Sandals Barbados now.
But if you want to hear more about this dazzling destination, click the button below and we'll tell you more about how you can double up your escape without affecting your expenses.