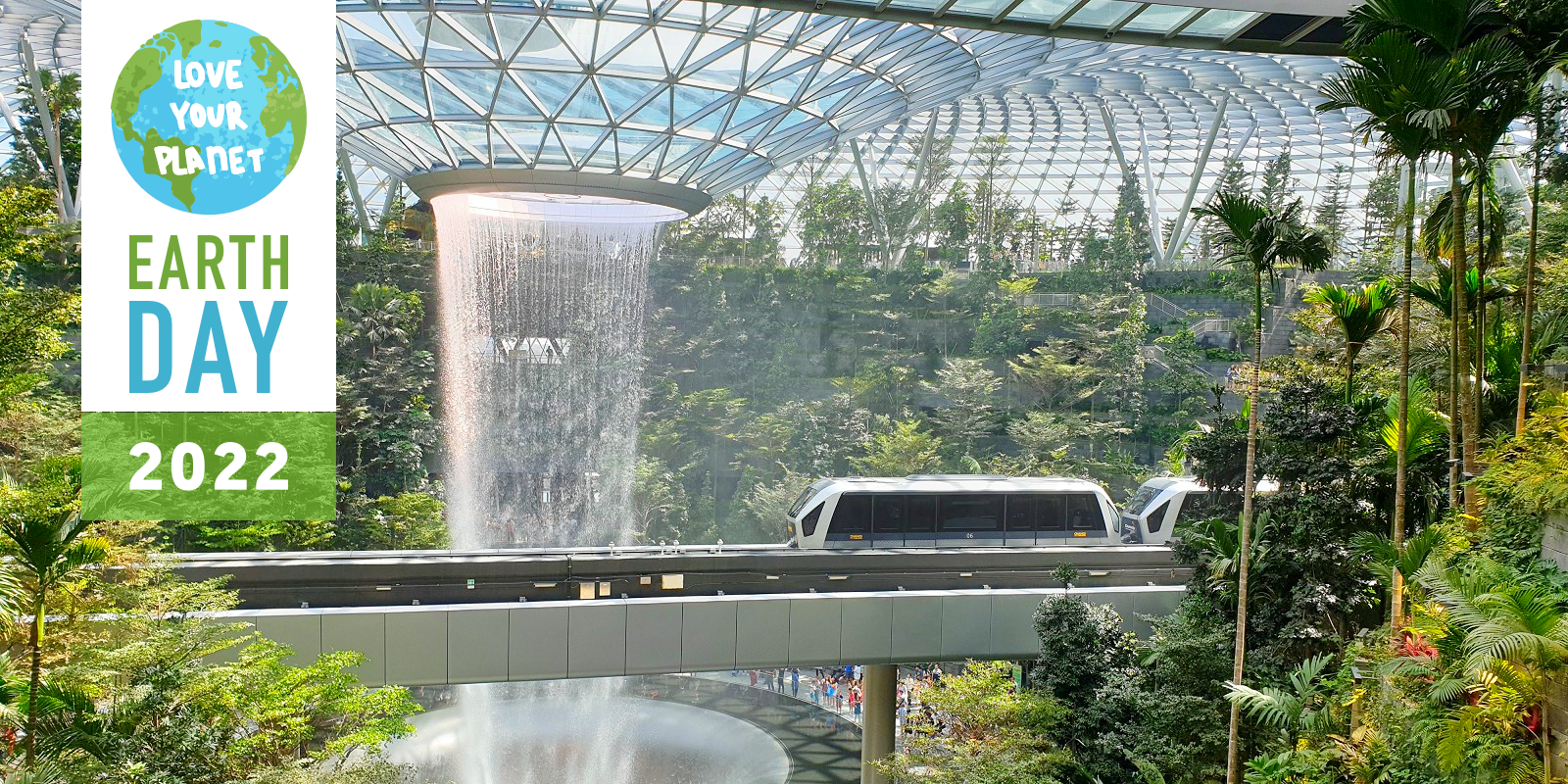 Industries across the globe are taking part to do their share in Earth Day '22. Travel is no different and these 5 eco-friendly airports are leading the way
"Invest in our Planet" is this year's theme for the Earth Day celebrations. So we wanted to show how the travel industry is investing in greener tech to produce more eco-friendly airports.
The festivities are a globally growing movement that were first carried out in the US on April 22nd, 1970.
However, today, around a billion people in 193 countries take part in Earth Day. Coming together to help resolve and protect the environment, as well as our decreasing biodiversity.
In this blog, we'll learn how the travel industry is shaping up for the future. Plus, we'll discover the world's most eco-conscious airports, while uncovering what actions they've taken and the creative innovations they've implemented to tackle climate change.
We already have plenty of eco-friendly resorts in the Caribbean. But these 5 airports are taking the battle to climate change in a bid to help green up the industry.
---
---
1. Boston Logan International Airport
Our first stop on this list of super eco-friendly airports is the world's first terminal to win a Leadership in Energy and Environmental Design accreditation. Bagging the honour back in '06, Boston Logan has since become a defining signal of quality for the sector.
Terminal A features roofing and pavement surfaces designed to reflect heat from the building, as well as low-flow bathroom fixtures to save water. There are also 20 six-foot wind turbines installed on top of the airport's offices, generating around 3% of the energy required for its operations.
The Massachusetts Port Authority (Massport) invested $6.3m into repaving one of the airport's runways with environmentally friendly asphalt. This new material can be heated at a significantly lower temperature during construction. Massport claimed this would lead to a 2,000t reduction in carbon emissions during the course of the project.
---
2. Zurich Airport, Switzerland
Moving over to Europe in our search for eco-friendly airports and Zurich Aiport reduced carbon emissions by approximately 30% since 1991. Moreover, it has succeeded in cutting around a third since. Aiming to reduce its carbon emissions to net-zero by 2050.
Through the use of fossil-free grid electricity by generating power in the heating plant from underground energy piles. These energy stores utilise the soil to both heat and cool water. In addition, there are also solar panels fitted on aircraft docks and car parks.
Water consumption has also decreased, with domestic wastewater being channelled to an offsite treatment plant. Meanwhile, rainwater is collected for use in toilets. Water from de-icing operations, which uses glycol, is also recycled via a unique natural process; during which specialised micro-organisms are deployed to break down solid residues in the liquid.
Elsewhere, Sustainable Aviation Fuel (SAF) is made from biogenic waste or synthetically manufactured fuel. It produces at least 80% lower carbon emissions than fossil-based kerosene. This greener fuel is imported into Switzerland so that airlines are able to refuel with SAF at any time.
The airport even challenges noise emissions from aircraft by charging airlines for noise based on the aircraft category. By calculating the level of noise exposure from flight movements using a highly detailed mapping program.
---
3. Delhi Indira Gandhi Airport, India
Recognised as the 'Most Sustainable and Green Airport' by the Wings India Award. In fact, Terminal 3 has been presented the coveted LEED-Gold certification.
Because that gold-certified terminal is spread over 5.4 million-square-foot, battery-powered vehicles are used to transfer passengers between terminals and baggage claim.
Built using recycled construction materials, it features 200 low-power LCD screens and uses ambient light to reduce energy use. Plus, there's a clear emphasis on natural light, with the departure lounge being lit completely by sunlight during the day.
Unfortunately, flooding and landslides are becoming a regular predicament in India. However, water treatment and management programs at the airport are able to conserve water efficiently. There are also 300 rainwater harvesting stations, and storm drains to combat land erosion.
---
4. Singapore Changi Airport, Singapore
The penultimate stop in our countdown of the most eco-friendly airports in the world is Singapore and the stunning Changi Airport. Achieving Level 3 of the Airport Carbon Accreditation, a global programme by the Airports Council International to encourage and enable airports to track and reduce carbon emissions, Changi's electricity consumption in the daytime is minimal.
Featuring energy-efficient motion sensors and lighting, 919 skylights, water-efficient fittings, air conditioners positioned nearer to the floor, and roof-mounted solar panels. There's a real focus on emission reduction happening here.
Chargers have also been installed in the baggage handling areas to facilitate a fleet of electric tractors used at Terminal 4. In addition, the airport has invested in "Digesters". These environmentally friendly machines turn food waste into water by using microbes to break down food waste. Eleven machines were installed over 4 terminals, and successfully "digested" over 250 tonnes of food waste last year, almost the weight of seven A320 planes.
Elsewhere, an in-house plant nursery supplies the airport with greenery while harvested rainwater is used to water the plants. The airport boasts orchid, sunflower, cactus, butterfly, and water lily gardens. Meanwhile, Terminal 4 features a green wall bedecked with more than 20,000 plant species. This wall is said to reduce the airport's surrounding temperature and improve air quality.
---
5. Galápagos Ecological Airport, Galápagos Islands
Moving across to David Attenborough's favourite spot, built in 2021, the Galápagos Ecological is the most sustainable airport in the world. Awarded the LEED Gold Level by the US Green Building Council and named the first Ecological Airport in the world. After participating in the Airport Carbon Accreditation program, it became the first Carbon Neutral Airport in Latin America and the Caribbean. But how does it do it?
Running exclusively on wind and solar power. 65% of the total energy is supplied by windmills which are located on the periphery of the airport. A further 35% comes from photovoltaic panels fitted on walkways.
Constructed from 80% recycled materials, including steel pipes taken from oil extraction fields in the Ecuadorian Amazon. Wood and metal structures from the former airport were reused, and furniture was produced from environmentally friendly sources.
The airport features a desalination plant that captures seawater and purifies it for use in the terminal. Meanwhile, wastewater is pumped back into the treatment system for passengers to use again, but not for consumption.
---
There's Still Time
Undeniably, the industry has a long way to go in terms of making global travel truly environmentally efficient. But it's developments like these eco-friendly airports which are paving the way for the innovative future of holiday making. Airports, airlines, and travel agencies are taking these steps to be part of the solution, whilst challenging the problem is what excites us.
Our work with the Travel Foundation, a UK-based charity that actively supports international sustainability, is aiming to ensure that travel has a positive impact on tourist destinations. In addition to championing indigenous economic growth, waste awareness, and climate action development.
You can also do your part while on holiday with simple changes that will reduce your carbon footprint. As well as limiting your impact on tourist hotspots. But a good place to start is by clicking the button below and checking out our collection of eco-friendly resorts in the Caribbean.