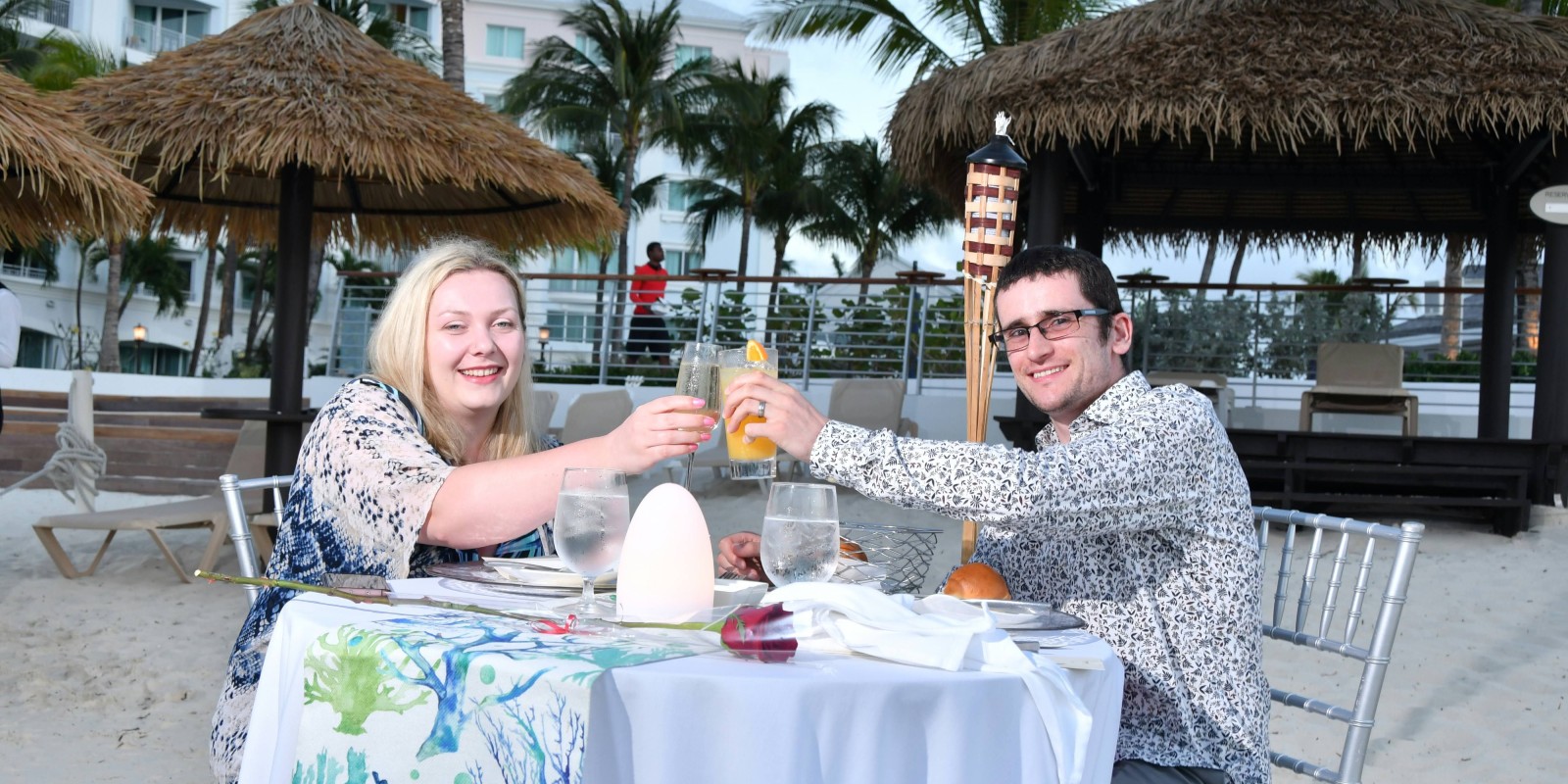 What's it like being teetotal on holiday? Phil gives us his perspective of being in the Bahamas and away from the booze.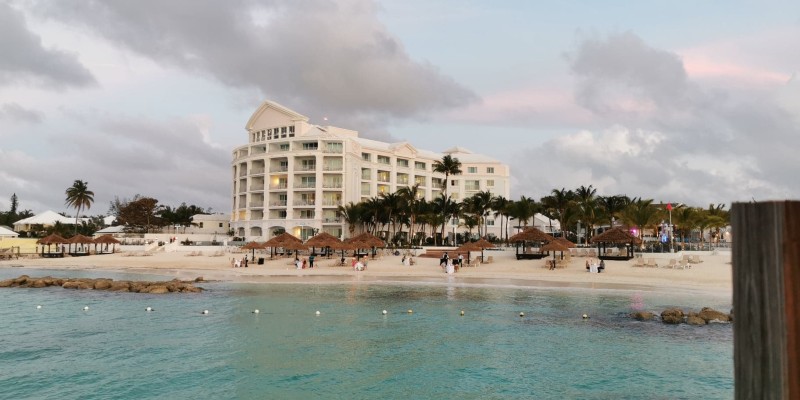 Our man Phil doesn't drink and he recently got back from a luxury break in the Bahamas. So that got us thinking, what's it like being teetotal on holiday?
---

---
Phil Goes Teetotal on Holiday
Now, before we start, we're not saying that we spend every day on holiday three sheets to the wind. But, we think it's safe to say we all enjoy a cocktail or two in the sun. But, you can still have an awesome time under the Caribbean rays without partaking.
With that in mind, our resident non-drinker, Phil, jetted off to Sandals Royal Bahamian Resort Spa & Offshore Island recently. The trip was meant as a joint honeymoon and birthday celebration for his new wife, Beth.
So what does a celebratory week in the Bahamas look like when you don't drink? We asked him to keep a diary of his break and here it is!
You can still treat yourself when going teetotal on holiday

The drinks selection was wide

Enjoying a mocktail by the pool
---
Day 1
After our 9hrs 50 mins British Airways flight from Heathrow direct to the Bahamas, we finally touched down in Nassau. We chose a direct flight because all other connecting services featured a long layover in Miami.
The flight out was great and the food on the plane was lovely. There was a great selection of non-alcoholic beer which was perfect for me, and for anyone else thinking of going teetotal on holiday.
Arriving in Nassau we were given a traditional welcome and, once through security, we came to the Sandals desk. After giving over our details the transfer was called immediately.
When our private transfer came it turned out to be a Rolls Royce, which was an amazing shock! Great service all-round, but this may have been because we booked a Butler Elite level room.
When we landed at the resort our butler took us on a tour of the resort in the morning and we decided to spend the rest of the day in the pool.
She also introduced us to our room and poured Beth a glass of champagne. But when she found out I didn't drink she made me a mocktail from the minibar there and then, which was amazing.
We tried the Italian restaurant Tesoro for breakfast and dinner today. Meanwhile, lunch was at Kanoo. The teriyaki beef here was so sweet and tasty! I can recommend the lemonade too.
---
Top Tip
A top restaurant tip from me is, don't worry about tipping the staff. Tips are included on the all-inclusive, so the staff aren't expecting anything from you in that regard. In fact, some waiters in the restaurants even have badges saying "no tips" etc.
---
Day 2
Following on from spending some time relaxing yesterday and coping with the jet lag, we decided to explore a little. This exploration took us over to the private Sandal's Island. We lazed around on the beach and enjoyed lunch at Aralia House.
The beach and restaurant were great and much quieter than the one at the mainland resort. In addition, if you're not much of a fan of the dance music played out around the pools, then the island offers a welcome reprieve.
A word to the wise, though, the ocean water looks incredible, but it is colder than I was expecting. So if you're thinking of going for a swim, it's best to just run straight into it. Don't dip your toe or else you'll never make it in.
Today we had breakfast at La Plume and, I have to say, I think this was the best restaurant for breakfast, the steak and eggs were incredible. Then, after we got back from the private island, we enjoyed dinner at Gordon's pier restaurant which was great. However, I wouldn't recommend going to Gordon's on a rainy day, the alfresco dining doesn't mix well with the wet stuff.
---
Day 3
Today we decided to journey over to downtown Nassau, the capital of the Bahamas. We booked a taxi through our butler ($40 round trip with tip) and visited the Pirates of Nassau museum. As you can probably imagine, we learned quite a lot about the history of piracy in the Bahamas, which was fascinating.
Before heading off to Nassau we were back at Kanoo for an island-style buffet breakfast. I won't say much about our lunch because we just grabbed a quick McDonalds in the city (because why not?).
At dinner, we tried Butch's Chop House. An American-style grill joint where we had some very tasty steaks. I had the T-Bone medium-rare and it was cooked to perfection. Scroll the pics below to see the steak.
---
Day 4
After all the fun and adventure of Nassau, we decided to have a beach day. We had originally planned to do the swimming with pigs excursion, but the trip had been cancelled because of bad weather. There had been a storm just off the USA and the winds were getting a bit higher than usual.
For dinner, we settled down to an evening of stunning French food at La Plume. If you're not a fan of French cuisine I wouldn't be too put off as the menu was far from exclusive. But it was all delicious no matter the origins.
---
Day 5
That day of rest set us up perfectly for the Island Safari excursion. We travelled from the resort to the safari base before following a route along one side of the island. Although there wasn't much off-roading happening, most of the route was mapped out along tarmacked roads.
However, the trip was still enjoyable. We were taken off to a cave area that pirates use for felonious practices. If you get a picture in the conch-shell throne, take my advice – watch your legs on the pointy parts of the shells, they can come keen.
From there we moved on to a secluded beach where you could buy super-strong but very tasty (so Beth tells me) cocktails. I think it was called starlight or moonlight, all I remember was, it was white.
After about 20 minutes of chilling on the beach, we headed for a laid-back restaurant where we enjoyed lots of beautiful fresh seafood and chicken wings. This place was awesome because, unless we came on this tour, I doubt we would have ever visited.
I passed on the cocktails, but I was given some very tasty fruit punch.
Back at the resort, that night, I surprised Beth by booking dinner on the beach for her birthday. This was an attempt to make up for the lack of pig-swimming action. The beach dinner was delicious, perfect for a special occasion, although, I have to say the main event was the cake.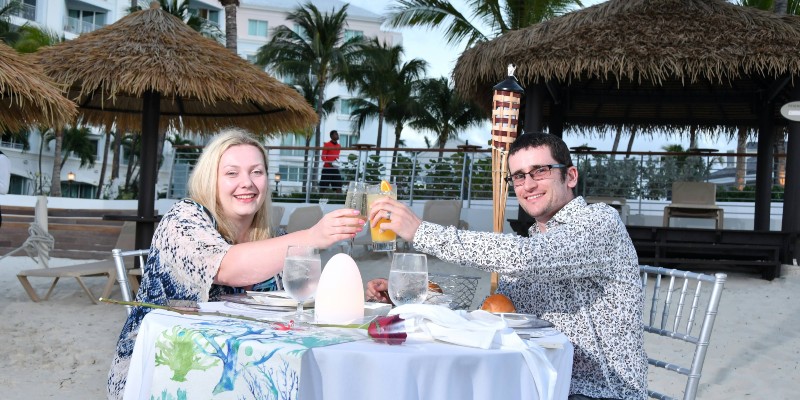 ---
Day 6
On our penultimate day, we decided to have a go at the plethora of water sports on offer at the Aqua Centre. Heading out on paddleboards across the calm ocean was incredible. You don't have to worry too much about getting in trouble on the water either, because the lifeguards are super diligent.
I should probably say at this point too, there are photographers walking around the site every day and you can ask them to grab your picture. Just give them your room number and you can pay for the snaps you want from the photo shack at the end of your stay.
You can also book free photoshoots, which we did through our butler. We got a great surprise when we came to pay for the imagery as we didn't realise they'd got lots of nice pics of us out on the paddleboards too.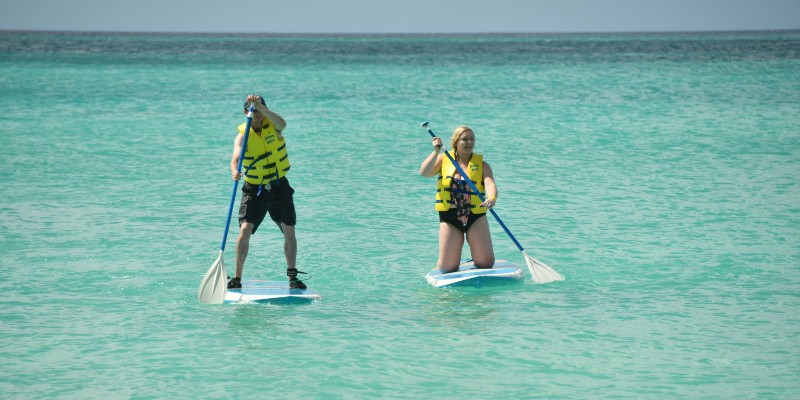 We chose the cheapest photo package, mainly because it seemed to be the best deal. For $315 we got 10 digital photos, 5 of which are printed there and then, while one can be made into a metal image and shipped out to you. This would mean an additional $50 UK postage charge, but they were alternative options if you didn't want to fork out the extra cash.
After our day on the waves, we visited Kimono for dinner. This is the most entertaining restaurant we went to. It's a Teppanyaki-style place so you sit in a group around a chef who cooks the food in front of you while doing a funny show.
---
Top Tip
All the restaurants are amazing, but I would absolutely recommend booking all your dinner reservations as early in your trip as possible. They fill up quickly and you can't really just drop in unannounced for a table. You can book tables through your butler or at reception.
---
All in All…
Sandals Royal Bahamian is an incredible resort. It's easy on the eye, the beaches are stunning, so is the food, and we couldn't recommend upgrading to butler service enough. Also, everyone there was so happy! From the hotel staff to the Rolls Royce driver.
However, from the perspective of being teetotal on holiday, it was a bit of a challenge. I'm not sure whether, because it's an adults-only resort, there just isn't much call for non-alcoholic beverages. But the staff at the pool bars didn't seem to understand mocktails, even though we'd been informed they could make all the cocktails on the menu virgin drinks. Although, I found the ginger beer to be extremely tasty!
I had a couple of awkward conversations with bar staff about how to make virgin cocktails. But, aside from the drinks palaver, it was an awesome experience and I would definitely go again.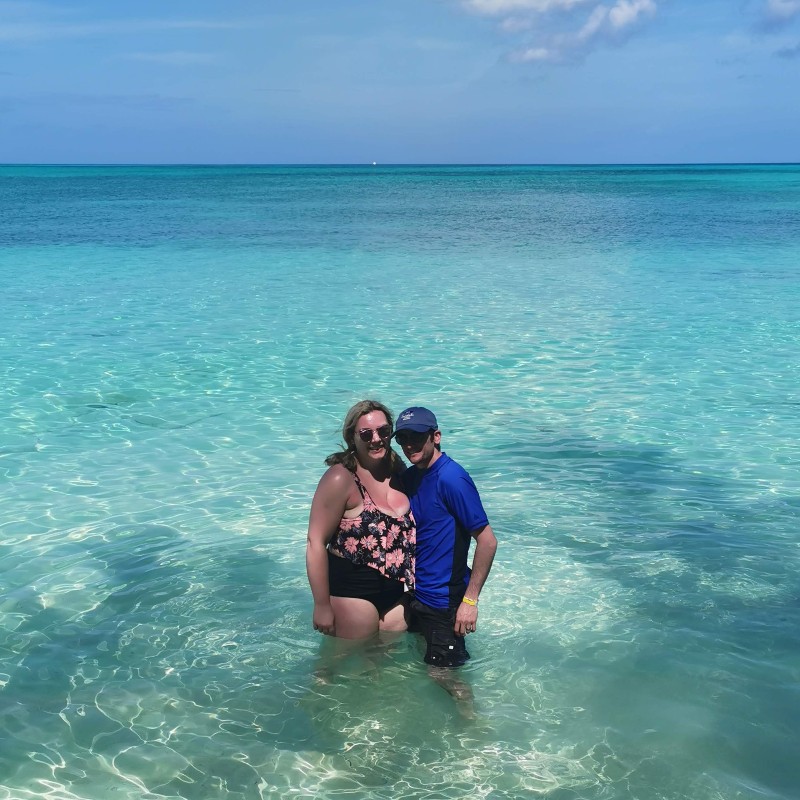 ---
Ready to Go Teetotal on Holiday?
You don't have to be teetotal on holiday to enjoy the Bahamas for yourself. Unless you want to?
Whether you drink or not we have Sandals Royal Bahamian available now. Just click the button below to start building your free online quote.