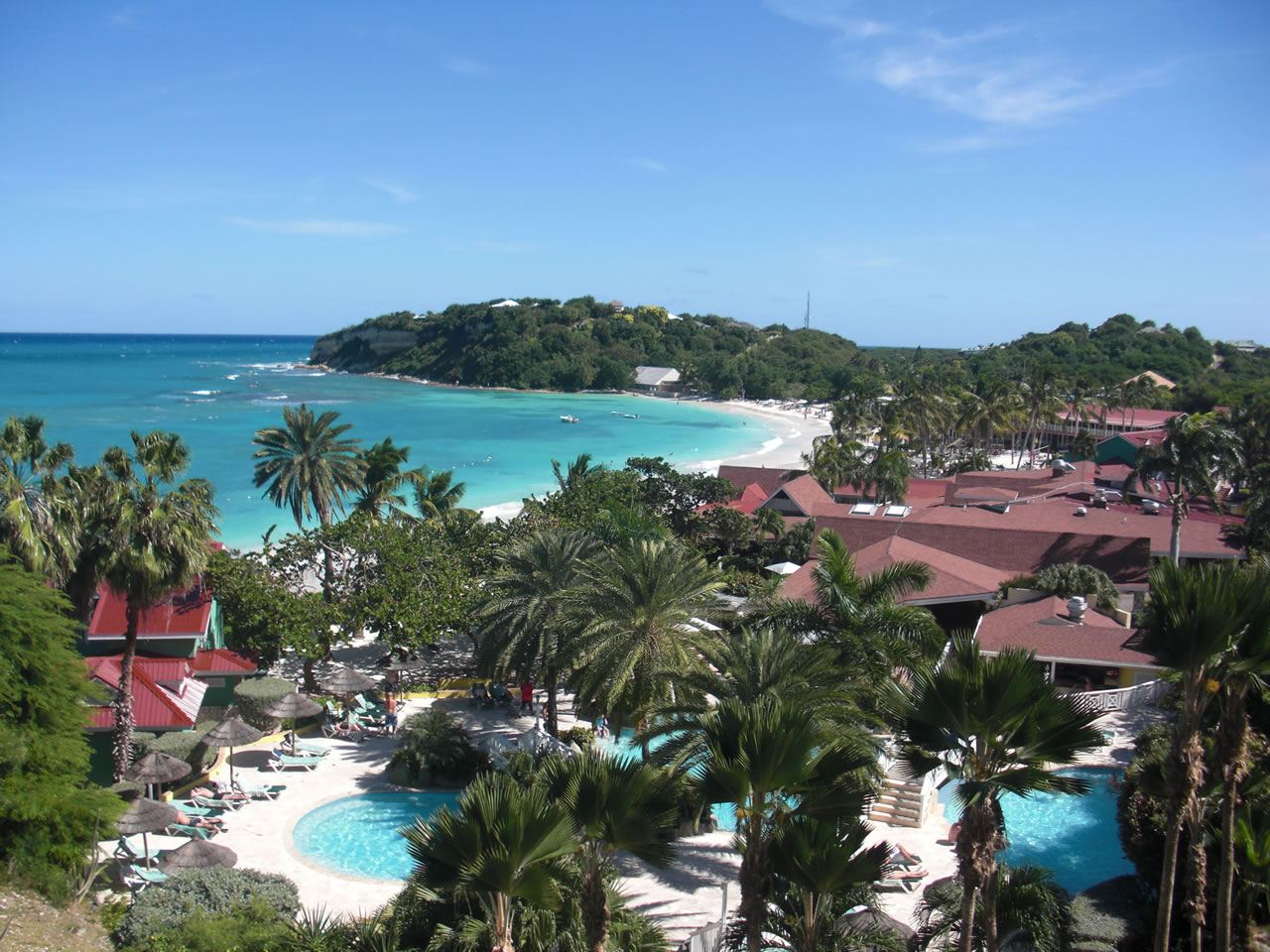 This was a trip that I was really looking forward to. I had visited Antigua only on a cruise ship before and liked what I saw. I flew out from London Gatwick with Virgin and was really surprised that the flight only took us 7 hours and 50 minutes. The heat hit us as we disembarked the plane and I couldn't wait to check into our first resort.
We were met at the airport by the Antigua Tourist Board who ushered us quickly through immigration and got us onto our coach.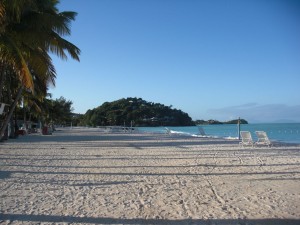 The first hotel that we stayed at was the Jolly Beach Resort & spa. This hotel is a 3 star property and doesn't say that it is any higher. The rooms are very basic and in need of an update, however, I have to say that the atmosphere of this is hotel is fab. It is also on the Caribbean side and has one of the best beaches in Antigua. The staff here were amazing and it had quite a party feel to the resort. The childrens facilities were great as well. This hotel is a great weddings hotel and has 3 wonderful wedding locations.
As well as doing site inspections we also experienced what the island had to offer as well as the 365 fantastic beaches.
I found myself skippering a 65ft racing yacht which had just won the Barbados to Antigua leg of the race. We were taught how to do all the rigging and also how to sail her with the sails up full. This is something that as a customer you can also organise to do through the services of a tour company called "ON DECK" where all of the staff have all been involved in the round the world yacht racing. I loved this trip and would recommend it to everyone.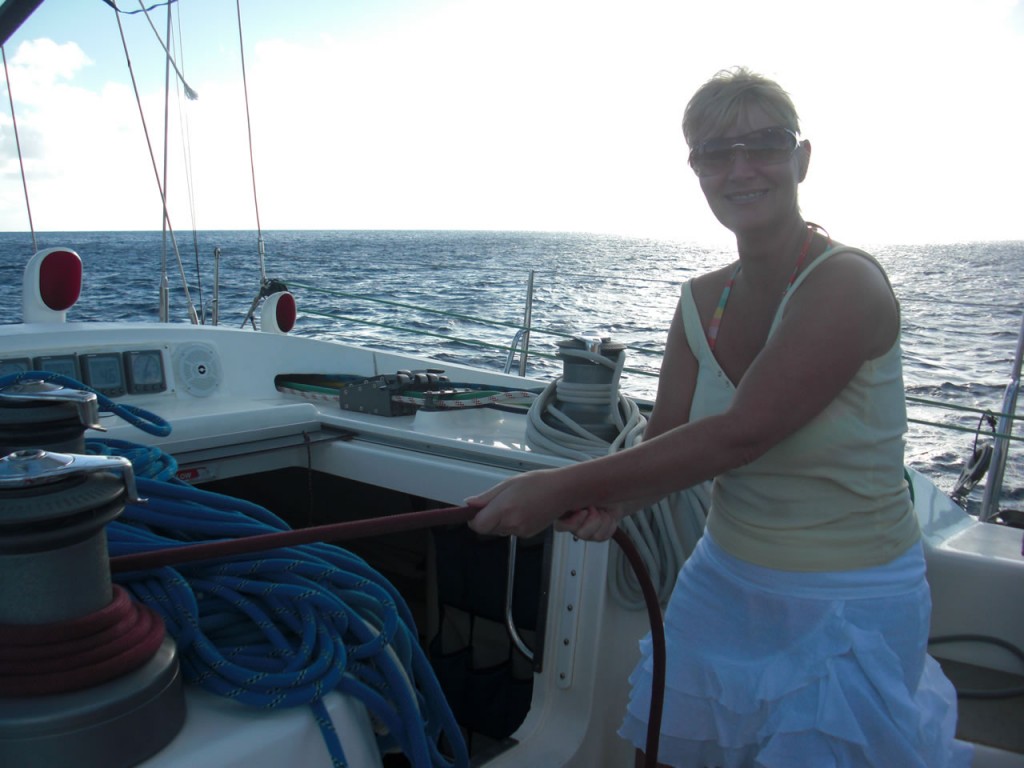 We also did a circumnavigation of the whole of Antigua on the "Excellence" catamaran. this also took us to a deserted island called "Green Island" where we could snorkle and also where we had a fabulous lunch.
If you want to experience a real Caribbean party then head up to Shirley Heights on a Sunday afternoon. It's for the whole family and they have BBQ's, steel pan bands and then later they have reggae and Soca bands. The views over English Harbour are truly amazing and it is wonderful to watch the sunset from up there.
We stayed for 2 nights at St James Club & Beach Club, we had a beautiful room here that was literally 2 steps down onto the beach. The hotel itself is a great family hotel and has 2 bedroomed Villas for the larger families. Again this hotel caters very well for weddings and you have a wide choice of wedding venues including your own private terrace in the 2 bed villas.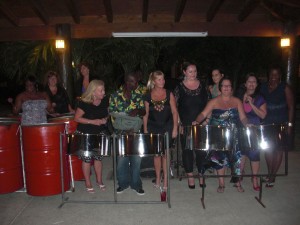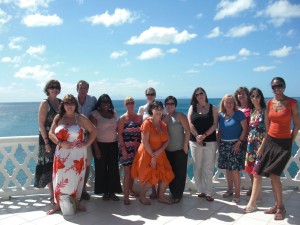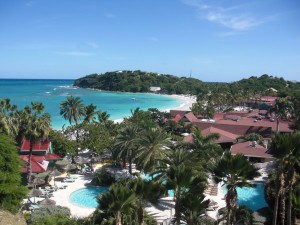 We finished our stay at the Verandah resort. I really loved this hotel, all the rooms were semi detached villas on stilts and had amazing views. Again there are a great choice of wedding locations either on the beach or in the gardens. The manager here "Jenny" is a lovely person and nothing is too much trouble. We had our Wedding certification awards here and finished up learning how to play the steel pans with the live band that had been playing.
The day we were flying home was the day that Gatwick had been closed due to the snow, we didn't know if we were going to be able to fly home or have to stay on at the Verandah for a few more days! The BA flight had been cancelled completely but Virgin decided to send a rescue flight for us from Heathrow. Picture the scene;  sat around the pool in 30 degree temperatures drinking strawberry margaritas, free food 24/7… Virgin did you really think that we needed rescuing!
All in all, Antigua is an amazing wedding destination. We visited at least 16 hotels around the island on both the Caribbean and Atlantic side and asked if i could choose one in particular it would be impossible as all the hotels had great things to offer. We also looked at various locations around the island other than the hotels where you could marry. There is Devils Bridge which is a very dramatic coastline where the waves crash over the rocks and Betty's hope which is an old Sugar Plantation. We also looked at the local churches which you can also marry in.
You only have to be in Antigua for 24hrs to be able to marry and for the romantic men out there you can even pop the question and buy the dress in St Johns.
The Antiguan people are really friendly and as the island belonged to Britain until 1981 you will find red telephone boxes around the island and they also drive on the same side of the road as we do.
Antigua also has the only Georgian working dockyard in the world which is called Nelsons Dockyard and again a must to visit. We also went to a typical Antiguan bar and restaurant called "Bubbas" which had a reggae band on and real typical Antiguan buffet, once again a fantastic night out.
I am now a fully-fledged Wedding Specialist for Antigua. And also truly in love with the Island.
I can't wait to go back and my only problem is which hotel do I stay at!