2nd October 2011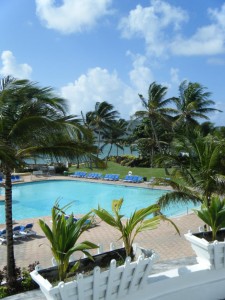 After a pleasant flight to St Lucia, we arrive at 2pm local time. We swiftly make our way through passport control and head for our 10 minute transfer to Coconut Bay Resort and Spa. We were greeted upon arrival with a cool towel and a fruit punch, very refreshing after an 8 hour flight! We quickly check in and head to see the rooms that we have for our 2 night stay at Coconut Bay. I was lucky enough to be accommodated in a Harmony Deluxe Ocean View Room. The room was very spacious; it came with a king size bed, flat screen TV, and had a very modern feel to it. One of the great features to Coconut Bay is that it is split into 2 sections; you have the Splash side which is the family-friendly part of the resort, and the Harmony section, which is the adult only part of the resort, so it has the best of both worlds. In the Splash part of the resort you also have a water park with slides for the children (and grown-ups too!) The hotel also features a brand new Kai Mer Spa, and its own Water Sports Complex featuring Kite Surfing.
On our first evening in St Lucia, we dine at the Calabash Restaurant which is a Caribbean specialty restaurant showcasing Creole and Caribbean cuisine, and then its straight to bed as we have a busy day ahead tomorrow!
3rd October 2011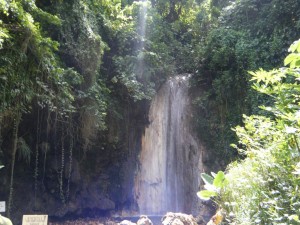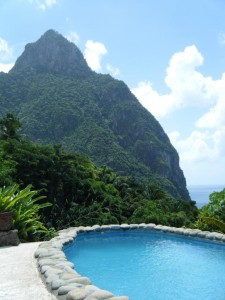 After a delicious breakfast, we make our way to the Diamond Botanical Gardens and Waterfall. The Diamond Falls are consistently described as one of the natural wonders of St Lucia, and I can clearly see why. The Diamond Falls Botanical Gardens is both a historic and a naturally beautiful site.  A haven for birds and insects, which gives one a true nature experience not to be duplicated anywhere within the Caribbean.
After our excursion around the falls, we then make our way to the Stonefield Estate Villa & Spa, where we have a site inspection and hosted lunch. Stonefield Estate Villa Resort is the island's premiere luxury boutique resort.  It has the most amazing views of Petit Piton, one of two volcanic cones that rise dramatically from the Caribbean Sea and define the St Lucian landscape.  The villas at Stonefield Estate Villa Resort are beautiful, airy and bright, with a French colonial style including wide open verandas, attractive jalousie shutters and antique four posters beds. The resort is not beachfront, but does have access to two beaches, Malgretoute beach and Jalousie beach. For Lunch we dine at the Mango Tree Restaurant, The al fresco dining pavilion that looks out over a small river stone pool and takes in the magnificent Petit Piton and views of the Caribbean Sea.
With filled tummies its now time to make our way to our next hotel inspection of the day, which is Ladera. There are only 9 villas and 23 suites in this ultimate rainforest open-air hideaway, and each, deliberately without a fourth wall, invites the spectacular sunsets and astonishing views right inside, to be a part of your very private, very special retreat. It is easy to see why Ladera has been nominated as the "Best Romantic Resort" as part of the Caribbean Travel + Life's Best of the Caribbean Readers' Choice Awards for 2011.
After our site inspection at Ladera, it is then time to make our final stop of the day at Hotel Chocolat. The accommodation at this resort offers the most stunning views of the twin Pitons. The infinity edge black quartz pool is 50 feet long and faces the Piton Mountains. Each guest has a dedicated reclining sun lounger with shade options and the services of a Club Steward for drinks, nibbles, and lunch. By day you can enjoy the resorts own Cocoa Groves, and by night enjoy dinner and dancing in the theatre.
It is now time for us to make our way back to Coconut Bay Resort and Spa for our final night. Tonight we dine in the Silk Restaurant which serves Modern Asian cuisine. After our busy day, and yet again full tummies, its time to retire to bed, as tomorrow holds another busy day.
4th October 2011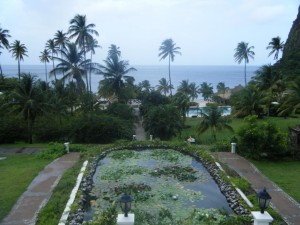 Today we check out of Coconut Bay Resort and Spa, as later this afternoon we will be checking into Rendezvous, a hotel that I am very excited to see! To start the day we enjoy breakfast at Coconut Bay Resort and Spa, and then make our way to Jalousie Plantation for a hotel inspection. The resort is set within over 100 acres of lush rainforest on the site of an 18th Century sugar plantation. It is set on the beautiful Sugar Beach and also features the amazing Rainforest Spa. For spa lovers, this resort is a must! The accommodation here at Jalousie Plantation has a very modern feel to it and every room comes with personalised butler service. It also comes with excellent children's facilities and I would highly recommend this resort to honeymooners and couples looking to get married out in St Lucia.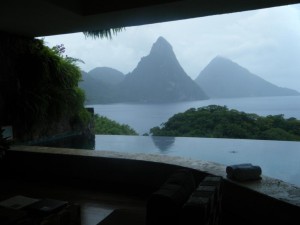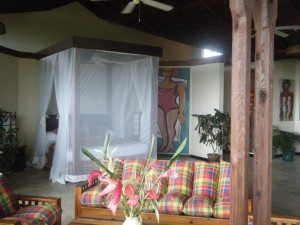 After our site inspection at Jalousie, we make out way by boat to Anse Chastenet. Anse Chastenet has iconic views of both the Piti and Gros Piton mountains. The resort offers 49 individually designed rooms, 37 of which are scattered about a lush hillside, and 12 which are nestled within a tropical garden at beach level. Also Anse Chastenet has a sister resort, the amazing Jade Mountain. Each sanctuary at Jade Mountain is very unique in style, with the fourth wall entirely absent, and has stunning views of St Lucia's Pitons. Jade Mountain is definitely a place of relaxation and to completely switch off from reality, the Jade Mountain sanctuaries are deliberately techno-free; there are no telephones, radio or television. The dining options at both Anse Chastenet and Jade Mountain are sumptuous, whether you fancy fine tropical Caribbean Cuisine, exotic Creole flavours, or simple grilled fare, you will find it available and more. Today we are lucky enough to dine at Jade Mountain for lunch, and after an amazing 3 course meal, it is time to make tracks for our next stop of the day.
We now head off to Ti Kaye Village, Ti Kaye may be a small secluded resort but that's no reason to be denied some of the conveniences of modern living. They have tried to include much to do as well as comforts without destroying that rustic, barefoot feel to the place. Children under 12 are now welcome at Ti Kaye Village, which aims the resort at couples, single travellers, or families with older children.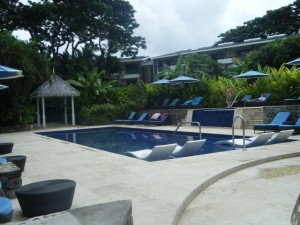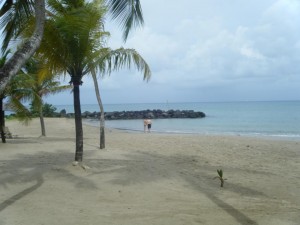 We now make our way to the beautiful Rendezvous, which will be our new home for the following two nights. Rendezvous is a boutique couple's only resort featuring only 100 rooms. Rendezvous enjoys a stunning location. Walk along Malabar beach and enjoy two miles of soft white sand in which to sink your toes. For those that need to be really pampered to relax, you have the beautiful Spa in the Water Garden, where you can have the latest therapies and treatments, and for those who like to keep busy whilst on holiday you have an amazing choice of activities from tennis and table tennis, to archery and volleyball. They feature 2 restaurants, the Trysting Place which is the resort only a la carte restaurant, however to make sure you have a great variety they change the menu every 3 days over a 14 night period. They also feature a buffet restaurant which has various theme nights, so you're sure to never go hungry! Every room is furnished with a mahogany four poster king sized bed, large bathrooms that feature a glass block wall for a very modern feel and a private terrace or balcony.
After a swift check in, we make our way to our rooms, I have been accommodated in a beautiful Luxury Beachfront Room, and its now time for a fast change as we will shortly meet for dinner at the Trysting Place, and then again its off to bed for an early night as I'm sure, as always, tomorrow will hold another busy day.
5th October 2011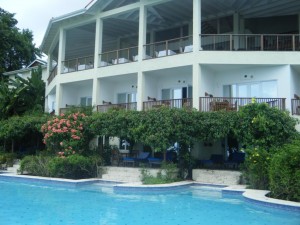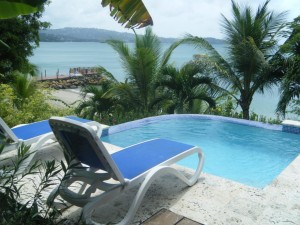 We have a delicious breakfast and then make our way to our first stop of the day which is the Lushan Country Life Tour. The Lushan Country Life Tour is less than fifteen minutes drive from the Capital Castries, and it's an interactive local tour of Anthony's Farm, you're toured around a tropical forest and bird sanctuary, home for about 27 bird species. Several stops along the forest trail will educate you on many of the native and exotic trees found in St Lucia including their uses. As you exit the forest, you move along the Garden Trail, for a personal experience of ginger, cocoa, cinnamon, mango and cashew nuts. Included you get to sample some of the seasonal fruits like golden apple, mango, graver, carambola and coconuts, to name a few.
Its now time for our first hotel visit of the day, which is at Calabash Cove. Upon arrival we have a site inspection of the resort, which is to be followed by a hosted lunch. Calabash Cove is a romantic and rather quiet boutique resort. The accommodation here is divided into three equally luxurious categories, each offering beautiful views across the Caribbean Sea, of the capital Castries to the South, and nearby Martinique to the North. After our brief site inspection, we then make our way to lunch, which is hosted at The Windsong restaurant, which has rapidly earned a reputation as one of the finest restaurants on the island, and also which overlooks the stunning oversized infinity pool. After enjoying a scrumptious meal, we then make track for our next stop of the day at East Winds.
East Winds definitely has a very homely feel from the minute you arrive at the reception. One of the oldest and most established resorts in St Lucia, East Winds Inn is set amongst 12 acres of lush tropical gardens bordered by the golden beachfront of one of the most pristine bays of St Lucia. This traditional resort boasts an exclusive experience to those who value simple luxury. The resort consists of only 30 rooms, 26 of which are in 13 individual duplex cottages, plus 3 ocean view rooms and a suite. I would recommend this resort for mature couples looking for a home-away-from-home experience. We now make our way to our last resort inspection of the day, which is Sandals Halcyon.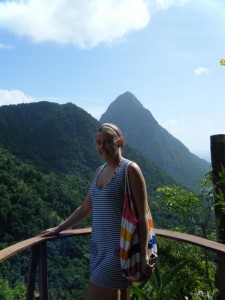 Sandals Halcyon is the smallest of the 3 Sandals Resorts in St Lucia. The bonus of it having 2 sister resorts in St Lucia is you have the "Stay at 1, Play at 3" facility, what this means is that you can dine at any of the sister hotels and use the facilities of any of the sister hotels too, so all in all you will have a choice of 21 restaurant when staying at Sandals Halcyon! With it being the smallest of the 3 Sandals resorts in St Lucia, it has a very romantic and intimate feel to it. During our site inspection I got to see one of the Paradise Pool Premium Rooms, these rooms have been recently renovated and now feature a flat screen TV, four poster mahogany king size bed and a large bathtub. I would recommend this resort for honeymooners as it is a couples only resort, and also couples that are looking for a small intimate resort to relax, but also to have plenty of activities to take part in should they want too.
After our visit at Sandals Halcyon we make our way back to Rendezvous, tonight we have a hosted dinner at East Winds Inn, and I'm really looking forward to tomorrow as we will be taking part in our Zip Line Tour!
6th October 2011
This morning we check out of Rendezvous as tonight we will be checking into to Windjammer which will be hosting us for the following two nights. This morning we made our way to the Zip Line Tour which was fantastic! For adventure lovers and couples to do something a bit different I would highly recommend it. They have 11 lines to complete, including a Tarzan Swing, and a vertical drop!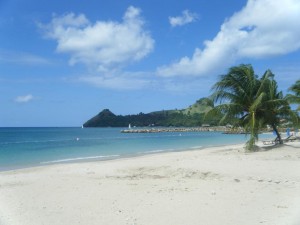 After our Zip Line Tour we check into Windjammer Landing, where I have been accommodated in a beautiful 3 bedroom Villa with two other agents, and it also comes with its own plunge pool! This afternoon we have some free time which is the perfect opportunity to catch some rays and make use of our lovely little plunge pool.
After enjoying our lazy afternoon, we then make our way to the Landing Resort where we have a hosted dinner this evening. We enjoy a delicious 3 course meal, and with full bellies we retire to bed as tomorrow is yet another busy day.
7th October 2011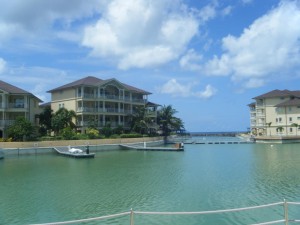 This morning we make our way to the Landings Hotel for our site inspection. The resort was expertly designed around water. The resort offers lavish one-, two- and three-bedroom villas in a harbour community. The Landings resort provides first-class amenities including a 7,000 square-foot Rock Resorts Spa, and a Health Club. The resort also features an 800-foot world famous Caribbean beach that is home to a collection of beach resort water sports offering sailboats, kayaks, and snorkelling equipment. Perfect for beach lovers, family holidays and honeymoons, you can lounge on the soft, white sand or immerse yourself in elegance with five-star luxury amenities.
After our site inspection at The Landings, we make our way to Pigeon Island. Pigeon Island contains more history than any other part of Saint Lucia. Once the home of the Amerindians it has been a pirate hideout and military base. It now hosts the renowned St Lucia Jazz Festival, which has hosted acts such as Amy Winehouse and Shaggy to name a few!
After our visit to Pigeon Island we make our way to Cap Maison for lunch and also a hotel inspection. Cap Maison is in a truly breathtaking location in one of St.Lucia's most desirable areas. Set atop a private ocean-front bluff with magical sunset views over the clear blue watersof the Caribbean Sea, Cap Maison combines luxury, elegance, charm, and uncompromising standards of five star personal services. After enjoying a delicious lunch, we then make our way to our last hotel inspection of the day which is Smugglers Cove.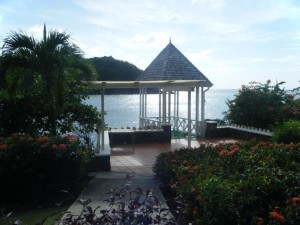 Smugglers Cove Resort & Spa is a 45 acre all inclusive resort. Whether you're looking for a fun family holiday, a beautiful place to unwind and relax, a romantic getaway, or your ideal wedding location – at Smugglers Cove, they have exactly what you need for a happy Caribbean holiday. With 357 rooms, all located in single-story buildings surrounded by forty-five acres of lush tropical gardens featuring exotic trees, panoramic vistas of the Caribbean Sea, and stunning hillside views. Smugglers cove is excellent value for money, and has everything you need to have an enjoyable Caribbean holiday.
We now make our way back to Windjammer, and its time for a quick change as we have a hosted dinner at their a la carte Italian restaurant Papa Don's. I have to say I enjoyed the most delicious lasagne here that I have ever tasted, definitely one to be recommended! After dinner we make our way to "Jump Up", a street party hosted in the village of Gros Islet, it has a Caribbean style street fair and dance. It features the sounds of reggae and local Caribbean food and drink. I have to say this was an amazing experience, they had a great selection of music, and the atmosphere was surreal! The locals were dancing in the streets, and there were local stalls all down the street so it was a great time to purchase some local souvenirs too.
8th October 2011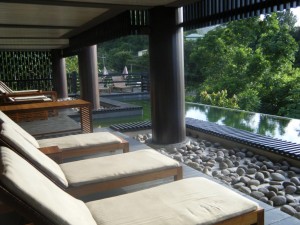 This morning we have some free time and decide to use it to do some retail therapy. We head into Rodney Bay, which hosts the JQ Shopping Mall. They have a wide range of shops varying from international & local cuisine, designer clothing, gift items, toys, t-shirts, beach wear, books, jewellers, and a beauty salon.
After our shopping trip, we then make our way to our first hotel inspection of the day which is at the Coco Palm Resort. This is a small boutique resort featuring just 89 rooms and has a very laid back St Lucia Vibe. The spacious rooms are ideal for families, couples and single travellers. Situated in the heart of Rodney Bay and just a 5 minute walk to the gorgeous Reduit Beach. So for clients that are looking to be in a good location to get out and about, this resort is ideal!
From the Coco Palm, we make our way to the St Lucian by Rex which is a good value for money 3 star hotel, and the sister resort the Royal by Rex is a more luxurious 4 star hotel. The St Lucian by Rex Resorts has a great location, close to Rodney Bay Village which has a range of shops, bars and restaurants. The hotel has 2 pools, an open-air Jacuzzi and a great kids club to ensure the children are kept busy whilst parents can spend the day relaxing on the beautiful beach. The Royal by Rex Resorts is an all-suite hotel. It has a very relaxed ambiance and may suit adult travellers more than families. Also the 2 Rex resorts have a great range of dining options, from bed and breakfast, half board, full board and all inclusive.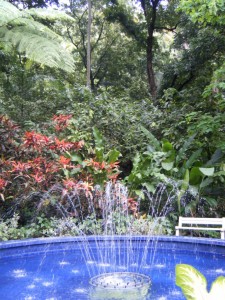 We now make our way to the Bay Gardens Beach Resort, which is where we will be spending our final night in St Lucia. It has a stunning lagoon style swimming pool with a Jacuzzi in the middle. Although the resort accepts children, there are not many children's facilities, so again it is a firm favourite for couples and honeymooners. Its located just minutes from Rodney Bay, so you have a fantastic location.
Tonight we enjoyed a delicious hosted dinner at the Royal by Rex Resorts, and now its time to head back and pack ready for a flight home tomorrow. Having visited 21 hotels during my trip to St Lucia I have learned a lot about the island, if you stay in the south of the island, it is a very lush and peaceful area and you get amazing views of the Piton Mountains; and making your way up the coast, you have more night life and excursions to take part in, I would even recommend doing a twin center in St Lucia and spending around 3-4 nights in the south of the island, and a further 7 nights in the north of the island, as you will then get a great feel as to what the island has to offer. Of all the hotels I visited I must say that Rendezvous was a firm favourite of mine, it has great Caribbean charm with a very high level of luxury, a beautiful hotel! I have no doubt in saying I will be returning to St Lucia in the very near future!