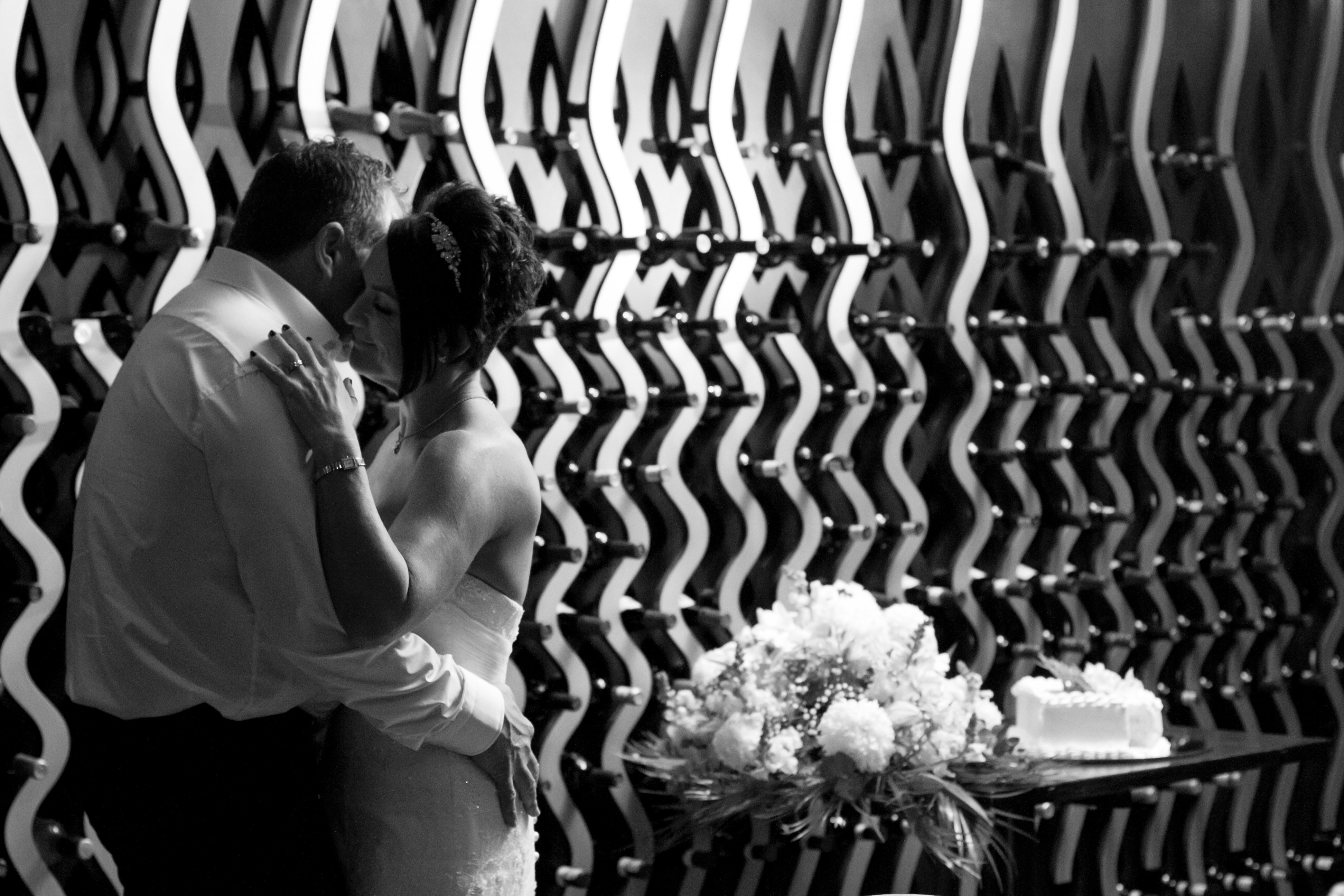 I contacted Blue Bay Travel early in 2013 to ask where they felt would be a beautiful venue to get engaged and later married. They suggested Excellence Playa Mujeres for our engagement, and we travelled there in June 2013 and Mike proposed on the beach on 07/06/13.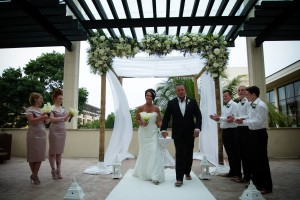 We discussed potential wedding venues with Blue Bay prior to our engagement trip. Our wish was for a beautiful, high quality hotel that would host a legal wedding and would suit the needs of our children aged 13, 16, 20, 22, and 23. Dreams Riviera Cancun was recommended, and Blue Bay booked a visit for us during our engagement trip. We loved Dreams and felt it met all our needs, and the wedding manager Gabriela Salinas was so helpful we decided to make a provisional booking for the 6th of  January 2014 for our wedding.
The Preparation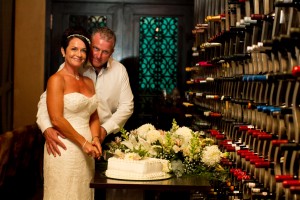 When we returned home we contacted Blue Bay, who took care of booking our wedding for us. Blue Bay's wedding team, Nia and Kirsty, were fantastic throughout the 6 months prior to our wedding. They provided constant support and advice and helped us to maintain contact with the wedding co-ordinator at Dreams Riviera Cancun, and even assisted us with getting faster answers to our requests. I would not recommended trying to plan a destination wedding without the support of Wedding Specialists like the girls from Blue Bay! I was constantly reassured and assisted by Nia and Kirsty.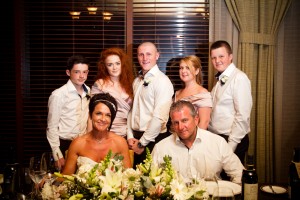 Mike, myself, and the two youngest boys travelled to Mexico on the 28th of December. We had a good flight and a private transfer to the hotel. On arrival we had champagne and were checked in at the Preferred Club private lounge. There was a welcome letter from Ayahamint Aguirre, the representative from Dreams Riviera Cancun who handled our wedding, advising us about some appointments. All our wedding planning was done via email between myself and Ayahamint, who sent all the forms to me and a wedding planner, to which I added photographs of the kind of flowers I wanted, what kind of reception I desired, the types of photographs I wanted etc.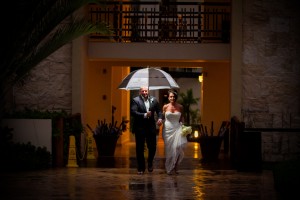 The Ocean View room we had was beautiful, and we loved the choice of restaurants, bars, and entertainment at the hotel. We had our bloodtests and meetings with Ayahamint and Linda (the minister) early in the first week, and they went through all the forms and legalities and finalised the wedding decorations and reception.
We spent a brilliant week relaxing in the sun and enjoying the fantastic facilities and the lovely beach. New Years Eve was amazing and on the 4th of January our older children arrived for our wedding. I had a lovely relaxing time at the spa the day before our wedding and had a manicure and pedicure.
Our photographer arrived at 2:30 to start documenting the whole day, and Ayahamint arrived with our flowers, which were beautiful and just as I had requested. She had arranged for Mike and the boys to meet at the ceremony venue at 3:15, and she escorted us over to the ceremony. At 4:00pm Jack would escort me up the aisle and give me away.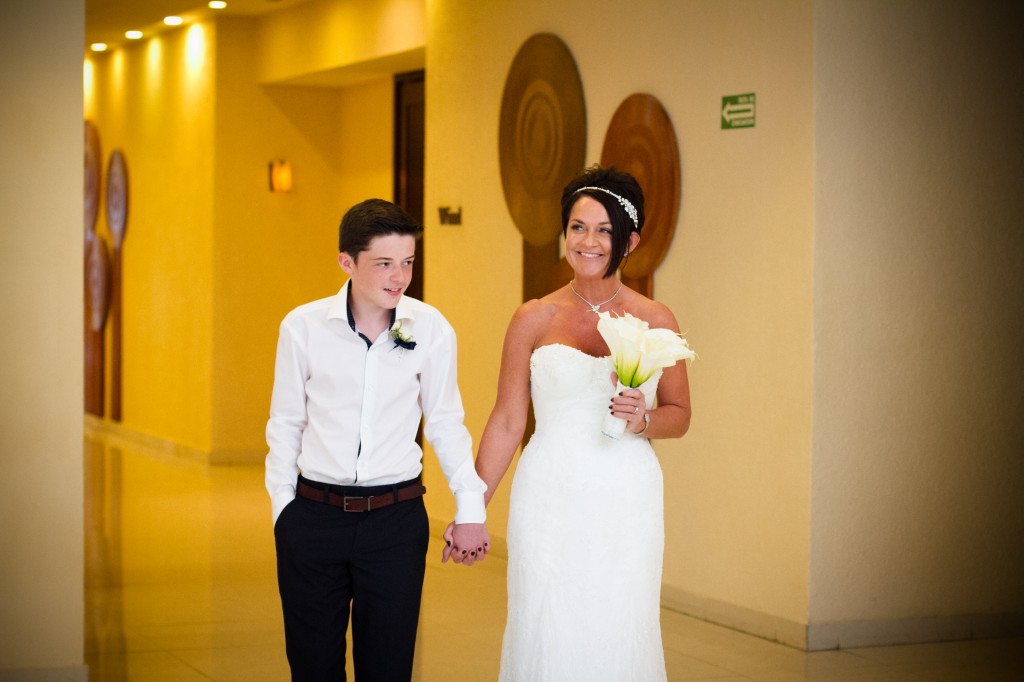 The Wedding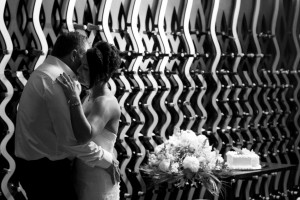 The morning of our wedding I woke up to find it was raining. They say if it rains on your wedding day in Mexico it is a blessing! We had planned to get married on the beach, but we decided to move the ceremony to the covered terrace.
Our wedding was very intimate, 7 of us in total, and my son Jack gave me away. My daughter Ruby was my bridesmaid and Mike's sons Oliver and Bradley were his best men. Oliver's girlfriend Leanne was my other bridesmaid. I was lucky because my bridesmaids were able to do my hair and makeup and we spent a fun morning getting ready together, helped along with room service and a few cocktails! Dreams Riviera Cancun even provided a room for Mike to get ready in.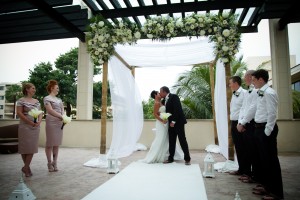 Our wedding was perfect. The gazebo looked amazing, the flowers were beautiful, and the ceremony was really emotional and very intimate. Just us and our children. We did a family sand ceremony which was a lot of fun and really special. After the wedding we had champagne and then a photo session. We also had a DVD taken which is lovely!
Our reception took place in the wine cellar. It's a beautiful venue and perfect for small weddings. The flowers and lanterns from the gazebo were placed in the wine cellar, which looked amazing, and the food and service were outstanding.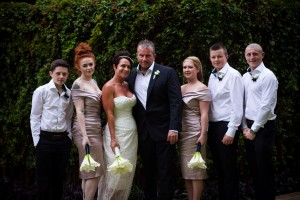 After the meal we spent the rest of the evening in the hotel reception and when we returned to our room the Dreams Riviera Cancun staff had decorated the floor and Jacuzzi with rose petals and tea lights. The bed was also dressed with rose petals, and we had flowers and champagne and a congratulations letter from the hotel.
The rest of the holiday was lovely, and we chose our wedding photographs and viewed the DVD on our final day. We were given the DVD and photographs on a CD, and our album will arrive shortly.
The wedding was perfect, and everyone at Dreams Riviera Cancun went out of their way to make it special for us. I loved every minute of our holiday and wouldn't hesitate to recommend Dreams Riviera Cancun and Blue Bay Travel to anyone planning a wedding.
We are returning to Mexico for our honeymoon in June, again with Blue Bay Travel because we wouldn't book with anyone else.
Special thanks to Kirsty – she was wonderful.
– Lou and Mike Smith