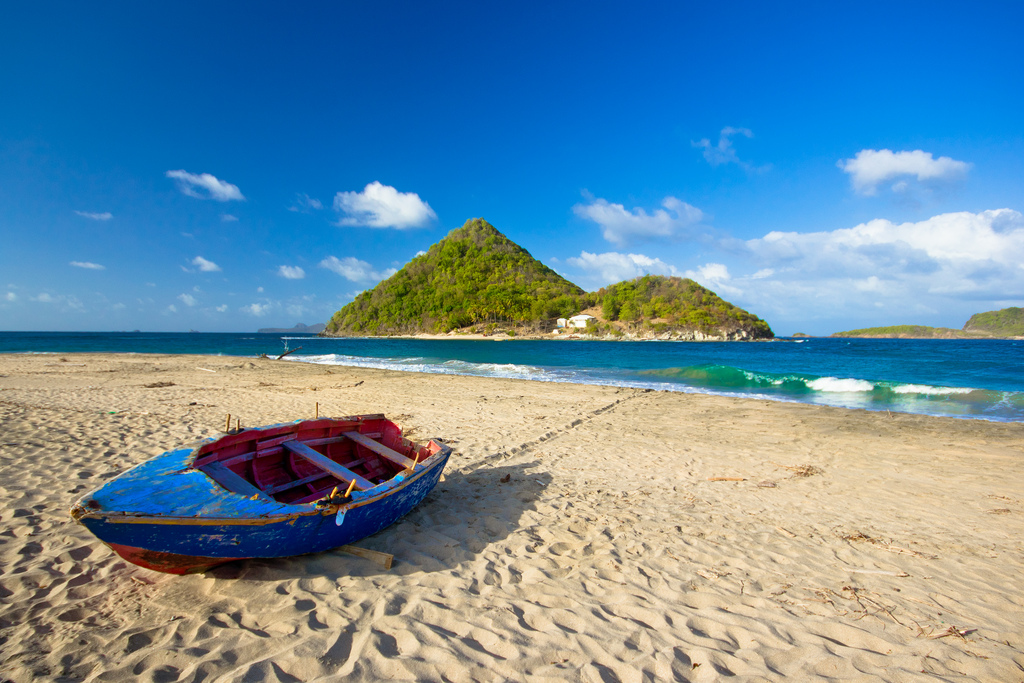 Get 2 FREE Nights and a FREE Room Upgrade to a Waterfront Suite at True Blue Bay from only £1,443pp
The "Spice Isle" of Grenada is an emerald lozenge that basks in one of the most beautiful corners of the Caribbean Sea, home to a rich heritage flavoured with cinnamon, cocoa, and nutmeg, and a spirit touched by some of the world's greatest nautical powers. One location that encapsulates the soul of Grenada is True Blue Bay, and as Jaclyn and Diane will testify, this idyllic destination will romance even the most experienced Caribbean explorers.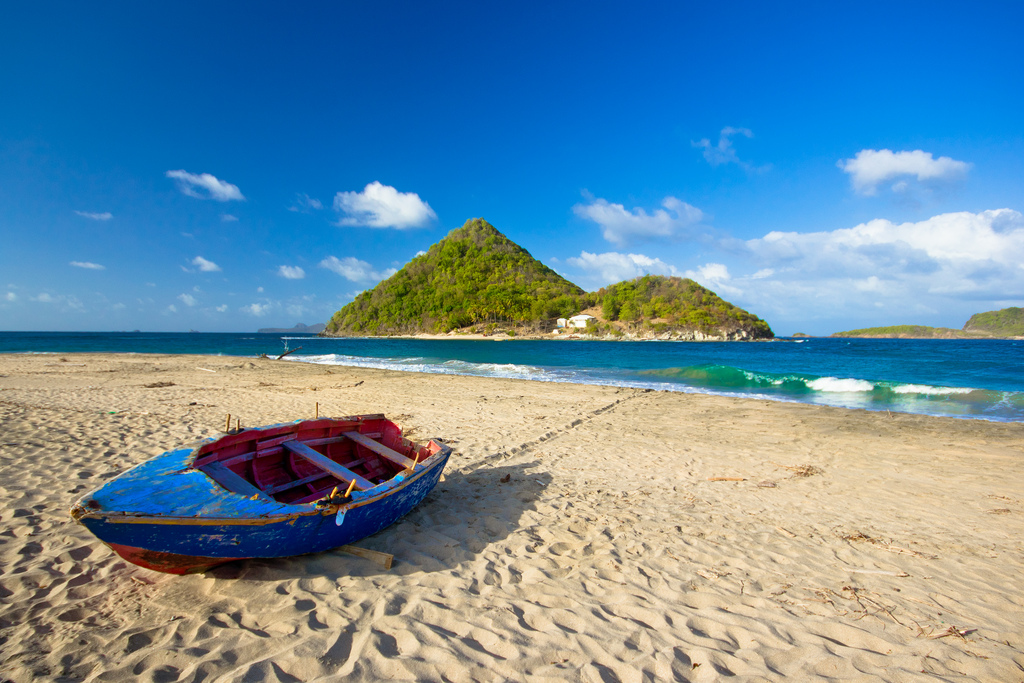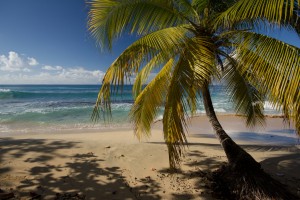 The island of Grenada is located in the eastern Caribbean at the southern extremity of the Windward Islands, only 100 miles north of Venezuela. To the north lies St. Vincent and the Grenadines and to the south you'll find Trinidad and Tobago. Stunning beaches line the coast and magnificent scuba diving is on offer just below the surface. St George's, the largest town, has one of the most picturesque waterfronts in all of the Caribbean, where stone forts from a forgotten time and houses of varied, kaleidoscopic colours meld into a hilly buffet of urban aesthetics. Friendly, welcoming locals go about their lives and are more than happy to include you in the process.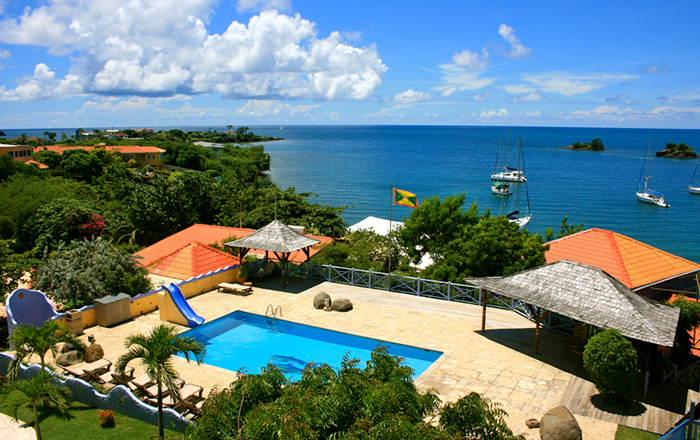 True Blue Bay takes its name from the shimmering waters of the bay it overlooks, gracefully situated on Grenada's south coast. This Caribbean hideaway with its romantic and secluded setting encourages you to enjoy Grenada whilst preserving that special atmosphere only a boutique resort can achieve. The friendliness of the owners, Russ and Magdalena Fielden, and their experienced team ensures you'll quickly become part of the extended family, meaning True Blue Bay stays with you long after you leave their gorgeous landscapes.
Blue Haven Spa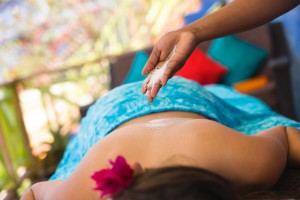 New to True Blue Bay Resort, the Blue Haven Spa offers serene spaces conceived from the beginning to foster pampering, relaxation, and rejuvenation. Taking advantage of Grenada's wonderful range of organic plants and herbs, the True Blue Bay therapists have designed a number of sumptuous body treatments and facials to soothe and invigorate your entire being utilising the bounties of the island.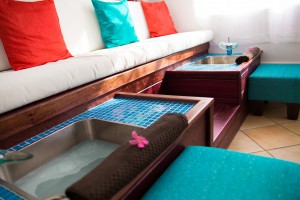 All of the treatments make use of delicious natural ingredients such as coconut oil, noni, honey, papaya, nutmeg, cinnamon, Grenadian chocolate, and fresh mint, and treatment specialisations include massages, reflexology, signature body scrubs, facials, waxing, manicures, pedicures, and aromatherapy.
True Blue Bay's signature Grenadian chocolate facial uses The Grenada Chocolate Company's ethically and locally produced organic chocolate to create a regenerative spa experience. Chocolate is known to be high in anti‐oxidants, containing anti‐ageing properties that can refresh your skin and nurture a healthy glow!
Sankalpa Yoga Studio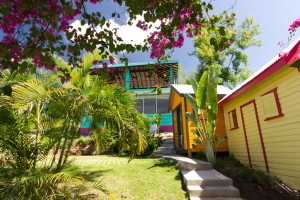 The Sankalpa Yoga Studio of Grenada is now offering yoga classes at True Blue Bay Resort. The property's invitingly open yoga space, personally designed by Russ and Magdalena Fielden, is in keeping with the colourful and casual styles for which the resort is renowned.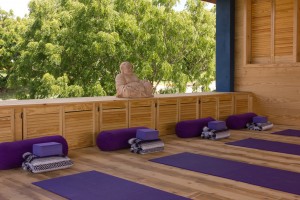 The yoga space brings together the natural island breeze and the spectacular views of True Blue Bay to form a zenith of peace that is still vibrant and energetic, ideal for practising yoga, and the classes are open to hotel guests, island visitors, and the local community, led by certified yoga teachers from different yoga practices such as Hatha, Vinyasa, and Yin. The studio is also open to yoga travellers from around the world who wish to organise wellness, yoga, or meditation retreats in the Caribbean.
True Green Environmental Programme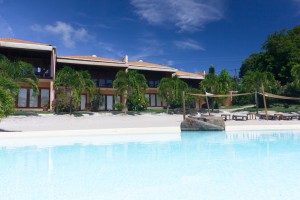 For many years True Blue Bay have had the prosperity of the environment in mind and currently operate a plethora of features to nurture eco‐friendly sustainability. This includes using solar water heaters in all the rooms and restaurant kitchens and every room being equipped with a canvas shopping bag for you to cram with amazing island bounties, in an effort to reduce the use of plastic bags in Grenada.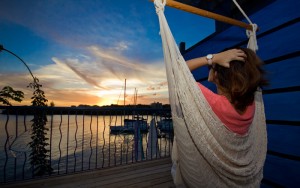 All restaurant vegetable and biodegradable waste is used for compost to fertilise the gardens along with recycled rainwater, whilst non-vegetable food waste is given to local farmers to use for pig food. Environmentally friendly, biodegradable detergents are used in the laundry and kitchens and no chlorine is used throughout the property. Bathroom amenities in all rooms are in refillable containers, whilst air conditioning sensors have been installed in every room to save energy.
The Inside Scoop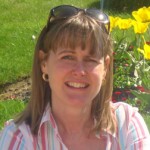 "True Blue Bay isn't like anywhere else I've stayed before. It's a real family run hotel and the owners stamp is all over the property. Each room is slightly different and beautifully decorated and maintained. The food is fab, and the chef is British and takes pride in using local produce wherever possible. It's a haven for divers, having its own dive site at the hotel. The main bar restaurant, the Dodgy Dock, is a great place for a night out whether you are staying at True Blue Bay or not and yoga on the deck in the morning is a wonderful experience."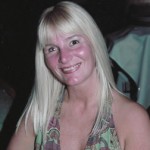 "True Blue Bay is a small family run hidden gem with a warm welcoming feel. It is truly Caribbean through and through, with a lovely atmosphere and gorgeous traditional suites, set in beautiful tropical gardens. It has amazing ocean views and an award winning chef.
This resort offers everything from Yoga classes, to water-based excursions, to dancing under the stars on Dodgy Dock Bay. It is a simple but beautiful resort."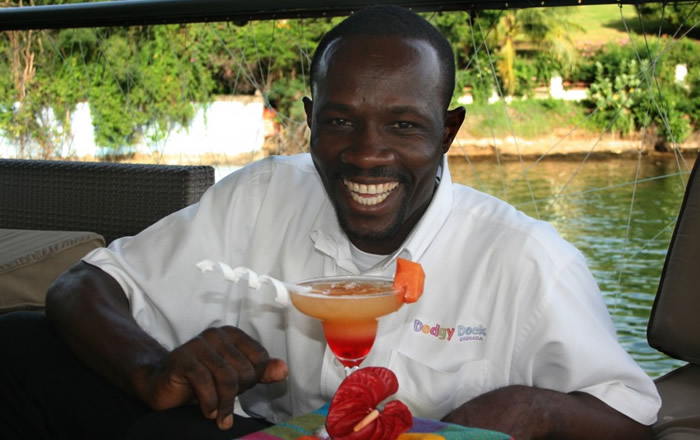 With a bit of luck the comments from Jaclyn and Diane have enticed you set foot in the rain-forested interior of Grenada, and trailblaze some down-to-earth Caribbean getaways. The True Blue Bay Resort will offer you a home away from home in the truest sense, whilst you explore this slice of heaven.
Do you have your own top tips? Share them with us on Facebook, Twitter or Instagram
Get 2 FREE Nights and a FREE Room Upgrade to a Waterfront Suite at True Blue Bay from only £1,443pp
Insider Knowledge Issue 3
By Ben Farbrother