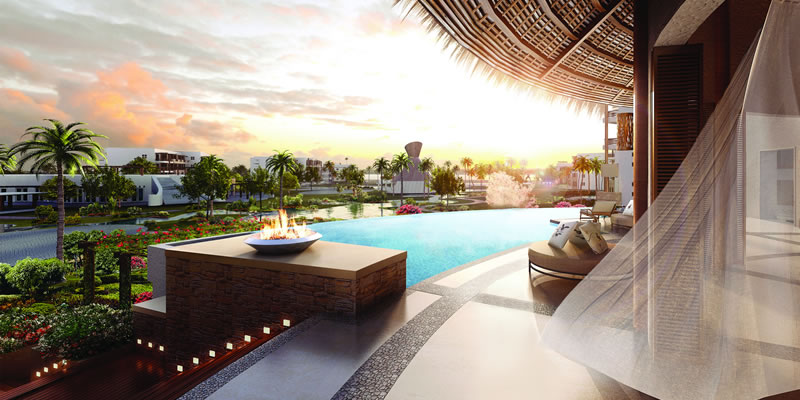 Secrets Akumal Riviera Maya is on the horizon, so now would be a good time to swat-up on some of the highlights awaiting you in the wonderful region of Akumal.
The town of Akumal is about an hour south of Cancun, exuding a character quite distinct from many of Mexico's major cities. Secrets Akumal Riviera Maya, opening November 2015, will offer an excellent basecamp for exploring another part of Mexico. The adults only Unlimited-Luxury® inclusions of Secrets Resorts will here be combined with a lush, tropical hideaway and a number of unique benefits:
•   Ideally located near the Riviera Maya Golf Club, offering complimentary green fees
•   The famed white sands of Akumal are right on your doorstep
•   A modern fitness centre will keep you in shape for your Akumal adventures
•   Get involved with kayaking, snorkelling, sailing or windsurfing on a gorgeous Caribbean seafront
•   Feel like a pioneer with a scuba diving tour
•   Sit back and enjoy a live show in an open-air theatre
•   Bask in the glory of a vast infinity pool with breathtaking ocean views
And that's on top of the classic Secrets Resorts Unlimited-Luxury® inclusions, which include gourmet dining, free WiFi, 24-hour room service, and a super helpful concierge. You'll be living the dream, Holidaymakers.
Now, you may not be familiar with Akumal as a region, so here are 4 incredible outings to kickstart your Secrets Akumal Riviera Maya holiday plans.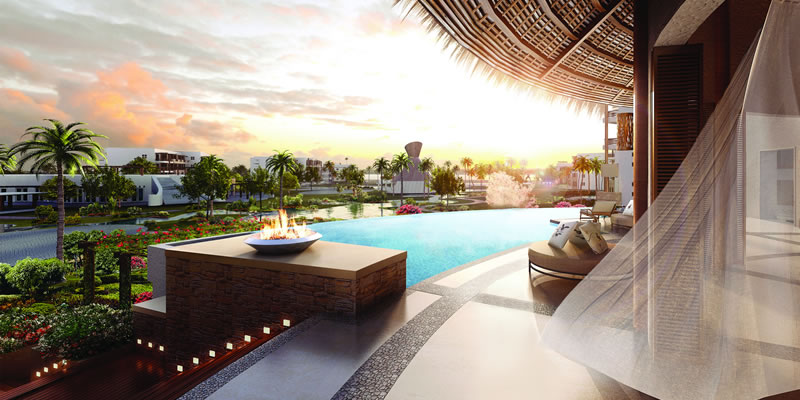 1. Yal-Ku Lagoon
There are many snorkelling lagoons in the Riviera Maya, but Akumal's Yal-Ku lagoon is a different species of experience. This subtly blue-green lagoon is tucked within near-primordial greenery, with several arterial walkways meandering through its plant life. Interleaved with the undergrowth you'll find small art installations, creating little sensations of discovery as you stroll around the natural park. However, the big news at Yal-Ku is the snorkelling. The lagoon has the same intermingling of fresh and salt water found in a river estuary, housing a mixture of fish from both disciplines of aquatic life. Starfish, urchins and parrotfish are just some of the classic Caribbean critters that call Yal-Ku home, filling the aquamarine lagoon with a vivid colour pallet. Yal-Ku is protected from the body of the sea, remaining calm enough for snorkelling even when the open sea is choppy. It's a solid outing for some real Mexican exploration.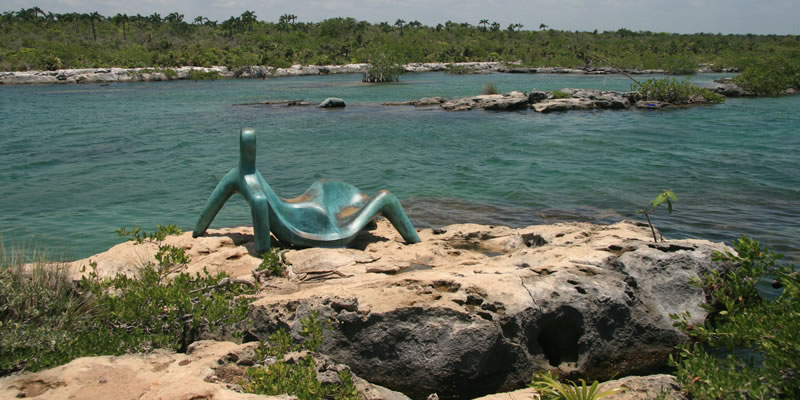 2. Cenote Santa Cruz
Santa Cruz is a cave system incorporating an open-air cenote, creating a dramatic coexistence of light and dark as you wade through 50 million years of history immortalised in rock and water. A fleet of knowledgeable guides are on-hand to impart swathes of fascinating facts about the terrain, offering a walking tour quite unlike any of its kin. The light and shade of this intricate pool system creates rippling green patterns on the rock walls, and ancient stalactites reach out for the water's surface. It's like walking back in time to the origins of Akumal and its surrounding foliage. Reservations must be made in advance if you fancy visiting Cenonta Santa Cruise, a measure designed to help minimise human impact on the local environment – and for good reason.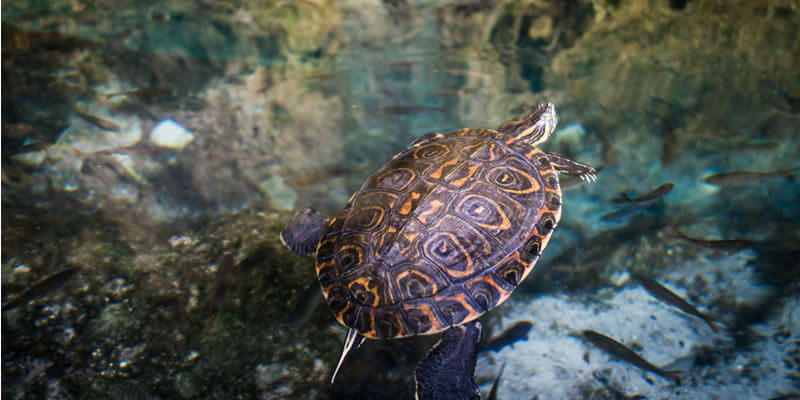 3. Half Moon Bay
A good beach is determined by two broad categories: pristine surroundings and room to explore. Half Moon Bay has both of these things: rarely overcrowded and blessed with a Caribbean shoreline. This shell-peppered beach lets you walk into a world of turtles and colourful coral-dwelling fish, with plenty of dive shops offering trips out to the reef in the deeper water. The beachfront is mainly populated with privately owned condos, maintaining a peaceful atmosphere through and through. You should also check out a local beach bar called La Buena Vida, famed for having a "crow's nest" atop a palm tree overlooking the bay. Enjoy your tipple choice to the backdrop of one of Mexico's most vibrant seascapes. Good times indeed.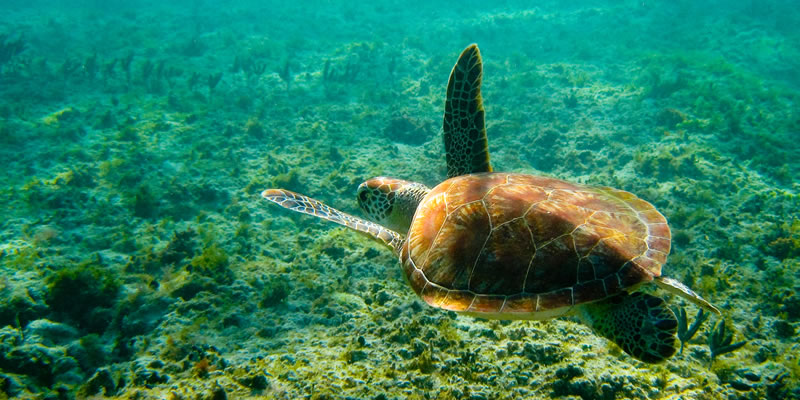 4. Aktun Chen Natural Park
Aktun Chen has a similar vibe to other ecological parks in the Riviera Maya (such as Xplor Park and Xcaret Park, which you can see here), but humbler in scale. Spread over 3 hectares of Yucatan jungle, Aktun Chen incorporates everything from zip line adventures to an underground cave walk.The cenote at Aktun Chen has enough space for swimming and snorkelling, which is a completely different experience from the snorkelling you'll find on the beach. You might even see spider monkeys, or an inquisitive agouti, in the surrounding brush. They even offer a free lunch as a reprieve from all the excitement. Aktun Chen has all the curiosities of a larger Rivera Maya attraction, distilled into a wonderfully welcoming package.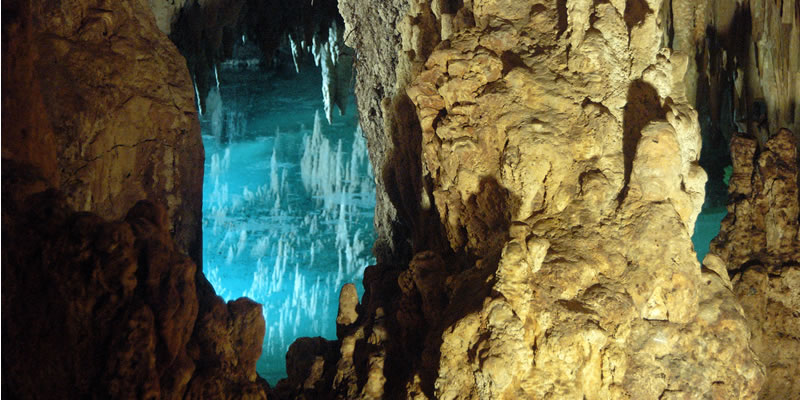 Make It Happen
Has your fancy been tickled? If you'd like to know more about Secrets Akumal Riviera Maya you can use that friendly orange button below. Otherwise, keep the dream alive holidaymakers.

Secrets Akumal Riviera Maya from only £1,612pp
All images used in this blog are licensed under Creative Commons Attribution 2.0