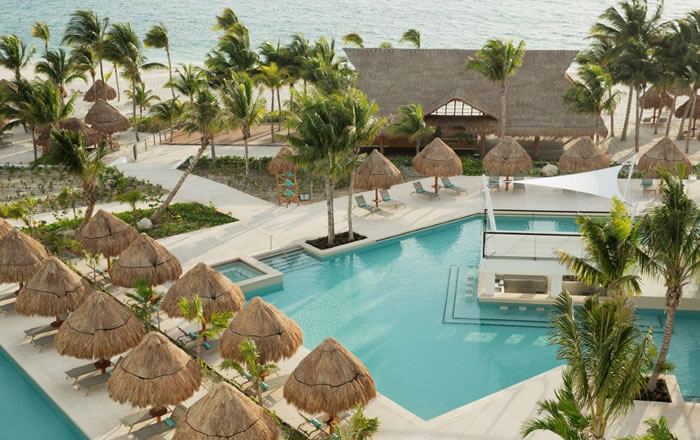 The grand opening of Finest Playa Mujeres has got us heading to Playa Mujeres in our droves. So, what's on the cards when you get there? Here are 6 top activities you can do straight from Finest Playa Mujeres that'll enhance your holiday beyond your expectations. Know before you go!
1. Chichen Itzá
Chichen Itzá is one of the most popular outings in all of Mexico, and Finest Playa Mujeres acts as a brilliant basecamp for one of the best tours of the ancient Maya Civilization. Discover the rituals of Chichen Itzá, the magical waters of the Cenote Ik Kil, and the colonial city of Valladolid. We've seen Chicen Itzá for ourselves, so this is what you're in for:
2. Xenotes
Mexico is famed for its cenotes, underground rivers toothed with stalactites and stalagmites. The Xenotes Tour includes a visit to four cenotes, and blends your spelunking with kayaking, snorkelling, rappelling and zip lining, reprieved via a glam picnic. If you're a budding adventurer, you should bag your Xenotes tickets ASAP.
3. Tour Xcaret
Xcaret is a natural park that immortalises Mexican heritage and ecology. The park blends the region's natural beauty and cultural wealth with shows, attractions, and historical curiosities. In Xcaret you'll find underground rivers, natural pools and loads of attractions packed with unforgettable moments. This is what happened when we checked out Xcaret Park for ourselves:
4. Xoximilco
Xoximilco is a tribute to the human legacy of Mexico through food, music, and stories. Under a tropical star-filled sky on board a picturesque trajinera decorated with traditional Mexican paraphernalia, you'll travel through time in a true Mexican fiesta of live music, gastronomy, and flowers. It's a true glimpse into the Mexican linage that flourishes in the Riviera Maya.
5. Tour Xplor
If adrenaline is your bread and butter, you need to get some eyes on this here video. Xplor Park is a unique tour where the jungle comes alive though a tag-team of fast-paced activities and old-school exploration. It's easier to explain through a little motion picture action:
6. Coba Maya Encounter
The archaeological site of Coba is renowned for the Nohoch Muul pyramid, the tallest of its kind in the Yucatan Peninsula. The tour of Coba from Finest Playa Mujeres takes you through a secluded Mayan village full of preserved natural curiosities, including lagoons, cenotes, and vibrant jungle paths. You'll rappel into cenotes and soar the canopy on breathtaking zip lines. You'll swim in hidden caves and walk the jungle to learn the secrets of the Mayan people. And the day will be rounded with a lush meal of local food. Mexico rarely feels so real and immediate as it does in Coba.
Get involved
Like the idea of a little exploration from Finest Playa Mujeres? Have a little nudge of that orange button and we'll have ourselves a pow-wow. Already had some Mexican adventures? Let us know in the comments below. Knowledge is power!


Have an adventure at Finest Playa Mujeres from only £1,321pp