Lou & Mike Renew Their Vows at Excellence Playa Mujeres
An engagement, a wedding, 11 holidays to Mexico and now a vow renewal at their happy place, Lou and Mike Smith continue their love affair with The Excellence Collection and Blue Bay Travel.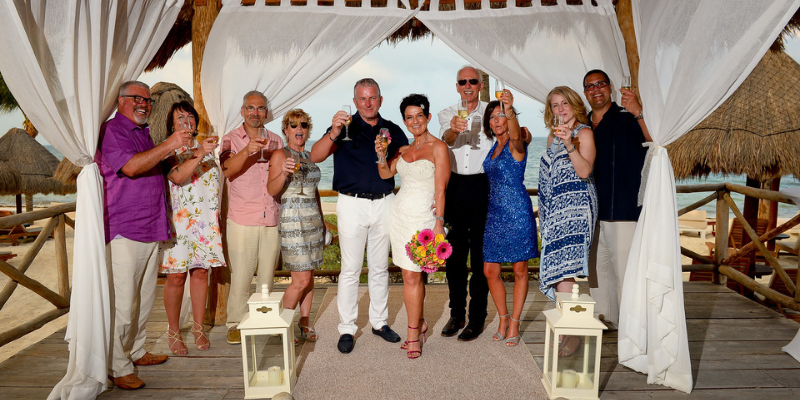 We had a whirlwind romance after fate brought us together. Having both lost our previous partners suddenly, the offer of sympathy and a shoulder to cry on turned to love. When you go through a life changing event it makes you re-evaluate your whole life. Finding happiness for a second time was a gift and we just knew we wanted to get married.
We wanted to have a small wedding abroad with just our respective children as our guests.  I searched the internet for destination weddings and found Blue Bay Travel. Little did I know that this was going to change our lives and bring so many wonderful memories and friendships.
Blue Bay Travel were just amazing and recommended Excellence Playa Mujeres to get engaged. They also organised a site visit to Dreams Riviera Cancun to book our wedding. Our two youngest sons were under 18 so a wedding at the Adults-Only Excellence Playa Mujeres was not possible.
In June 2013 we got engaged on the second night on the beach of
Excellence Playa Mujeres. It was an amazing holiday and our love affair with this beautiful resort and its fabulous staff began.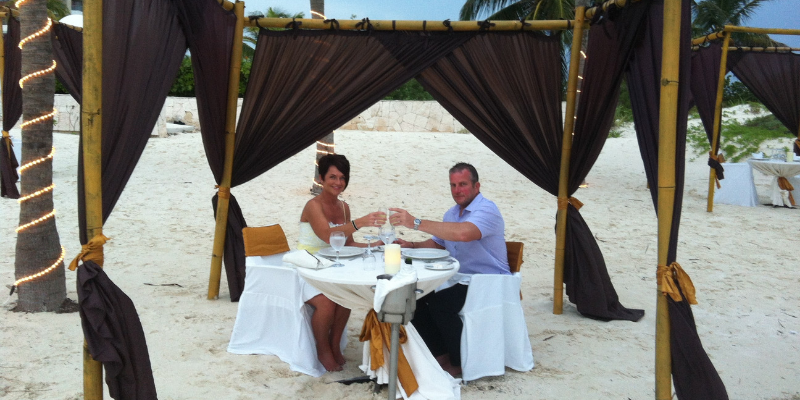 6 months later in January 2014 we had an amazing wedding at Dreams Riviera Cancun. It was expertly organised by Blue Bay Travel wedding coordinators. They were fabulous and I wrote all about it here.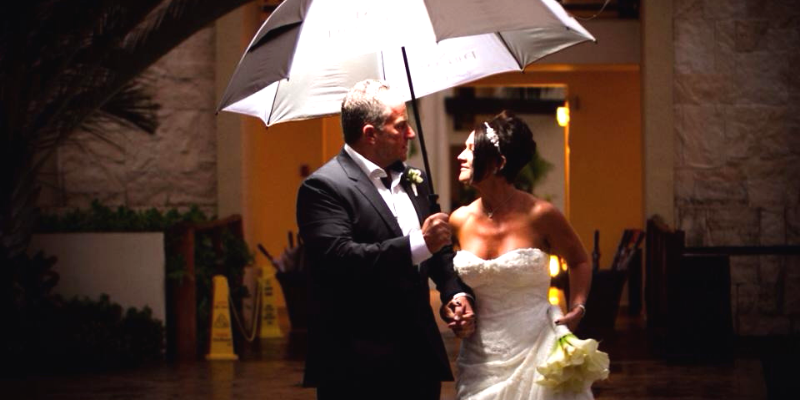 When it came to choosing our honeymoon destination there was only one choice, the place we got engaged! So June 2014 we returned to Excellence Playa Mujeres and once again absolutely loved everything about it.
Over the next 5 years we had a trip to Finest Playa Mujeres, which is also part of The Excellence Collection followed by 6 more wonderful trips to
Excellence Playa Mujeres. Over the years we have made some very special friends with both staff and guests and they hold a special place in our hearts. Celebrating my 50th birthday there was without a doubt the best birthday ever.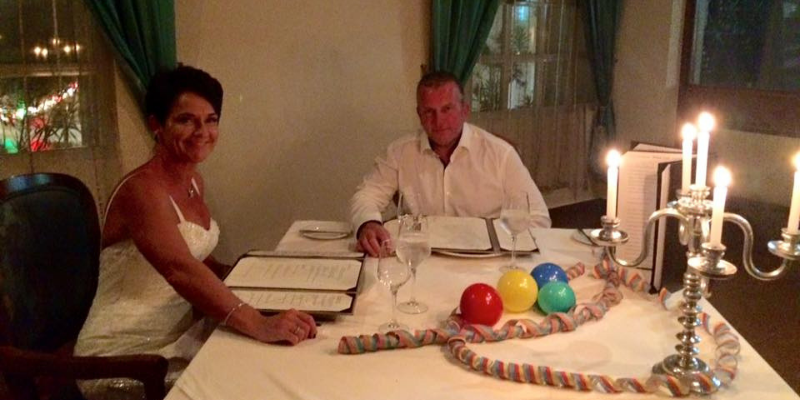 Our wedding was beautiful but I always wished we had been able to get married in the place Mike proposed to me. So a year ago I asked if we could renew our wedding vows at Excellence Playa Mujeres. He agreed we should on our 5th Anniversary so we booked our vow renewal for April 16th 2019. 
Our very special friend Pedro who is a member of staff at Excellence Playa Mujeres gave me away and our renewal was attended by the friends we have made over the years.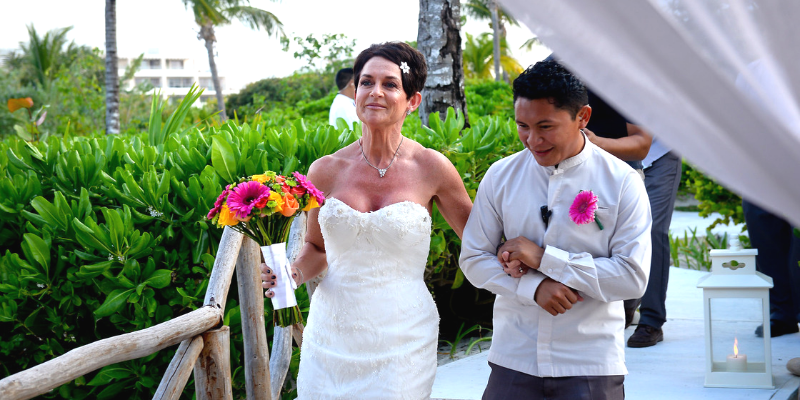 I wore my original dress but had it shortened for the occasion. We had a beautiful reception dinner and were totally spoiled by the wonderful team.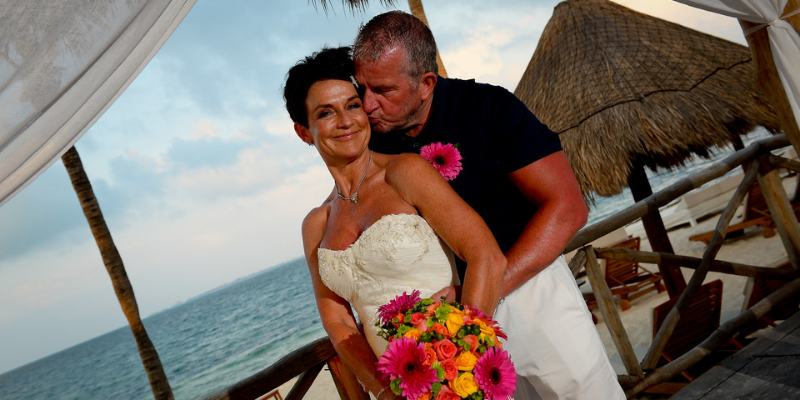 We have built up a great relationship with Blue Bay Travel over the years. We have had 11 amazing holidays to Mexico and 2 to Egypt with them and have also booked to experience the new Excellence Collection resort, Excellence Oyster Bay in Jamaica for October this year.
Many of my friends have booked with Blue Bay Travel on our recommendation and in May 2020 our Son is getting married at Excellence Playa Mujeres after also falling in love with this beautiful place. It's safe to say the love for Excellence runs in the family.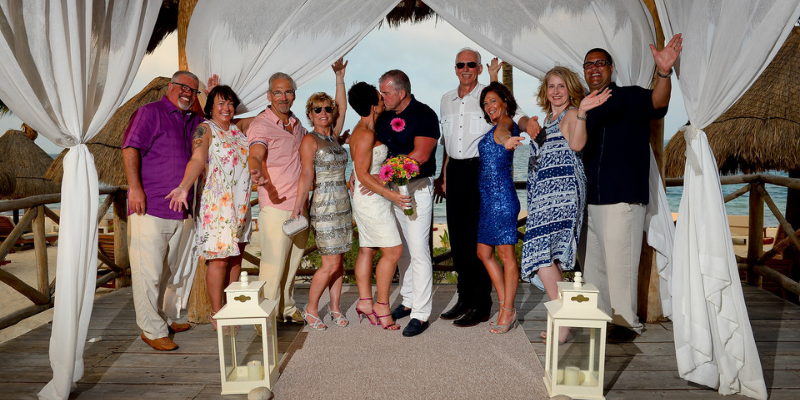 We just wanted to say the biggest thank you to Mr Stuart Wilson and his amazing team. You introduced us to this amazing place, you have taken the best care of us arranging our holidays and you're the best travel agents we have ever used. Here is to many more wonderful experiences, thank you for being part of our love story.