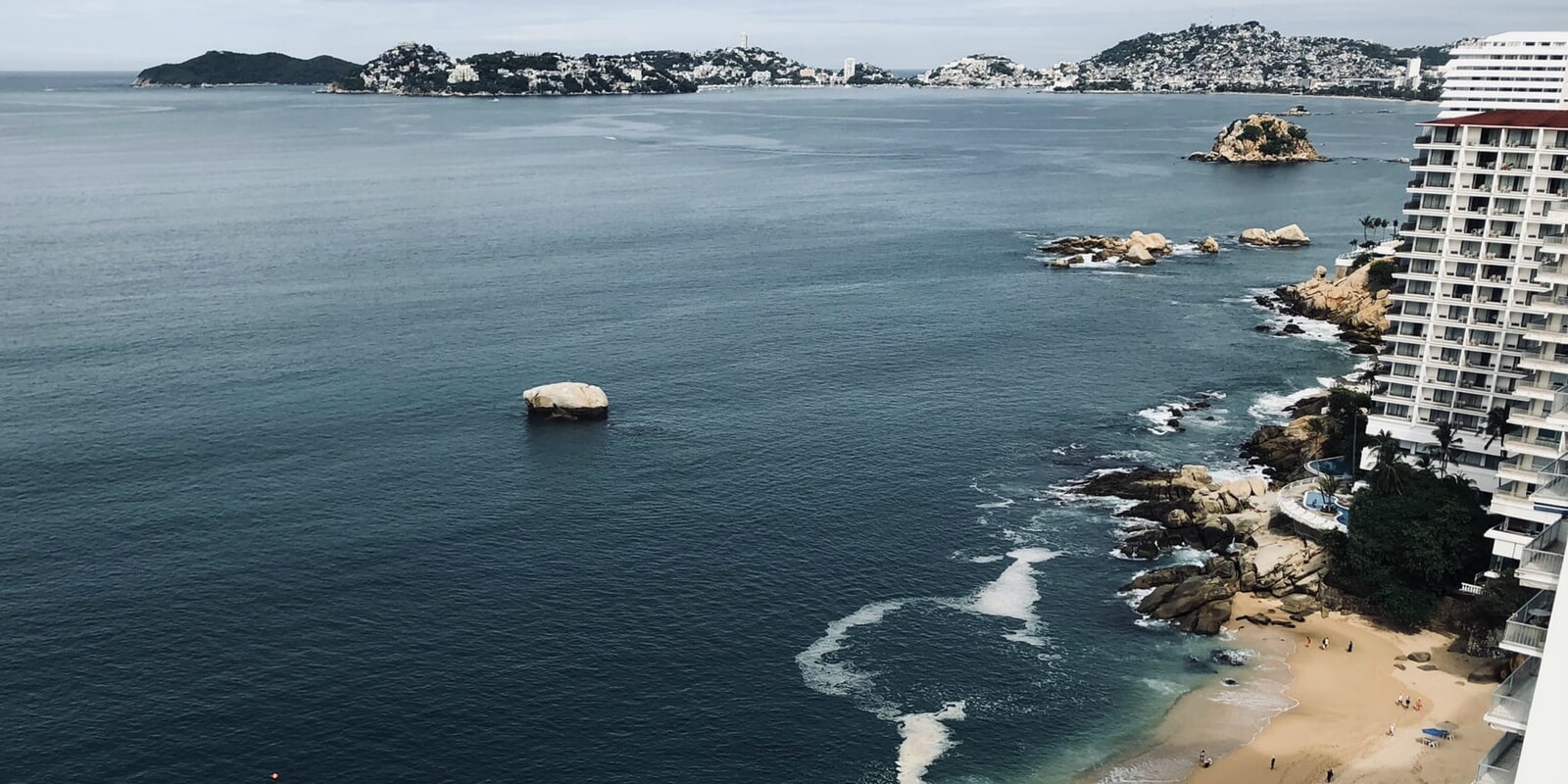 Acapulco is an adventure-packed holiday destination. So we'll tell you everything you need to know before you go!
Nestled on the Pacific coast in the Mexican state of Guerrero. Acapulco is enjoying a resurgence after the golden era of the 1950s. Far from being just a plethora of pretty beaches Acapulco is a destination made up of many layers.
The shimmering Acapulco coastline is a sight to behold

Statue in the colourful town
So why Acapulco?
Those of a certain age will know Acapulco, Mexico as a playground of the rich and famous. Beautiful beaches, azure waters and activities galore proved to be a real pull for Hollywood stars like Frank Sinatra, Liza Minelli and Zsa Zsa Gabor.
From stunning artwork and scintillating nightlife to majestic sea views and beautiful natural lagoons. Acapulco is definitely more than just a colourful coastline. Looking back at the Acapulco shoreline from the sea is a sight straight from a glitzy Hollywood movie. With glimmering high-rise buildings towering over beaches and majestic yachts sailing along.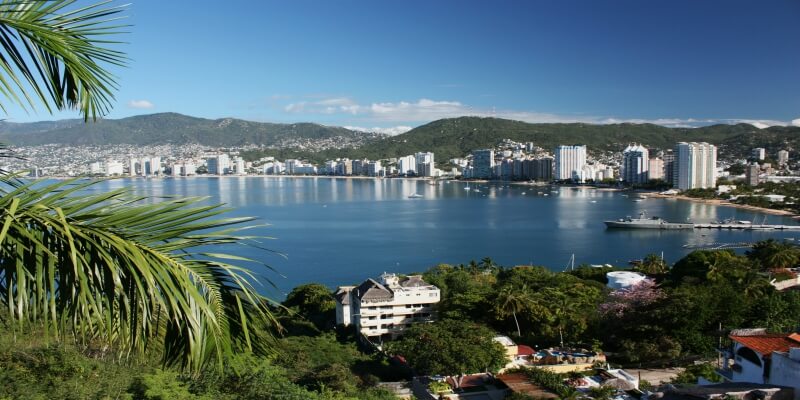 The lay of the land
Set in the Mexican state of Guerrero the municipality gently climbs, culminating in peaks which soar over 1,600 metres above sea level. Potrero, San Nicolas and Alto Camaron are highest summits.
But of course, where there's extreme highs there's also pretty spectacular lows. Amidst the changeable geography of Acapulco you can also find beautiful azure lagoons. Running through the region is the Papagayo River and just off this are spaces like Tres Palos and Coyuca lagoon.
A vast forest landscape also makes up the stunning region's scenery. As with many tropical regions, Acapulco has wet and dry seasons. Whilst the temperature varies very little, it's still better to plan your trip for the dry season which runs from November through to May. However, many travellers feel the best time for beating the crowds and seeing the best of the municipality is January and February.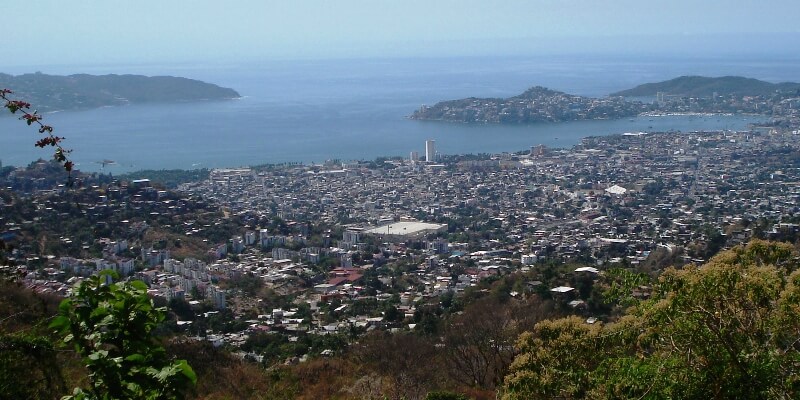 Grab a bite to eat
The diverse climate that has meant Acapulco can boast a rich catalogue of gastronomy. The coastline, rivers and lagoons make seafood prevalent whilst the wide regions of forestry areas keep meat and fresh fruit and veg in hot supply. Although foreign tourists will love that internationally renowned Mexican classics like burritos and fajitas are widely available, there are, however, some delicious local dishes that will get your tongue wagging too.
Relleno is such a delicacy. Baked pork which is teamed with a plethora of vegetables and fruits. The people of Acapulco enjoy their Relleno with a local bread called Bolillo. Another excellent example of regional culture through cuisine is Pozole.
Pozole is a soup which is derived from a salsa base. Typically served with either corn, pork or chicken the dish also comes with traditional Mexican sides like tostadas, tacos and tamales. If you're in town on a Thursday be sure to try some pozole in a local bar or restaurant where a weekly event is observed. Bands and dancers perform to accompany the serving of the pozole as many Acapulcans down tools for the rest of the day and sit down to enjoy the stew too.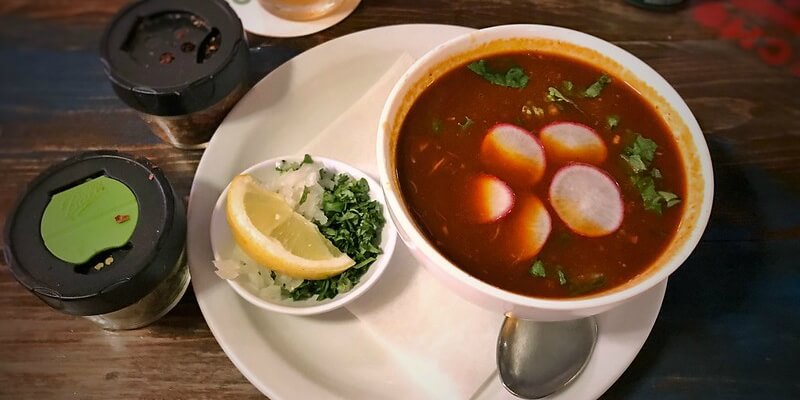 Things to do
The variety of activities in Acapulco is as diverse as the region's geography. From famous landmarks to historical sites, natural beauty, and colourful nightlife. There's plenty to raise your excitement levels in this vintage region.
Take a step into the heritage of Acapulco. Before the likes of Sinatra were swooning their way around the place, pirates used to roam the shores. Nowhere is this felt more than on La Roqueta island where fights were frequent as ancient pirates took refuge on the peninsula after their various nefarious activities.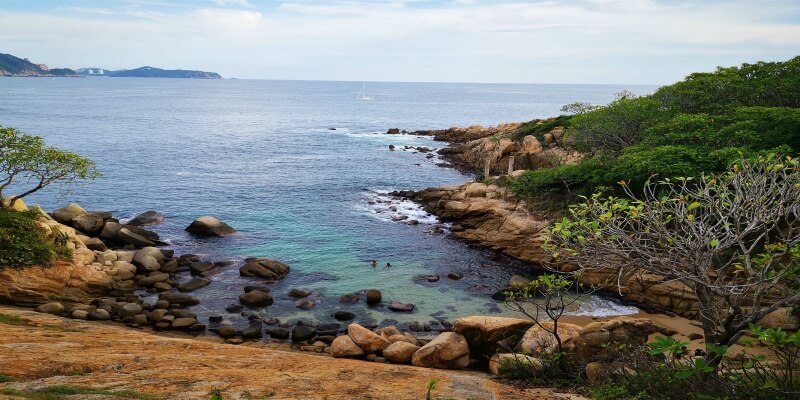 Nowadays La Roqueta is jam-packed with activities. Nature-lovers can head off on diving and glass-bottom boat trips. Whereas, if you like the sound of elevating your pulse, you should definitely catch the La Quebrada cliff divers.
These experts fling themselves off a 136-foot precipice into just 11 feet of water. Timing their dives perfectly with the rhythm of the ocean is paramount. You can even take in the show from La Perla, a bar which has been giving the divers' fans a home since the forties.
Acapulco as a region is split into three areas. Traditional Acapulco, Acapulco Dorado and Acapulco Diamante. If those drinks at La Perla have whetted your appetite to sample the legendary nightlife in the region. Then you need look no further than the Diamante and Dorado areas, made affluent by wealthy visitors from Mexico City and the United States.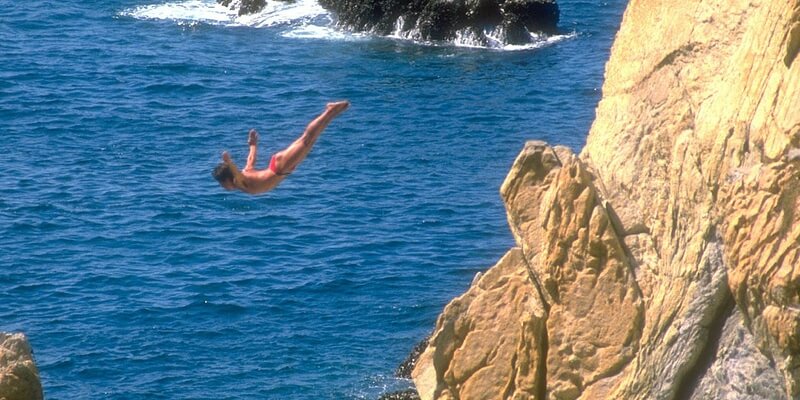 Where to stay
Years ago the stars of the silver screen frequented Acapulco. In-between films they would sink into relaxation at resorts like Los Flamingos, which was owned by the legendary John Wayne. But today we have other stunning hotels that would have the likes of Elvis queuing around the block to get booked up.
Dreams Acapulco Resort & Spa is just one of those such hotels. Boasting panoramic views of the contrasting Acapulco terrain this resort offers a stunning backdrop to your Mexican escape. The location of Dreams Acapulco Resort and Spa means that you'll be plonked into the heart of the region.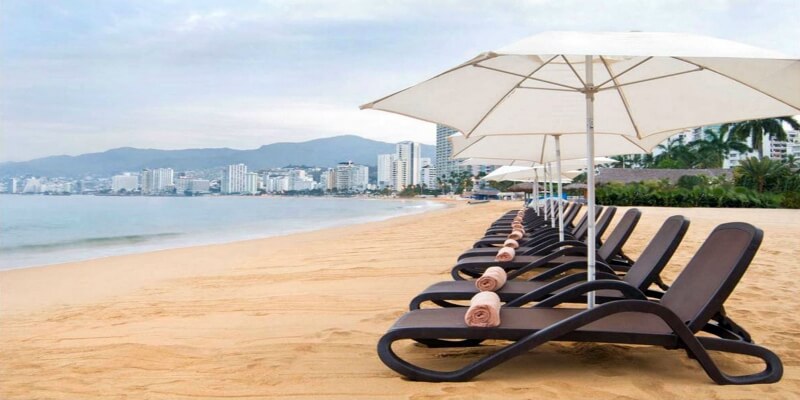 Beach-lovers will enjoy the fact that the hotel is perched on gorgeous Icacos Beach. Whereas get-up-and-doers will love the fact that you're ideally situated to make the most of the local activities. From a spot of shopping in La Isla Shopping Village to taking a stroll around Acapulco's Downtown area.
If you're more of the doing-nothing-on-holiday type, then don't worry the resort has you covered too. With two refreshing pools and even a relaxing spa to take your mind off work and the hustle and bustle of home life.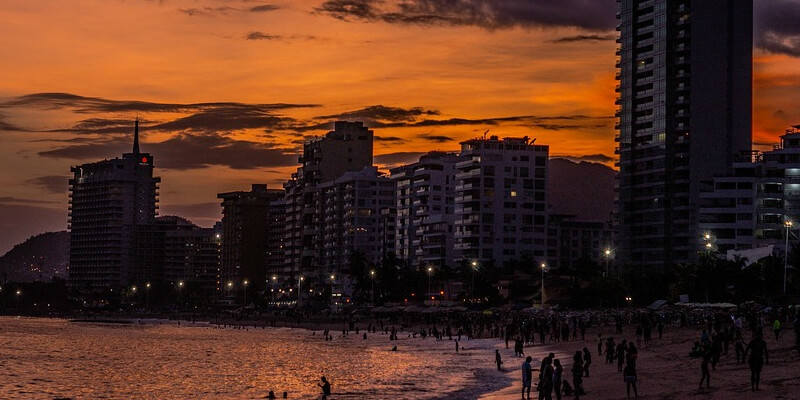 Get yourself to Acapulco
Far from being a washed-up old haunt of Hollywood A-listers now doomed to decay in nostalgia. Acapulco has stood the test of time and remains just as attractive a destination now as it did to the great and the good back in the day.
With a picture-perfect coastline, diverse geographical layout, rich gastronomic tapestry and plethora of possible past times what else could you want from your holiday.
We can't think of anything else, so that's everything you need to know about Acapulco! So what are you waiting for? Give us a call on 0844 644 8351 or you can click the button below to book your break and experience it for yourself.