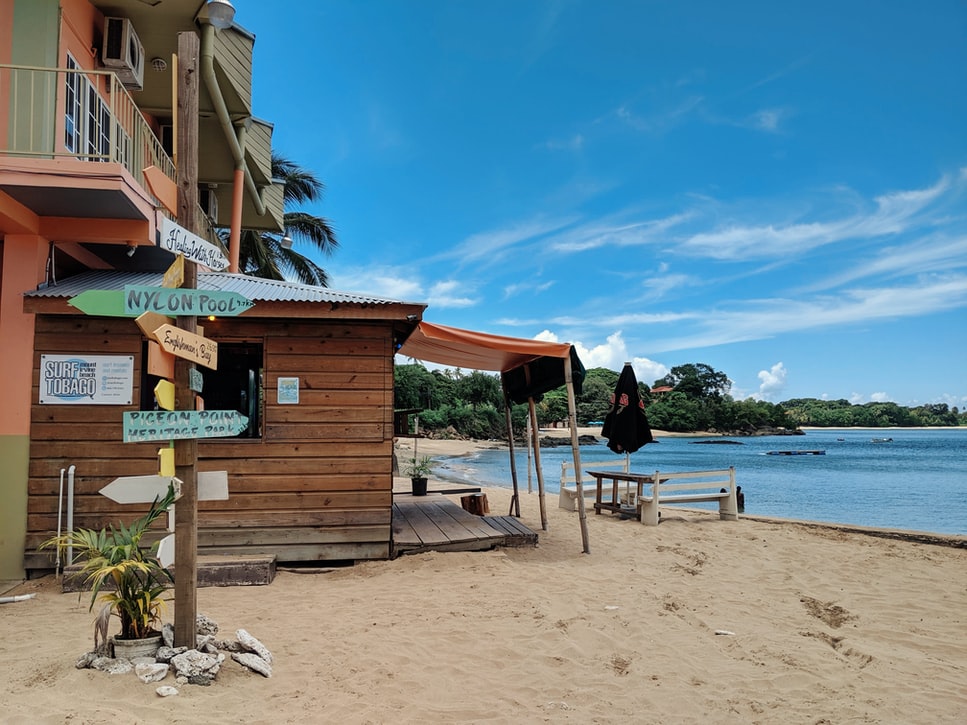 Oozing natural allure, with its palm-lined beaches, lively coral reefs, and wealth of rain forest, alongside plenty of tourist infrastructure, Tobago has something for everyone.
Tobago's greatest appeal, however, is its relatively unspoilt feel. This brings an overwhelming vibe of relaxation and tranquillity, perfect for a fly & flop holiday.
Keep reading our travel guide to find out more.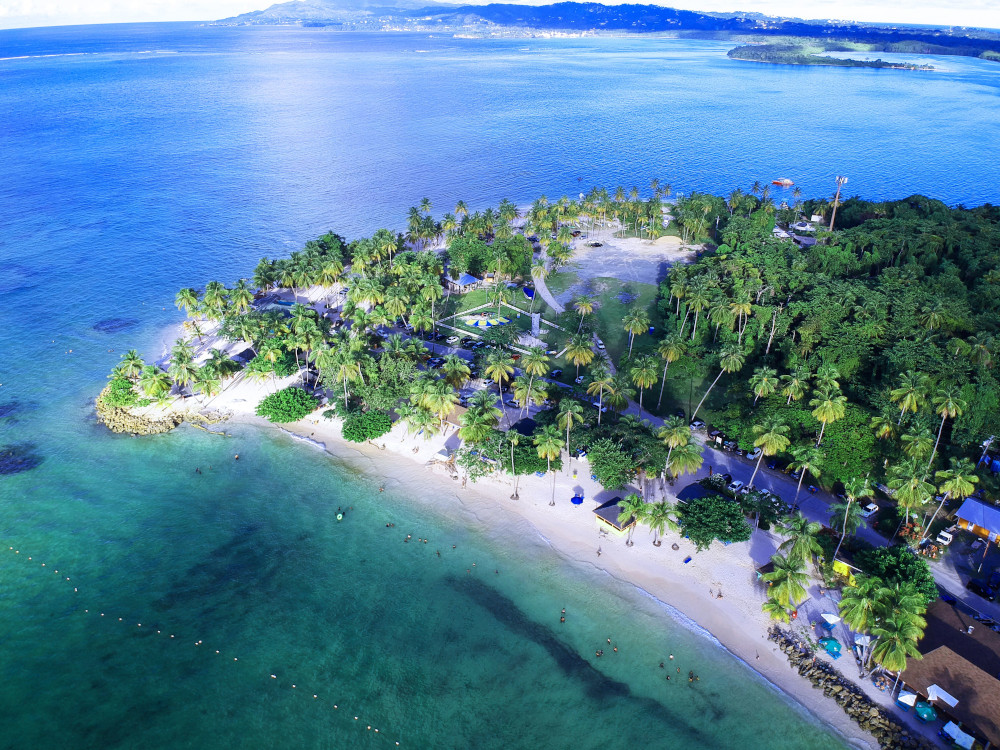 Tobago at a glance
Best time of year to visit: December to May
Capital: Scarborough
Size: 300.5km2
Currency: Trinidad & Tobago Dollar
Main Language: English
Flight Time: Approx. 11 hours
Time Difference: GMT -5
What are some interesting things about Tobago?
While Tobago is a relatively small island at just 41km by 14km, the oval-shaped haven manages to bring a surprising level diversity through its beaches, blue waters, people, and ecosystems.
Tobago makes up one half of Trinidad and Tobago, with Trinidad being more focused on heavy industry than beach getaways. It's due to this that Tobago has managed to maintain breath-taking beauty in the form of clean, white beaches, and a landscape that is largely left to its own devices -ensuring you are surrounded by true, undisturbed nature and authenticity.
One of which is the Tobago Forest Reserve, famed as the oldest protected rain forest in the western hemisphere. A true sight to behold, it's an abundant tangle of mist-covered greenery, often without a building nor road to interrupt the flow of the forest. Bird and animal life flourish here, with rare species attracting keen ornithologists and naturalists.
Tobago has a rich history and culture, and you'll never be too far from a celebration. There are many annual festivals that are not to be missed. Possibly the biggest event of the year is the Tobago Jazz Festival, held between April and June. Not only will you see the best of local talent, but past performers include the likes of Elton John, Diana Ross, John Legend, Sting, and Trinindad and Tobagos own Machel Montano.
Last but certainly not least, Tobago is known world-wide for chocolate! So much so, that it's been coined the "Chocolate Isle". They've been in the cocoa industry since the 17th century, and while there have been ups and downs, cacao farming is now thriving thanks to a 45-acre Tobago Cocoa Estate.
There are now eleven different strains of cacao beans produced in the area, all with a rich, gorgeous taste. You can even visit the estate to witness production, take walks among the tropical cacao trees, and best of all – taste the delicious chocolate.
Read our Tobago Travel Tips if you want to read more.
So, let's take a look at what places Tobago has to explore!
What are the top Sun and Sea resorts in Tobago?
Crown Point and around
The flat, low lying southwest has become the Tobago tourism hotspot. Crown Point and nearby is where you'll find most of the hotels, restaurants, and night clubs, as well as the islands most popular beaches. There are many things at this side of the island to keep you entertained during your stay, and the airport is just 10-20 minutes away so no need to worry about a long transfer! So be prepared for lots of fun, rum and good times.
First, let's talk about beaches. Coined as the best beach of Tobago, Pigeon Point is a spot where the Atlantic Ocean meets the Caribbean Sea. Aesthetically, it's the most traditionally Caribbean of them all, with powdery white sands and calm turquoise sea, all lined by swaying palm trees. It's easily become Tobago's most photographed spot.
Not only is it a great swimming spot owning to the gentle waters, but there is ample space so you can find your relaxation location without feeling too cramped. If you head east, you'll find Bon Accord Lagoon, which provides a gentle wind that can offer a welcome break from the steamy tropical heat of the main beach.
Another great beach is Store Bay Beach. It's another popular spot, and deservedly so as it's close to the main hotels, has delicious, inexpensive food, and has many places to buy crafts and trinkets. It offers a lively scene, with holidaymakers and locals alike enjoying vast quantities of traditional curry crab and dumplin', glass-bottom boats loading and offloading groups and lovely little bars which prove popular as the sun sets while blasting reggae and soca music.
If you're a fan of underwater worlds, then Buccoo Reef is one to pop on your list. Covering around 12sq km of Pigeon Point and Buccoo Bay, it's Tobago's largest and most visited collection of corals.
You'll find everything from waving purple sea fans and peach-coloured fire coral, to hard stag and elk horn; all patrolled by coloured trigger, butterfly, surgeon, and parrot fish. To the south of the reef, you'll find Nylon Pool, which is a gleaming coral line sandbar forming a metre-deep swimming pool, smack in the middle of the sea.
To add a bit of culture into your Tobago adventure, head to Fort Milford. Here you'll find the ruins of gun-slatted coral stone, built by the British in the late 1970's. You'll find 6 cannons remaining, five of which are British and one French. It's surrounded by well-kept gardens, making for a quiet, shady chill-out spot, as well as panoramic views over Store Bay Beach and Milford Bay all the way up to Pidgeon Point.
FUN FACT

Nylon Pool was said to be named by Princess Margaret during her stay in the 1950s; she supposedly remarked that the water was as clear as her nylon stockings, which had just been invented!
Scarborough
Scarborough is Tobago's sizzling capital. It's a flourishing town, brimming with vibrancy, where tourism and local culture live in harmony. Considering its small size (although it's the largest town on the island), there's a load of things to keep you busy.
Let's start with the beaches, and in this part of the island look no further than the Bacolet suburb. The Bacolet area is infamous. In the late 60's and early 70's it was a playground for Hollywood's rich and famous. Rita Hayworth and Robert Mitchum stayed here while filming Fire Down Below, and The Beatles frolicked on Bacolet Bay Beach, which also provided the setting for Walt Disney's "Swiss Family Robinson" – and it's not hard to see why.
The crescent shaped Bacolet Bay Beach is a tranquil spot, with its yellow sand shaded by palms and Indian almond trees. It has a protective coral reef, which allows for good swimming opportunities, although be careful of the occasional undercurrents and rougher seas in winter. Nearby you'll find beach bars for drinks and snacks, so you can be refreshed and refuelled between sun, sleeps and swims.
If you're after somewhere to have a bit of a mooch away from the beach, we'd suggest heading to Central Scarborough. This is where you'll find most of the action, as it's home to the popular market, NIB Mall and port.
It's a friendly and absorbing scene with a mix of locals and tourists; great for bargains, chats with the stall holders and a way to get an idea of authentic Tobago living.
Just next to the centre of Scarborough you'll find the popular Botanical Garden. Founded in the 19th century, it celebrates unique flora, and visitors can expect orchids, silk-cotton trees, huge saman trees, and royal poinciana and much more. Keep an eye out for the islands colourful blue-crowned mot mot bird around the grounds.
No visit to Scarborough would be complete without a visit to Fort King George. This is truly a moment in history. It's an elevated fort built way back in 1781 complete with cannons, barracks, and artefacts; it's the largest of its kind in Tobago. You'll find a museum on the grounds, to teach you all about life in the times it was built, and many other tit-bits about the location.
Black Rock and the surrounding North-West Coast.
The North-West Coast is home to many sights and experiences to behold. You'll find beautiful beaches, reefs, golf, surfing, and shopping towns in abundance to keep you busy. This is a great area to base yourself if you want more of a laid-back feel than the likes of Crown Point which is slightly busier.
We'd suggest staying in Black Rock, as it's settled right on Stonehaven Bay (Or Grafton Beach as it's known). This beach is a glorious, wide swath with coarse sand that attracts the turtles that lay their eggs here in the March-August season. It offers great swimming, and a particularly gorgeous sun set in the late afternoon, where you'll see the daylight sink behind the black volcanic rocks that punctuate the seashore.
Just north of Black Rock, you'll find the incredible tree-masked Turtle Beach (officially Great Courland Bay). It's a picturesque kilometre of yellow sand, flecked with volcanic grey.
The sea offers steep water shelves and large waves, perfect if you like exhilarating swimming or water sports. While a river at the western end can be nice for a freshwater dip, when not in dry season. Please note that part of the beach is allocated to guests-only from Turtle Beach Hotel.
Black Rock is also home to a busy, friendly village full of history. You'll find a traditional fort nearby, Fort Bennet. Built in the 1680's, it's a mini well-preserved historical site which offers gorgeous views of the coast as well as a small garden to enjoy.
Ready to Go?
If learning all about Tobago has your ready to explore. check out our top offer for Tropikist Beach Hotel & Resort.
For a limited time only get a FREE Upgrade to Ocean View Room + FREE Spa Treatment, FREE Late Checkout, FREE Welcome Gifts and FREE Resort Transfers! Selected Dates Apply.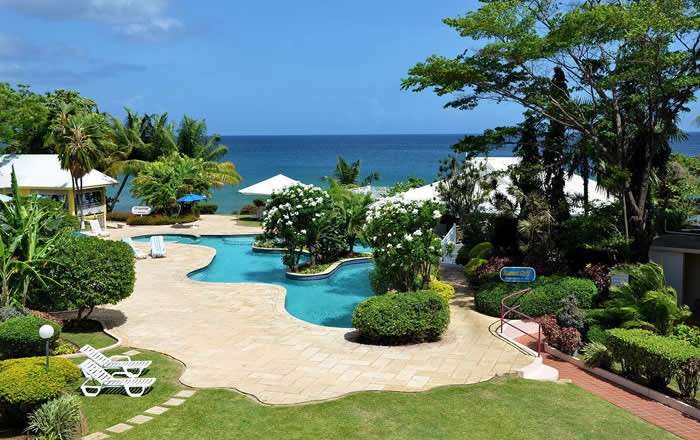 Ideally located on the popular Crown Point, Tropikist Beach Hotel & Resort balances picture-perfect beachfronts with the vivid culture of Tobago. Set your eye-parts on stunning seascapes from the privacy of your own balcony with endless ocean views from almost every room