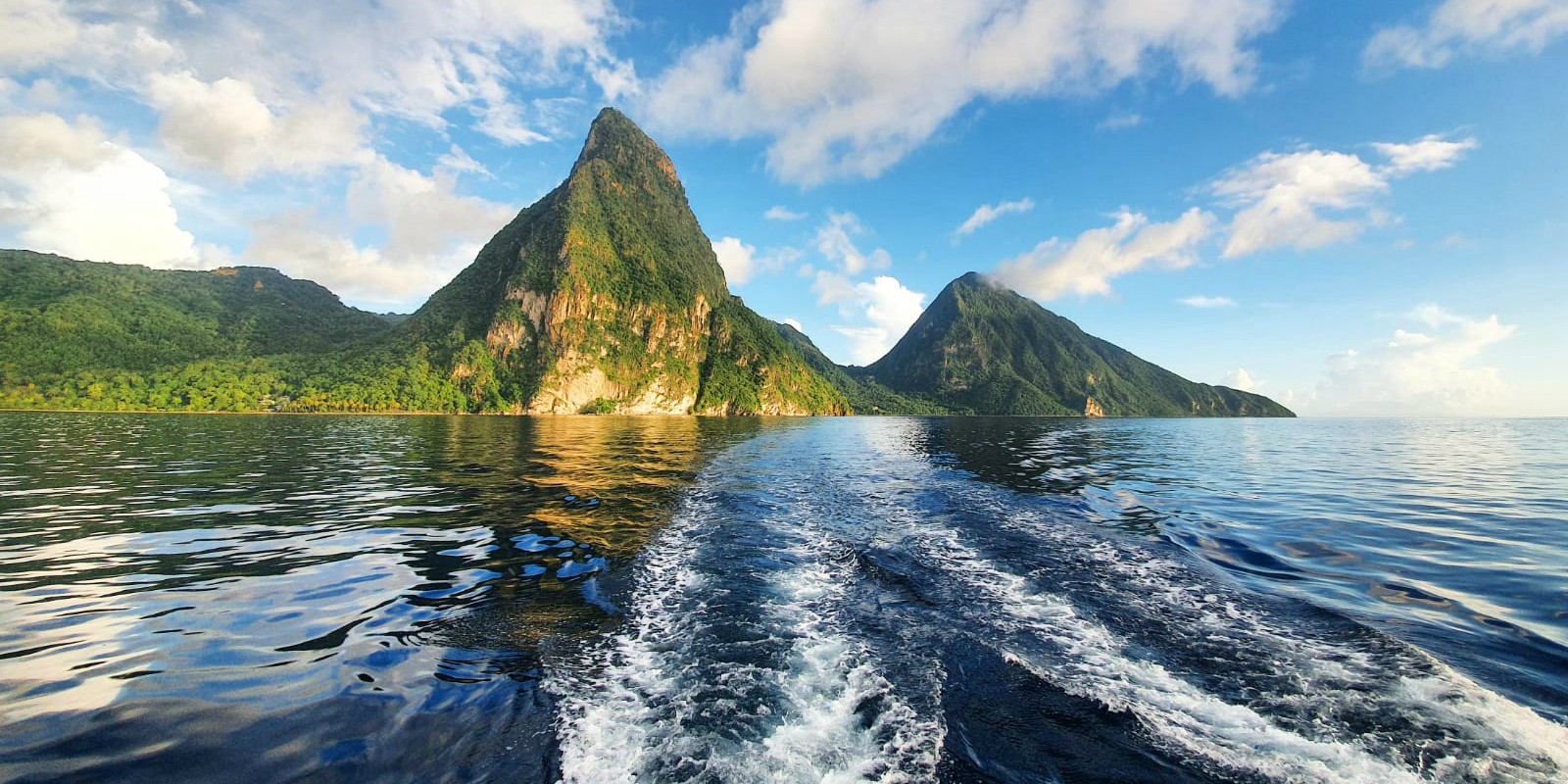 What's it like travelling to the Caribbean during COVID?
"Better than it was before!" At least that's the feeling of Blue Bay Travel's own Alice Whalley. Intrepid Alice headed off to Sandals La Toc in stunning St Lucia with her partner and reported back what travelling to the Caribbean is like in the times of Coronavirus.  
So, just what was it like heading to the Caribbean during COVID? Well it's over to Alice to tell us about her trip to Lucia-land.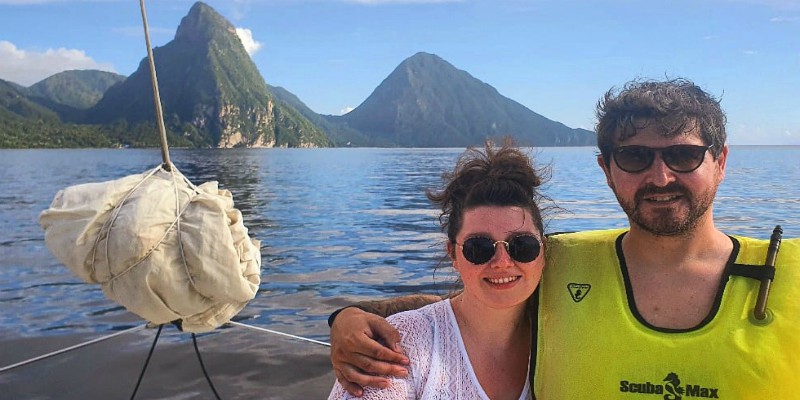 ---
Over to Alice
First of all, it's different, but not in a bad way. We had an incredible time from start to finish!  
We originally wanted to get away somewhere special this year to celebrate my partner's 40th birthday. After some to-ing and fro-ing and, expected, COVID dodging with our booking we eventually landed on St Lucia.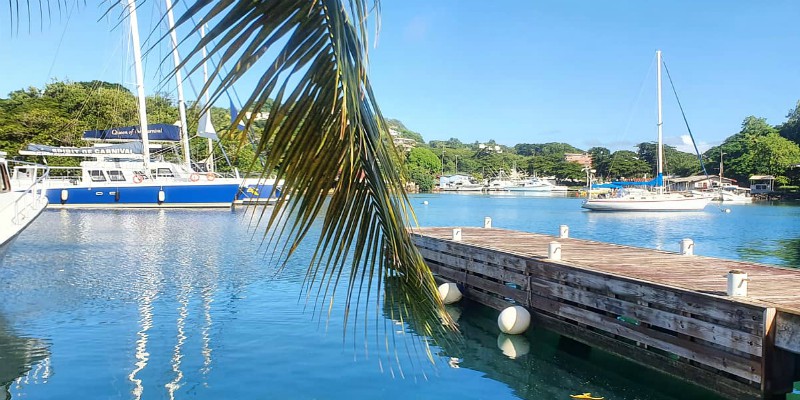 Following the booking, the first sign came that this was going to be a holiday like no other.
We had to book a Polymerase Chain Reaction (PCR) test to ensure we didn't have the virus a couple of weeks before we flew. The testing centres for PCR tests are dotted around the country so you do have to just do a little research as to where you can get a test. We travelled to Birmingham for ours, it came back as negative really quickly.
The PCR testing is important for travelling to the Caribbean during COVID. You will need to present a negative test to the tourist board before you're allowed to travel. This essentially means that when you get on the plane, and subsequently into your resort, you know that everyone around you has tested negative too.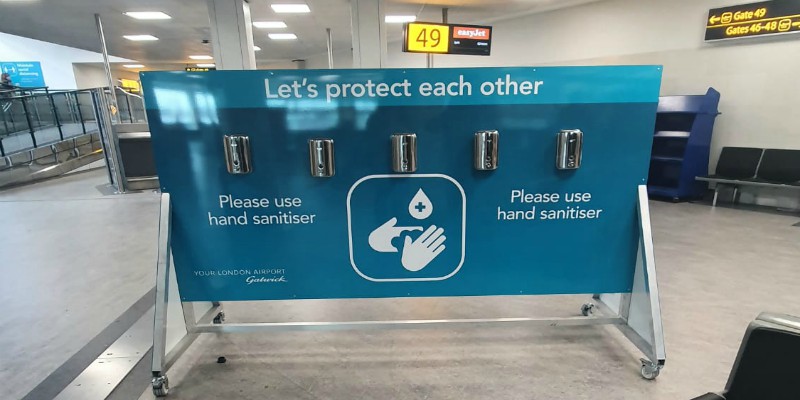 ---
After getting our negative tests and sending them off to the St Lucia tourist board we were soon headed for the airport. A temperature test and plenty of anti-bac later and we were sitting in the One Lounge at Gatwick that we'd booked.
Just to give you a feel for what to expect in the airport when you're travelling to the Caribbean during COVID. It was essentially a ghost town, some services and menu choices had been stopped, in line with the government guidance. But this meant that there was no queuing for shops, bars and restaurants and getting what you wanted was super easy.
---
Top Tip:
I'd always recommend booking the airport lounge if you can. The One Lounge at Gatwick was brilliant. A lovely, chilled space that let us get our holiday off to the best possible start. Also, if there's a problem with your flight and you're delayed you can stay in the lounge for longer. Usually there is a fee to do this, but that doesn't apply at the moment.
---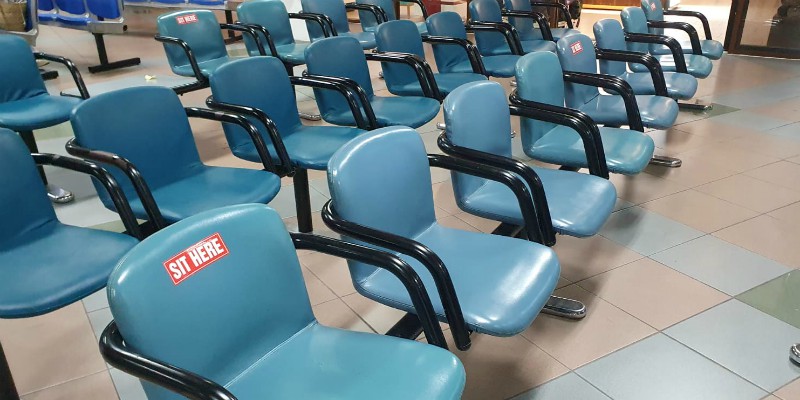 ---
The Plane
Once we'd had a couple of relaxing drinks in the lounge, it was masks on again and on to the plane. The flight was fine, although you do have to wear your mask throughout, except when eating and drinking. But this is a small price to pay as the service was incredible.
We were given a complimentary comfort pack when we boarded with a mask, hand gel, and your own personal rubbish bag amongst other lovely bits and pieces inside which I felt was a nice touch. During the flight the cabin crew were extremely attentive.
There are no hot meals being served on aircraft at the moment, so the food was sandwiches and other cold snacks. But we felt this was much better than a hot meal, that isn't always everyone's cup of tea, as it meant the bread and the rest of the ingredients were fresh and delicious.
Much like the airport, the plane was nowhere near as busy as usual, this meant there was lots of extra space to stretch out. It also meant that staff had been even more thorough with their cleaning and the plane was spotless!
---
Top Tip:
I wouldn't bother booking upgraded plane seats. Because the planes just aren't as busy at the moment, the staff aren't as stretched, and you can essentially get all the perks of business class in economy. Lots or room, quick service, the works!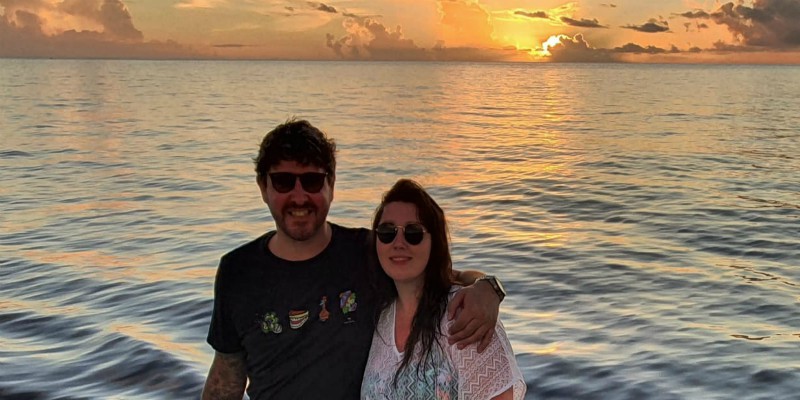 ---
Arrival
So, the plane flight was better than expected, but you know that feeling you get when you've been relaxing for a few hours and now you've got to actually adult for a bit? We got that heading into St Lucia airport.
But we needn't have worried, the St Lucia airport was another complete doddle! We got off the plane and were taken straight to a tent for temperature checks and to sanitise our hands, then on to passport control. At passport control we had to fill out some more forms to say whether we had any underlying medical conditions or if we worked for the NHS. Obviously, this made the process a little longer than usual, but all the steps are necessary to ensure safety for all.
There was another bonus to the delay too, it meant our bags had already been taken off the luggage conveyor belt and were waiting for collection. We scooped up the bags and headed for our transfer to Sandals La Toc resort.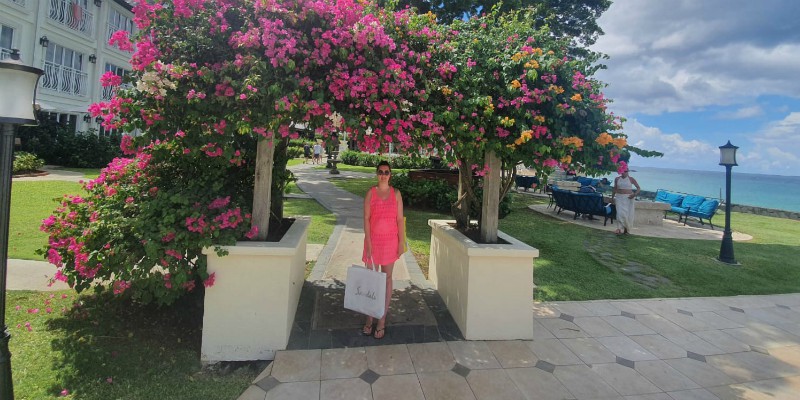 ---
The Resort
Following the one hour transfer we arrived at Sandals La Toc and were completely bowled over by the resort. Through the door your temperature is checked, and you're asked to sanitise. But after that we didn't think about the questions over travelling to the Caribbean during COVID again once.
The staff were incredible, apart from them wearing masks, you wouldn't know the pandemic was happening. They were extremely attentive, whenever anyone left a sun bed it was completely cleaned by the pool team straight away, the pool was also cleaned two or three times a day.
There are some stunning views out over the island to be had in St Lucia
Another really nice touch was, because the staff all must wear masks, Sandals have ensured all their staff wear name badges with their smiles on. So, you can still see what that person's face would look like. Although the staff wear masks at all times, you're free to only wear yours when you take a transfer or head off site.
The resort is currently capped at 60% guest capacity. But we thought this added even more to the experience because it meant there were less people enjoying the amenities. So, more chance for us to use them!
---
Accommodation
We booked a butler room which was incredible. You're given three butlers to your room, a couple for the day and another one to help through to 10pm. Although we didn't overexert them, your butler is there to help, from running you a bath for when you get back after a day out to replenishing the minibar.
I did ask our butler to help set out the birthday cake I'd bought for my partner while we were out. But they went the extra mile and even added some balloons as well as coming in with some champagne too. We felt so special.
---
Top Tip:
If you want to speed up the check in process, I'd definitely recommend upgrading to a butler room. This means you can just head straight up to your room on arrival and check in with the butler from the comfort of your suite.
---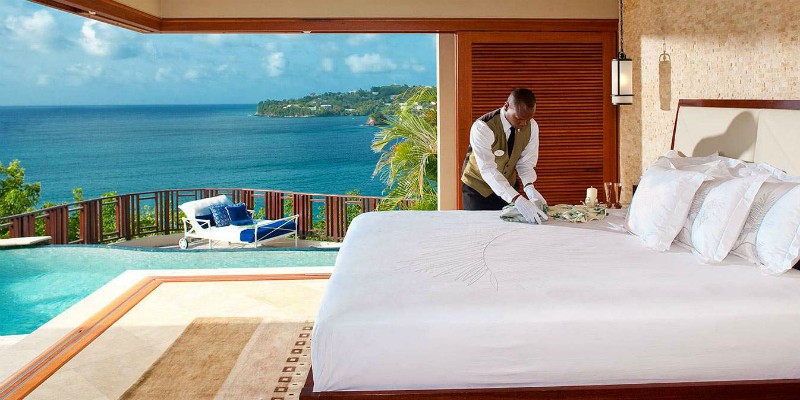 ---
Restaurants
The nine restaurants at Sandals La Toc need no introduction. From Armando's serving the finest Italian cuisine right through to Pitons' range of exquisite St Lucian and Caribbean delicacies, you'll have every base covered for dinner.
You do now have to book your evening meals in advance, rather than just showing up and getting a table for dinner, although you're fine to walk in for breakfast and lunch. The tables in the restaurants are spaced two metres apart and you can get the menus up on your phone by simply scanning the barcode on the table. All these are measures that have been brought in as a result of COVID. But the service and food are excellent, so you just forget all about the fact that you're in the Caribbean during COVID.
---
Top Tip:
Download the Sandals app, or head to the website to see the full restaurant menu's in advance.
---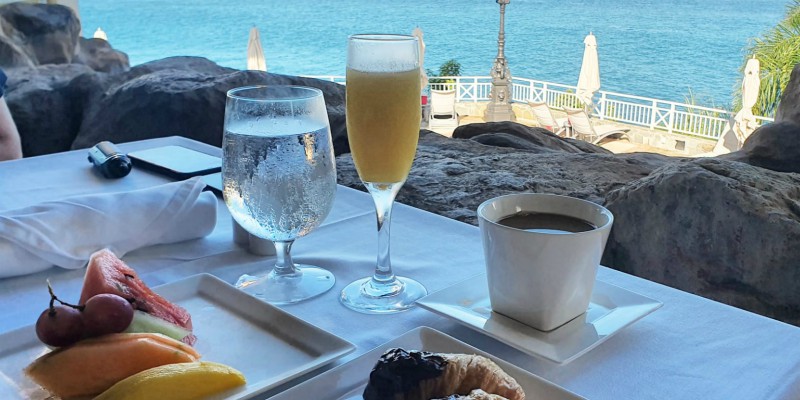 ---
Excursions
We prefer to be up and about on holiday, so we decided to get an excursion booked in. Currently only government approved excursions are allowed in St Lucia. There is a limit on travelling outside your resort as the government don't want too much contact between resorts at the moment. Many land excursions have been stopped for now. We originally wanted to take a hike up the Pitons, but we weren't allowed to take the land transfer.
However, water excursions are still available, so we were able to jump on one of these and head off towards the mountains via the waves. In some ways this trip was even better than just going straight to the Pitons on a bus.
As you're only allowed to go on excursions with people from your resort, there was just eight of us on our catamaran. We sailed to a popular diving spot and had a snorkel around looking at the amazing fish. Then we sailed on to the Pitons, we got off and had a wander around in amazing natural scenery then came back on the boat. All in all it was an amazing day we'll remember forever!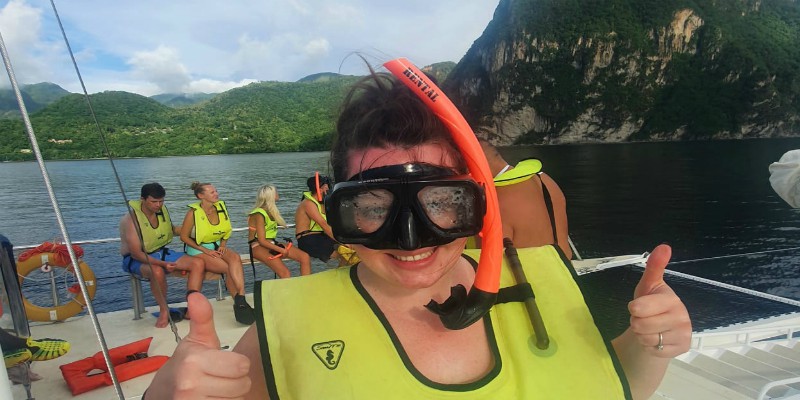 ---
The way we saw it, you can look at our trip and think everything we did was affected by the current climate. However, we honestly didn't think about the virus the whole time we were there. Apart from small changes, the experience was exactly as we'd have expected, and then some. 
The plane journey, resort staff, food, activities and overall experience in St Lucia was incredible.  
Would we travel to the Caribbean during COVID again? Abso-flippin'-lutely!  
Find out even more about this incredible island by clicking the button below and checking out our St Lucia Travel Guide