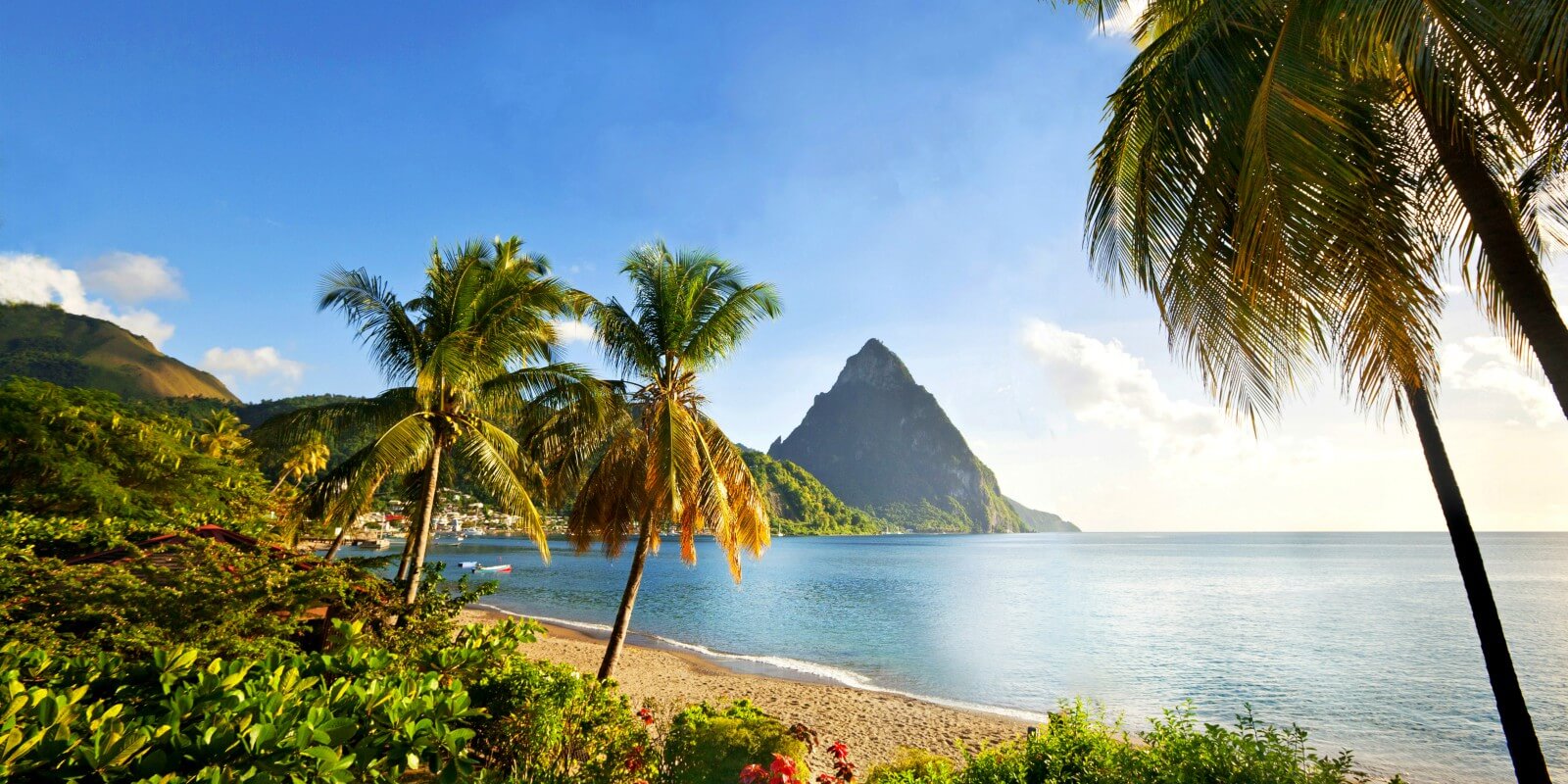 Our St Lucia Travel Guide will prove once and for all this incredible island has everything you could wish for from a cracking Caribbean escape.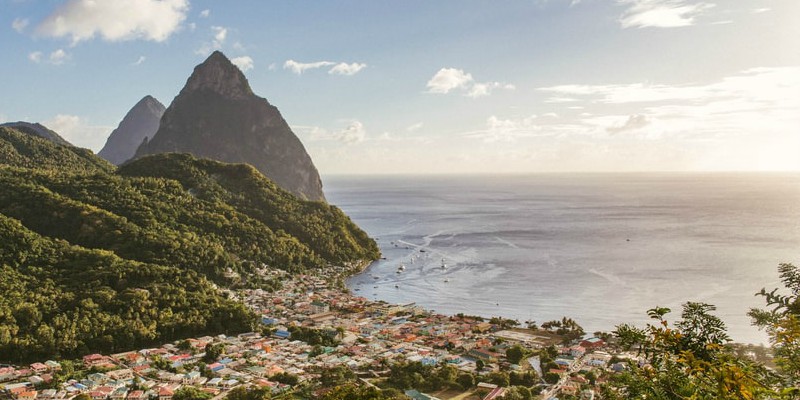 Saint Lucia is a Caribbean island perfect for all types of getaway. From romantic couples' retreats, to fun with all the family. Our St Lucia Travel Guide will go through everything this incredible island has to offer your holiday.
It's a destination that celebrates wildness in partnership with chic luxury, has the friendliest of people, and of course is home to views that are recognisable worldwide.
---
Saint Lucia Travel Guide At a Glance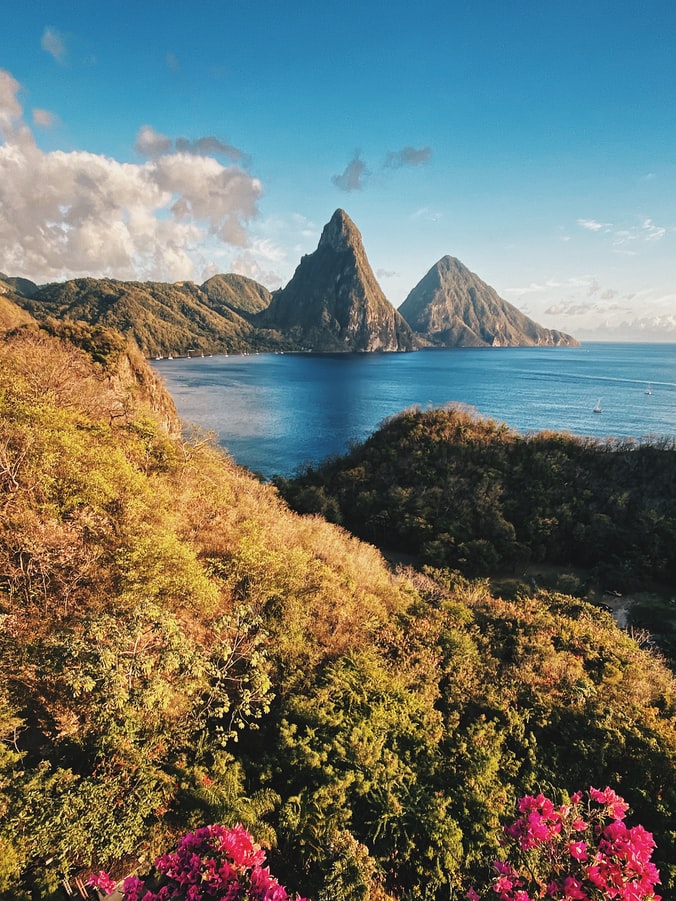 Best time of year to visit: May and June
Capital: Castries
Size: 617km2
Currency: Eastern Caribbean Dollar
Main Language: English
Flight Time: Approx. 8 and a half hours
Time Difference: GMT -5
---
What are some interesting things about St Lucia?
An island sitting between in the Caribbean Sea and Atlantic Ocean, Saint Lucia is the true definition of Caribbean paradise.
With 98 miles of luscious coastline, emerald seas, plush tropical rain forest and dramatic mountain skyline. It's become know and one of the most visually stunning islands in the Caribbean.
With its beauty, comes a colourful history. The island's unique culture has been formed through French and British colonial history, mixed in with that of the indigenous people. This blend is celebrated in every aspect of life in St Lucia: from creole cuisine to calypso, hummingbirds to hibiscus, secluded coves to coral reefs, and much more.
---
Celebrations
Saint Lucia Carnival is a true cultural celebration, hitting you with a sea of colour, hip-wiggling calypso, and delectable local cuisine.
The seasonal June and July event is recognised as one of the best Carnivals in the Caribbean, celebrating Caribbean history, culture, and creativity. Expect a variety of competitions including the Power and Groovy Monarch, Senior and Junior Panoramas (Steel Pan Competitions), the Inter-Commercial House Calypso competition, dozens of community events, and of course a continuous calendar of parties and fetes.
The season culminates in an exciting, fun-filled two-day street parade on the 20th and 21st July. With live bands, DJ music, stunning Carnival costumes, and the joyous and energetic revelry you've come to expect from Caribbean carnivals. It's a truly memorable experience, and one to add to your bucket list.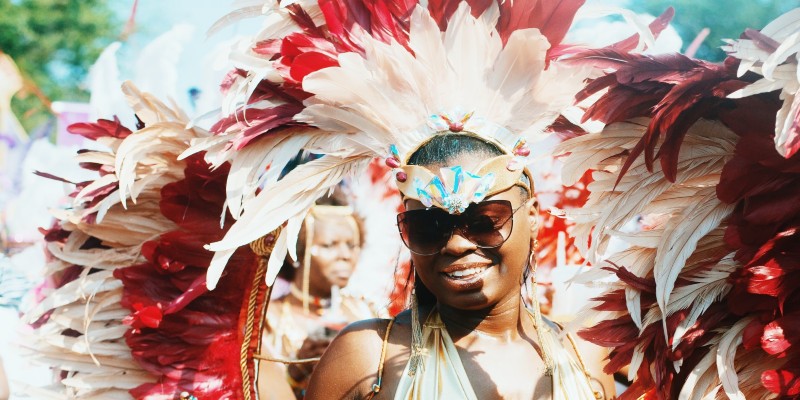 ---
Landmarks
The Pitons
We cannot make a St Lucia Travel Guide without mentioning the iconic twin Pitons. Rising dramatically from the azure Caribbean Sea, the forested slopes of Gros Piton and Petit Piton reach a height of 2,500 feet, dominating the small islands landscape. There are many ways you can explore the pitons.
If you want to do it in style, do it by helicopter. What better way to appreciate the Pitons in all their glory than from above, and it's obviously much quicker than hiking! You can also explore by boat, cruise out to sea from Sugar Beach, and you'll head to an unbelievable view (perfect for the 'gram).
Travelling to this world-class tourist spot by on the water will also provide an opportunity to experience one of the best snorkelling spots on the island. People travel from far and wide to grab a glance under the waves at the base of the Pitons, including our Alice who wanted to see the underwater sights so bad she travelled there during COVID.
If you fancy a bit of an adventure, try your hand at hiking the rugged trail as it winds all the way up to the summit of Gros Piton. It's a steep climb (so comfy shoes and a leg massage afterwards in the resort may be needed), but the views from the top make every single step worth it.
Sulphur Springs
While you're near the pitons, we'd encourage you to get Sulphur Springs on your Instagram. Here you'll find the Caribbean's only drive-in volcano and mud bath.
You're excursion will take you on a guided tour through the parks many attractions, you'll learn lots of history and geology of the area, and then you'll head straight for a first hand view of the volcano!
After all of that, you'll get to experience the hot volcano Sulphur Springs mud bath (and believe us – it is hot!!), followed by a visit to the 50 feet cascading waterfalls.
Take a dip in the mud bath with your partner

Sulphur Springs are an ancient beauty ritual

The mud baths can also be a great group activity
---
Cuisine
Finally, we need to talk about food. St Lucian cuisine is all about combing sweet and savoury. A local speciality is pouille dudon – chicken with treacle and coconut. The national dish is green fig and saltfish; green figs are starchy, unripe green bananas – perfect for a hearty breakfast.
Seafood is also big on the menu, with many dishes offering the freshest of products hauled daily from the Caribbean Sea. We'd suggest trying lambi – a large shellfish with tasty flesh made into fritters served alongside some spicy sauces. Or try Accra – flaked, salt cod fishcakes, which are a little more subtle on the taste buds. There's also many tempting fruits and vegetables that thrive throughout the island's lush interior.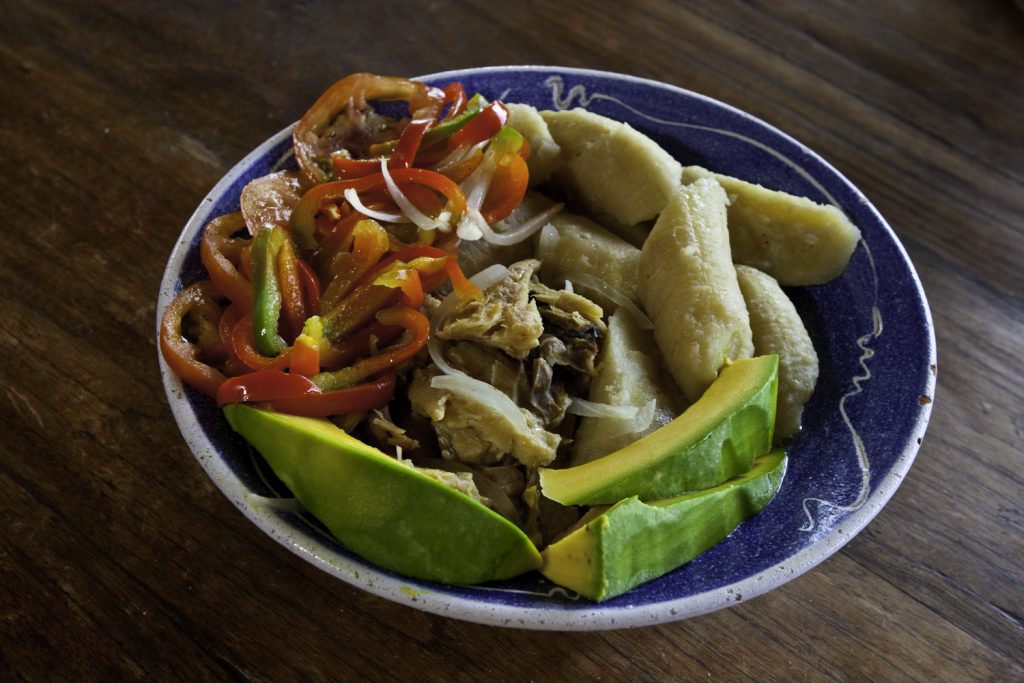 ---
FUN Saint Lucia fact: The locally brewed beer is, unsurprisingly, called Piton!
---
Where should I stay in St Lucia?
The two sides of St. Lucia boast very different personalities. The north is where you'll find the tourism epicentre, with a lively atmosphere reflecting the non-stop action that embodies this side of the island.
To the south, life slows down. You'll find remote resorts and plenty of lush rainforest which showcases more of St Lucia's natural attractions.
These two parallels ensure any type of holidaymaker can get exactly what they're looking for in St. Lucia.
North
The north is a combination of the capital city, Castries, and Rodney Bay, an enclave of beach resorts, shops, restaurants, and bars.
While Castries is quite an industrial city, the surrounding hills invite you into nature. See sights of the beautiful harbour while you explore. Head into the market here & be met with a burrow of stalls selling fruit, spices, woodcarvings, clothing and more. If you can, grab a bottle of the infamous Banana ketchup!
All the beaches
Further north is where you'll find all the things to do in Rodney Bay. Here hotels line the popular Reduit Beach. Sunbathers can enjoy the hot Caribbean temperatures and surf or mix in some adventure with water skiing or windsurfing. You'll never be too far from delicious food and drink, with several beach bars inviting you do sit, sip and sizzle in the sun.
Just north of Reduit Beach lies Pigeon Island National Park . A former military base and pirate hideout turned stunning national landmark. You can wander through the ruins of a naval garrison, visit the interpretive centre, and hike to the fort for some incredible views of Martinique.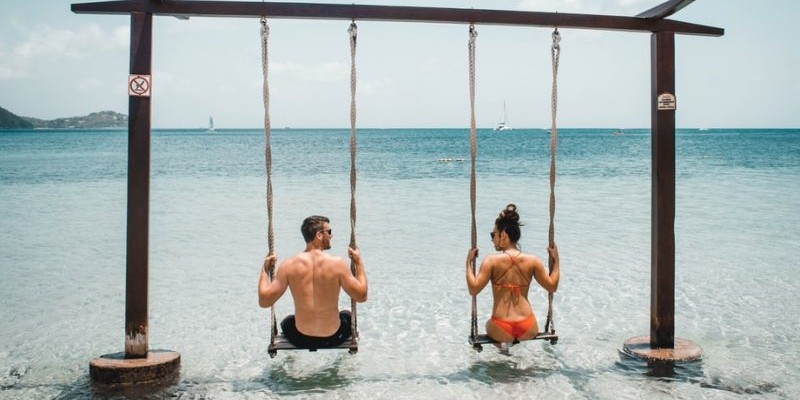 If you're after sites of pure natural beauty, head to Marigot Bay. It's a palm fringed beach, with stunning yachts dotting the blue waters. Famously the location for the 1967 Doctor Doolittle film. Be sure to make space on your camera, as you'll be clicking away the whole day!
If you're after a longer day trip, then head to Grand Anse beach over on the east. Take the opportunity to camp out under the stars, and enjoy a Leatherback turtle watching experience.
Between March and August, the turtles crawl out of the ocean onto the beach to lay their eggs (up to 500 at a time!). If you're wanting to get snap happy, make sure your camera has an infra-red flash, as these are the only ones allowed.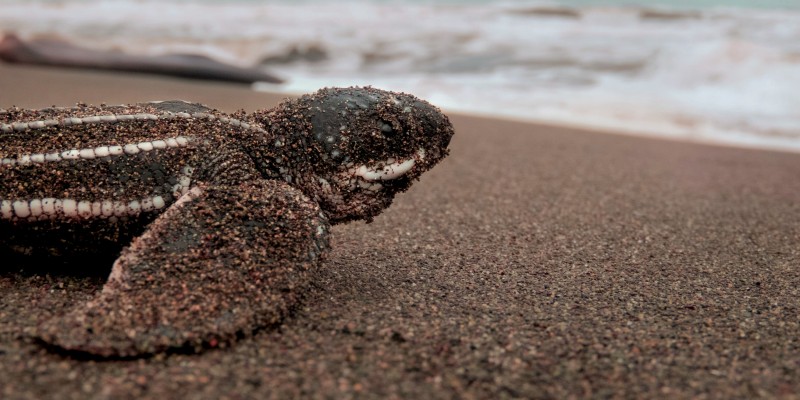 Gros Islet
Just across from the beach, there are some great spots for casual hangouts in the Gros Islet area. Be sure to join in with the Gros Islet Jump Up street party of Friday nights, which brings the hole town to life. A great way to hang out with the friendly locals, enjoy traditional Caribbean food, reggae music, karaoke, and get your weekend truly started!
Feeling adventurous?
If adventure's more your flavour, then a day trip with Treetop Adventure Tours on the east of the island is a must. Coined as the best zip-line experience in the Caribbean, there are 12 different ziplines, with the longest and highest reaching 35 meters!
There is also a mini zipline course for kids ages 3 and up. If you're after something a bit closer to the north, without the need for a long drive, try out the Adrena-Line Canopy Tour which offers smaller ziplines near Castries.
---
South
In the south is where you'll find the Pitons and Sulphur Springs. The romantic atmosphere here is perfect for couples, weddings, honeymoons, well-heeled travellers and chilled friends' holidays.
It's slightly more expensive than the north, owning to the more high-end luxury feel but if you can, it's so worth it!
Expect small coves and bays, hidden beach gems, and the rainforest's lush canopy beckoning you with adventurous overtures.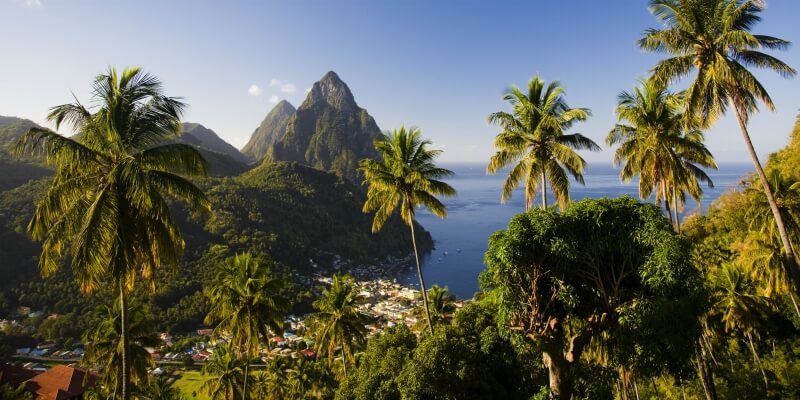 Go chasing waterfalls
A great spot for soft adventure is the Diamond Falls Botanical Garden. One of the most spectacular natural wonders on the island. Home to one of the most colourful waterfalls in the Caribbean, Diamond Waterfall.
In addition you'll also find several hot mineral springs which have great medicinal value for people with joint or muscle pain.
Get below the surface
Why not take your adventure beneath the waves and try snorkelling at Anse Chastanet beach?
Undoubtedly the best beach for snorkelling and diving in Saint Lucia. Here crystal-clear waters and incredible sea life come to you. As you snorkel through the warm ocean coral reefs of the Marine Park, you'll find a kaleidoscopic world of colourful sea sponges and brain corals. You'll also find it impossible to escape spectacular views of the Pitons.
Chocolate lovers of the world unite
For something a bit tamer, chocoholics need to head to Boucan by Hotel Chocolat and it's cocoa plantations.
The Tree to Bar experience will immerse you in the complete chocolate making process, including plenty of delicious samples along the way. Help pick ripened cacao pods and experience self-guided nature trails. Then roast the beans to make your own chocolate bar. It's a great, informative day out – and did I mention, it's all about CHOCOLATE!
---
 Ready to Go? 
If learning about Saint Lucia has you longing to get out there, you're in luck because there's lots of amazing destinations dotted around the island. Including some of our top resort picks in Rodney Bay.
But for now, we want to see if all this new found island knowledge has stuck in your frontal cortex. So, click the button below to take our St Lucia quiz now. Hint: all the answers are in this travel guide.