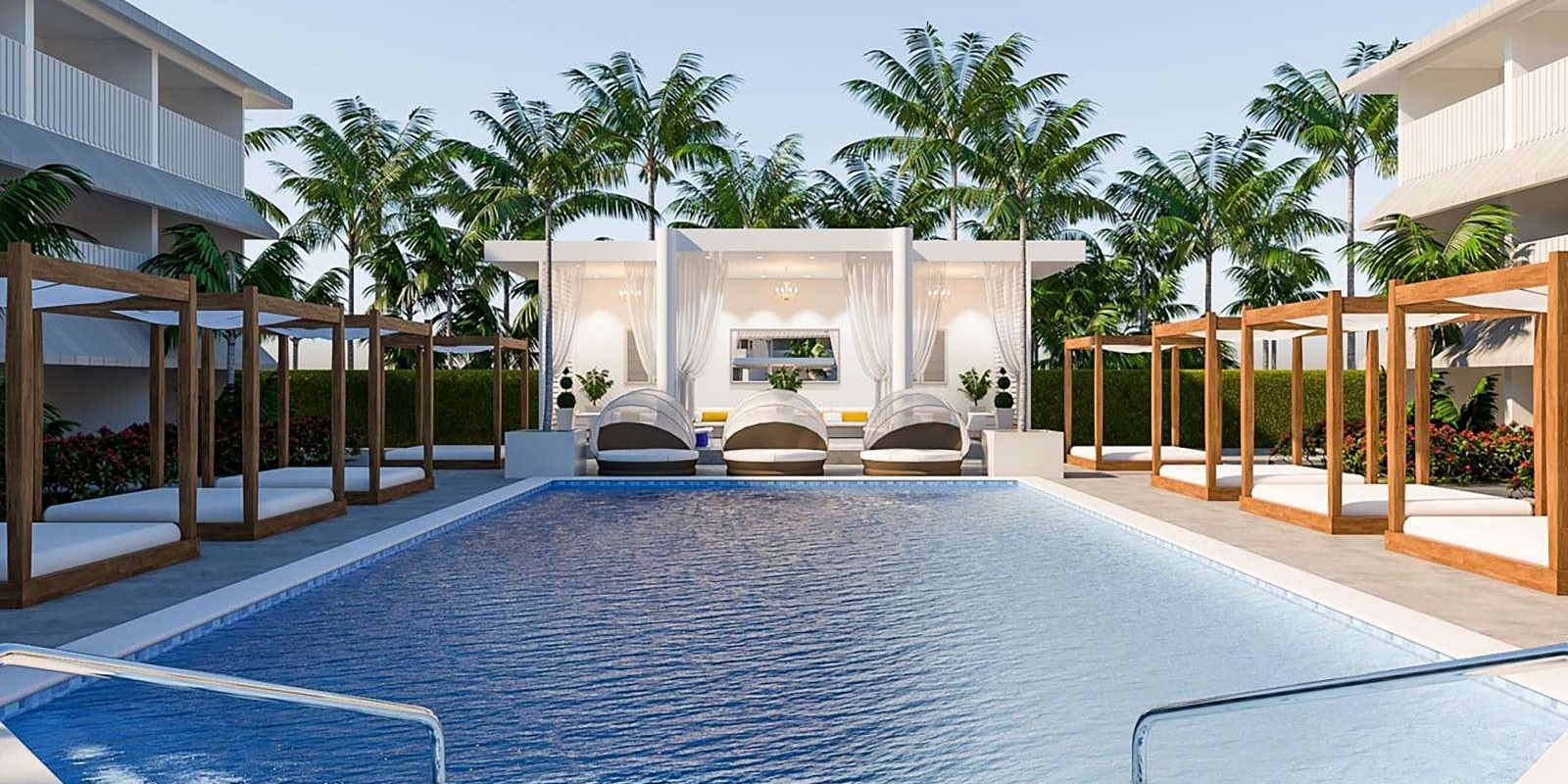 These five Rodney Bay resorts in St Lucia have got us praying the lockdown ends soon, because we'll be head straight for them. Here's why…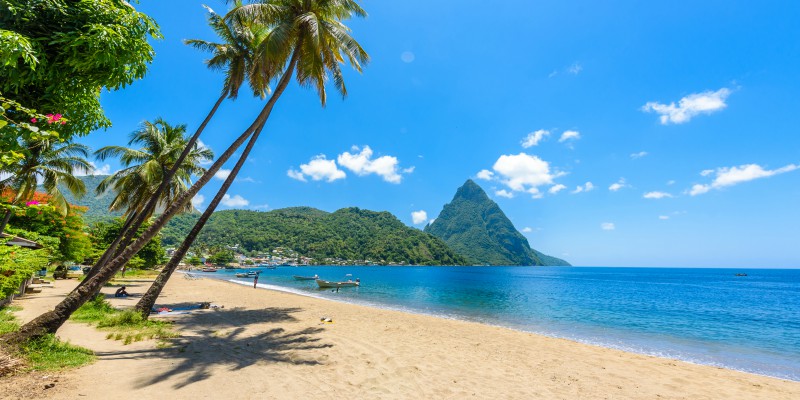 Rodney Bay Resorts are some of the most stunning in the Caribbean. This sparkling slither of St Lucia is perfect for experiencing everything the beautiful island has to offer.
From pulse raising water sports through to picture-perfect beach set ups, Rodney Bay is renowned as one of the must-go spots in St Lucia.
So where better to call home on your incredible St Lucian adventure?
---
Five of the best
These five stunning resorts not only boast enviable positioning on Rodney Bay. But they also have a little something to suit every traveller.
Whether you like to be in the thick of the local goings-on, or you'd prefer to have a nice slice of paradise just a short walk from the action. But what are these ridic resorts?
---
---
Bay Gardens Beach Resort & Spa
We're opening this overview with a doozy! The Bay Gardens Beach Resort & Spa is a regular placer on TripAdvisor's Traveller's Choice Awards, and with good reason.
Boasting a winning combination of excellent location, thrilling (family friendly) activities, and world-class rooms & service, the resort is a hit with island regulars.
Placed right on Reduit Beach, the incredible resort places you at the heart of the action on one of the best beaches on the island. If you or the little ones are feeling adventurous, pop on the swimming cozzie and take a crack at the Caribbean's first inflatable water park Splash Island – essentially, if Ninja Warrior and Total Wipeout got a little too close, this would be the resulting offspring. Except when you come off Splash Island you'll be paddling in the azure waters of the Caribbean Sea instead of a pool in Manchester.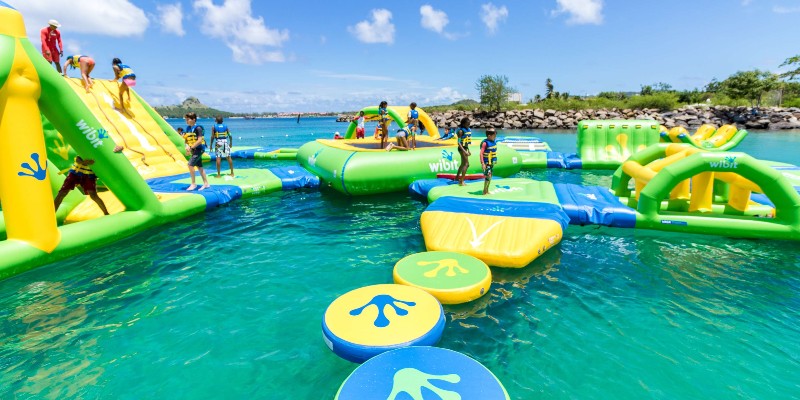 Once you've dried off take advantage of the Bay Gardens dine around scheme. Listen to this, whenever you get peckish you can head for your favourite restaurant on site. Or take a trundle to one of the other Bay Gardens resorts just a short walk away and sample the fare there!
Then it can be back to your spacious and comfortable room to watch the sun go down over the glistening sea with a drink. St Lucia isn't the most romantic island in the Caribbean for nothing!
---
Bay Gardens Marina Haven
While we're talking about the Bay Gardens gang, we should move on to the Bay Gardens Marina Haven. Not just a short stroll from Bay Garden Resort, it's also just minutes on-foot from shopping malls, speciality restaurants and thriving bars.
Probably more of a grown-up selection, the resort makes use of spectacular gardens to deliver a real zen vibe to your break. Absolutely ideal for those who like to settle down with a book and chill to the max.
However, while you're out and about exploring those shops, restaurants and bars, you might as well keep going & take a journey to famous Pigeon Island National Park.
This incredible slice of natural St Lucia used to be an isolated island, but a manmade causeway was built in the 70s and now it's an area of astounding natural beauty. Complete with the ruins of a military fort, stories of piracy and some of the best views in the Caribbean. The best part is, you're just 3.1km away!
This jovial relationship between the Bay Gardens resorts doesn't just benefit you when you fancy a change of scenery for dinner. You can also take a walk, or hop aboard the complimentary shuttle, and check out the indulgent Spa Ler Mer at Bay Gardens Beach Resort & Spa.
---
Soco House
Away from the Bay Gardens family, Soco House is a brand-new resort on Rodney Bay offering elegance in abundance. Perfect if you want that adults-only break, but a little elevated.
A boutique, luxurious space which pulls on French-Caribbean influences throughout its elegant interior design. That stunning modern, chic feel follows you around the resort, from the classic pool area through to the dinner options.
The main restaurant at Soco House delivers a world-class, a la carte, dining experience for breakfast, lunch and dinner. But we all know, a little too well, being in the same environment for too long can get a little tiresome. So, you can always take advantage of the resort's wonderful location on Rodney Bay with a romantic stroll out to one of the neighbouring restaurants & bars.
Keep feeding that inquisitive area of your brain which thrives on new experiences with a visit to the on-site spa and fitness centre. Choose to soothe your muscles or give them a workout. We know which option we'd be taking!
---
Harbor Club
There aren't many places in St Lucia, and Rodney Bay in-particular, that aren't easy on the eye. But you don't get better access to incredible views than at Harbor Club.
This recently refurbished resort offers beautifully relaxing vistas out over shimmering Rodney Bay marina. Whether you're chilling by the pool or relaxing on your balcony or sun terrace, you'll have the marina providing the most picturesque backdrop to your break.
The Harbor club provides more of a sit and stay kind of environment for your break. So, if you're the type who likes to stay put on your hols, then this is perfect for you. With a handful of incredible restaurants and bars on-site already, you've got less reason to go wondering.
With all that great food and relaxation going on, you might want to go in a couple of directions. Decide to keep the dial turned down on your break with an indulgent trip to the spa. Or crank up the pace of your getaway, and your heart-rate, by visiting the on-site fitness centre.
If the spa or the fitness centre aren't your idea of fun, you're perfectly located to head out and enjoy the best of St Lucia. Harbor Club offer a complimentary shuttle service to take you the seven-minute journey to Pigeon Island. So, you can explore everything that incredible spot has to offer throughout the day.
---
Coco Palm
Get to know more about stunning St Lucia at Coco Palm. Another beautiful boutique resort which screams elegance and harmony – probably due to its layout which was designed throughout using the ancient method of Feng Sui.
Part of this mellow and harmonious approach to life at Coco Palm has come from the delectable range of dinner options. Make sure you try some authentic Caribbean cuisine by checking in at Creole Grill. Showcasing how Caribbean flavour fusions pack oodles of flavour into every meal.
Although the resort is probably more aimed at those who like the slower pace of life when on holiday. The Coco Palm team are on hand to arrange any excursion you like. For example, whether you fancy exploring the majestic Pitons, travelling through the history of St Lucia or wowing your senses with a thrilling 4×4 safari tour, you can discover an adventure which will stay with you forever.
Grabbing a quick excursion is not only a great way to see more of the island, it also makes you more appreciative of your immediate surroundings. So, when you've finished touring the length and breadth of St Lucia you can head back to Coco Palm, check out more of Rodney Bay, relax on stunning Reduit Beach or take a load off in the Coco Palm Touch Tranquillity Spa.
---
Seen something you like?
We hope this post goes some way to showing you all the amazing things you can get up to in beautiful Rodney Bay. But also why we love the resorts here, catering for every type of holidaymaker.
Whether you'd prefer to chilling out at Coco Palm, being part of the action at Bay Gardens Resort, the serenity of Marina Haven, the special views at Harbour Club or the utter opulence of Soco House. There truly is something for everyone.
With all that in mind we think it's pretty easy to see why we just can't get enough of Rodney Bay & the special resorts dedicated to your enjoyment.
If Rodney Bay doesn't sound right for you, there's plenty more to this incredible island. Explore more regions and resorts by clicking the button below. There's bound to be one for you!