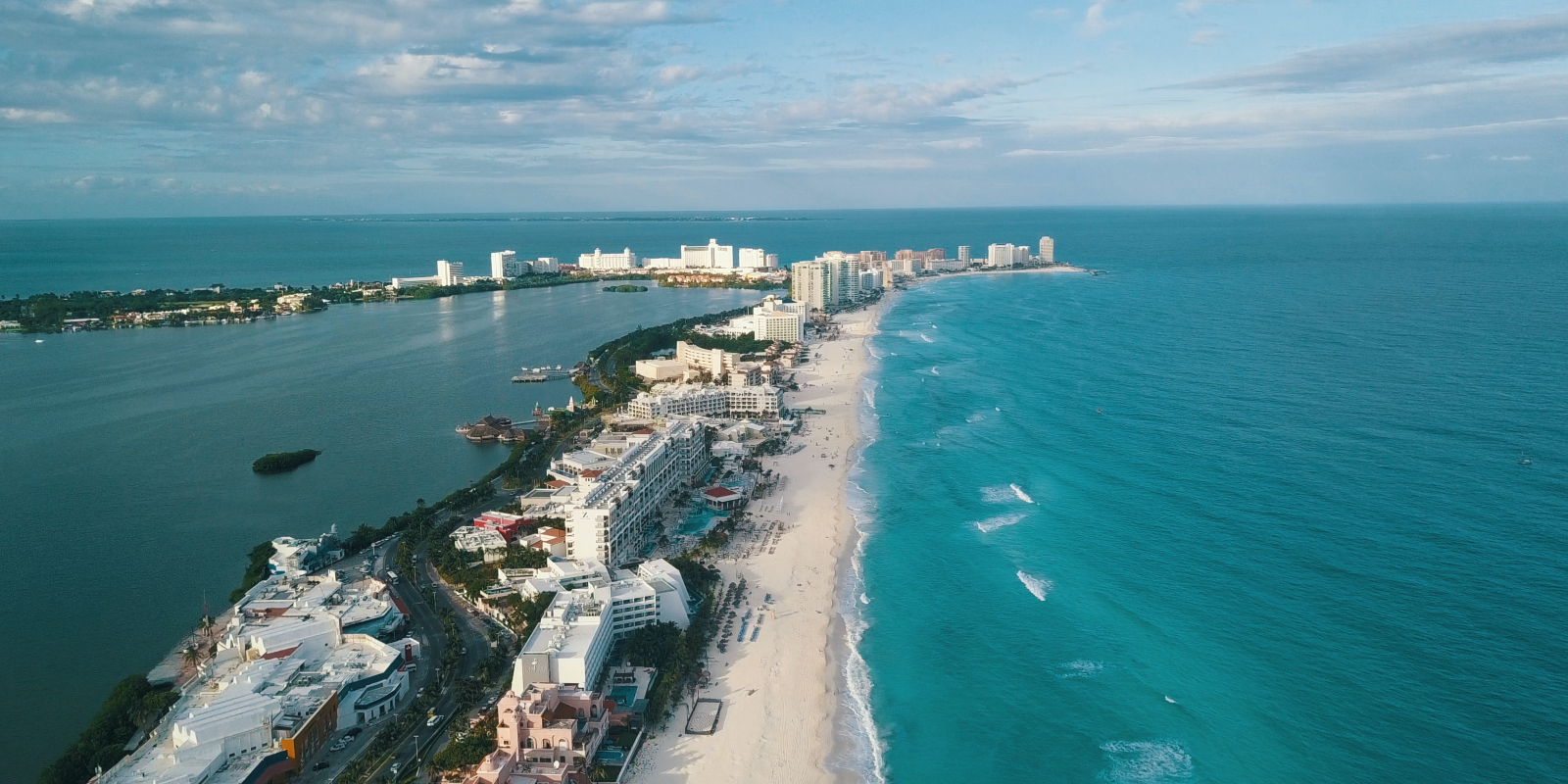 We know why millions of people return to Cancún yearly, but do you know why? Well, here are 10 reasons why we love Cancún and how it's an incredible experience for every type of holidaymaker.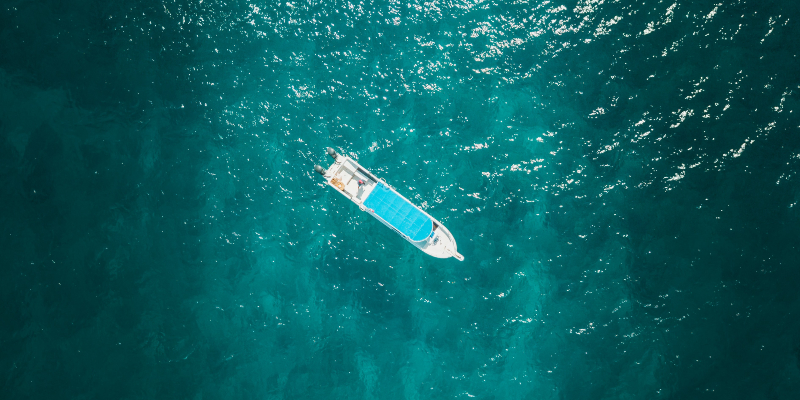 So, if you've taken our Barbados or Mexico quiz, and your roadmap has led you to Mexico, you're probably wondering what's next? It's time to start planning your trip away, and Cancún may be on your mind.. We want to let you know 10 reasons why we love Cancún, and how you will be next to fall in love with this famous city.
From the friendly locals, delicious cuisine, beautiful beaches to the incredible history, the list could go on and on! There truly is something for everyone in the party capital, carry on reading to find out the 10 reasons why we love Cancún.
---
The 10 Reasons
Visiting Chichen Itza Maya Ruins
Visiting Tulum
Checking out Downtown Cancún
The Nightlife
Eating at Señor Frog's
Ziplining Through the Jungle
Swimming in Cenotes
Swimming with Whale Sharks
Discovering the Underwater Museum of Art
Relaxing on the Beaches
---
Facts about Cancún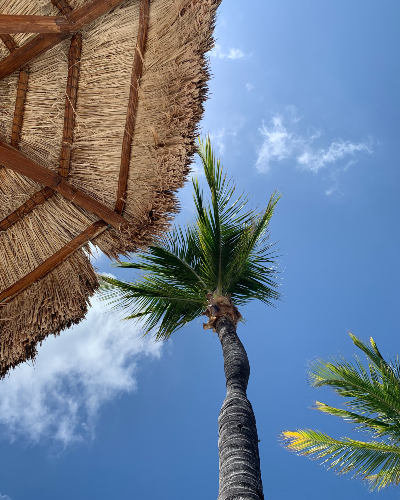 Best Time of Year to Visit: January
Weather: Tropical and humid
Currency: Mexican Peso (although U.S. dollars are widely accepted)
Main Languages: Spanish & English
Flight time: 10 hours 20 minutes
Time Difference: -6 hours GMT
---
The Historical Sites of Cancún
Cancún has a rich history, and the vibrant city has some captivating ruins to explore. Originally Cancún was known to it's Maya inhabitants as Nizuc, there are still remnants of this pre-Columbian era.
If you are wanting to learn more about the interesting past of Cancún, take a trip to the archaeological sites which are open to the public. This is one of the reasons why we love Cancún, besides the beautiful beaches and the nightlife, it's also a great educational trip.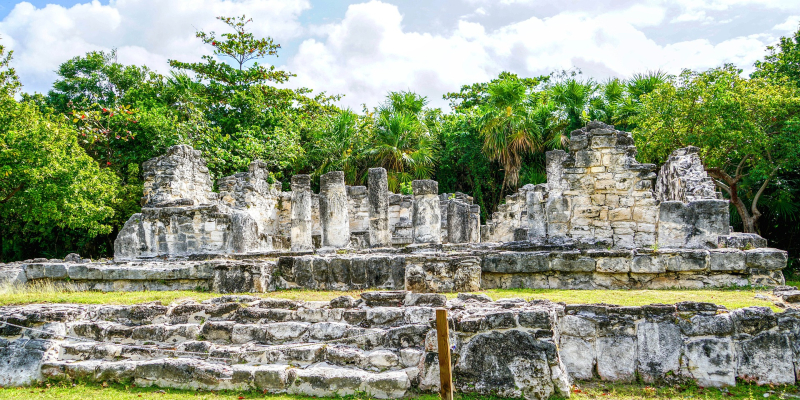 Visiting Chichen Itza Maya Ruins
Chichen Itza is probably one of the more famous pieces of history that has been preserved in Cancún. The Maya city is a UNESCO World Heritage Site and was also named one of the new 7 Wonders of the World.
As one of the largest Maya cities, you are able to explore the ancient buildings which are still well maintained. The most popular of the structures is the 98-foot pyramid called El Castillo, or Temple of Kukulkan.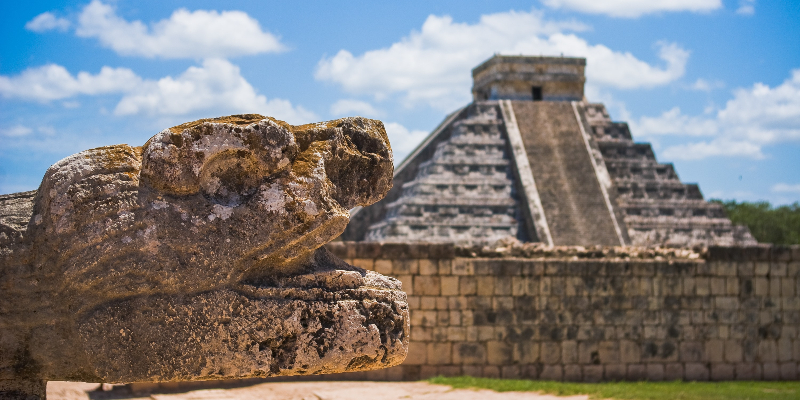 Kukulkan was a prominent deity, a feathered serpent who was worshipped by Mayans. They believed he was a creator god, and the god or rain, wind, storms and life!
A shadow that replicates the body of a snake, thought to represent Kukulkan, can be seen twice a year. During the Spring and Autumn equinox, the sun casts a shadow down the side of the temple. Thousands of tourists visit during this time of year to catch a rare glimpse of the deity.
Visiting Tulum
If you're still wanting to discover more about the history of Cancún, head over to Tulum. This is a great two in one spot, as it is also located on the beach.
Tulum is sat on a cliff-side and was also one of the largest cities built by the Mayans, but also one of the last cities that they inhabited.
It was once a walled city which served as a major port, now the ruins act as a tourist hotspot. Overlooking the gorgeous Caribbean ocean, it's a sight that must be seen if you're in the area.
As one of the reasons why we love Cancún, Tulum is a great place to enjoy Mexico's beauty and history.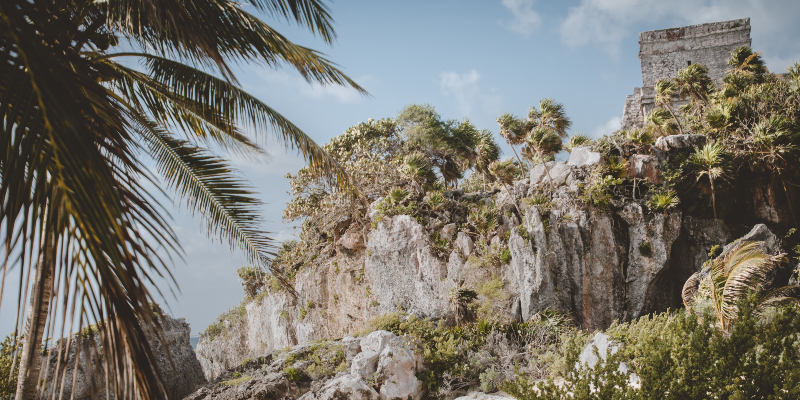 The main pyramid at Tulum is also called El Castillo, and the original purpose of the structure was to be used as an ancient lighthouse.
As the most well-kept building, make sure to take a peek inside the Temple of the Frescoes. It's a two-storey small building where you can find a coloured mural still intact.
When you're done exploring the ruins, take a dip in the turquoise sea and have a relaxing afternoon at the beach.
---
Checking out Downtown Cancún
Downtown Cancún is one of the two sections which make up the city. The other section is the Hotel Zone, where you will find the resorts and beaches, Downtown Cancún is where the locals reside.
With a great atmosphere, bars and shops, it's one of the reasons why we love Cancún. A lot of tourists don't tend to venture out of the Hotel Zone, but we recommend taking a trip Downtown to get a genuine feel of the city.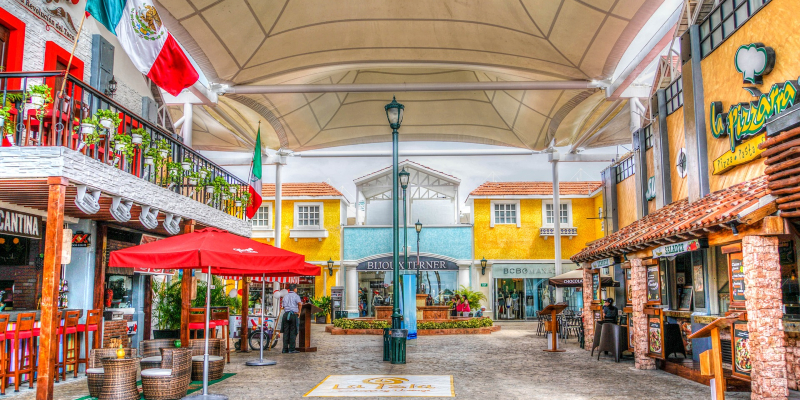 Market 28 is one of Cancún's top markets, and it's a great spot to pick up a couple of souvenirs. The maze like stands and shops create a perfect day out if you're looking to shop local.
It's a real Mexican experience but be prepared to bargain as the vendors love a haggle.
If you're wanting to shop in your typical 'mall' style stores, check out the Malecon Americas Shopping Centre. With a variety of different shops and restaurants available, you can shop the day away and then grab a bite to eat.
---
The Nightlife
We couldn't do a blog about the reasons why we love Cancún without mentioning the party style nightlife! As the party capital, you should expect to find the best vibes during the night-time.
Of course, if you're looking to find a more chilled out bar, there are those available.. But for those looking to get a bit wild, you will find a great choice of clubs.
Coco Bongo is one of the top nightlife venues in Cancún. With live performances, drinks and confetti cannons you're in for a treat. It's a non-stop party and they offer different kinds of tickets, so you can plan the perfect night for you.
The City Nightclub Cancún has been labelled as an experience you'll never forget. With a capacity of 6,000 the club can get pretty packed, luckily there are three floors to dance the night away.
You will find a lot of celebrity appearances and special nights take place at the club. So, make sure to check out their calendar to see what events are taking place. Foam Madness Fridays take place every week, so if you are looking to get covered in foam whilst partying away, this is the place for you.
---
Eating at Señor Frog's
Still up for a bit of fun? Grab a bite to eat at Señor Frog's and then get ready to party! The Mexican-themed bar and grill mixes good times with good food.
Conga lines, confetti, glow parties, the list goes on. Señor Frog's gets everyone involved and they never disappoint.
If you're wanting to take little ones along, the bar is a restaurant in the daytime. Kids can order alcohol free versions of their famous drinks, so there really is something for the whole family here.
Come 9pm, watch the atmosphere change and the family friendly restaurant becomes a lively nightclub.
---
Ziplining Through the Jungle
Get ready for some adventure and go ziplining through the Playa del Carmen's Jungle. As one of the most visited zipline parks in the world, Xplor provides a thrilling experience for everyone.
One of the reasons we love Cancún is that you can take in some breath-taking views, all whilst being attached to a zipline! Fly over treetops and end your ziplining trip with a waterslide and a splash in the water landings.
Another adventure park in Cancún is Selvatica. Not only do they offer 10 zipline circuits, but you can also go on a bungee swing, 4×4 off roading and an Aqua Zip!
With package deals available on their website, you can spend the whole day being an adventurer. It's the perfect day out for families and couples.
---
Swimming in Cenotes
There are several beautiful cenotes in Cancún that are a must-see on your trip away. A cenote is a natural pit made up of a pool of water that forms when the roof of a cave collapses. These natural pools then fill up with rainwater, and hey presto- a cenote!
Hidden away underground, it can be tricky to locate a cenote. But, one of the reasons why we love Cancún is that the safest cenotes are open to tourists.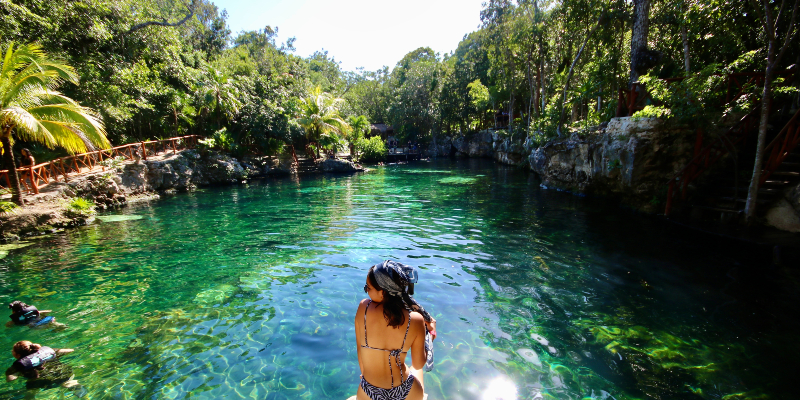 Cenote Dos Ojos is located in Tulum, and isn't as 'touristy' as a lot of the other cenotes. Its system is made up of two cenotes which are connected by a passageway.
The water is warm and really clear, meaning you can take out your snorkel and have a gander at the marine life. But you might need a waterproof torch to see the fishes which are hidden away.
If you don't fancy getting in the water, the caves are beautiful enough to just look at without taking a dip. Stalagmites and stalactites cover the roof of the cave and bats can often be seen flying around.
Close by to Chichen Itza is Cenote Ik Kil. This is a popular one for those on daytrips to the Mayan ruins, so it can get busier than some of the other cenotes.
The open top means that natural light cascades the underground waters. Vines also hang from the greenery that surrounds the hole, making it a breath-taking sight.
Swimming in the cenote is a lot of fun, but it's also a natural beauty that can be enjoyed by just looking at it. Due to its depth (150 feet!) it's not suitable for children or weak swimmers, so the viewing deck is perfect for those not going in.
---
Swimming with Whale Sharks
Fancy swimming with the largest fish in the world? One of the reasons why we love Cancún is because it's possible to do just that here!
This is an opportunity that just can't be missed, and it's available for the whole family. Put on your snorkel and meet a whale shark face to face.
These gentle giants feed on plankton, small shrimp and fish as they can't bite or chew. The reason for this is because although their mouths can stretch to four feet wide, their teeth are so tiny.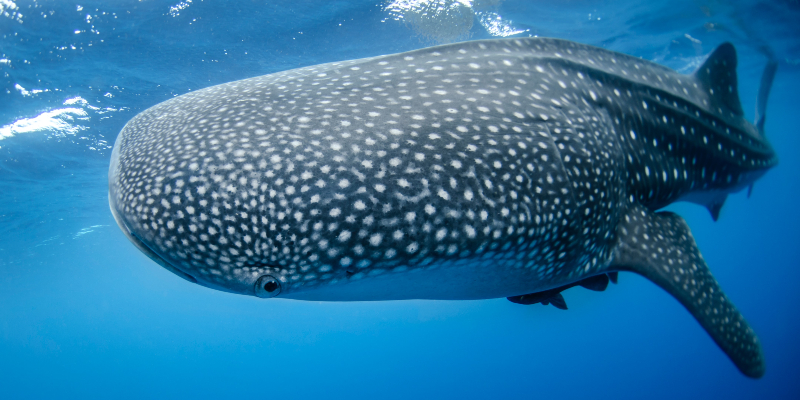 They visit the waters every year from May to September, so it is best if you book a trip away during those months to catch this opportunity.
There are several different tours available in Cancún where you can go on a whale shark tour, so don't worry about missing out.
---
Discovering the Underwater Museum of Art
If statues and deep waters creep you out, this might not be the excursion for you. However, for those who want to explore coral life and discover vibrant fish, this is a great trip out.
The Cancún Underwater Museum of Art has over 100 life size sculptures, making it the biggest underwater museum in the world.
Dive down and take a look at the incredible sculptures, depicting things from humans interacting with the environment to a full-sized Beetle car.
Those who don't want to get up close to the sculptures by scuba diving, can go on one of the glass bottom boat tours on offer.
You can still enjoy the magnificent underwater landscape, without getting wet. This is a great alternative for weak swimmers or younger children who want to see the museum. A guide will explain the different sculptures and you can also learn more about the amazing marine life.
This is one of the reasons why we love Cancún, it's dedication to protecting the Great Mayan Reef whilst also providing an amazing day out.
---
The Beaches
Of course, the beautiful beaches are one of the reasons why we love Cancún. With soft white sand and turquoise waters, there is a piece of paradise to be found on the Cancún beaches.
One of the more popular beaches in Cancún is Playa Delfines but is argued to be the most picturesque public beach. Its wide shore stretches for miles and there is also the possibility of a dolphin sighting.
It is one of the few beaches which also has a free carpark, but it can be accessed by the bus. The other facilities at the beach includes restrooms, umbrella hire and lifeguards.
A favourite for those wanting a picture for the Gram is the vibrant Cancún sign. It's backdrop of the crystal sea and blue skies will make all of your friends envious.
To discover some more of the incredible beaches in Cancún, check out our Mexico Travel Guide.
---
Do you now love Cancún?
We think we've put up a pretty good argument for why you should want to visit this amazing city.
Not only have we given you 10 reasons why we love Cancún, but also 10 reasons why you should book your next trip there!
If you're not sure what resort you'd like to visit, head on over to our fun little quiz where you can tell us your personality traits and we'll give you a Mexico resort to visit!