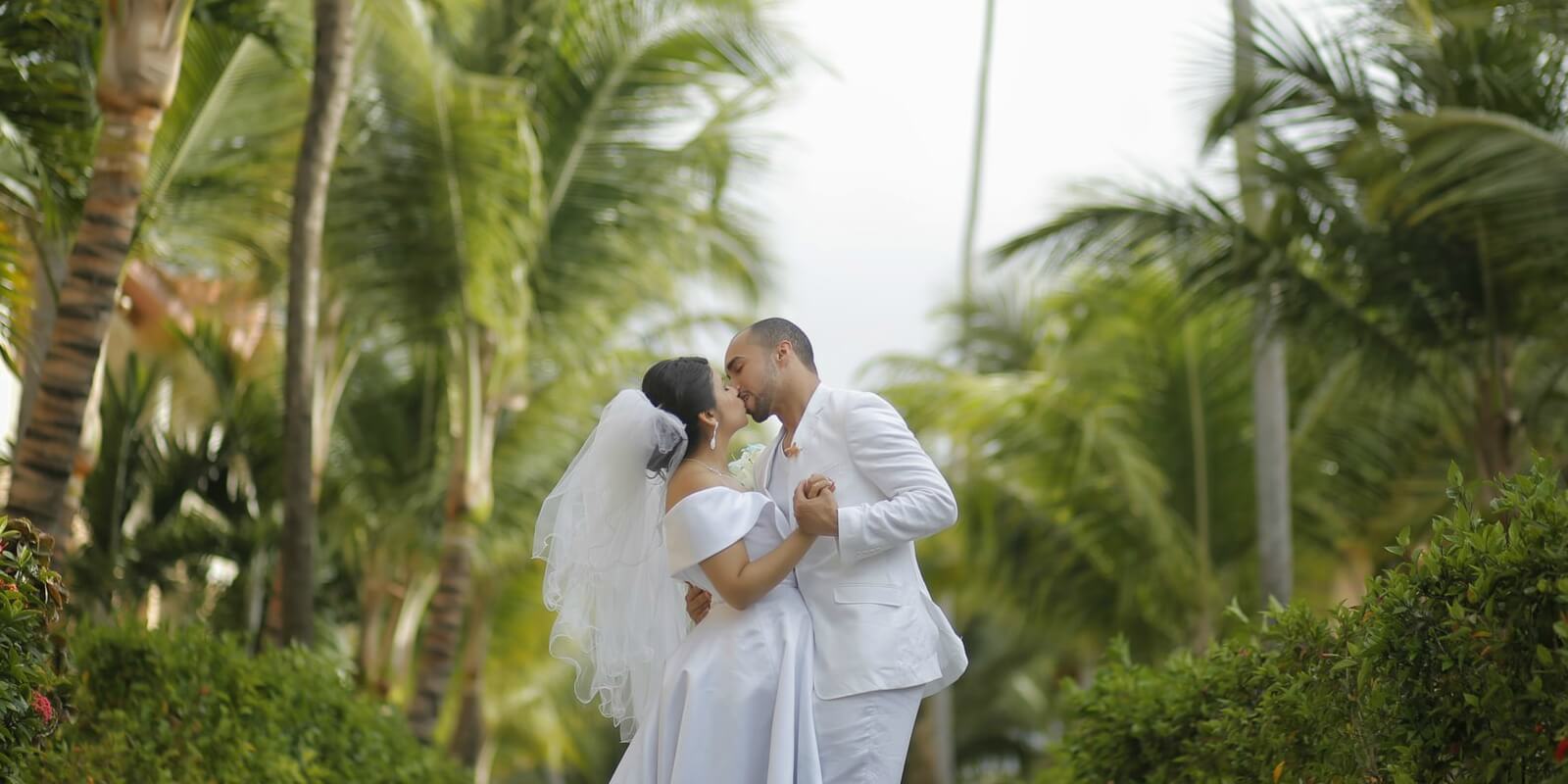 These 11 resorts will help you achieve your ultimate Caribbean destination wedding for free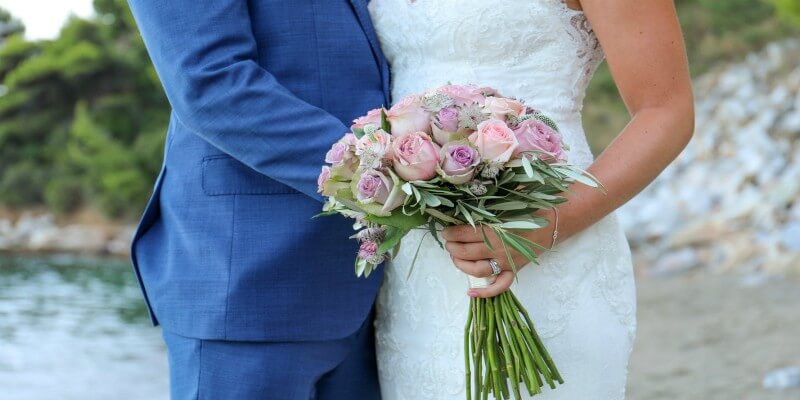 ---
Dreams can happen
If you're one of the thousands of couples around the UK who's wedding plans are on hold as a result of the COVID-19 pandemic then we really feel for you. But could a Caribbean destination wedding be the answer to your prayers?
These 11 incredible resorts are offering picture-perfect weddings in paradise without having to shell out for an expensive UK ceremony.
---
The amazing eleven
Excellence Riviera Cancun
Zoetry Montego Bay Jamaica
Excellence El Carmen
Secrets St Martin Resort & Spa
Excellence Playa Mujeres
Dreams Dominicus La Romana
Turtle Beach by Elegant Hotels
The Landings Resort & Spa St Lucia
Waves Hotel & Spa
Sandals Ochi Beach
Occidental at Xcaret Destination
It's unbelievably frustrating constantly looking forward to something which keeps getting shifted.
But what if you treated this as a chance to shake up your wedding plans and turn your day into something altogether more extravagant, without that A-lister price tag.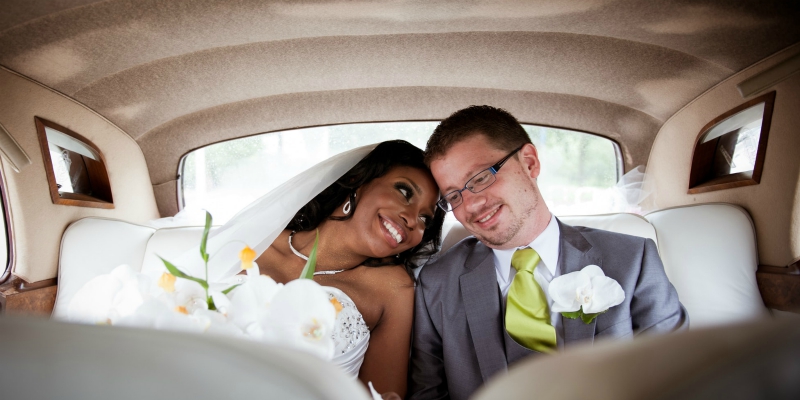 ---
Destination beautiful
If you're dreaming of a mesmeric Caribbean destination wedding, then you're probably thinking it will cost a fortune.
However, these destinations offer packages that will deliver a wow without damaging the budget.
Planning a scintillating destination wedding can be tricky. There's always plenty to think about, but there's also plenty to love.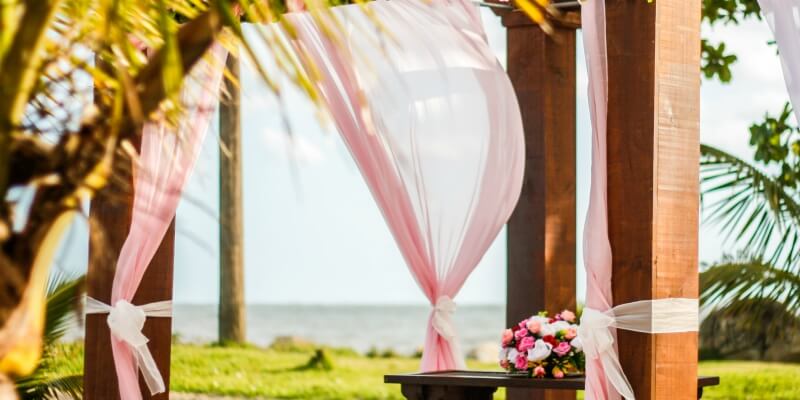 Keeping the cost in check
We understand the costs involved and the frustrations. That's why we've put together this list of amazing resorts across the Caribbean offering dreamy wedding packages without the dizzying price tag.
Now, before we get into this, it's important to stress you will have to pay for your travel and accommodation during your trip. Free weddings & honeymoons are subject to minimum stay terms and room types.
But, these fifteen amazing hotels will offer a free celebration that you can be proud of.
So, what are these amazing resorts?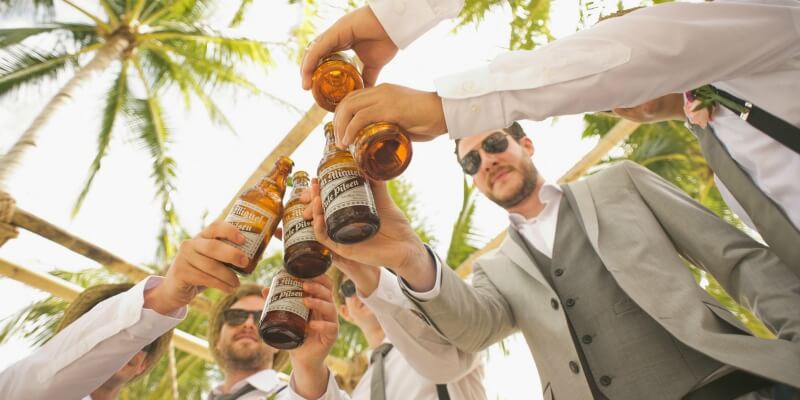 ---
---
Excellence Riviera Cancun
With popular destinations all over the Caribbean, Excellence Resorts have built a special reputation for being perfect for securing your place in the sun. However, Excellence Riviera Cancun is one of the more popular destinations, in fact, it's ranked number one on Trustpilot for resorts in Puerto Morelos. So, it's already an incredible place to be, but did you know they also offer an amazing free Caribbean destination wedding package.
This free package means you can get the wedding ceremony in paradise you've always dreamed of, with features like; a wedding gazebo overlooking the Caribbean or beach, prep your wedding dress and tuxedo or suit and a complimentary suite for the groom the night before, plus much more. But you're not tied to this package once you choose it. The great thing is you can add other features to your day, for a cost, which means you have the fun of creating a completely customisable wedding.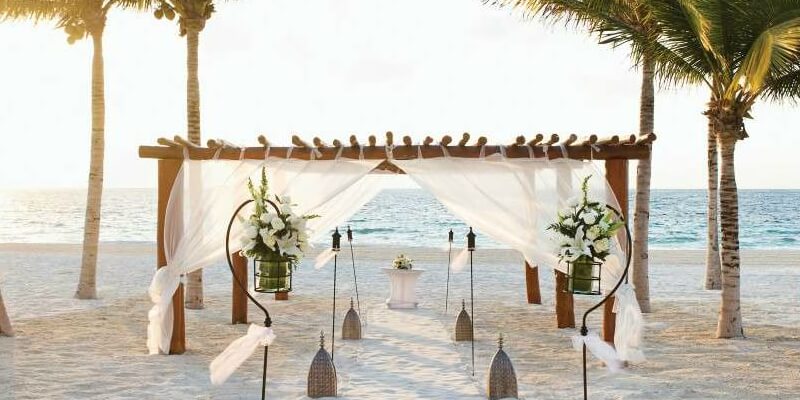 ---
Zoetry Montego Bay Jamaica
If you feel like elevating your destination wedding even further, then the luxurious surroundings of Zoetry Montego Bay will have you aghast. Much like the Excellence resorts, Zoetry's come as part of a larger company, AM Resorts, who also offer a free wedding package. So, you can have the opulent scenery of Zoetry in Jamaica but still, get a complimentary Caribbean destination wedding package.
This package is complimentary when you book seven nights in the required room category. And with inclusions like allowance for up to ten guests, a wedding coordinator, bouquet and cake, plus much more it's easy to see why Zoetry Montego Bay is a popular destination wedding choice.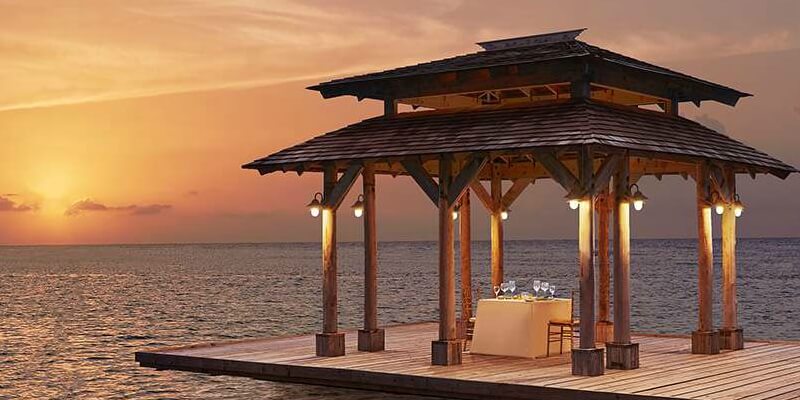 ---
Excellence El Carmen
If you want that special Excellence treatment under a different sky, then how about Excellence El Carmen? Settled on the stunning Caribbean Sea side of Dominican Republic in Punta Cana. The resort can deliver that beautiful Caribbean back-drop you've always dreamed of. Make use of the brilliant wedding planners available on the free wedding package at Excellence to make your day perfect.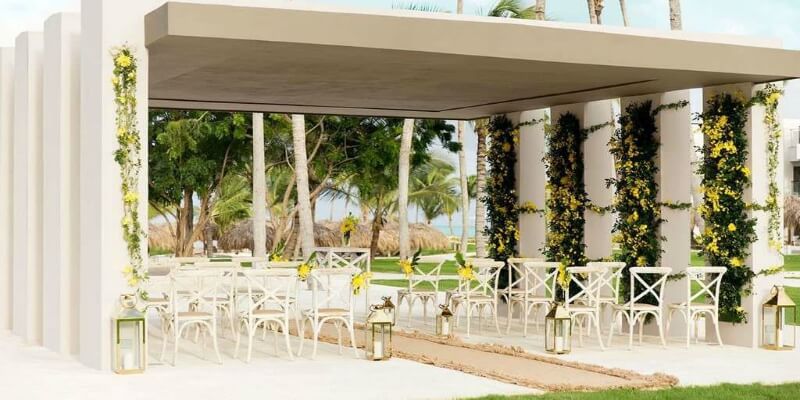 ---
Secrets St Martin Resort & Spa
How about something brand new? Secrets St Martin is a brand new property which only opened in November. As the resort is based on the French side of stunning St Martin you'll be just minutes from all the colours, sight and sounds of the markets. But we're here for free weddings and as Secrets St Martin is also part of the amazing AM Resorts Group you'll get that same special treatment as offered at the Zoetry resorts.
Want to learn more? Then check out the 5 Reasons Why We Love St Martin.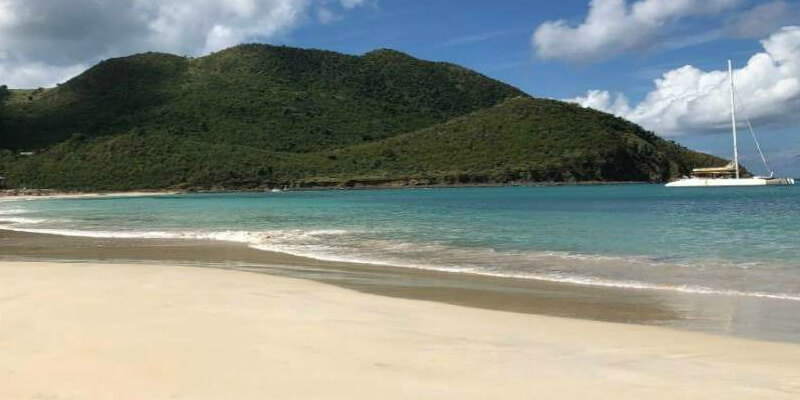 ---
Excellence Playa Mujeres
As Excellence Playa Mujeres is another resort under the Excellence banner you'll have access to that same amazing free wedding package as Riviera Cancun resort. However, there's plenty of other reasons to book this hotel for your special day.
This adults-only resort offers a sophisticated environment where you can spend the days leading up to your wedding relaxing on a two-mile stretch of powdery-white sand coastline. Why not also take a day out in the stunning Miilé Spa to complete your big day prep or help unwind after it!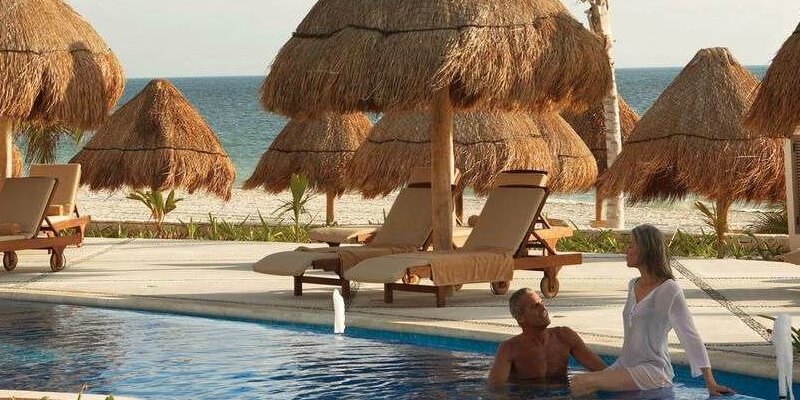 ---
Dreams Dominicus La Romana
Another member of the AM Resorts team is Dreams Dominicus La Romana. As the name would suggest it's set in the La Romana area of Dominican Republic. Absolutely perfect if you want nature to have more of a prominent role in your big day. Dreams Dominicus is a lush oasis set on the beautiful Bayahibe beachfront.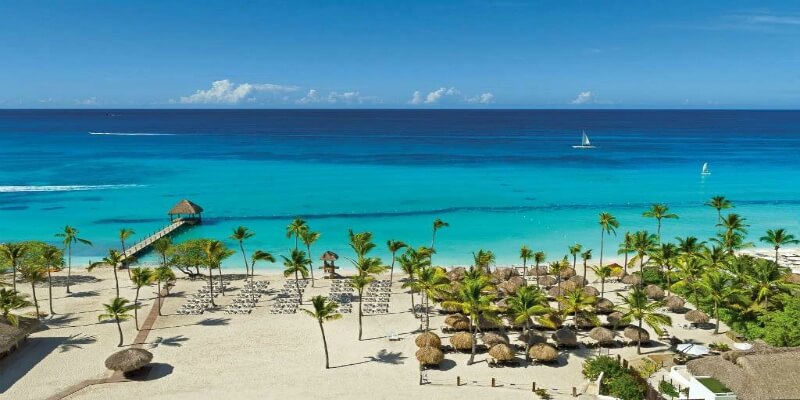 ---
Turtle Beach by Elegant Hotels
Elegant Hotels are another resort group in the Caribbean that offers stunning venues with comprehensive free destination weddings. Turtle Beach is a picturesque spot in the heart of Barbados' lively south coast.
As part of the wonderful free Simply Elegant Package at Elegant Hotels you get everything from a signature cocktail on arrival, to a personalised wedding website and gift registry. Plus, Elegant Hotels have also recently joined up with celebrity wedding planner Emma Corrie to add her influence to their offering. So, you can have a sprinkling of Hollywood magic in your special day.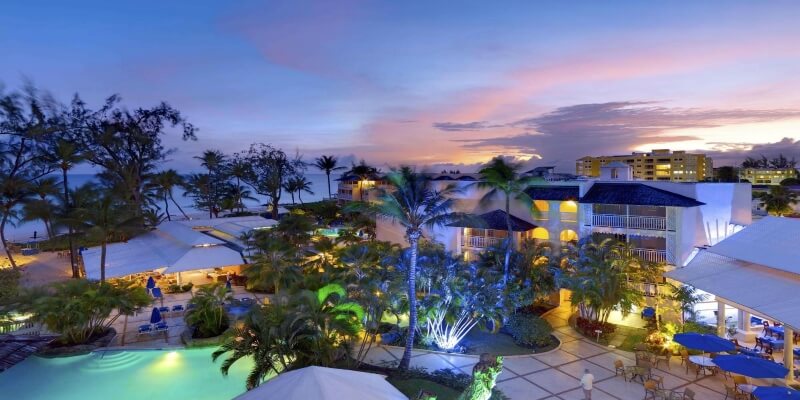 ---
The Landings Resort & Spa St Lucia
Widely regarded as one of the most romantic islands in the Caribbean, St Lucia is the perfect place for your Caribbean destination wedding. And The Landings is the ideal luxury resort to host it, especially if you like opulence and Caribbean beauty.
The best bit about it is, as part of the Elegant Hotels brand, The Landings also offers the Simply Elegant Package. So you can have a superb Caribbean wedding for free. Then why not start adding some extras to make it all you.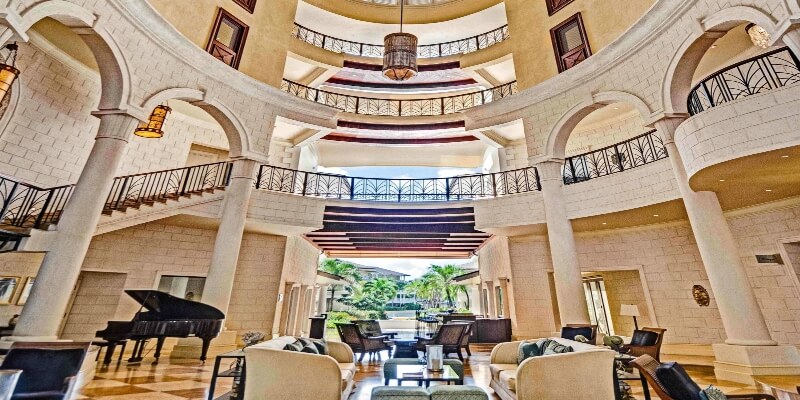 ---
Waves Hotel & Spa
Another one for the nature lovers. The Waves Hotel & Spa is an eco-conscious Elegant Hotels resort which offers you the opportunity to draw on the beauty of Bajan nature in your big day. So as part of your celebration, you can choose the vibrant gardens or beautiful beachfront for your ceremony location.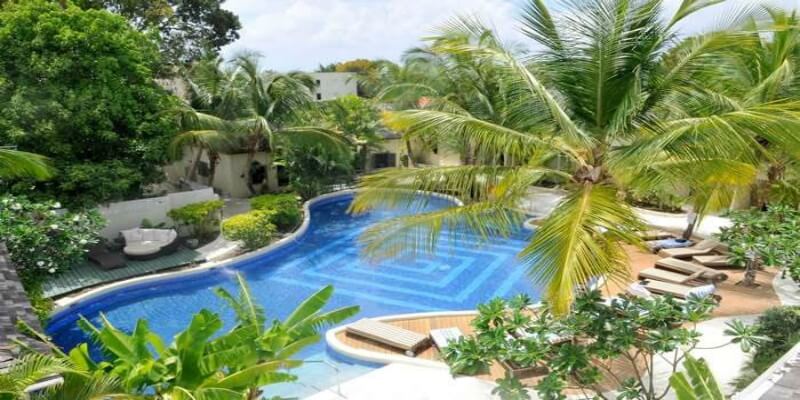 ---
Sandals Ochi Beach
Sandals are a household name when it comes to planning a Caribbean break. It's easy to see why when you consider their trophy cabinet. They've been voted the World's Leading All-Inclusive Resorts for the past 23 years. Moreover, the UK Wedding Awards dubbed them Best Wedding Travel Company 2019.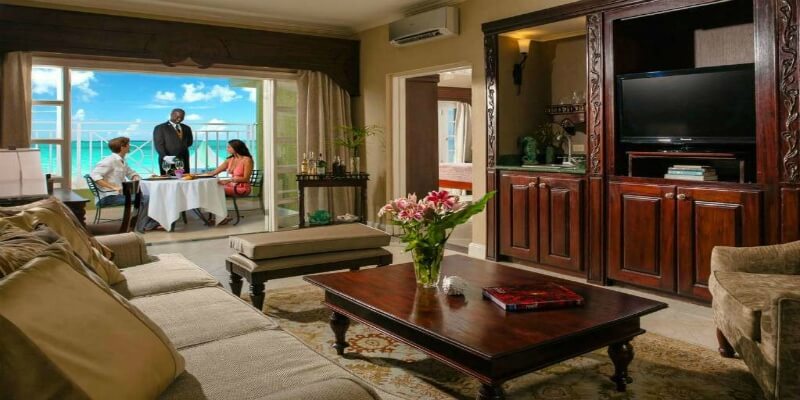 ---
Occidental at Xcaret Destination
Staying in Riviera Maya, Mexico for our final destination. Occidental at Xcaret Destination is a dream resort for those wanting to tie the knot in an authentic Mexican environment. 45 minutes from the bright lights of Cancun, Occidental is perfect for the eco-touring traveller and encourages you to get out and see the best of original Mexico. From Mayan ruins to jungle and snorkeling tours make the most of this Central American haven before or after your celebration.
On to the main event then. The Occidental hotel offers the Free Coconut Paradise Package which gives you the chance to incorporate all that stunning authenticity into your wedding. Whether you want to overlook the ancient Mayan ruins or enjoy stunning vistas of Cozumel island. You can have the perfect day for you.
Included the Free Coconut Paradise Package you can get a room upgrade, elegant white rose bouquet, Tiffany chairs with pink sashes, rose petals for the aisle and wedding cake for up to ten guests, plus so much more. In order to get the complimentary package at Occidental you will need to book ten Deluxe Rooms for a minimum of five nights, or a minimum of 50 nights.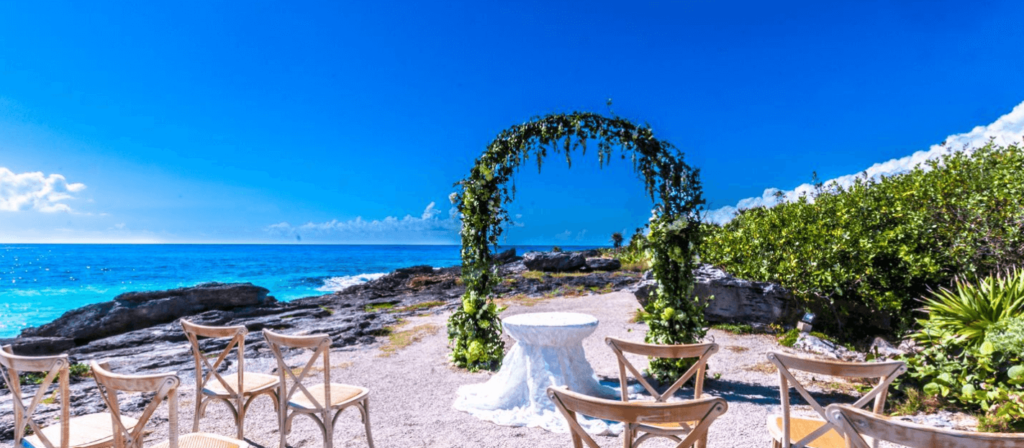 ---
In conclusion
Whatever Caribbean destination wedding day you have in mind, there's a plethora of resorts waiting to make your dreams come true.
One of our Personal Travel Advisors recently enjoyed her own wedding through our service. So you know we love what we do and we trust enough to use the packages ourselves. Read all about Chloe's experience now.
Now we've given you the options it's up to you to choose which one's for you. We know price will play a big part in crafting your perfect day. So we'll make it easy for you, just click the button below to get started on building your destination wedding quote.