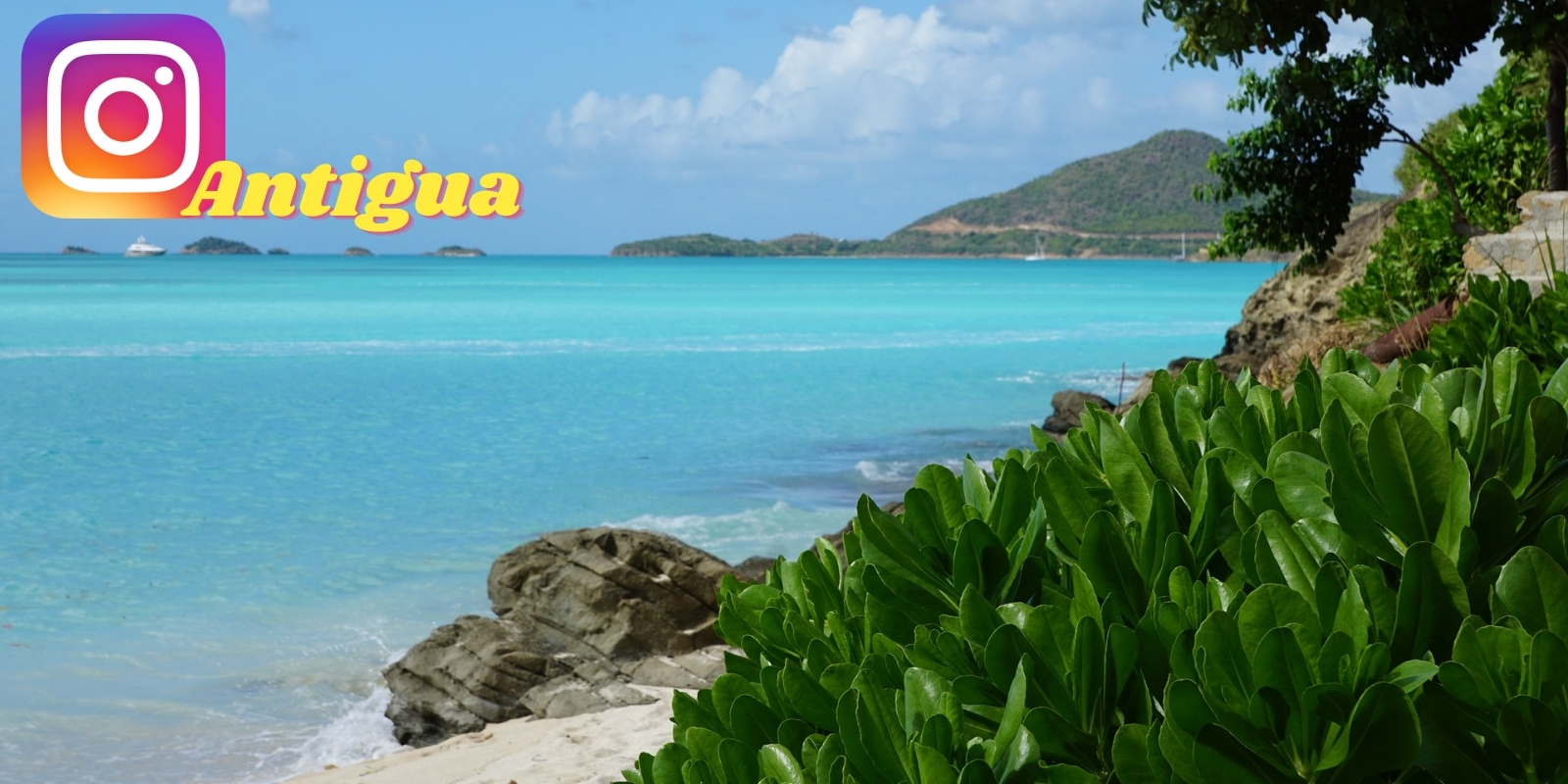 Let us show you 6 of the most Instagrammable beaches in Antigua, because did you even go on holiday if you didn't upload a pic to the gram?
With 365 beaches on the island of Antigua, you could spend a year visiting one beach a day. However, to save you a lot of time, we've got a list of 6 of the most Instagrammable beaches in Antigua.
This incredible country offers mile long white sand beaches and vibrant turquoise seas. It's a picture-perfect island and your Instagram game will be strong after a trip to any of these amazing beaches.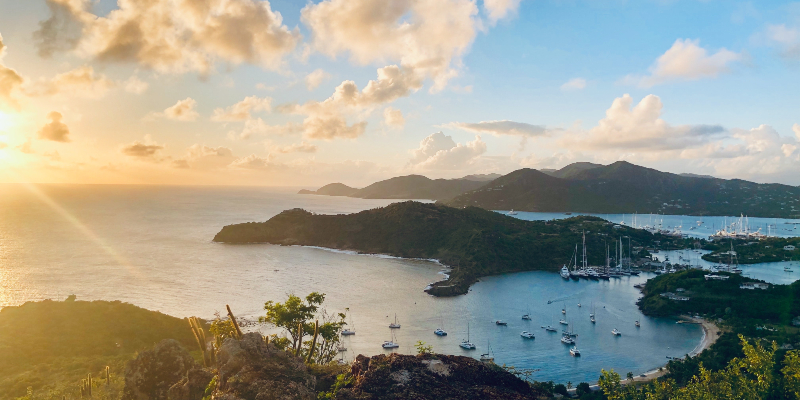 ---
No need for a filter
Forget adding Valencia or Mayfair to your snaps, these post-card worthy beaches don't need a filter. Set up your timer and get ready to do your best influencer pose at these Instagrammable beaches in Antigua.
Long Bay Beach
Halfmoon Bay
Stingray City
Ffryes Beach
Dickenson Bay
Turner's Beach
---
Long Bay Beach
Set on the north-eastern edge of the island of Antigua is Long Bay Beach. Labelled as one of the finest beaches on the island, you'll find powder white sands and calm blue waters.
If you enjoy snorkelling this is a great spot to grab your gear and make friends with the local fish. The calm waters also mean that if you are travelling with children, you can feel safe in knowing they won't get bowled over by any rough waves.
Also located on the beach are fabulously bright-coloured huts selling souvenirs. They provide everything from hats and tshirts, to lilos and buckets and spades. These huts provide a great backdrop if you're wanting to add some colour into your feed.
If you're wanting to snap something other than the beautiful beach, there is the Devil's Bridge. This natural phenomenon is located at Long Bay and provides a great picture for your album. Carved from the Atlantic Ocean crashing into the limestone, this arch provides breath-taking views.
However, the history of Devil's Bridge is a tragic one. Enslaved Africans would go to the bridge to jump into the rough water and commit suicide, to be free from the horrors of slavery. It's believed to have got its name due to these suicides, and that the Devil was there calling people to their death.
It's advised to not walk on top of the arch, and it can be very slippery. This means it's best to admire the formation from afar.
---
Half Moon Bay
Discover the crescent shaped beach at Half Moon Bay on the island's south-east coast. This beautiful setting is the ideal location for an Instagram photoshoot. From an aerial view, it's an incredible sight. but even if you are down on the beach itself you will be provided with stunning scenery.
Each end of the crescent provides an activity for every tourist and local. The south end has the bigger waves, so this is usually where you will find the surfers and water sports. Up to the north side, snorkelers will find calmer water, perfect for exploring the ocean floor.
When your belly starts rumbling, if you haven't packed a lunch, you can check out the Beach Bum Bar and Grill. This beachfront restaurant offers great food and even better views. From seafood dishes, chicken wraps, burgers and of course a cheeky rum punch, there's plenty on offer to choose from.
The beach is slightly hidden away and off the beaten track, so we'd recommend visiting during the day so you can see where you're headed. If you set off early in the day, you can spend your morning and afternoon taking in the views, indulging in delicious food, and enjoying the beautiful waters.
---

---
Stingray City
Get ready for an experience of a lifetime. Plus, make your Instagram followers very jealous! Interact and feed some of the brightest rays in the Caribbean at Stingray City in Antigua.
If you've read our 3-Day Itinerary Perfect for Beach Lovers blog, you may already know about this amazing experience. However, if you haven't had time to check it out yet we will give you the lowdown.
First you are taken on a speedboat ride to a shallow pool where the rays like to stay. The stingrays are used to human interaction, so they're happy for you to give them a stroke and bit of a fuss. You can also snorkel around the beautiful coral reef, meaning you can swim alongside the rays too.
You're given a safety briefing before you're able to get into the water with these amazing creatures. This includes being taught the stingray shuffle– this is a shuffle style walk that means you won't step on any of the rays.
Although they are gentle creatures who are now used to humans being around, they still do have a terrible sting. Be aware and be careful when handling them, they can cause fatal injuries if you do get stung.
Overall, it's an incredible memory to make whilst you're in Antigua. But in addition to the memory-making, you will get some awesome pictures for your social media.
---
Ffryes Beach
If you're wanting a quieter beach to pose the day away, Ffryes Beach on the west-coast of Antigua has more of a peaceful atmosphere. Although it's popular amongst local families, it's not the busiest out of these 6 Instagrammable beaches in Antigua.
There are no recreational activities at this beach, so the visitors who go tend to enjoy the tranquillity. Of course, there are spectacular white sands and clear waters again, so relaxing with this beautiful scenery is not an issue.
If you want to watch the sunset with a cocktail in hand and a yummy meal, Dennis Cocktail Bar & Restaurant is the place to be. Set up by local Dennis Thomas, he uses his mum's recipes and local produce to create modern Caribbean dishes.
The menu has a mixture of international dishes and local cuisine, so there's a meal for everyone to enjoy. Curried conch, grilled lobster, garlic shrimp and island grilled steak are just some of the mouth-watering meals on offer. Most importantly, happy hour runs from 4pm to 6:30pm, so be sure to grab a classic beach cocktail as the sun fades into the horizon.
---
Dickenson Bay
If you're staying at Sandals Grande Antigua, then lucky you! This resort is set on the beautiful Dickenson Bay. On the north-western coast is the most developed beach on the island, making it a popular spot for tourists and locals.
It's jam packed with fun activities, from water sports like jet skiing and paddle boarding to banana boats and catamaran boat cruises. If you don't fancy doing much, just recline on your sun lounger and soak up all the sun. This beach provides a slice of paradise and is one of the ultimate Instagrammable beaches in Antigua.
Whilst you're staring at your hundred-pound phone and uploading your pictures to the gram, why not have a bit of a throw back to simpler times? Located on Dickenson Bay is a classic red telephone box!
Although it's not functional, and more of just a prop, it provides a great flashback to trying to find 10ps to make a call to your bestie from school. The white sands and swaying palm trees are the perfect juxtaposition to this bright red telephone box.
---
Turner's Beach
It's Turner's Beach to take a turn for our most Instagrammable beaches in Antigua. Situated near Johnsons Point on the south-west coast is this inviting beach.
Sit back comfortably and watch the calm blue waters overlap the bright white sand. We love a beach where you can just relax and pass the day by sunbathing with a great book, and at Turner's Beach you can do just that.
When you are done relaxing, why not grab your GoPro and take a dive under the clear waters. There is an abundance of amazing fishes just waiting to be discovered. From starfish to vibrant tropical fish, you will meet the whole cast of Finding Nemo as you search the ocean floor.
There are some brilliant restaurants and bars also located on the beachfront. Turner's Beach Bar and Restaurant offer casual Caribbean dining whilst you have the sand under your toes. Enjoy seafood and grilled steaks, along with delicious Antiguan classics.
---
Your Instagram is looking good

👌
If you manage to get a few snaps at any of these magnificent beaches, we know your Instagram game is going to be fire. Your followers are going to be envious of your travels, and you'll always have amazing memories to look back on.
If you want to book a trip to Antigua but aren't sure on what resort to pick, why not read our blog post featuring 4 of Tripadvisor's favourite resorts in Antigua?