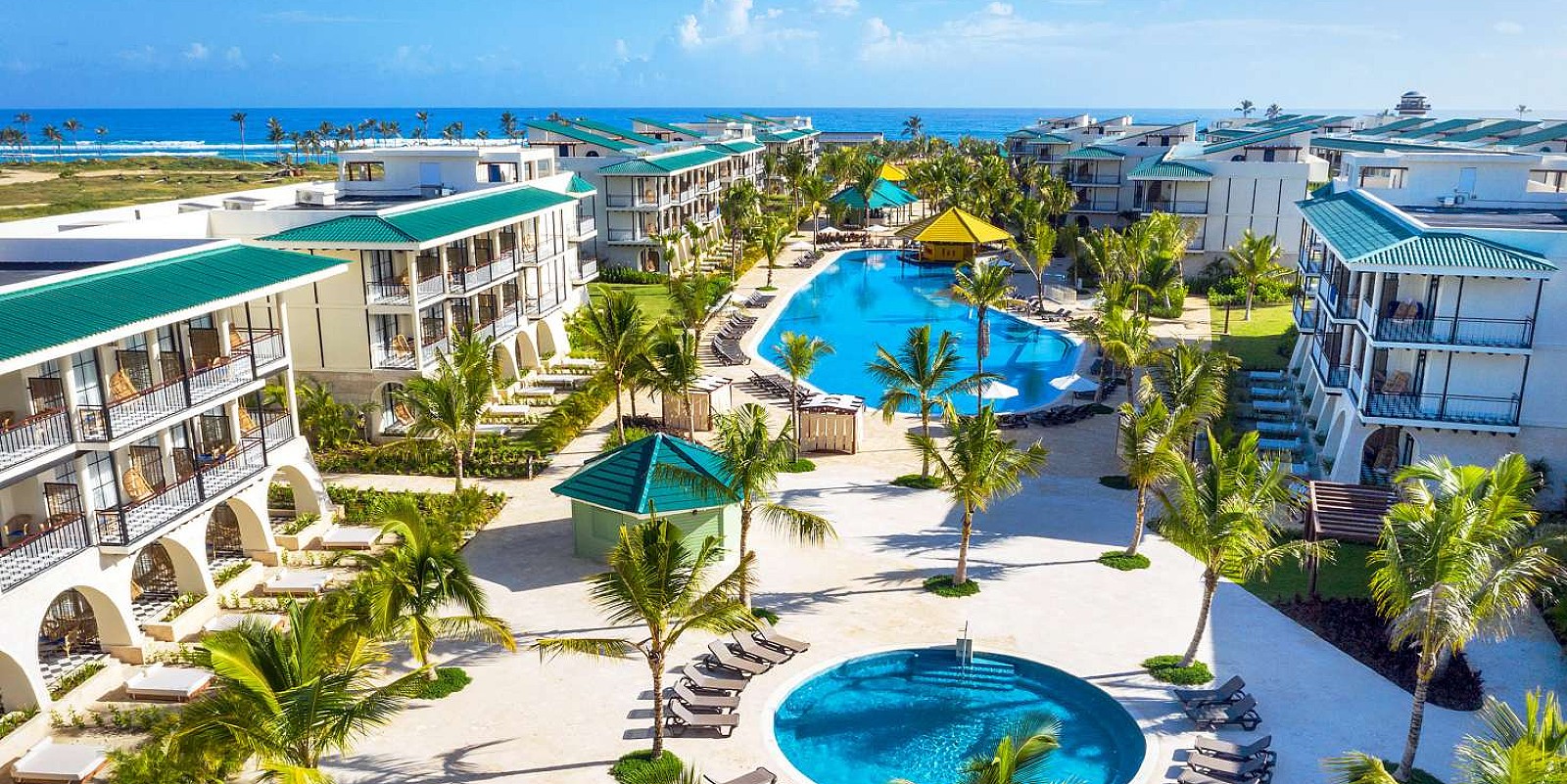 Ocean El Faro El Beso is luxurious new five-star resort in Punta Cana which has already been wowing its fair share of holidaymakers.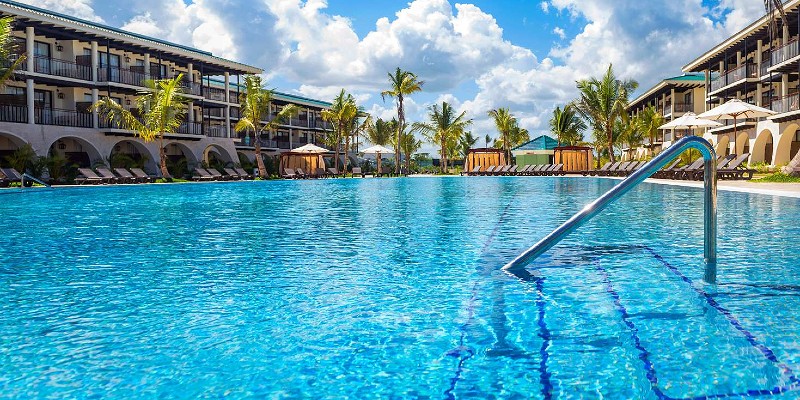 With a stunning Punta Cana beachfront location, a plethora of amenities and a selection of contemporary rooms, Ocean El Faro El Beso is the place to be in the Dominican Republic.
Split into two halves, one dedicated to family-fun in the sun and the other to adult-only enchantment. It's easy to see why Ocean El Faro's stock is growing all the time. 
In this blog we'll give you a complete overview of the resort. We'll also tell you everything you need to know before you, inevitably, book it. 
---

---
The once over 
Ocean El Faro El Beso is the latest holiday property to pitch up on the Caribbean coastline of Dominican Republic. If you're anything like us, you'll love holidaying in Punta Cana. But we think this resort is set to have you falling head over heels for this destination all over again. 
Boasting 3 pools, 9 restaurants, 10 bars, a spa, fitness centre and water sports, as well as 293 comfy guestrooms, it's not the smallest place you'll ever go to. So, it's fair to say it's not a boutique environment. 
However, for an action-packed escape in the Caribbean, or just somewhere to kick back in the sand, we're going to show you why this place is perfect.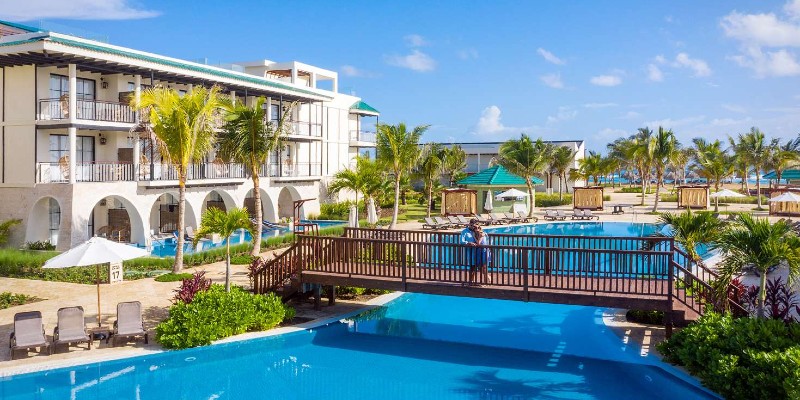 ---
El Beso is El Besto
You might be forgiven for thinking, with all those activities and amenities, that this resort is more aimed at families. 
However, while families are extremely well catered for here, the "El Beso" section of the resort is reserved for adults-only. In this area you'll find plenty of rooms and a choice of 5 bars and restaurants. So you can be sure of a romantic meal without the kids. 
Speaking of rooms, though, how about we take a look at the sleeping quarters in a little more detail. 
---
Getting your head down 
As we said ealier, Ocean El Faro boasts over 290 rooms split across those family and adult-only sections. 
The all-suite ccommodation ranges from Junior level right up to Royal Master Suite status. But one constant throughout the room categories is the palatial space, private balconies and incredible views. 
Each suite benefits from stunning contemporary design which aims to draw the modern day together with authentic Caribbean influences. The result is nearly 300 bright suites which encourage the sunlight to bathe them.   
While suites at Ocean El Faro El Beso deliver an impressive fusion of modern design and stunning comfort, we get that you like to live your best life when you're away.
With that in mind, the latest Caribbean Warehouse Subscriber Exclusive offer upgrades your stay to an incredibly decadent rooftop suite complete with a Jacuzzi which makes beautiful use of your lofty views over the resort. Because nothing screams "best life" like chilling in a Jacuzzi, drink in hand, overlooking paradise, right? 
---
The dining rooms
Away from the rooms, a huge plus point to staying at Ocean El Faro is the sheer depth of dining options. We love it when you stay at a destination and you get to have that chat every morning like "what cuisine do you fancy tonight?" 
That can absolutely happen here. The nine restaurants available cover off every conceivable cuisine. Whether you wake up one day and fancy a Chinese or you have a hankering for Italian food, you won't be disappointed.
In fact, all the cooking at Ocean El Faro is taken super seriously. Even the main buffet restaurant, El Mercado, are elevating their experience. Far from your standard all-inclusive buffet. Here you can sample flavours from around the world with vibrant themed evenings and even marvel at live cooking stations. 
Over in the El Beso section you'll also find Blue Moon. This sophisticated eatery offers a grown-up ambience with delicious fare delivered in an elegant environment. Perfect for celebrating that special occasion or just enjoying a romantic meal for two. 
---
All the activities
If you prefer to get up and move on holiday then you'll be pleased to know the festival of choice doesn't end at the suites and dining selection. There's also a world of adventure to be had via a smorgasbord of activities. Including a couple of boss-level kids clubs, away from the El Beso section.
Of course you can take your pick of the standard sports and water sports here. But, as you can tell from the rest of the resort, we're not dealing in the ordinary at Ocean El Faro El Beso. 
Choose to learn how to dip beneath the glistning waves of the Caribbean Sea at the DiveIt! Diving centre. Or if that sounds too much like hard work you might prefer to kick back an enjoy a flutter in the resort casino or take in a show in the threatre. There is also an on-sire fitness centre, so if you've gone too hard in El Mercado, you can always keep up with your fitness routine. 
However, as part of that incredible Caribbean Warehouse offer, you get the chance to try a spa treatment. So we'd better introduce you to Despascio.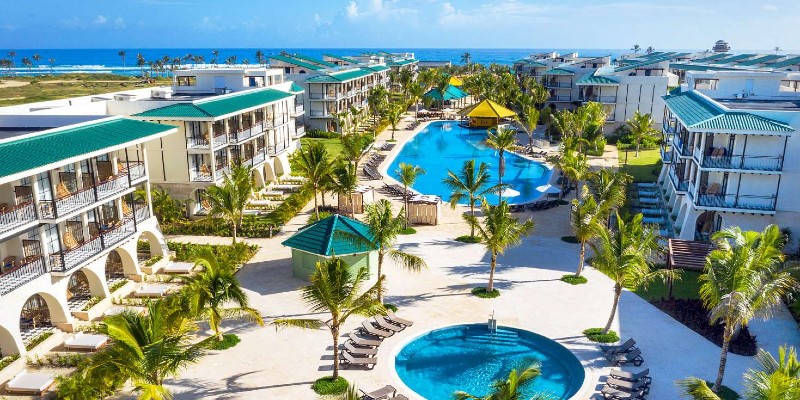 ---
Despacio Spa Centre
Not to be confused with Despacito, the Justing Beiber song, Despacio Spa Centre is the perfect retreat for forgetting all about the everyday. 
Relax and unwind with a decadent treatment delivered by professional spa staff. Grab a hydrotherapy treatment or go the whole hog and bag a soothing massage. 
Using high-end products the staff in the spa are dedicated to ensuring you leave feeling completely rejuvenated. It's perfect for logging some 'you' time on your family break or celebrate a special event with a couples treatment.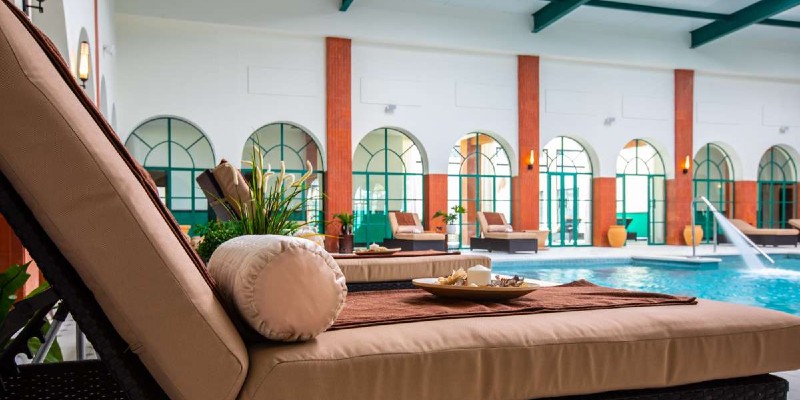 ---
Ready to go?
Come on, you have to admit it sounds pretty impressive, right? 
However, Ocean El Faro El Beso is just one part of a trio of Punta Cana resorts we can't get enough of. Why not find out more about the other two and make up your mind which is best for you. 
But, if you're smitten, and want to take advantage of that incredible Caribbean warehouse offer. Click the button below to get started on a quote for your Punta Cana decampment.