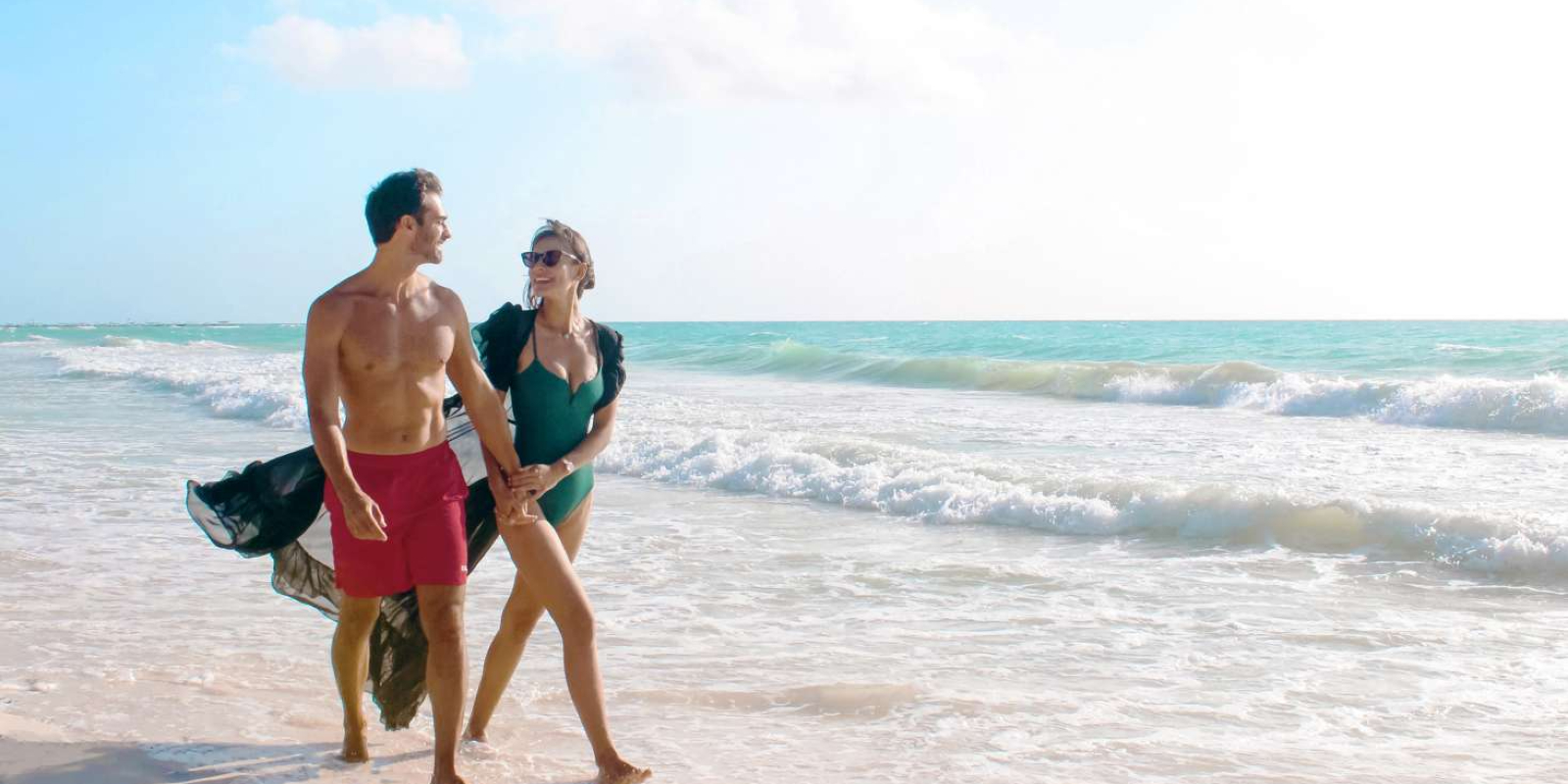 Check out our selection of 6 of the best things to do in Riviera Maya for couples, perfect for when you're looking to spend some time in Mexico with your loved one.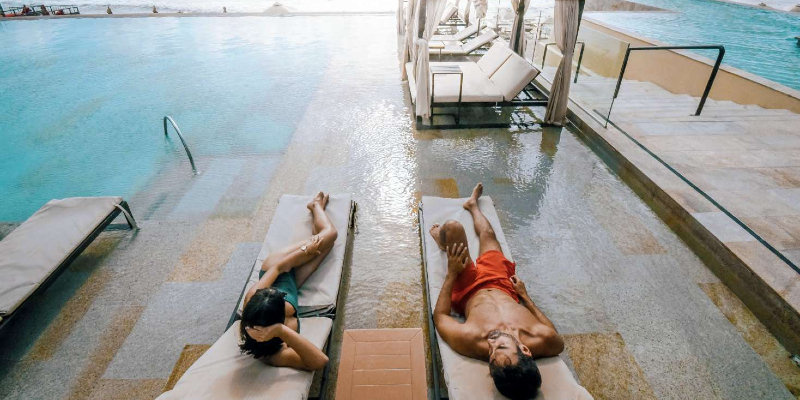 If you're wanting the perfect balance of romance and thrill, Riviera Maya can provide just that. With stunning natural beauty spots and fantastic excursions, you and your partner will have the time of your life.
You may be considering Mexico as a honeymoon spot. Or maybe you just want to enjoy a break with your significant other. Riviera Maya has got plenty to keep you busy and feeling all of the lovey-dovey vibes.
Bask in the sunshine on beautiful beaches or head out on a catamaran. Whatever type of holiday you want to create, check out our options on 6 of the best things to do in Riviera Maya for couples.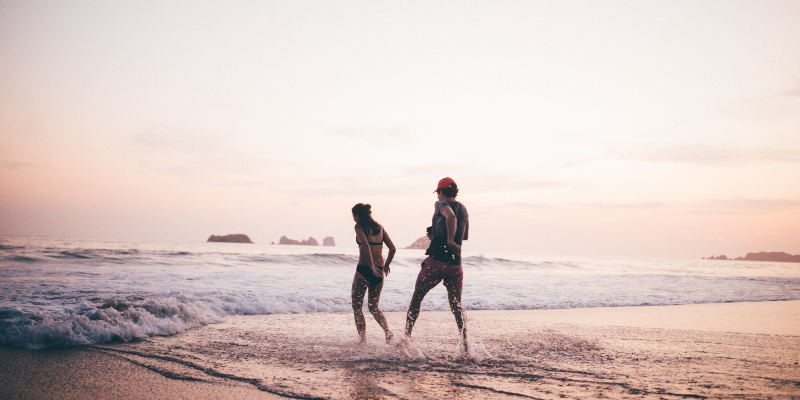 ---
Where will you and your partner head to?
Are you more of a relax by the poolside couple or wanting to get your fill of the thrill?
Romantic Sunset at a Riviera Maya Beach
Dinner Cruise on a Catamaran
Explore the Jungle
Visit the Natural Cenotes in Riviera Maya
Head Over to the Spa
Check Out the Ruins
---
Romantic Sunset at a Riviera Maya Beach
The best things in life are free, and that definitely counts for a romantic sunset stroll across the beach. There's no money or effort needed to take part in this activity, but is there anything better than being with your loved one in a stunning setting?
Riviera Maya is home to several incredible beaches, so choosing which one to watch a sunset on won't be an issue.
If you're looking for a secluded area, head over to Playa Maroma. Located between Puerto Morelos and Playa del Carmen, this beach is truly beautiful.
Although it's a private beach, you can access the beach through a restaurant reservation. Or if you are staying at a resort on Maroma beach, such as Secrets Maroma Beach Riviera Cancun. So why not plan a romantic meal for two before you head on over to your serene stroll across the ocean shore.
Enjoy watching the sun begin to fade into the horizon, and the sky becoming beautiful pink hues as you walk hand in hand.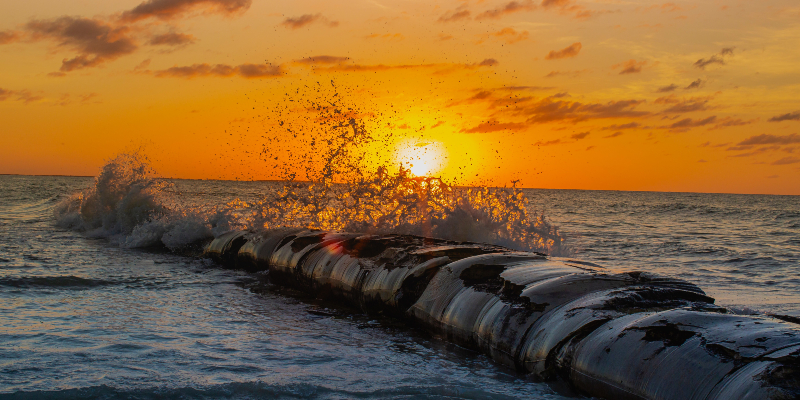 ---
Dinner Cruise on a Catamaran
If you're looking for a boujee evening for two amongst the waves, check out a dinner cruise on a catamaran. Celebrate your love for each other as you are wined and dined by the onboard crew.
A dinner cruise is the perfect excuse to spend a bit of cash to enjoy a luxurious evening with your partner. The fabulous backdrop paired with the delicious food and live musicians creates a fantastic evening.
Indulge yourself with mouth-watering dishes such as surf n turf with lobster and steak, paired with fine wines.
If your sailing during the day time, you may also be given the chance to make different stop offs to snorkel around with the beautiful marine life.
---
Explore the Jungle
Do you and your partner fancy ziplining or zooming on an ATV through the Mayan Jungle? Well, you can do just that! Riviera Maya is within the state of Quintana Roo, which is known for it's tropical rainforest and jungle. So why not make the most of having this on your doorstep.
Xplor Park in Riviera Maya opens the whole jungle out for you to explore. Including ziplines, vehicle courses and even underground rivers to discover.
If you're feeling a bit nervous about the thought of going on a zipline, they do offer the Hammock Splash. This gives you the opportunity to do a zipline, but on a hammock! It means you don't have to go full force with it, but you still get to enjoy beautiful views with a splash into a refreshing cenote at the end. You and your partner can sit in your hammock and zipline down together for the perfect couples adventure.
There are a variety of different excursions for this day out, so find an itinerary that fits you best and get booking! Just image feeling the wind rush past you as you zipline through the lush greenery.
It will create an unforgettable memory for you and your loved one. That's why we think exploring the jungle is definitely one of the best things to do in Riviera Maya for couples.
---
Visit the Natural Cenotes in Riviera Maya
The Yucatán Peninsula which Riviera Maya lies in is home to more than 6,000 cenotes. You may be wondering, what is a cenote? Well, it's a natural sinkhole that is caused by the collapse of limestone bedrock.
These cenotes can create beautiful underground caves which fill with water and provide a fantastic swimming area. Perfect for spending time with your partner in!
Cenote Dos Ojos in North Tulum is a popular spot amongst divers and swimmers. There is a platform that leads down into the water which divers tend to use to come in and out of the waters. Or, there is a shallow area at the bottom of some wooden steps which can get a bit busier.
Not only can you be with your loved one in a stunning setting, but you can spend time exploring and swimming around the underground chamber.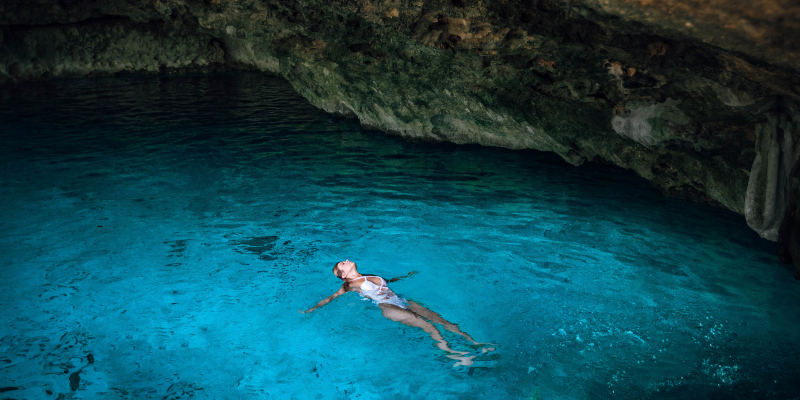 ---
Head Over to the Spa
Is there anything better than unwinding and finding time to relax with your partner? We often get caught up in our busy lives, and it can be hard to find the time to just chill out.
A couple's spa date is the perfect opportunity for you and your loved one to just destress and forget about the worries of our every day lives.
Forgot to take your car in for it's MOT before you left for your holiday? Had a reminder that your dentist appointment was on day two of your trip? Spilt tomato sauce all down your favourite top? These kind of mundane worries can easily be taken away by the talented spa therapists. You'll forget what you were ever stressed about!
Spending time just focussing on relaxing as a couple is one of the best things to do in Riviera Maya for couples, and why not take advantage of on resort spas too.
Most resorts in Riviera Maya have an on-site spa, for example Excellence Riviera Cancun has a state-of-the-art spa, Millé Spa. Here you can spend time together in the fresh water treatment pool before heading off for a couples massage.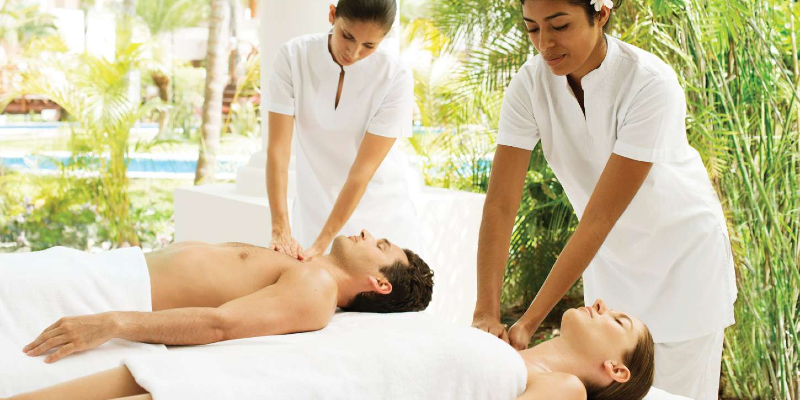 ---
Check Out the Ruins
Why not spend a day discovering incredible Mayan archeological remains across Riviera Maya. There are so many brilliant sights to see across the whole of Mexico, but the Mayan culture which was left behind are magnificent spectacles.
Xcaret, six miles from Playa Del Carmen, is a nature park which is home to cultural ruins, amusement and natural attractions.  The Mayan ruins here were originally known by the name of Polé, which translates to "market". It was dedicated to trade and was a significant Maya port. Purchase an admission pass for you and your partner and explore the ruins to learn more about it's vast history.
Then of course, there is the famous Chichen Itza. As one of the largest and most popular Mayan Ruins, it's a once in a lifetime experience for you and your loved one.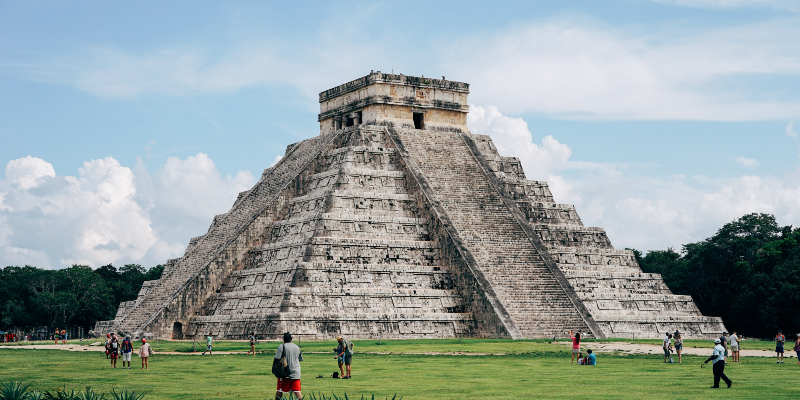 ---
Feeling the love?
Are you ready to spend some romantic time with your partner in Riviera Maya? We certainly don't blame you! There is plenty to keep you busy, and you'll be feeling a connection that you've never felt before.
You're probably asking now "well, where should we stay?", lucky for you we have the answer to that too! Check out our blog on 6 Iconic Resorts In Riviera Maya For Couples for creating the perfect romantic break.