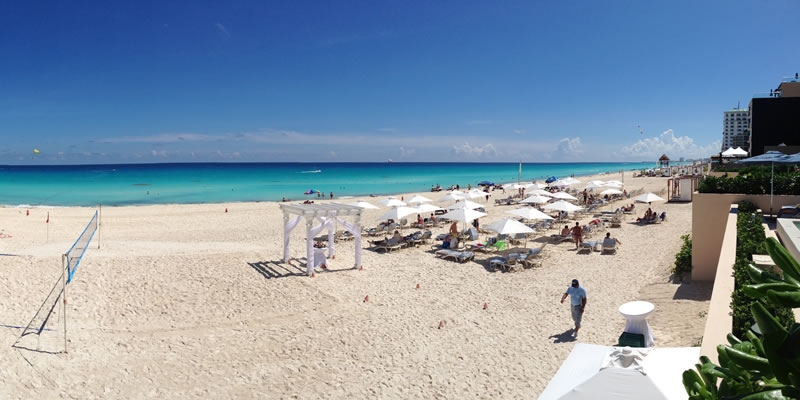 Last time we heard from Chloe, she'd just arrived at Secrets Maroma Beach Riviera Cancun and felt like she was living the dream. Today she walks us through some of the super cool stuff she got up to on her travels.
A new dawn, a new day
We found ourselves waking up at 5.30am (down to jet lag), but this meant we could catch the sunrise on our first full day – and what a way to start the day. We meandered down to the beach just before sunrise; the first time we'd been down to the beach since we'd arrived. It was gorgeous. Soft, powder white sand, beautifully paired with warm crystal-clear waters begging for a good paddling. This is without a doubt one of the best beaches I have ever seen. I'm not usually a "beach bunny" but the surroundings were so breath-taking and the sand was so lovely between our toes. We just loved it.
Neatly placed sun loungers with comfy toppers lined the beach, and there were a number of beach cabanas you could reserve for you and your loved ones to make it extra special – a must if you're celebrating a special occasion (you can do this with your concierge for a small charge). The sunrise was beautiful, unlike anything I'd seen before. It was so romantic. After we watched the sun go down we decided to pull ourselves away from the beautiful beach and do some more detailed recon at the resort.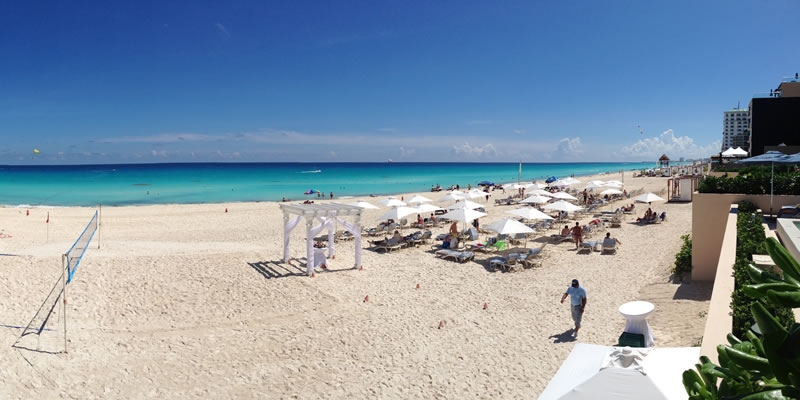 A cheeky pitstop
After watching the sunrise  the following day, we headed back to our room to get ready for the day ahead, which was easier said than done with the number of bikinis to choose from! After finally deciding on what to wear and we headed over to the World Café restaurant for a breakfast buffet. Even here we were greeted at the entrance and escorted to our table by a member of staff, just the sort of personal touch at that makes Secrets Maroma Beach Riviera Cancun stand out. We were had the opportunity to choose our drinks from a varied menu, everything from tea and juice to mimosas and champagne. There was huge variety, including cereals, waffles, pancakes, bacon, eggs, and fresh fruit to name a few. My personal favourite? Hash browns. It's all about the hash browns.
Something special for everyone
Carlos, our Jumbo Representative, had arranged to meet us after breakfast for our welcome session, so we headed over to the tour operator lounges to see him. He was very comprehensive with the information he provided and offered us a plethora of excursions from CoCo Bongos to exploring the Mayan Ruins and Chitchen Itza.
Once we finished our meeting we decided to have a lazy day, and took a perch by the infinity pool overlooking the beautiful clear blue ocean and bright white sand. Before we even sat, a member of the pool concierge was putting towels on our bed and offering us drinks. It felt like total VIP service, and you really didn't have to lift a finger there. The drinks weren't just a one off either: the service was very attentive, and every 20 or so minutes they came past and took snack requests. The frozen strawberry daiquiris are a must!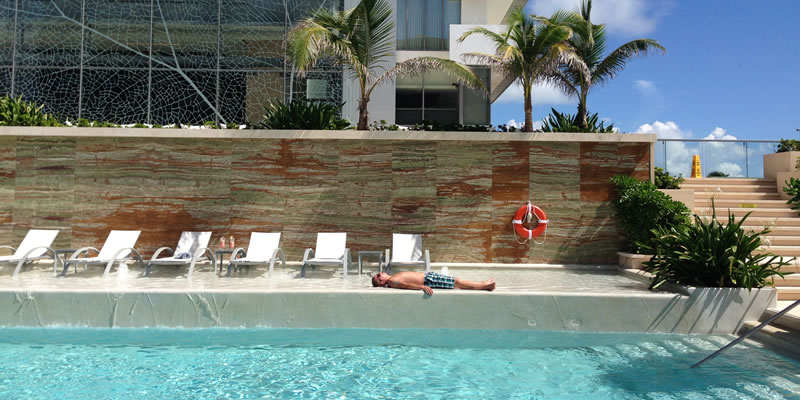 That's a wrap
After a day of sunbathing and lazing around the pool with a cocktail in hand it was time to head up to the room and get ready for our first night at Secrets Maroma Beach Riviera Cancun. That night chose to dine at the Mexican à la carte El Patio. We opted for fajitas: chicken for me, and beef for my better half. Both were delicious and the attention to detail was second to none. I just couldn't get over the awesomeness of Secrets Maroma Beach Riviera Cancun.  Impeccable service, delicious food, delightful cocktails and great company – all in one. I am one lucky girl.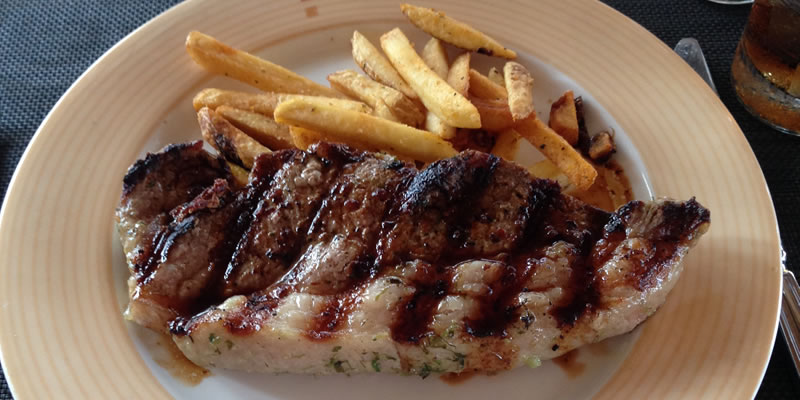 Stay tuned for more of Chloe's antics! Like what you've seen so far? Love the Secrets Resorts experience? Let us know in the comments below!