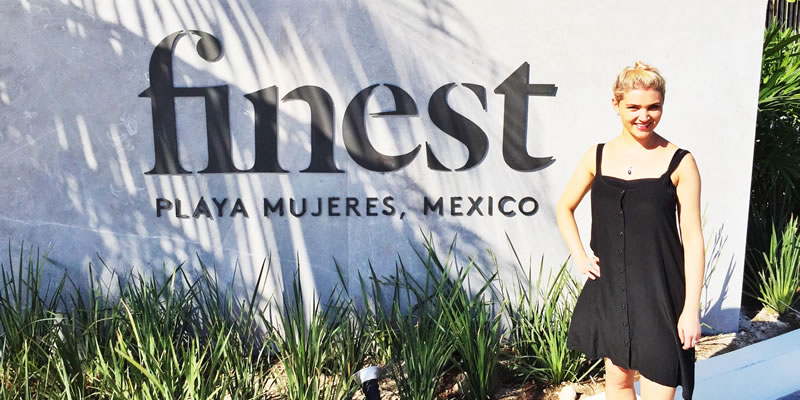 Finest Playa Mujeres, the new resort from the Excellence Group, is finally open for business! Our InFocus Video Team (namely Chess, Martyn, and our MD Stuart) have been given super-special exclusive access to the resort on the day of its grand opening, and this is their inside story. You won't find this intel anywhere else, so make a brew and get the scoop.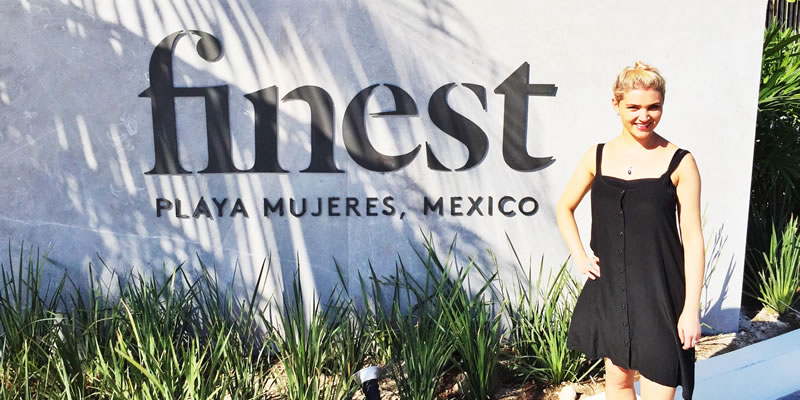 Having called Excellence Riviera Cancun home for the past few days, we'd grown accustomed to the ins and outs of the Excellence way of life. You know the ropes already: the outstanding luxury, the attention to detail, the jaw-flooring landscapes of Mexico. Truth be told, this is one of the best holiday destinations we've ever experienced.
And yet Finest Playa Mujeres still managed to teach us a thing or two about all inclusive luxury.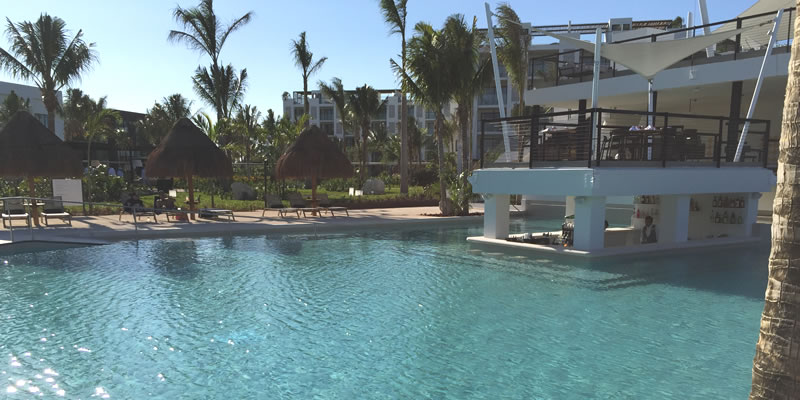 We were lucky enough to receive an invite to the grand opening of Finest Playa Mujeres, and grand certainly is the operative word. As we approached the hotel we were drawn into the wonderful sweeping entrance, and a mariachi band welcomed us with the quintessential sound of Mexico.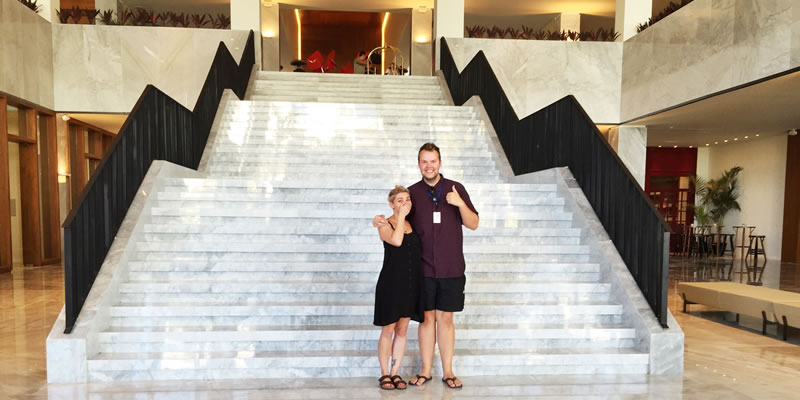 There were loads staff, and everyone was wholeheartedly delighted to be a part of this incredible event. It's not every day the Excellence Group launch a new brand, after all. Finest Playa Mujeres seems to be alive with the kind of happiness that defines Mexico, boldly operating on its own agenda of laid-back living.
What really strikes you when you cast your eyes over the resort is the modern twist applied to classic Mexican architecture. There are strong white walls, clean lines, and straight edges, adding a refined completeness to the Mexican hospitality that underpins Finest Playa Mujeres.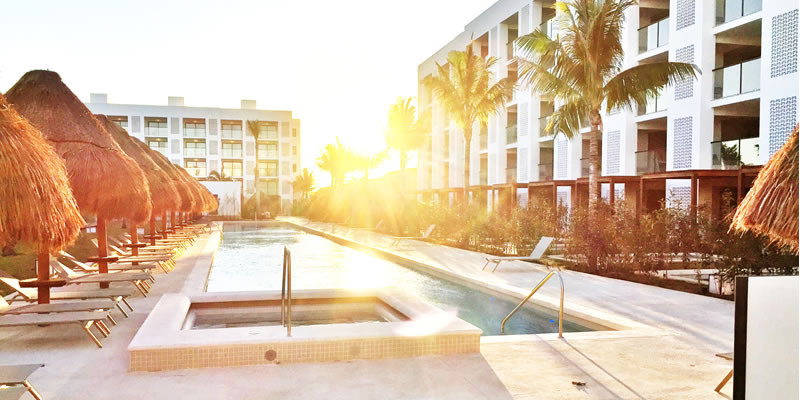 As is the Excellence Group way, this philosophy carries over into even the smallest details. Just as the staff are there to help and usher with a genuine smile, the accommodations at Finest Playa Mujeres are built to serve you. The rooms have automatic lights, and the seats and chairs are ergonomically designed to complement the contours of your body. It's classic comfort, but executed with pinpoint ingenuity. It's an apt metaphor for Finest Playa Mujeres as a whole: the modern perfection of all inclusive luxury.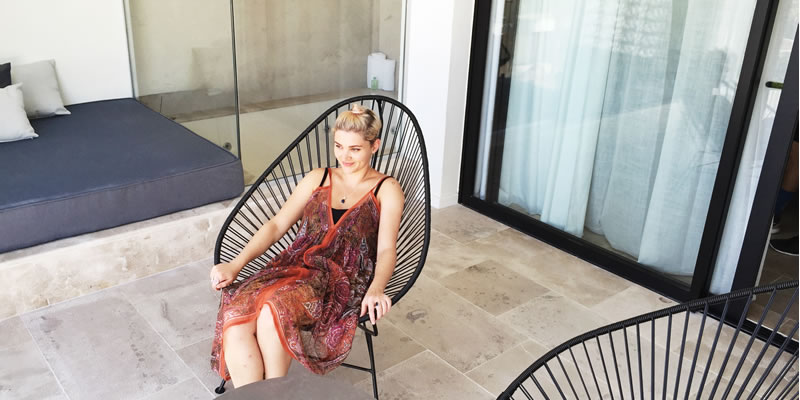 We also noticed a couple of super cool stand-out features as we took our first steps around the resort. Here's our exclusive rundown of 5 unmissable highlights at Finest Playa Mujeres:
1. Stairs down from the lobby lead to a martini bar, which acts as the nucleus for wining and dining at Finest Playa Mujeres. It'll be an amazing hub of conversation for aperitifs and night-caps alike.
2. There's an amazing American-style sports bar called Legends, with a host of tantalising top-shelf spirits and some fun flavoured liquors to toss you a beverage curveball.
3. The Excellence Club Bar at Finest Playa Mujeres offers a glorious nod to the Apple Genius Bar, serving as a crisp and modern locale for some quality conversation.
4. Even Christopher Wren would be proud of the smart design that went into Finest Playa Mujeres. Adult and Family sections are both clearly signposted and diligently separated, giving all holidaymakers the space to have the holiday of their dreams.
5. The adults only section has its own bistro, an ideal place for some good-old-fashioned grown-up evenings.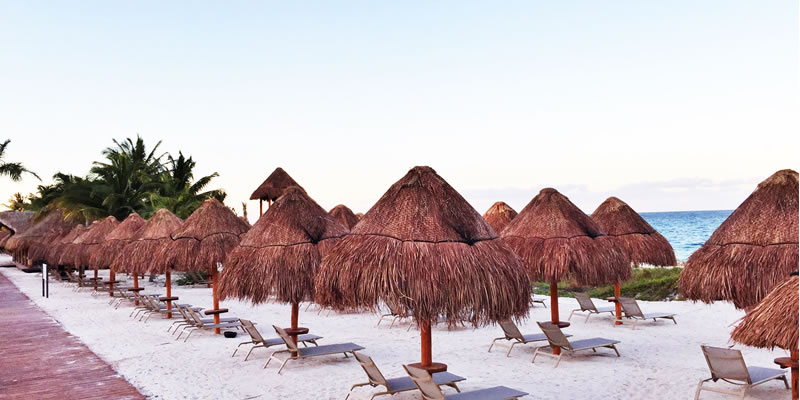 We're currently in-resort filming some epic  new content for our InFocus video project, so we'll be revealing more Finest Playa Mujeres secrets in the coming days. It's really quite exciting.
If you've got any questions or general love for Finest Playa Mujeres then let us know in the comments below. If we've wooed you enough with our insider scoop, you can even hit that big orange button and we'll get in touch with more details.
That's all for now, but stay tuned for more exclusive reports on Finest Playa Mujeres. Happy holidaymaking!