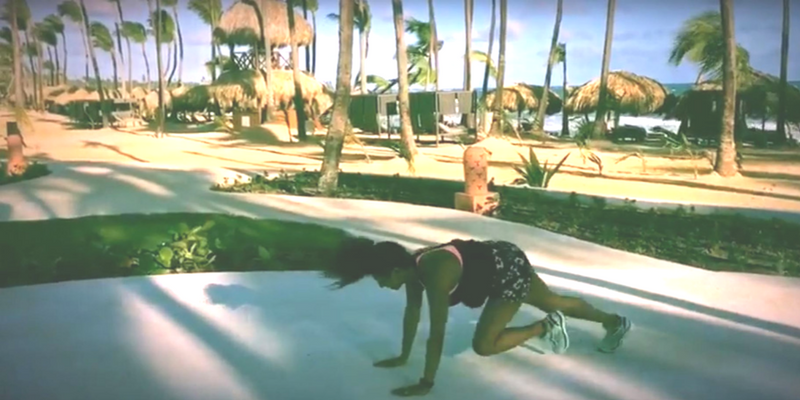 Wanna keep up the fitness regime on your getaway but don't want to miss a second of your surroundings in paradise? Fancy a quick workout to work off that extra cocktail or make room for a delightful dessert? Gail has got you covered!
Gail Nicholls is a personal trainer with a great passion for beautiful destinations, and her beach workouts are a perfect example of how you can make time for a simple yet effective routine even when on holiday, whilst taking in glorious views, sun and sea.
Gail recently enjoyed a 5 Star break at the newly renovated Excellence Punta Cana. Whilst she enjoyed the fresh new accommodations, brand new coffee house and even more luxurious and expansive Excellence Club; she also made time to put together a series of 4 workouts that you can try out yourself, whether it be on your next beach break, or at home in preparation for your next escape.
Take a look at Gail's recommended expert exercises below:
Video 1 – repeat the 5 exercises x 3 to get a 15 minute workout.
Video 2 – repeat the 5 exercises x 3 to get a 15 minute workout.
Video 3 – repeat the 5 exercises x 3 to get a 15 minute workout.
Video 4 – repeat the 5 exercises x 2. You will have 50 seconds active with a 10 second rest in between. Warm up and cool down then stretch.
So, what are you going to do with your newly refined beach body? Why not take a leaf out of Gail's book and check out Excellence Punta Cana?
Discover the newly refurbished Excellence Punta Cana for yourself and indulge in a better-than-ever Excellence escape now from just £1,181pp
Click here to find out more or allow one of our personal travel advisers to work their magic and click 'Request a quote' below.

Gail Nicholls has over 10 years experience as a personal trainer, and has worked with many people, including celebrities, to help them exceed their training goals. You can read more about Gail's work and achievements on her official website, and you can even follow her on Facebook and Instagram for more expert fitness advice, tips and updates.