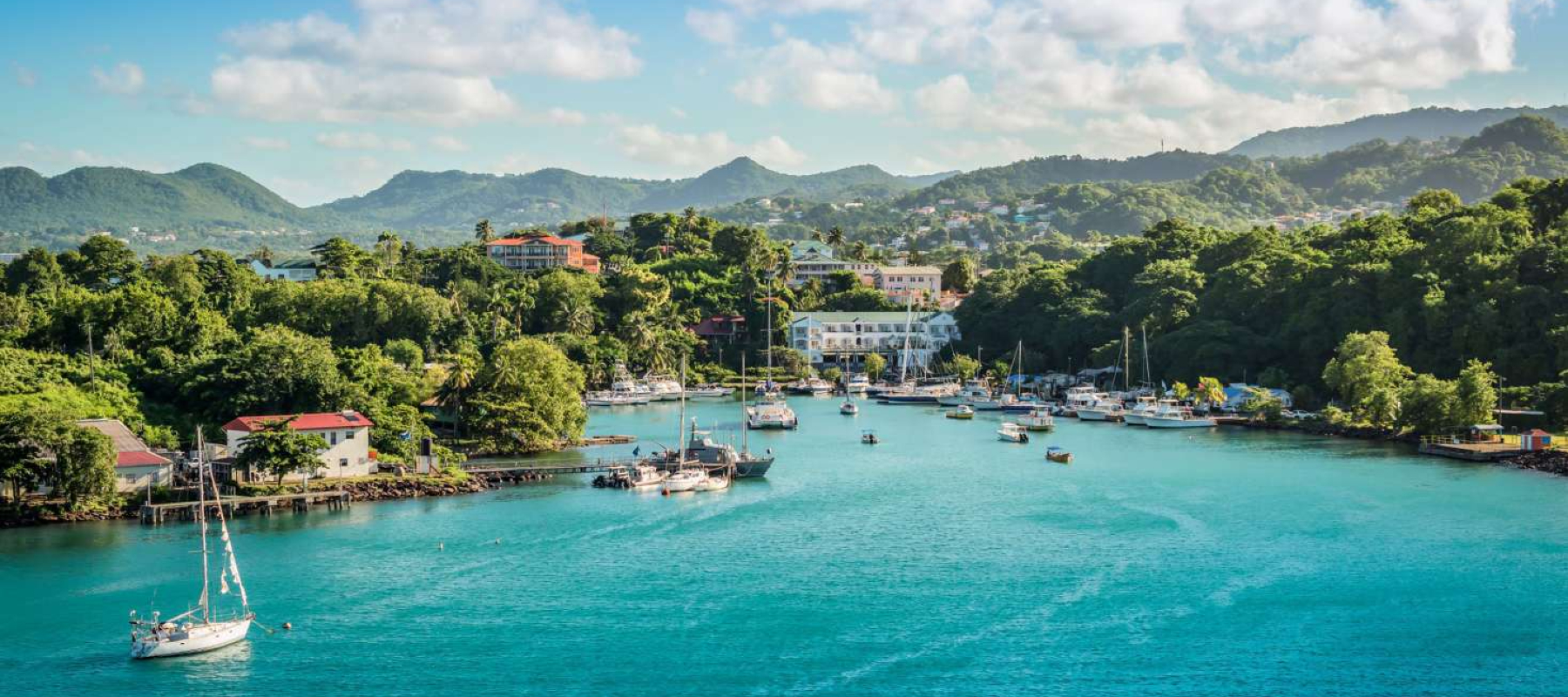 Experience the best of both worlds with this Caribbean island-hopping cruise. Spend your first few nights at the luxurious Abidah by Accra resort. Then, set sail on an incredible journey with the Rhapsody of the Seas.
It is time we all start living our best lives, and what a way to start than with a Fly, Cruise and Stay. If you are quite indecisive when it comes to picking a holiday, this Caribbean island-hopping cruise should be right up your street.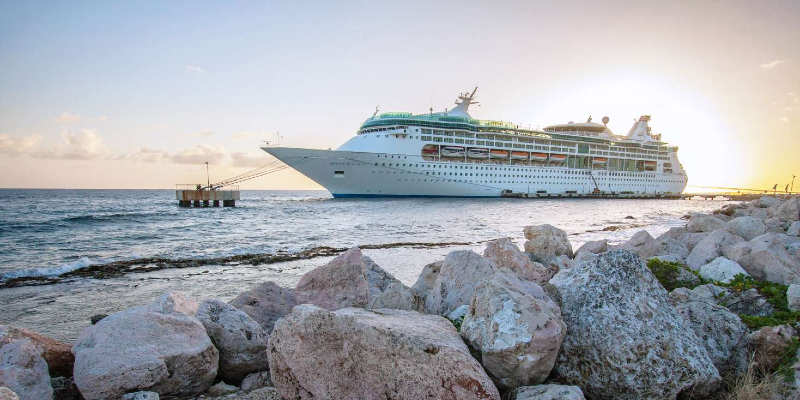 ---
So, what is a fly, cruise and stay?
The name is quite self-explanatory, but we will try and explain it further for you.
With a cruise and stay you first get to experience your traditional holiday at a resort for a few days. This is the perfect chance to just spend your time relaxing and indulging in all the local cuisine. It is basically a mini holiday before you start your main holiday on the cruise!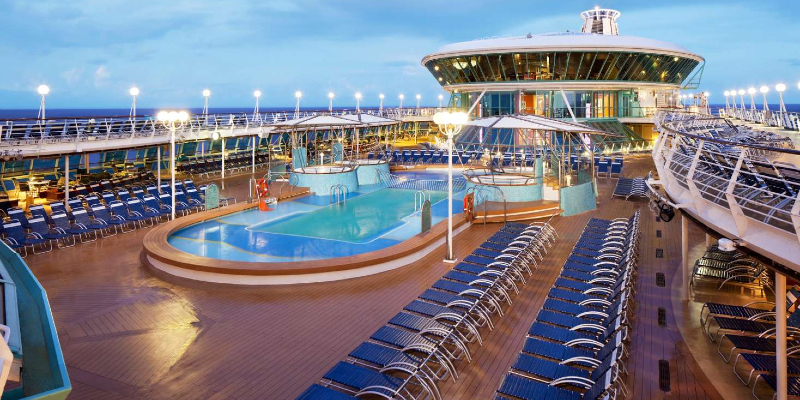 Then, you head on over to the port and get ready to explore some beautiful places, usually for around 7 days. The cruise stops off at different locations and you are given the chance to discover what beauty that destination holds.
Once finished, you are taken back to the airport and the memory-making trip is finished until next time.
---
Tell me more about this Caribbean island-hopping cruise
Caribbean Warehouse is offering an amazing Fly Cruise & Stay deal with The Abidah by Accra and Rhapsody of the Seas.
First, you start off with a 3-night luxurious stay at the Abidah by Accra in Barbados. Nestled on the Barbados coastline, this is a remarkable all-inclusive resort to start your getaway at.
You also get to enjoy a free upgrade to Luxury Ocean View Room featuring Private Balcony with a Jacuzzi, it's already sounding good to us.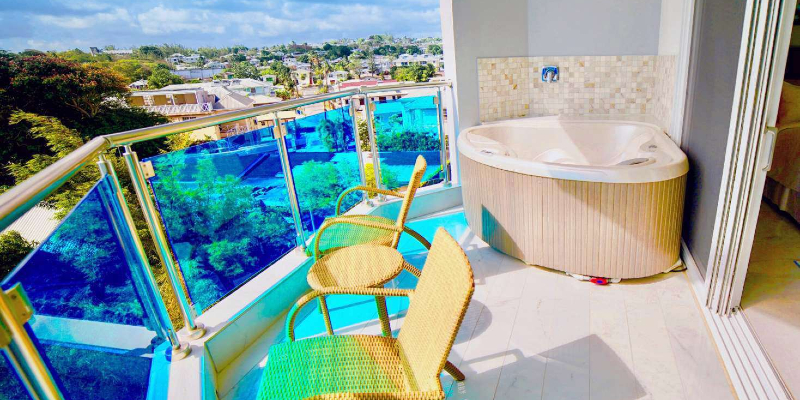 Then, you set sail onboard the Rhapsody of the Seas for 7 nights. Operated by Royal Caribbean Cruises, this luxury liner is 279m long and is one of the latest additions to the company's fleet.
Stopping off at places from Tobago to St. Lucia, the charming destinations of the Caribbean will leave you speechless.
When you're not out and about exploring, take in your new home away from home. The cruise is packed full of incredible activities, so you will never be stuck for adventures.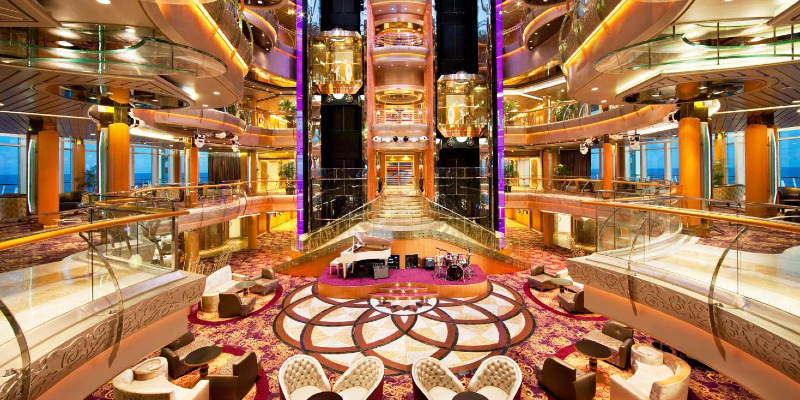 ---
Day one of the cruise: Bridgetown, Barbados
First up on this Caribbean island-hopping cruise is Bridgetown Barbados, and what a place to begin! There are so many things to see in Barbados, and all different kinds of experiences can be enjoyed in this charming city.
Seas the day and head over to the beach
With pristine beaches across the whole of Barbados, it's hard to pick our favourite. However, Carlisle Bay in Bridgetown does come up as one of the top. It is a beautiful stretch of soft sand and calm waters, with amazing marine life and activities for the whole family.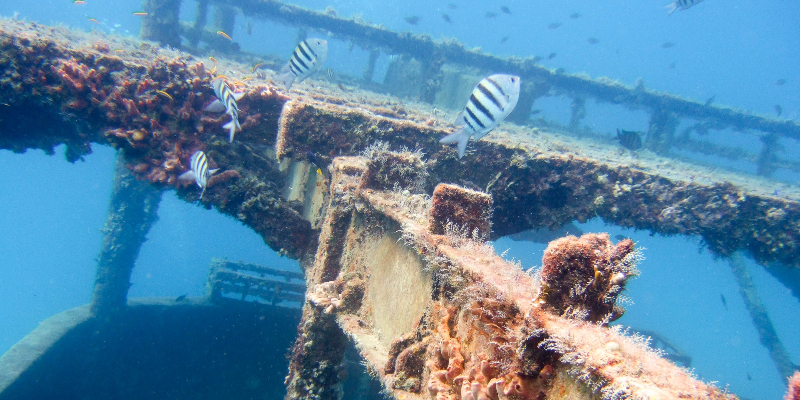 If you fancy seeing a ship under the sea, rather than sailing on the waters, there are 6 shipwrecks to discover here too. Scuba dive around the barnacle encrusted wrecks as the tropical fish surround you.
Explore the streets of Bridgetown
For those that have read our blog on Bridgetown, you will know this city is full to the brim of history and culture. Down every street you will find something new to discover, from the oldest synagogue in the Western Hemisphere to the George Washington House.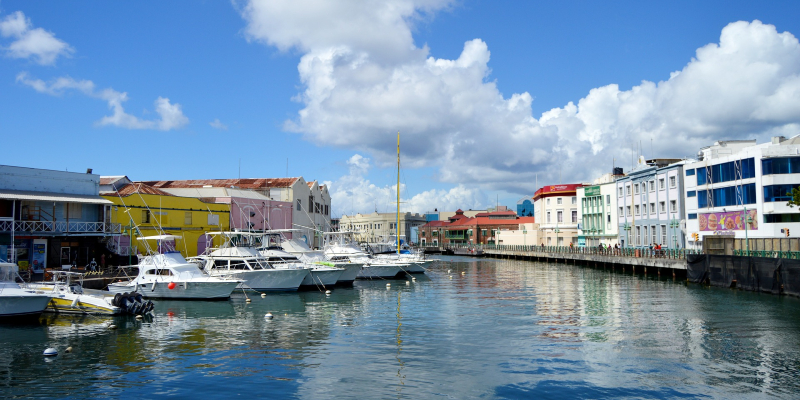 If history isn't your thing, you can head on down to Broad Street and get your shop on. It is a street dominated by restaurants, malls, and duty-free shopping. Bargain Hunters love it there, and you definitely won't go home empty handed. The first of many souvenir stops on this Caribbean island-hopping cruise!
Do go chasing waterfalls
At the heart of Barbados is the unique Harrison's Cave.  A magical underground cavern packed with stalagmites, flowing streams and hidden waterfalls.
Take a guided tour on a tram through the extensive cave system and enjoy the magnificent views. When you reach the lowest level point in the cave, you are welcome to leave the tram and walk alongside a waterfall within the cave.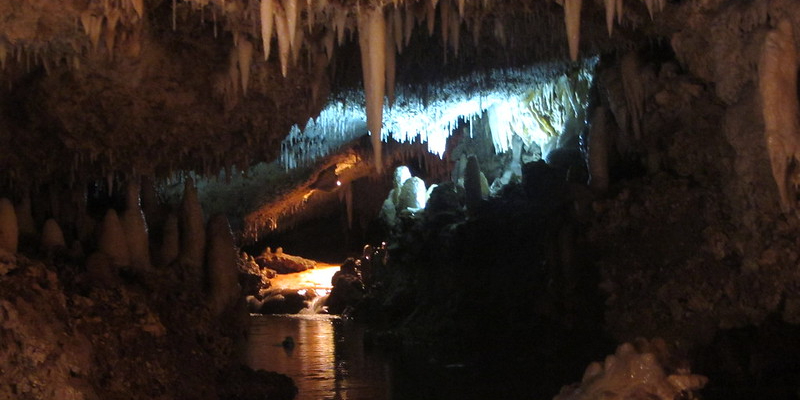 If you're feeling brave, there's also the chance to explore the caves on your hands and knees, just like the early explorers did. Of course, you will be fitted with a helmet, head lamp and knee guards- safety first!
---
Day two of the cruise: Scarborough, Tobago
Next is a stop off in the capital city of Tobago, Scarborough (no, not the one on the Yorkshire Coast). Tobago is the smaller of the two island which make up the Republic of Trinidad and Tobago, but it still packs a punch.
We fort this was a good spot to check out
One of our recommended spots to check out on this Caribbean island-hopping cruise is the Fort King George.
This well-preserved fort overlooks Scarborough and was built by the British in the 1770s. It's a monument to Tobago's vibrant military past, alongside the Tobago Museum which is a great educational experience.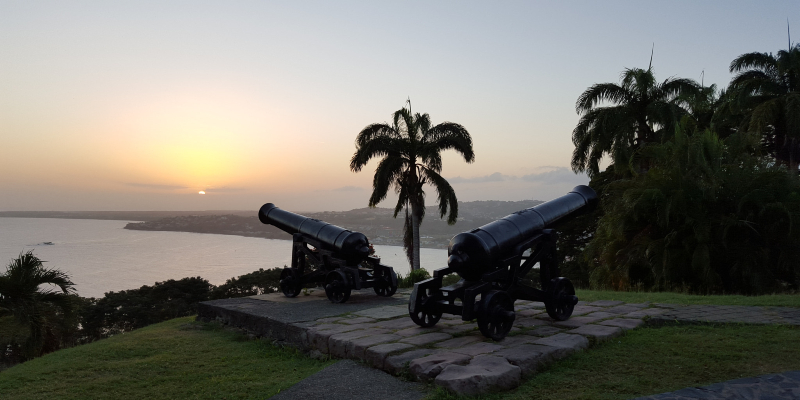 You are able to walk around freely to check out the exhibitions, or you can arrange a free guided tour through the office below the museum.
Paradise at Pigeon Point
Get ready to be blown away by this flawless beach in Tobago. Pigeon Point beach is like something you see in the movies, it's too perfect to be real. Luckily for us, it is a real, and the coconut trees, turquoise waters and boardwalk aren't just part of a movie set.
The beach is a heritage park, so there is an entrance fee of $3 when you arrive. However, these funds are used to maintain the beach facilities, so it's kept spick and span.
Also famous for its thatch-roof jetty, you might recognise it from a postcard, as it's definitely an incredible shot to take.
Lined with food stalls, charming souvenir shops and vendors selling different kinds of excursions, it's a great spot to just unwind. You can easily spend the whole day here too, so we'd recommend packing some snacks and some pennies to spend on a glass bottom boat tour.
The wooden jetty which extends from the shore is home to the boat tours. These trips offer you the chance to catch a glimpse of the stunning Buccoo Reef.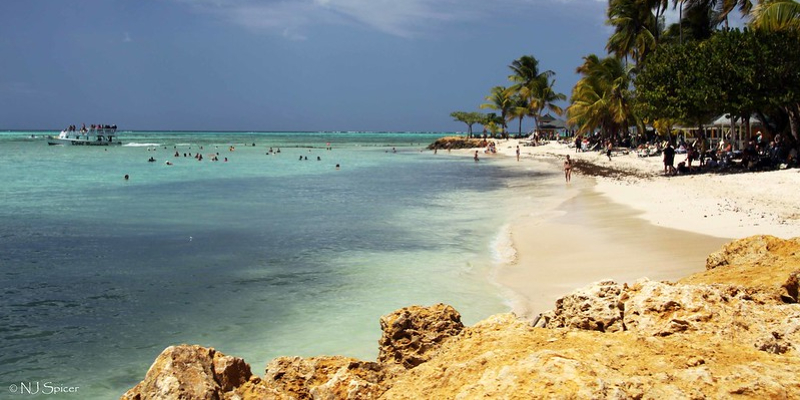 The beauty of nature
Waterfalls, lagoons, nature reserves and rainforests, Tobago has them all. Nature really does do a great job in selling this beautiful island.
Discover the vibrant rainforest which is the oldest forest reserve in the western hemisphere. Main Ridge Forest Reserve is one the best things to see in Tobago on this Caribbean island-hopping cruise.
However, a guided tour is a must around this enchanting forest. The density of the forest, along with the wildlife make this a danger for those without any experience.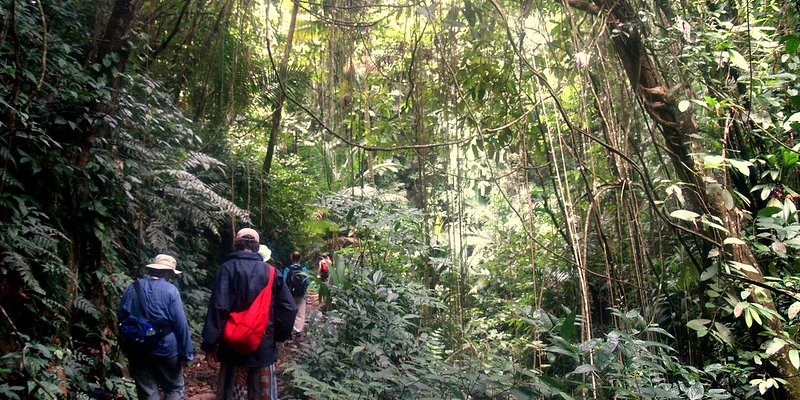 Take a trip to Tobago's highest waterfall, Argyle waterfall, just outside Roxborough.
There is an entrance fee of around $10 US dollars, and you can hire a guide for an extra fee. From the visitor office, you follow the marked trail which leads to the waterfall. On your way you will discover lush scenery and even magnificent butterflies and birds.
As the waterfall is 175 feet high, you'll actually hear it first before you see it. The water drops down three levels, and you can take the opportunity to have a dip in each of the pools.
---
Day three of the cruise: Port of Spain, Trinidad
Heading on over to Trinidad is the next port of call for this Caribbean island-hopping cruise. With a stop off in Port of Spain, you should be ready for another adventure filled day.
Take the chance to relax at Queen's Park Savannah
This open space is the perfect place to just chill out in the sunshine with a picnic. It's listed as one of the biggest parks in the Western Hemisphere, so there's definitely enough space for everyone.
It's peaceful atmosphere and beautiful greenery provide a great resting spot when you need a bit of time out. You will find people playing cricket or football, cyclists and joggers also enjoying the public space.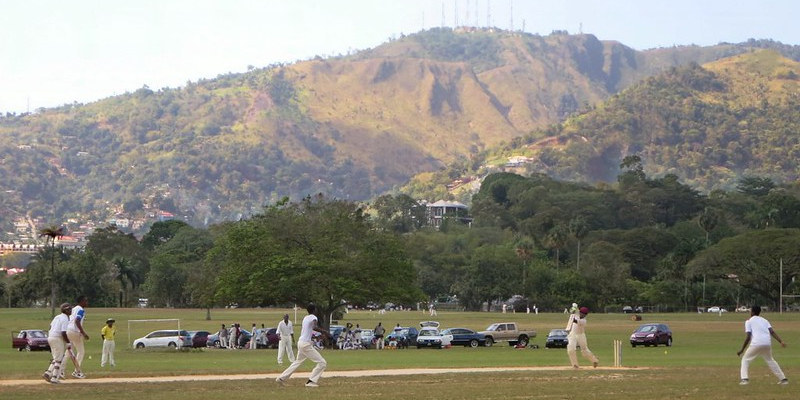 In the evening you can see the Open-Air Food Court come alive. A night market that sells delicious local street food, from barbecued chicken to bake and shark. However, the stalls open at 6pm at the earliest, so make sure to check the cruise schedule so you don't miss the reboarding.
Visit the Botanical Gardens
Keeping with the green theme, a visit to the Botanical Gardens is a great stop on this Caribbean island-hopping cruise.
Get out of the sun and welcome the shade of over 700 trees. The exotic local plants and kaleidoscopic colours provide a relaxing atmosphere to enjoy as you walk around the gardens.
Amongst all the flora at the Gardens, there is also an interesting burial plot. Here you can find all of the former Governors of Trinidad that have been buried since 1819.
Shop until you drop
Port of Spain has some great retail outlets to satisfy the shopaholics out there. With traditional Trinidadian Shops and luxury shopping malls, there's a store for everything.
The central area, around Independence Square and Charlotte Street, is where you will find the best of the shopping experience. Charlotte Street has spice stores, fabric shops, arcades, and colourful street stalls.
What's even better is that Trinidad is home to the best cocoa in the world. Those of you with a sweet tooth need to indulge in the locally made chocolates and delicious treats available.
Visit Cocobel Chocolate on your trip to Port of Spain and discover the labours of love they put into creating their scrumptious chocolate.
---
Day four of the cruise: St George's, Grenada
Surrounded by a hillside of an old volcano crater is the vibrant city of St. George's in Grenada. It's definitely one of the more idyllic Caribbean destinations on this Caribbean island-hopping cruise.
The town has been developed in recent years, but it still holds a rich history with lots of cultural experiences to enjoy.
Visit the Underwater Sculpture Park
If you enjoy a leisurely stroll around a museum, but also have a love for diving, have we got a treat for you! The Grenada Underwater Sculpture Park is home to 75 sculptures created by British sculptor Jason deCaires Taylor.
The pieces of art which lie on the ocean bed are actually part of a conservation effort to help protect the reefs. This means the unique installations are surrounded by tropical fish and vibrant coral.
You can see the sculptures through snorkelling or with a glass-bottom boat tour. However, it is recommended that you go on a scuba diving tour to get the full museum experience.
We're on a seafood diet: we see food and we eat it
Also known as the island of spice, Grenada is famous for its mouth-watering cuisine and delicious spices. Most notably for its great food, is BB's Crabback waterfront restaurant. This is definitely a stop off to make on this Caribbean island-hopping cruise.
This vibrant and charming building in the capital is owned by celebrity chef Brian Benjamin. Offering authentic Grenadian dishes where a lot of them are named after Brian's family.
You have to try BB's signature Crabback, which the restaurant takes its name from. It's made up of freshly cooked crab meat baked with cheese, wine and exotic herbs then served back in the crab shell. We're salivating just thinking about it…
Alternatively, there's other fish and meat dishes, vegetarian options or even their famous goat curry. Once you've finished gobbling up all of the tasty food that your belly can hold, you then get to write your name and a note on the pen covered walls.
Sugar, spice and everything nice
Like we said, Grenada is also referred to as the island of spice so why not take the chance to learn more about the spice industry.
There are plenty of dedicated tours which you can take to learn more about spices such at nutmeg, cinnamon, and cloves.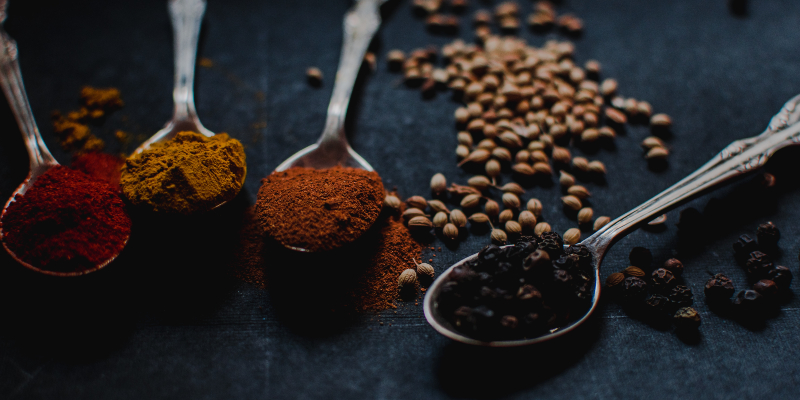 The Douglaston Estate is a historic spice plantation that is still in operation today. Catch a glimpse at the work that goes into make the spices we use in our everyday meals.
A lot of the labour that goes into creating the spices is still done by hand, so you'll really learn to appreciate those bottles of spices lined up in your cabinet at home.
---
Day five of the cruise: Fort de France, Martinique
This fast-developing city is next up on this Caribbean island-hopping cruise. It's an overseas department of France in the Caribbean Sea, famous for exporting rum, sugar cane, and cacao. Explore the enchanting streets of Fort de France and learn more about its deep history.
Discover the 7th version of the St. Louis Cathedral
Unfortunately, over the years mother nature hasn't been too kind to Martinique. Natural disasters such as volcano eruptions, earthquakes and hurricanes have affected the country over the years.
A testament to this is St Louis Cathedral, which is currently the seventh one to be built in its location. The original construction of the cathedral dates back to the mid-17th century. However, the current structure goes back to 1895 and was built with an iron frame to help prevent further damage.
Have a look around this incredible cathedral and marvel at the beautiful stained-glass windows and original organ.
Rum in the sun
Make a visit to The La Favorite distillery and discover more about this family led business that distills around 600,000 litres of rum per year.
Originally a sugar refinery, the sugar is now used to be fermented into the tasty rum. The oak barrels which the rum is stored in, for as long as 30 years, help to release aromas and create that great unique taste.
There's no organised tour, so you're free to explore the distillery to your own accord. Plus, you get to taste the smooth tasting stuff. So definitely stick around as the price point for some bottles is around 250 euros!
After all, it wouldn't be a Caribbean island-hopping cruise without some rum in it.
The Schoelcher Library
As a heritage spot on the island, Schoelcher Library is a truly unique experience.
Its colourful exterior doesn't match the typical Caribbean building so it's not hard to spot. This is because the entire building was made in France in 1889 and then shipped to Martinque.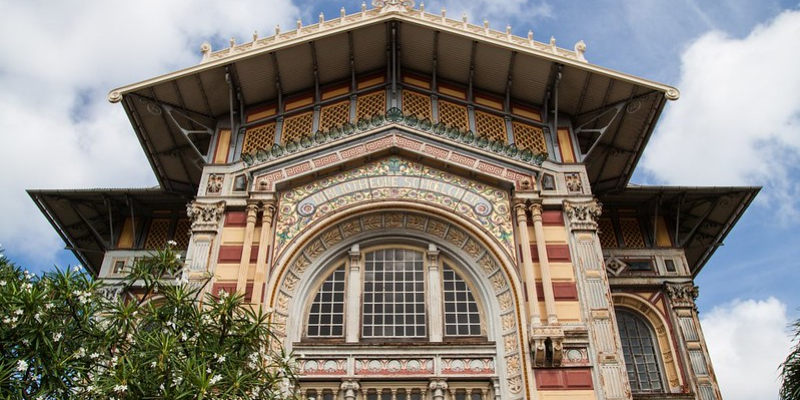 In 1893 when it opened, it held 10,000 books donated by Victor Schoelcher. Victor was a French politician and journalist who worked towards the abolition of slavery in France in 1848.
The library now stands as a monument for all of the work he did towards the movement. It's definitely worth a visit, not to read the books but to learn more about the history of Victor and the incredible architecture.
---
Day six of the cruise: Roseau, Dominica
Roseau is the capital city of the Caribbean Island Dominica and is known for its Creole architecture. It also thrives on its natural resources and has many exports. This city is one of a kind and you will soon find out why its nickname is Nature Island.
Hiking to The Boiling Lake
Now this isn't your standard experience on a Caribbean island-hopping cruise, but it's on our list of recommendations for you. The Boiling Lake is quite simply, a really hot pool of water, and the world's second largest boiling lake at that.
This hot spring lake ranges from temperatures of 180-197 degrees Fahrenheit. So, we highly suggest you don't get too close to the water!
The lake can be reached by taking a 3-to-4-hour hike, going one way, so make sure you have plenty of time before you set off on your journey. It's also not the easiest trail, and unless you're confident in your hiking skills, this might be one to sit out.
Channel your inner Captain Jack Sparrow
What a better way to spend your time in the Caribbean, than to visit where an instalment of the Pirates of the Caribbean was shot!
Ti Tou Gorge is featured in the film when Captain Jack is trying to escape the island with the cannibals, remember it now? Well, you can experience it for yourself (minus the cannibals).
You have to swim around 200 feet to get from the entrance of the gorge to the other side. It's a bit eerie in the narrow gorge, and the water can get pretty deep and cold.
However, it has an ethereal atmosphere, and it provides some beautiful views.
A bubbly beach trip
Fancy swimming in an ocean full of champagne? Okay, not literally, but the Champagne Beach at Roseau can sort of help you achieve that fantasy.
It's named after the gas bubbles that rise up from the volcanic floor to the top of the ocean. This creates a sort of bubbly effect that you get to see as you swim amongst the vibrant coral reefs and marine life.
If you don't have any diving or snorkelling equipment, don't worry there is a hut on the beach where you can rent out these things.
The beach itself is also a great place to chill out. But make sure to bring some sturdy sandals as it is a rocky volcanic beach.
---
Day seven of the cruise: Castries, St Lucia
As your final pit stop, Castries in St Lucia has more of a laid-back vibe to it. It's a favourite amongst honeymooners and it's a great spot to just unwind.
This Caribbean island-hopping cruise isn't over just yet, and Castries has some last few stops for you to make.
Sulphur Springs
Bathe in this geothermal field, known as the "fountain of youth" and get in some holiday self-care.   
These Sulphur Springs last erupted over 200 years ago, and now they attract tourists from all over the world.
Soak in one of the thermal pools or enjoy a mineral mud bath. You can spend your last day of the cruise relaxing ready for your trip back home.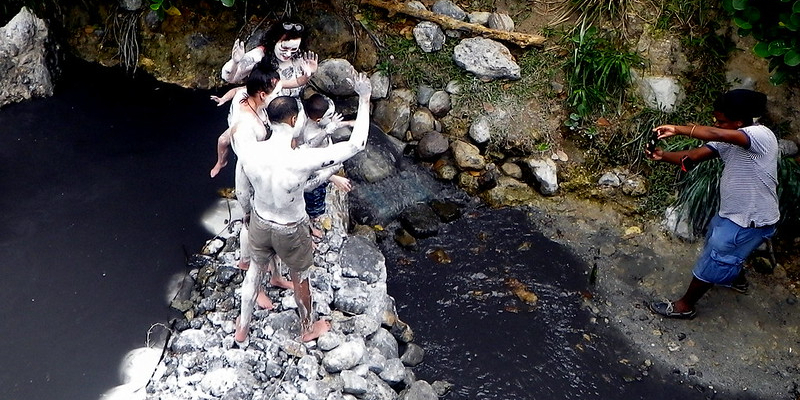 Another point to add, it's recommended to wear darker swimming trunks/costumes as the mud tends to do what mud does (gets you pretty mucky).
After you've finished in the mud baths, you're taken to a refreshing and natural rainforest bath where you can wash off.
Rainforest Adventure time
If you're on the other side of the scale and don't want to spend your last day relaxing, check out Rainforest Adventure.
Just 25 minutes from Castries, this thrilling trip has it all for adrenaline junkies. Zip line through the luscious greenery of the rainforest, or swing from the trees like Tarzan.
There is also the opportunity to take an open-air gondola through the trees, offering a magical view of the rainforest. Take in a bird's eye view and magnificent panoramic scenery, it's an experience you should definitely discover.
If you want to do all of the activities available, you can book a package deal, so you won't miss out on any of them!
---
Let's Set Sail!
We think this Caribbean island-hopping cruise has it all, and hopefully we've convinced you that it does too. 
For those who just want to unwind, there are plenty of stunning beaches and relaxing experiences across all of the different cities.
But, if you're wanting something a bit more exciting from the cruise, feel good in knowing you have plenty of chances to get your heart racing and your blood pumping.
There really is something for everyone across all 7 of these spectacular islands. So, click the big blue button below to request a quote, and it won't be long until we're sailing the seas.