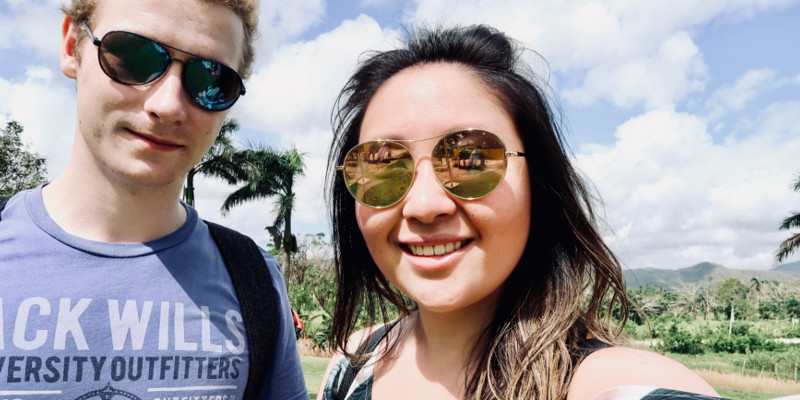 We got the lowdown from blogger Jennifer Lam on what she thought of Excellence El Carmen.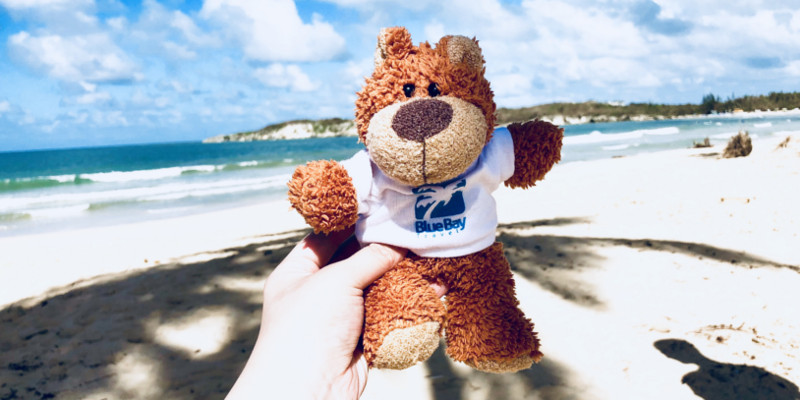 Accessible adventures
Armed with her trusty Bayley Bear sidekick, blogger and self-confessed shopaholic Jennifer Lam headed for Excellence El Carmen.
Dominican Republic may of had its differences with the onerous traffic light system, but we don't want that to stop us enjoying this amazing destination.
So we thought we'd remind you of Jennifer's incredible trip and her thoughts on the place. Just as it looks like we'll be able to start venturing there again soon.
---
More about Jennifer
Jennifer Lam is a self-confessed shopaholic who has mastered the art of getting the best deals known to mankind. Among her many favourite online shopping antics is travel, and where better to explore than Punta Cana and the luxury all-inclusive Excellence El Carmen.
Jennifer loves to spread the word on her findings and has brought all the details of her escape to the eyes of Blue Bay Holidaymakers far and wide.
Over to Jennifer to tell us more about her Dom Rep itinerary.
---

---
So it begins
When I received a call from Hayley at Blue Bay Travel to confirm my stay at the 5-star adults-only resort Excellence El Carmen, I knew me and my partner were in for a luxury treat!
Arriving in Punta Cana
At the airport we were greeted by a lovely gentleman who offered to take our suitcases and direct us to our minibus. The minibus took us exclusively to the hotel without the need to stop at various hotels – I didn't even need to pay extra money for a private transfer!
The journey to the hotel from Punta Cana International Airport to Excellence was approximately 40-minutes. When we arrived and drove through the big gates and down a long drive to get to the reception of the hotel, I knew there was something amazing waiting inside. We were greeted by the bellboys and hotel concierge with the best champagne I have ever tasted and refreshingly cold facial towels, that felt like heaven after being hit by how humid the country was compared to what I'm used to in the UK.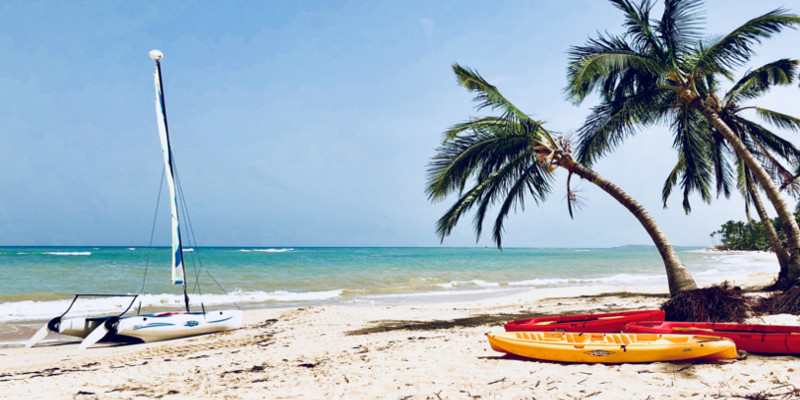 ---
The Hotel: Amenities
The check-in was a very smooth process that took us less than 10-minutes and we were debriefed on all of the available facilities. The bellboys then offered to take our luggage up to our room and told us to go up to our room and wait for him there.
When we entered room 1214, we were both absolutely blown away that words can't describe how unbelievable our room was. From this moment we knew that every hard-earned penny spent on this hotel was so worth it! The staff were very accommodating and made sure our stay was as comfortable as possible.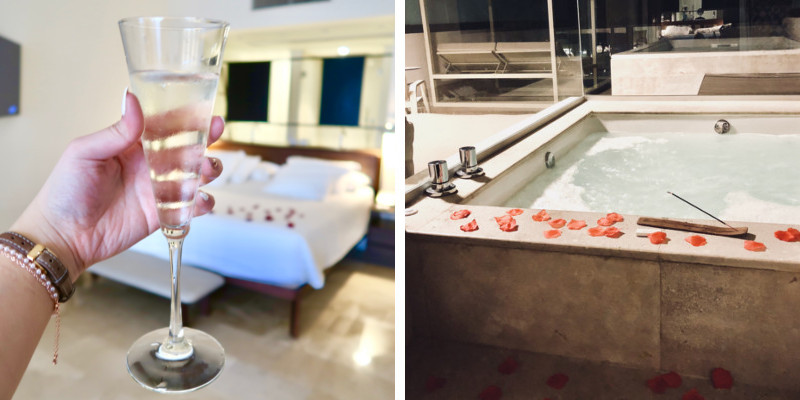 We have never stayed somewhere so luxurious and I'm a regular traveller! We got the most incredible free room upgrade courtesy of Blue Bay Travel, which was the Terrace Suite with Plunge Pool.
If a plunge pool wasn't enough… we got an in-room jacuzzi bath as well! It has glass panels so you can still have incredible views of the resort from your own private hideaway!
On the balcony you also have two massive sun-beds to soak up the rays of the Caribbean sun. In addition you also get a seating area to have your morning room service breakfast, while taking in the stunning views of the sunrise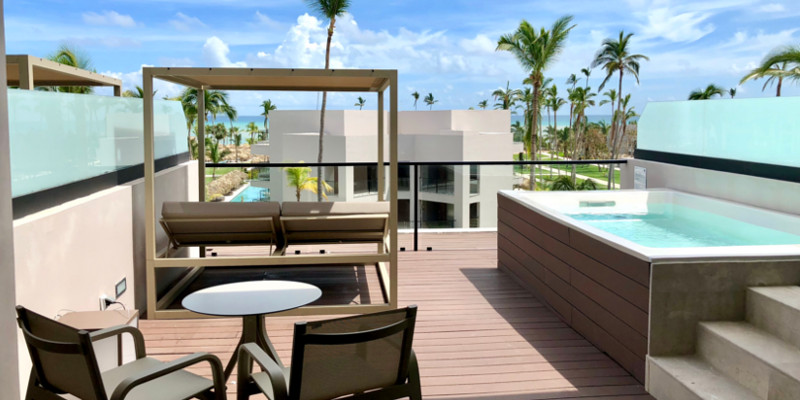 ---
The Hotel: All-Inclusive Luxury
A highlight of this resort was the massive array of restaurants you can choose to eat at. Being all-inclusive means you can try all 12 restaurants… you heard it right, there are 12!
You never have to worry about being a fussy eater because there is a cuisine suited to everyone from Italian to Asian food.
I'd highly recommend The Lobster House for lunch. Their crab rolls with sweet & sour sauce and grilled flank steak sandwich are mouthwatering. If you're planning a romantic dinner, Chez Isabelle is the one for you. A French restaurant where the interior transports you to an evening in Paris. If you want a night of entertainment, I'd definitely call up Spice to reserve a seat at their Teppanyaki show-cooking. The chef knows how to work a crowd. But prepare for random food items to be thrown at you to test your reaction time.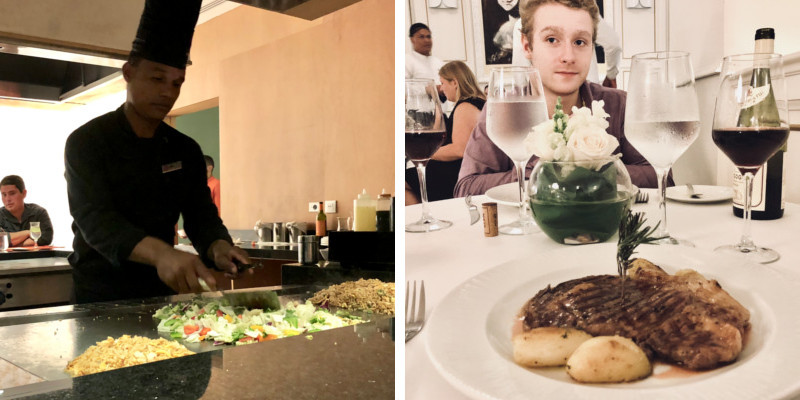 I can't forget to mention how amazing the room service was. We had breakfast ordered to our room every single day without fail! After all, breakfast is the most important meal of the day, right?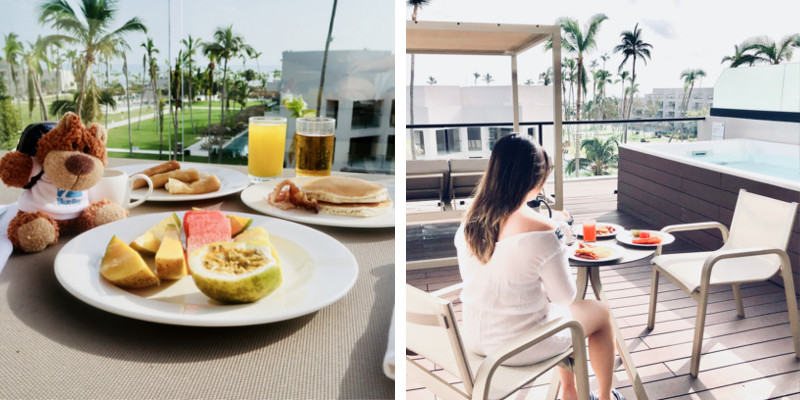 ---
The Hotel: Couple's Spa Day
Every evening, the maid service did a fantastic job of preparing our room for the evening. They also left the 'Excellence Times' to brief us on tours and excursions, the weather, any special services they offer. As well as the next-day's evening entertainment, the opening times of restaurants and bars and their fantastic Miilé Spa offers.
We took advantage of the spa coupons they left and booked for the Couple's 80-Minute Stress Cure Massage, which was 210$USD instead of 340$USD.
The spa was the de-stressing experience that me and my partner both needed to escape from our busy lives. They even gave us a complimentary spa gift bag following the treatment!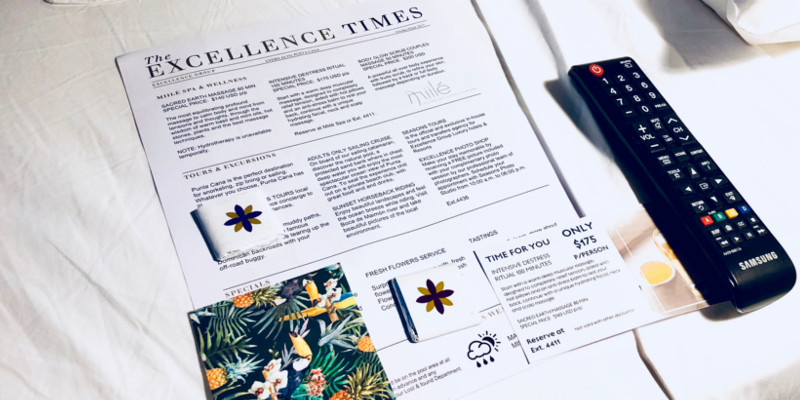 ---
Excursions You Need To Book!
We booked some incredible excursions using the excursion desk in the hotel. Found opposite the shopping gallery area.
One excursion that I would recommend above all others is the Compay Ecosafari trip. I believe an important element of travel is learning about another culture. Taking the chance to involve yourself in how they live their everyday lives, the language, and flora and fauna. This trip was perfect for that brand of cultural immersion.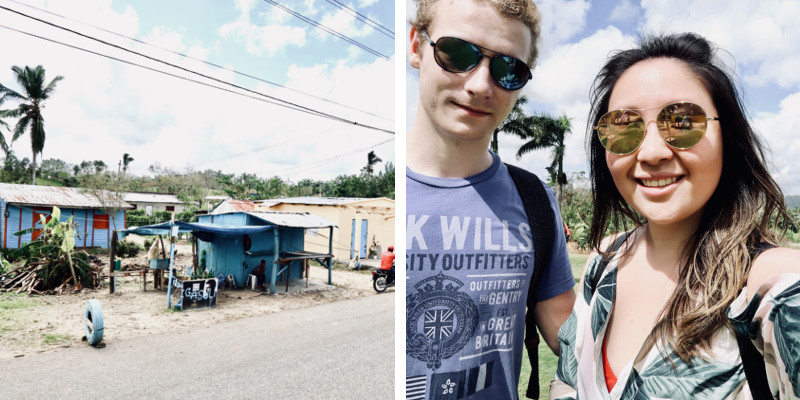 We visited plantations to see what the locals do for their livelihood and sampled the best hot cocoa and purest coffee.
We also visited a local school, and it really made you appreciate the standards of education back at home. This school is funded solely on donations and wouldn't survive without them.
The next part of the safari was to the horse ranch where we witnessed cigar making and had our first taste of Dominican food.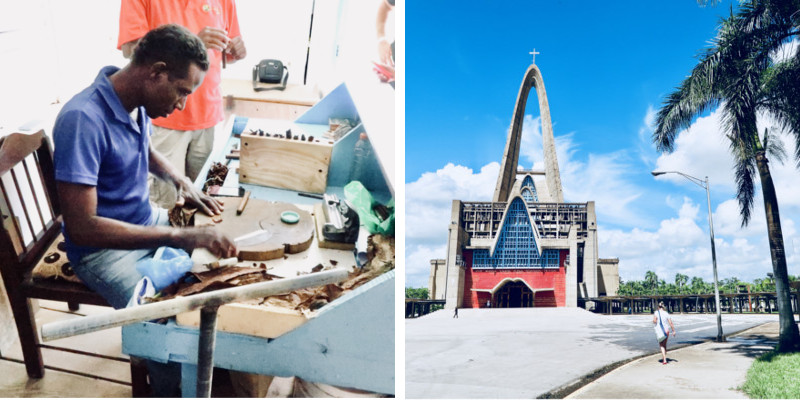 We then travelled to the beautiful Basìlica Catedral Nuestra Señora de la Altagracia. A popular cathedral in the Dominican, as the country is predominantly Catholic.
The last stop on the ecosafari excursion was the white-sand and palm tree paradise of Macao Beach. This is the most picturesque beach I have ever come across. It looks like a scene from a Caribbean postcard!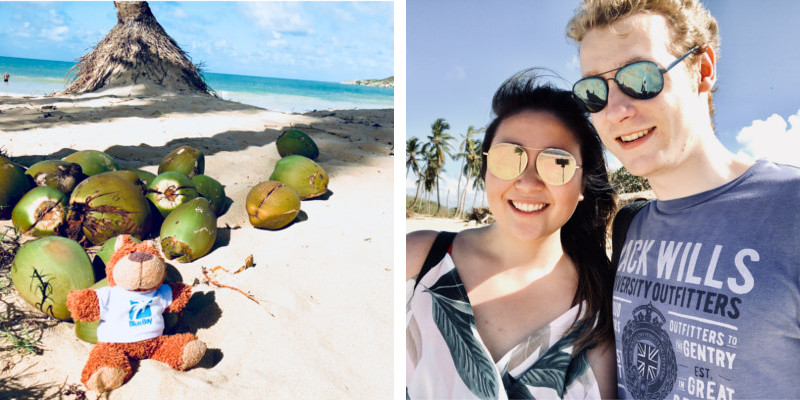 ---
Check out our Dominican Republic Travel Guide for more amazing sights and sounds like Macao Beach.
---
Excursions galore
Finally, our major highlight from this holiday was our extraordinary helicopter flight with Helidosa to see the coral-filled blue ocean and the magnificent stretch of golden-sanded coastline. The views were absolutely spectacular and was definitely a once in a lifetime opportunity.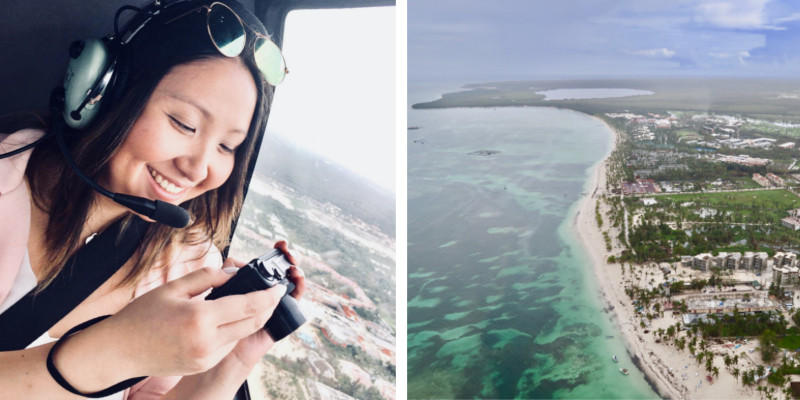 The flight was so smooth from start to finish and as someone who is scared of heights and would never get on a rollercoaster, this helicopter just felt like you were effortlessly hovering and you could barely feel the take-off and landing.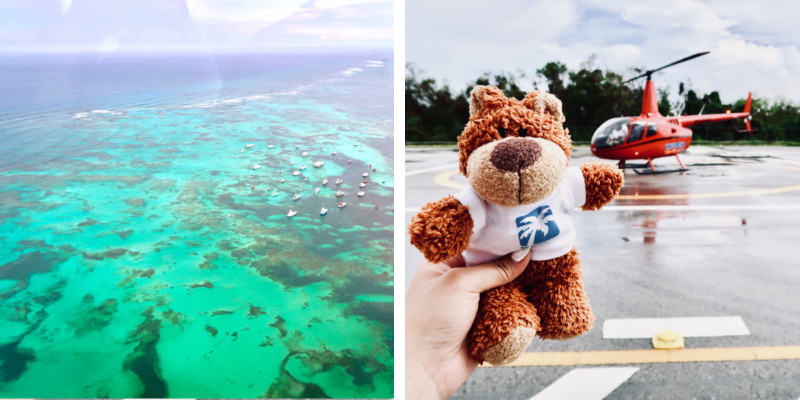 ---
Jennifer's Excellence El Carmen Top Tips
Make sure you check out the Excellence Group website to check the dress codes for the different restaurants to ensure you pack the correct clothes! They pride themselves on the dress code as it adds to the luxurious experience at the hotel.
Order more US Dollars over Pesos, as most things are priced in US Dollars!
Book excursions with the front desk in the shopping gallery area. Make sure you do your research to see if they can price-match deals you found with other companies!
Pay attention to the opening and closing hours of certain restaurants on the 'Excellence Times'. We made the mistake of not reading it thoroughly and arrived at restaurants to find they were closed for the evening.
Definitely make time to go to their evening entertainment shows! My favourites were the magic show and the circus show.
Pack some bubble bath solutions or bath salts to make full use of the jacuzzi bath!
You can check out what's on offer at the different restaurants by going onto the Excellence Group website and clicking on the dining page for Excellence El Carmen.
No trip to the Caribbean is complete without ordering yourself a fresh coconut water with the beach bar staff!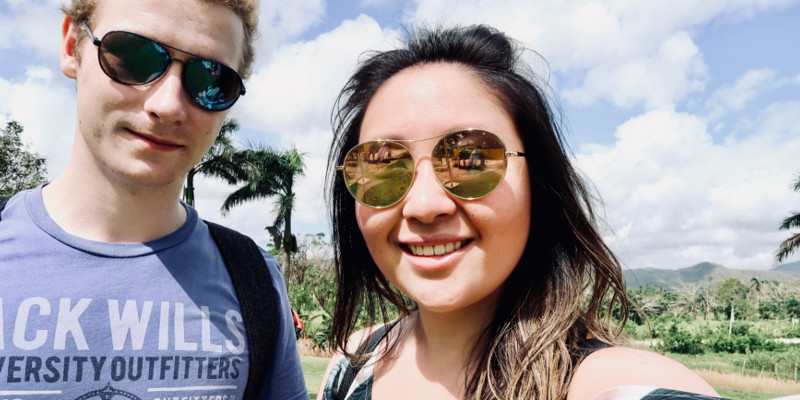 ---
Got the travel bug from Jennifer's adventure?
Be inspired by Jennifer Lam by following her on Instagram, Twitter and Facebook.
Or if you've finished getting all the travel inspo you need from Jen, click the button below to get started on building your Excellence El Carmen future and start walking in her flip-flop steps.