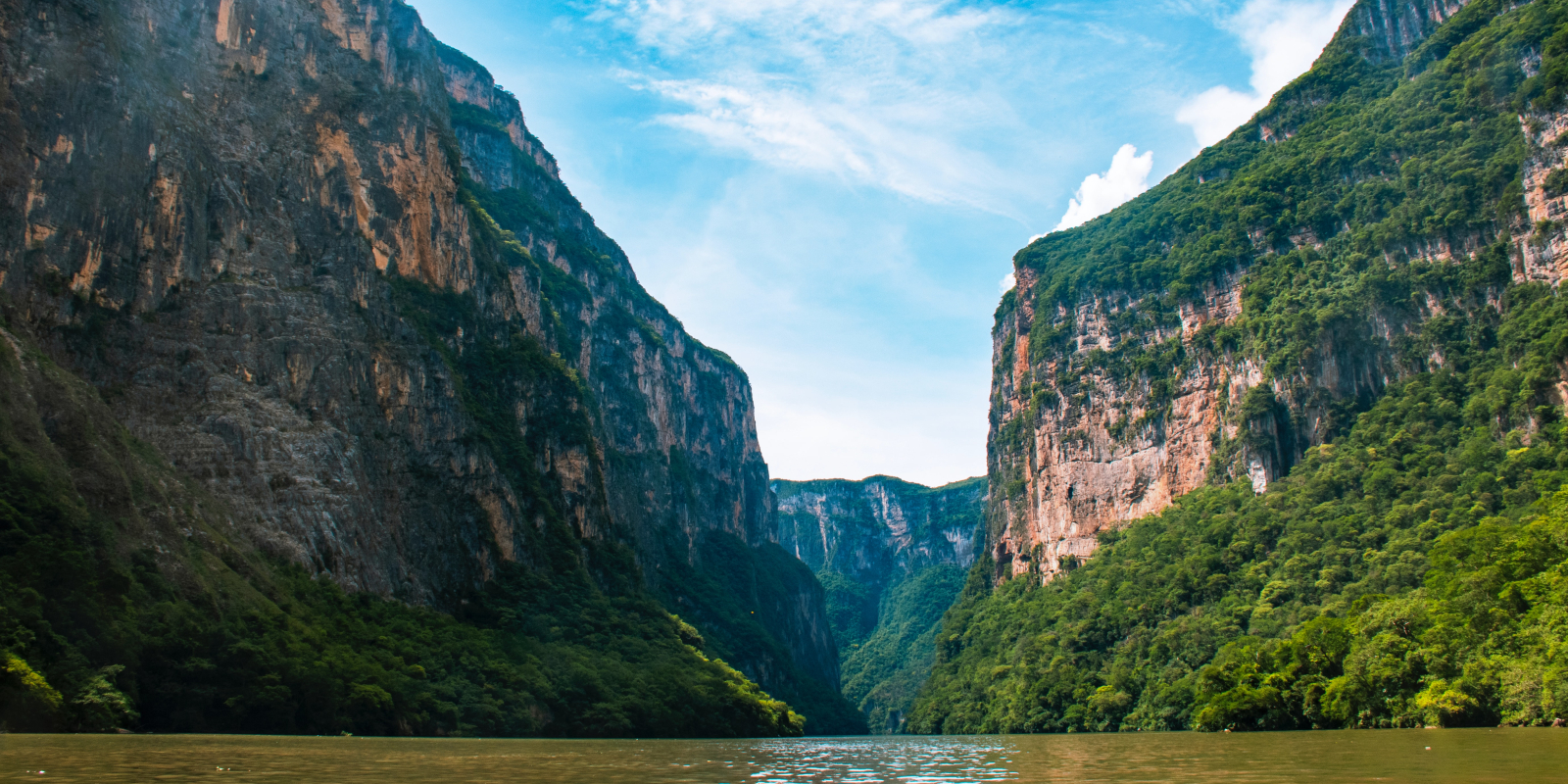 When mother nature provides astounding landscapes in Mexico- you don't want to miss out on seeing them during your trip.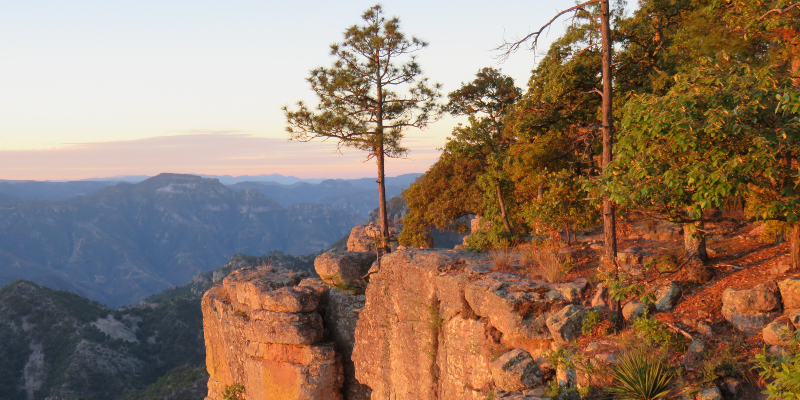 From captivating canyons to fascinating Monarch sanctuaries, the natural attractions in Mexico will blow your mind. Along with having a rich culture, delicious food and incredible ruins, the natural beauty of Mexico is something else.
As a result of it's varied climates and ecosystems, Mexico is one of the top 10 biodiverse countries in the world! Due to this, you'll find beautiful natural features and awe-inspiring landscapes.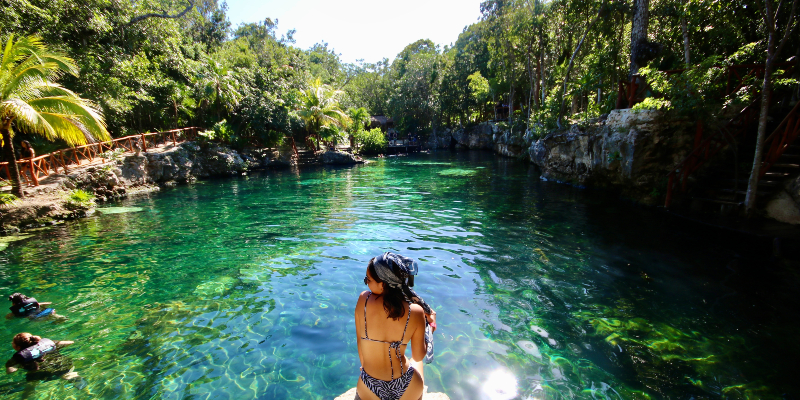 ---
With such a variety of places to visit, it's hard to pinpoint which to explore on your travels. We've done our best to narrow it down to our 8 favourite natural attractions in Mexico to visit:
8 Natural Attractions:
Monarch Butterfly Reserves
Copper Canyon
Cenotes
The Grutas de Cacahuamilpa
Sea of Cortez
Mesoamerican Barrier Reef
Sumidero Canyon
Las Colorados
---
Monarch Butterfly Reserves
Firstly, we have this incredible experience. Witness thousands of vibrant Monarch butterflies gather at the Monarch Butterfly Biosphere Reserve. The reserve was recognised by UNESCO as a World Heritage Site in 2008.
Every year millions of these beautiful creatures make the 2000+ mile journey from Canada to Mexico. As a result of this migration, a trip to the sanctuary means you can be surrounded by the black and orange fluttering wings.
It's remained a mystery how the butterflies find their way to these wintering grounds every year. However, without a doubt you will see them arriving every winter.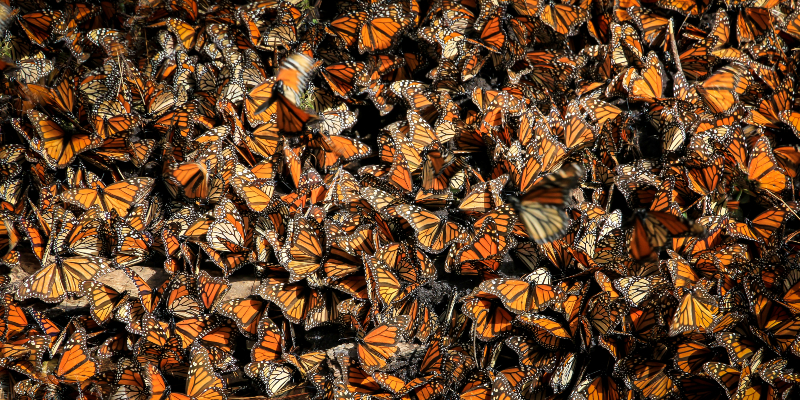 ---
Copper Canyon
Made up of six canyons is Copper Canyon. Located in Mexico's northern state of Chihuahua, it received its name from the nearby copper mines in the area.
Importantly, it's recommended to take a trusted guide if you are wanting to hike through the extensive system of canyons. The Copper Canyon is bigger than the Grand Canyon, so that tells how extensive it is!
Or, you can hop on the El Chepe, a train that has a line around the canyons with multiple stop offs. This is a safer option that still provides a thrilling experience.
Appreciate the natural beauty of the canyons and enjoy the outdoor adventure at Copper Canyon!
---
Cenotes
As there are over two thousand cenotes in the Yucatan Peninsula, we couldn't pick just one. In fact, exploring the gorgeous cenotes and underground rivers is one of the best things to do in Cancun.
You could spend hours underground swimming the turquoise waters. With snorkelling equipment, you can see a variety of different fish too. Or, keep your head above water and take in the views of tree roots and stalagmites.
As a result of the cenotes being formed by the collapse of limestone bedrock, most have a hole at the top. Those looking for more of a thrill can jump straight into the water from the entrance at the top! However, make sure that this is safe before you attempt it.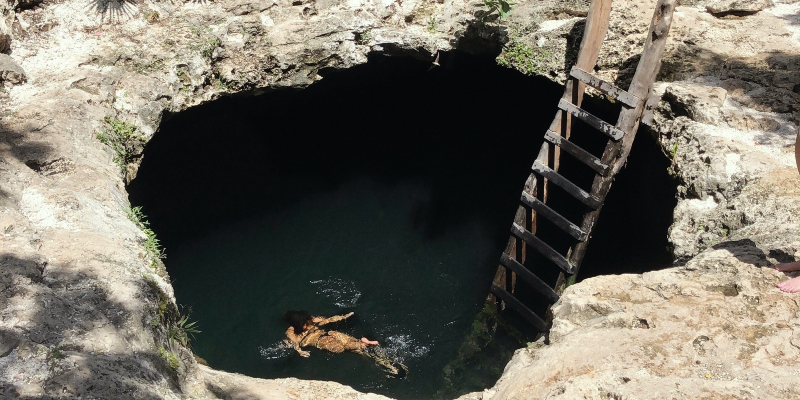 ---
The Grutas de Cacahuamilpa
Discover one of the world's largest cave systems at The Grutas de Cacahuamilpa. You can spend two hours exploring the vast caverns and rock formations.
You have to book a guided tour around the intricate systems that depart from the visitor centre. Most of these tours are in Spanish, however if you want to book an English speaking tour guide, these usually come at a higher price and have to be booked in advance.
There are cave drawings to look out for, along with fantastic formations which are still 'alive' today. Impressively, there is also an auditorium where concerts and events are held! Just imagine the echo that the cave must produce.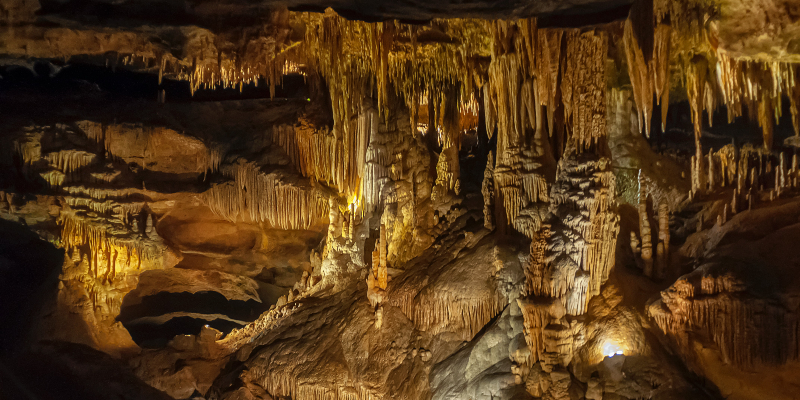 ---
Sea of Cortez
Home to an abundance of marine life, such as the mammoth whale shark, which is currently the world's largest fish species, is the Sea of Cortez. Also known as the Gulf of California, this spot is a marginal sea that serves as a divide between mainland Mexico and the Baja California Peninsula. 
This is one of the natural attractions in Mexico that you just have to see to believe. From the diverse ecosystem below the water to the 900 islands which are home to a variety of seabirds and vegetation.
You can enjoy swimming, kayaking, sailing and all of the water sports! The snorkelling and diving, however, is the best at the Sea of Cortez.
---
If finding hidden sea spots is your thing, check out this hidden beach in Mexico.
---
Mesoamerican Barrier Reef
As the second-largest barrier reef in the world, the Mesoamerican Barrier Reef really is a beautiful natural attraction in Mexico. Extending more than 600 miles from the northern tip of Mexico's Yucatan Peninsula, to the Bay Islands in Honduras, it's home to more than 500 species of fish.
It's known as the jewel of the Caribbean, there are Coastal wetlands, lagoons, mangrove forests and so much more.
The ecosystem that makes up the barrier reef does face some threats. From natural ones to human activity. So, although you can explore the reef, artificial ones have been created for scuba divers and snorkelers to explore. These are just as beautiful, and you can still discover a variety of marine life!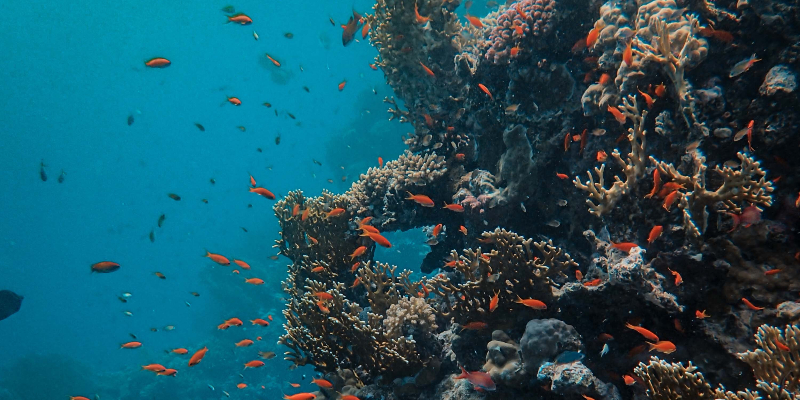 ---
Sumidero Canyon
Experience the Sumidero Canyon by taking a boat ride straight down the middle of it. With walls up to 2600 feet in some areas, it's a spectacular view to see the vertical walls around you.
Being around 35 millions years old, it's one of the main attractions in Southern Mexico. You can see species such as spider monkeys, crocodiles and a variety of different birds too!
Of course, you can also appreciate the canyon from the top. There are plenty of viewing points in watch towers and walking trails. At Los Chiapa you can enjoy a panoramic view of the whole canyon, making it one of the more popular watch towers.
---
Las Colorados
Have you ever seen a pink lagoon? Well, now's your chance if the answer is no! Las Coloradas is one of the more picturesque natural attractions in Mexico.
Imagine if someone poured tons of pink lemonade into a lagoon, that's what you can expect to see! (Obviously don't drink the water).
A specific type of algae is what gives the lagoon it's pink colour, not lemonade to clarify. What makes it even better is that there are also flamingos at the lagoon. Just imagine the perfect pink photo shoot you could have here.
Be aware that the flamingos are wild though, so they're not likely to come close to you, and they like to have their own space.
---
Is your mind blown?
We don't blame you if you need a couple of minutes to take all of those beautiful places in! There really is so much to see in Mexico, but that's what makes it such a great trip away.
If you are just looking for chilled days on the beach, they have that too! Check out these 24 beaches In Puerto Vallarta for the perfect beachy break.