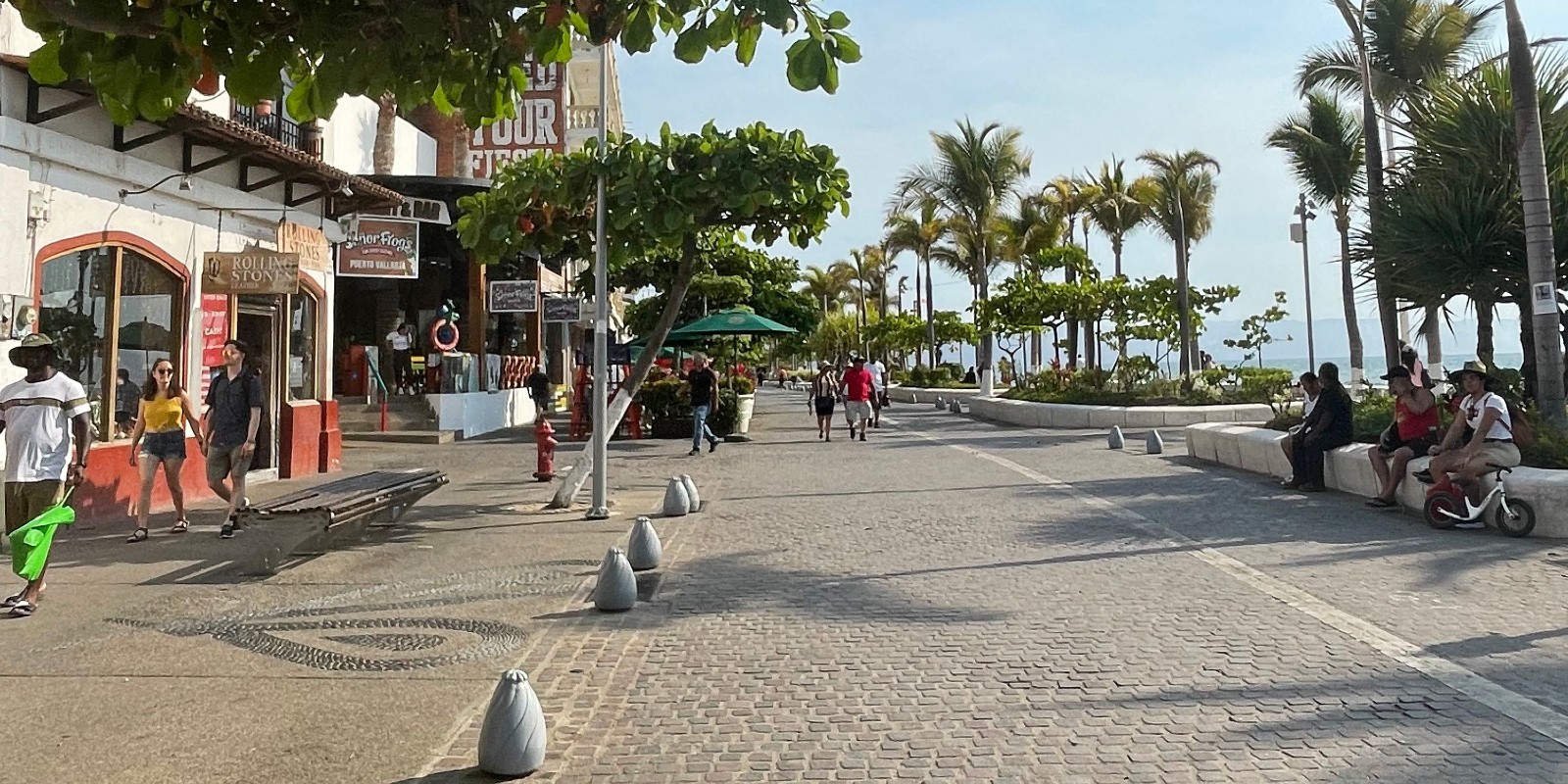 We put boots on the ground to visit Puerto Vallarta and see just how LGBTQ+ friendly this town is.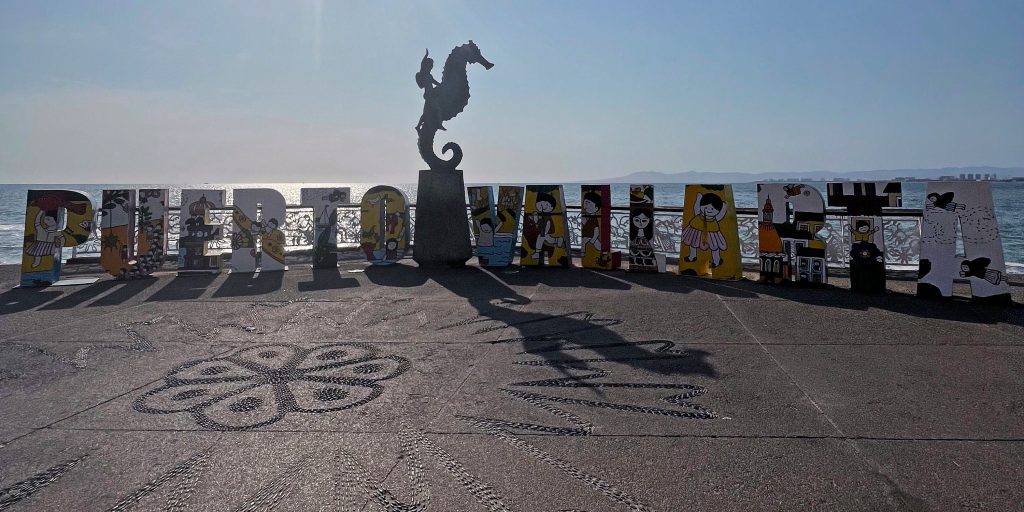 Our intrepid explorer Lacey and her partner Cam recently got the chance to visit Puerto Vallarta. We had a couple of questions about the overall vibe, so we caught up with them when they returned.
In this blog, we'll hear all about the couple's Mexican meanderings, discover what Vallarta is really like, and find out more about where she stayed.
But, first things first, is Puerto Vallarta LGBTQ-friendly?
---

---
What is Puerto Vallarta like for LGBTQ+ Community members?
It's an amazing place! We heard a lot, going into the trip, that Puerto Vallarta is a great spot for LGBTQ+ holidays. So, when we arrived it was brilliant to see how true that was.
Wandering along the Malecon during our stay, we felt as though we saw more gay couples than straight. There's also lots of Pride flags and rainbows either hanging from the shops, bars and restaurants or sprayed on the walls.
As you move down the strip you come to an amazing space known as the Zona Romantica (Romantic Zone). Just as you'd imagine this place is incredibly tranquil with greenery growing up the buildings. There are plenty of shops and cafes to relax in and watch the world go by. It's certainly earnt its name. Then there's the sunset pier and one of the best beaches in Puerto Vallarta which, as you can imagine, are perfect spots for catching some epic shots at golden hour.
You can also find lots of gay-centric beaches and locations dotted around. The Puerto Vallarta Gay Travel Guide is a great resource for finding even more inclusive fun on Mexico's western coast.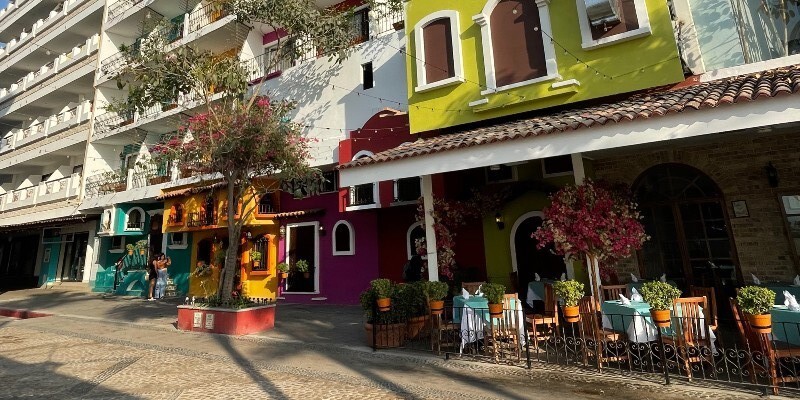 ---
What's the Malecon?
The Malecon is essentially the main "strip" and home to some of the best things to do in Puerto Vallarta. But it's more beautiful than you're average high street. On one side you have the bars, restaurants and souvenir shops. Whereas on the other is the stunning beach and incredible views out over the Bay of Banderas.
It takes about 30 minutes to walk the complete mile-long strip. But it can take so much longer than that if you want. There's so much unique art and symbolism, as well as trendy graffiti and other sites to see which make it a really cool activity. Plus, if you want to stop in somewhere for a drink or a bite to eat, it's pretty cheap.
Generally, it's just a really nice, wholesome, clean area to spend some time. Everyone is friendly and the colourful artworks are so inspiring.
Puerto Vallarta Malecon Street Art
---
What's the nightlife scene like?
We didn't stick around on the Malecon for too long when the sun went down, as myself and my partner aren't really night owls. But our resort was around a 30-minute drive from the area, so we did get dropped off there a couple of times to take a walk as the sun set over the sea.
As the sun goes down, and night rolls in, there's a definite vibe shift. It gets busier, the bars start to come alive with bouncing music and colourful lights and there's live shows on the open-air bandstand. They're all open-fronted too so you can see everyone inside dancing and having a good time.
But there's also a decent selection of chilled bars and restaurants where you can go to sit, eat, talk and chill while watching that enchanting sunset. So there's something for everyone to enjoy.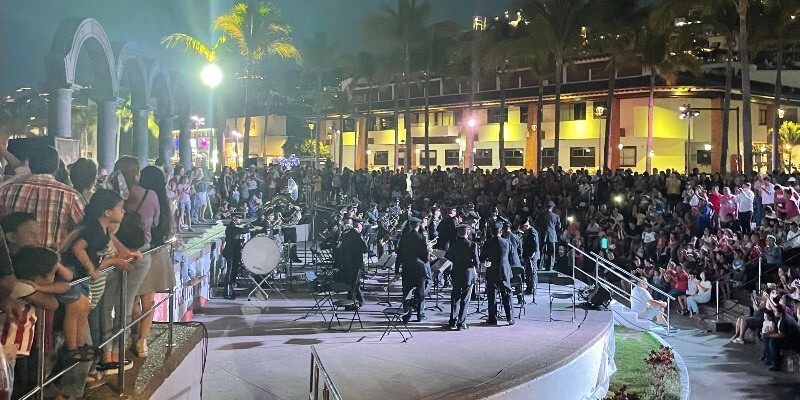 ---
Where did you stay?
We stayed at Dreams Villamagna, which was a stunning resort. As I said, it was only about 30 minutes from the Malecon – about £5 for an Uber. That meant we could come and go from the strip as and when we wanted.
In terms of resort experience, we had a great time! We had an upgrade to a Preferred Club Junior Suite Ocean View room which was incredible. Obviously, it had those sea views, which meant we could watch the sunset from our balcony each night. Plus, it also had a balcony Jacuzzi if we wanted to catch a view from there.
There are lots of bars and restaurants so we tried to sample as many as we could. But I would say my favourite places were Oceana which served Mediterranean-style cuisine and Portofino, the Italian. Also, you need to try the quesadilla stand for breakfast at World Cafe. Yum!
But, whether you're all-inclusive or not, we'd recommend getting out into the Malecon for food. We tried a place one night and their lobster tacos were incredible. Although, whether you in resort or not, you're spoilt for choice at dinner time.
---
Did you try any other trips?
One day we decided to get out and explore Aquaventuras Water Park. This is a big water park with slides, a lazy river, rapids, and other aquatic fun. There was also a dolphin and sealife show. It was, pretty much, exactly what you'd expect. But still lots of fun!
It was only about 15 minutes away from Dreams Villamagna, so we took another Uber for about £3.
---
Would you go again?
Definitely! We've been to lots of areas of Mexico, but when it comes to Puerto Vallarta vs Cancun, the vibe here is just so different. We'd definitely pick Vallarta over those other, more "popular" areas.
Next time we go, we might even think about staying closer to the Malecon so it's even easier to come and go.
---
Experience Puerto Vallarta
If you're ready to start checking out the Malecon for yourself or you want to see, first-hand, how LGBTQ-friendly Puerto Vallarta is, then we can help.
Click the button below to get started on your very own free Dreams Villamagna online quote. You could be sunning it up on the strip in no time.