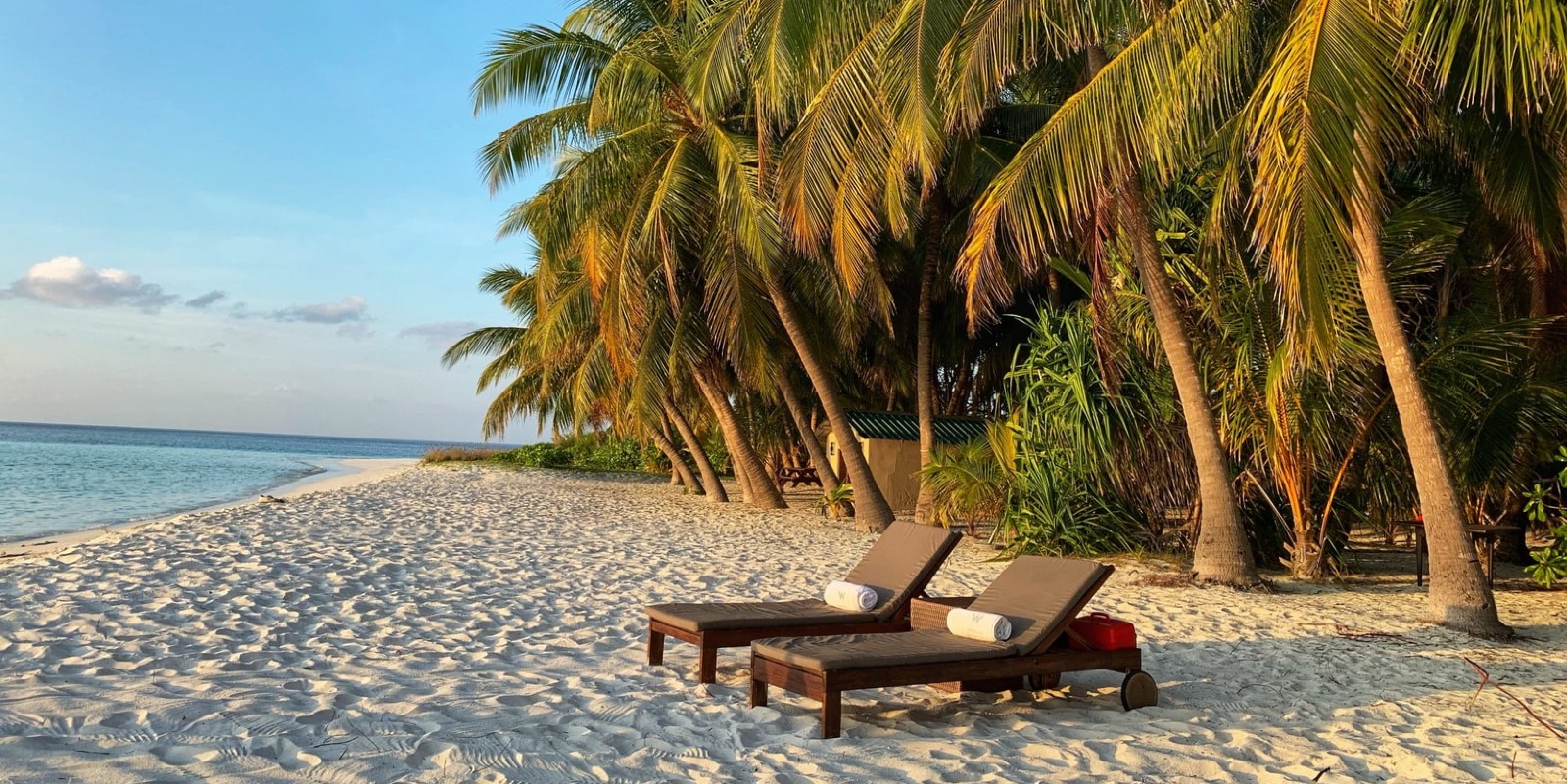 The Caribbean is back open and on the government's green list destinations. But where can you actually go, and what to you need to do to get there?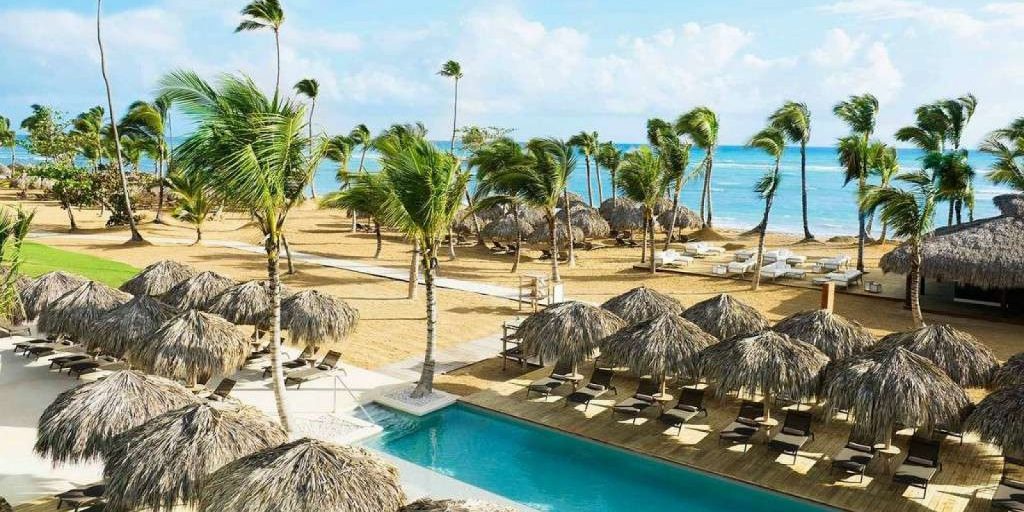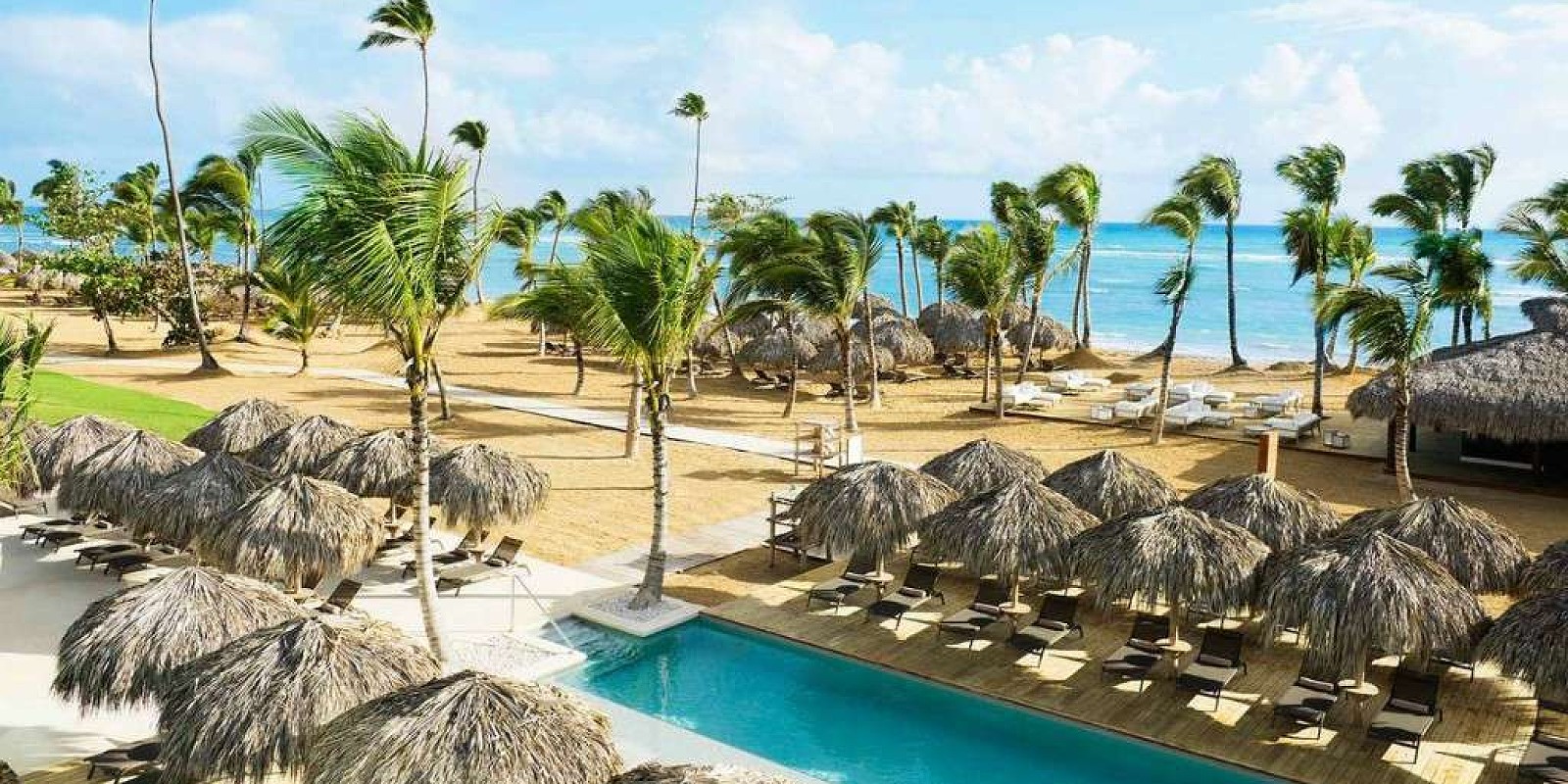 Say it quietly, but we seem to be staring at the light at the end of the COVID tunnel. So, we've taken a look at the Caribbean green list destinations and everything you need to know before you go.
---
Going green
The holiday destinations on the green list took a turn for the Caribbean recently. With Transport Secretary Grant Shapps announcing we can now hot-foot it back to the beach.
But what does it all mean? And what do you have to do if you want to get out under the Caribbean sun this summer?
Well, it seems each destination on the list has a different set of rules to follow when it comes to gaining entry. But, don't panic, we'll take you through it all.
But first, which Caribbean countries have become green list destinations?
---
Where can you go?
Anguilla
Antigua and Barbuda
British Virgin Islands
Dominica
Montserrat
Turks & Caicos
---

---
Amber acceptance
It's worth mentioning at this point that the rules around travel to amber listed destinations have also changed.
Fully-vaccinated travellers and under 18's can now travel anywhere on the amber list without the need to quarantine when they return to the UK. Check out all the details HERE. 
---
What you need to do
Now, we have to say that just because these destinations are on the UK's green list doesn't mean you can just pitch up and expect entry.
Because, to most nations, the UK & Ireland are still considered "High Risk" destinations. So, you will need to follow certain protocols to access each nation.
And we know what you're thinking… "Well, that's fine because I'm sure they all need the same things." Unfortunately, things aren't that simple. But, it's okay, because we'll go through each island now and tell you everything you need to know, so that you can go.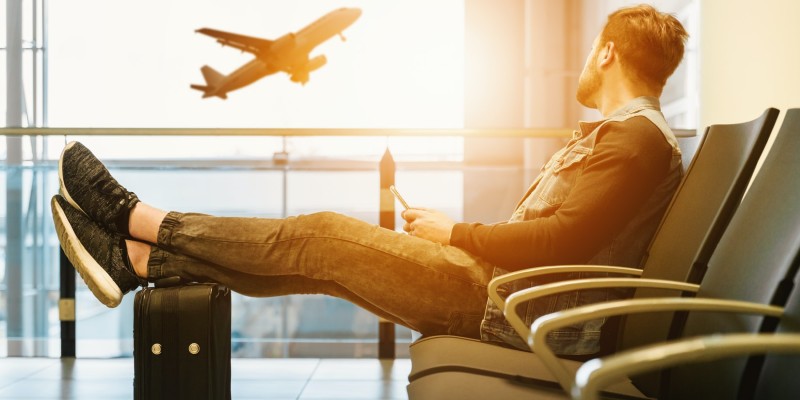 ---
Anguilla
Currently you have to apply for approval to travel to Anguilla, at least seven days before your arrival date. You're also required to take a PCR test 3-5 days before travelling. Only people with a negative result will be allowed entry.
Once in the country you must quarantine for 10-14 days, if you have not been fully vaccinted.
Although fully vaccinated visitors could cut that time to 7 days with proof of their vaccination status if you had your jabs at least 21 days before you travel.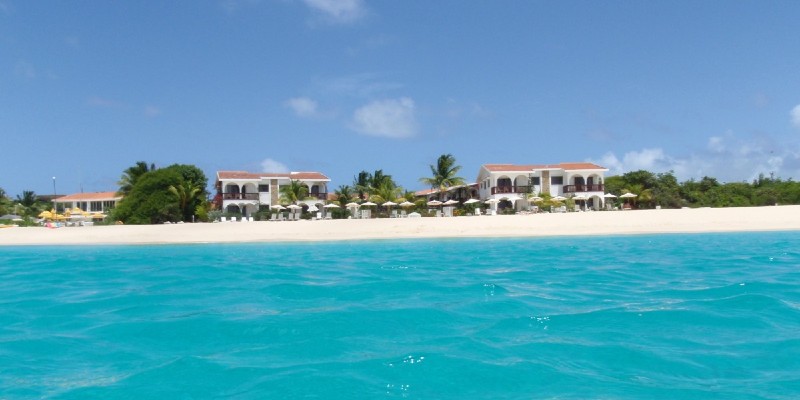 However, from 1 July fully vaccinated visitors will be allowed to visit without the need to quarantine or pay the application fee of $300 for one person, plus an additional $200 for every person after that.
Upon arrival you will have to take a temperature test at the airport and a further PCR test once at your resort. As soon as your test comes back negative you're free to explore Anguilla.
---
Antigua & Barbuda
A little less stringent than Anguilla. Antigua are now welcoming foreign travellers as the first phase of their border re-opening efforts.
All adults aged 12 and over travelling to Antigua & Barbuda need to provide evidence of a negative PCR test result taken within seven days of your flight. Once in Antigua you will be required to fill in a Health Declaration Form, have a temperature test and take a COVID test too.
However, once access is allowed you will not have to quarantine and are free to enjoy all Antigua's excursions, provided your resort appears on the government's approved resort list.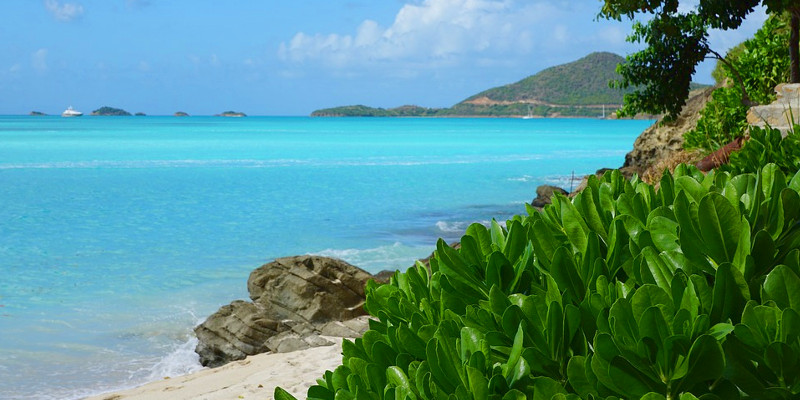 ---
Barbados
If you're planning on heading to Barbados, and you're all jabbed up two weeks before you go, you just need to provide proof of a negative PCR test, taken no more than 3 days before you travel. On arrival you will be asked to take another standard or rapid test, either at the airport or in resort.
While you wait for the result of your PCR test in Barbados you're allowed to make use of the resort facilities including the pool, restaurants and bars. However, you will not be permitted access to features like beaches, spas, butler services or gym facilities. Although once you have confirmation of your negative result the island is your oyster.
Children under the age of 18 will be allowed the same freedoms as their fully vaccinated parents.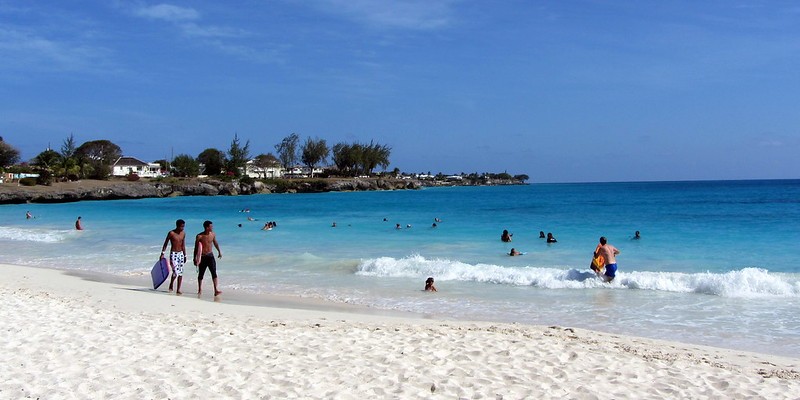 Unvaccinated travellers
However, un-vaccinated visitors will be required to quarantine in an approved facility (usually another "holding" hotel), take a second PCR test five days after arrival and wear an electronic tracking bracelet.
Once you have a negative result you're free to enjoy the island too. Check out the Barbados Travel Protocols for more details.
---
Bermuda
Much like Anguilla, in Bermuda you will have to apply for Travel Authorisation 1-3 days before you travel. A negative PCR test taken 4 days before you travel must be presented.
You will also be required to take another test on arrival and quarantine until the result is cleared (generally 48 hours). During your stay you will also have to complete a test on day 4, day 8 and day 14.
If you haven't got proof of a negative pre-arrival test, vaccinated visitors will have to quarantine in a government approved Quarantine Hotel until you receive a negative day 4 COVID test.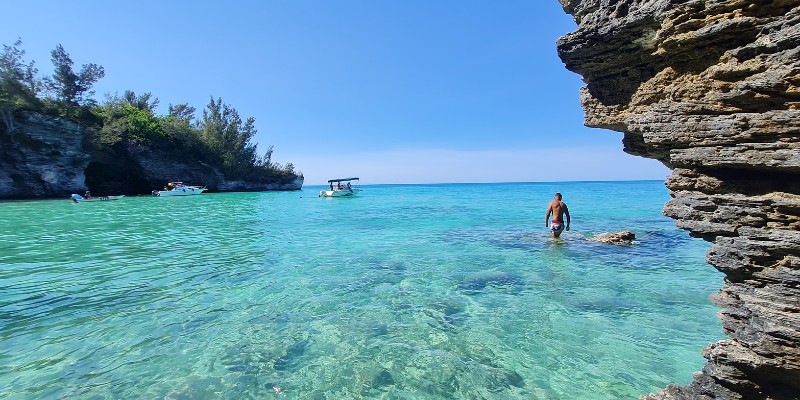 Unvaccinated visitors
Strangely the rules are a little more straightforward for unimmunised travellers in Bermuda.
You just have quarantine in a Quarantine Hotel for 14 days, taking a test on day 14. Find out more about Bermuda Travel Authorisation now.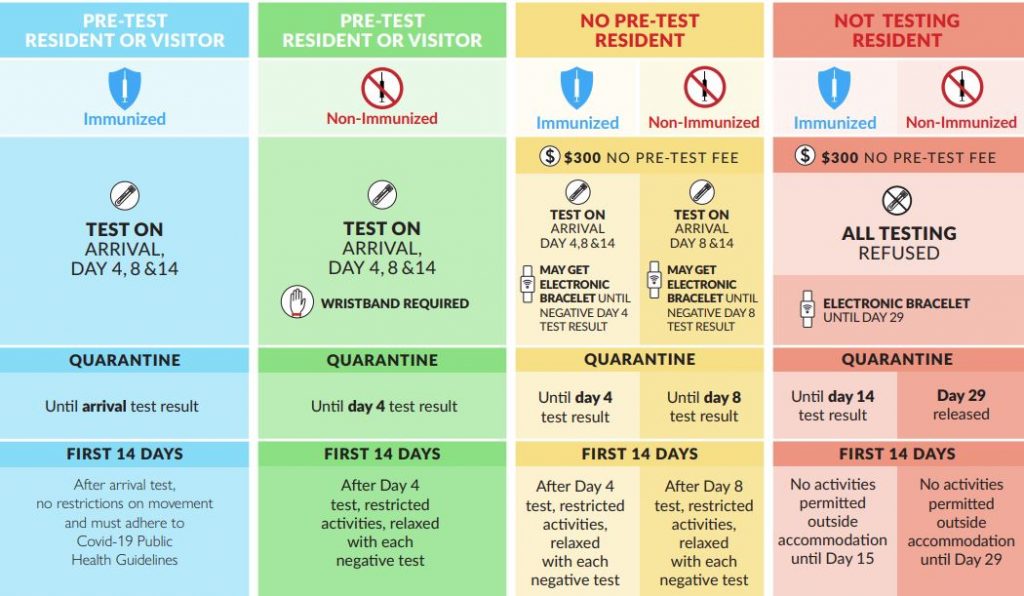 ---
British Virgin Islands (BVI)
BVI have been pretty relaxed with their entry requirements as far as allowing vaccinated travellers into the country. If you can prove you are fully vaccinated and you had your final shot 14 days prior to travel, then there's no need for a test on arrival or quarantine. Great!
However, unvaccinated visitors, this is where it gets a little more murky. But don't worry we'll navigate the process together.
So, vaccinated travellers can come in. But non-vaccinated children travelling with vaccinated parents or guardians will be required to take a test on arrival. They will then be required to return to a designated testing centre for a further test on day four of your trip.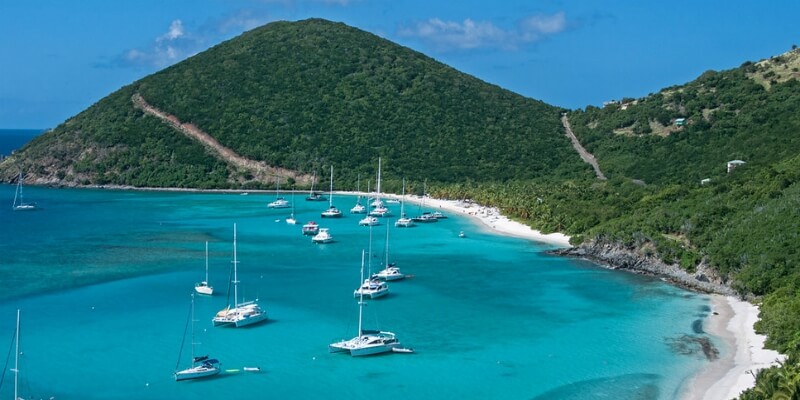 Partially or unvaccinated travellers
If you haven't had your vaccine or have only had one shot of a two-jab regimen before travelling to the British Virgin Islands, you will require:
Get a BVI Gateway Traveller Authorisation Certificate costing $175
Have proof of a negative PCR test taking within 3-5 days of travel
Produce a negative PCR test on arrival at the airport
Quarantine for 7 days
Produce a further negative test result on day 7 of quarantine
If you find that you are a vaccinated traveller among unvaccinated visitors and vice versa, you just need to follow the set of rules which apply to you.
---
Dominica
Dominica have also made it on to the collection of green list holiday destinations in the Caribbean. Again, it's a pretty similar story here in terms of pre-arrival forms and testing. But, quarantine raises its head again for all travellers.
But let's break it down for ease:
Vaccinated travellers
If you're thinking of heading off to delightful Dominica after your jabs, you will need to complete a questionnaire and add your PCR negative test result to the online application platform.
Once you've uploaded your health information you should get an email back from the Ministry of Health and Wellness in Dominica. But to give you your full list of Dominica entry requirements:
Complete online questionnaire 24 hours before arrival

Upload negative PCR test result taken 72 hours prior to arrival

A pinprick Rapid Diagnostic Test (RDT) be administered on arrival

If the RDT is negative, you will be taken to a government facility, take a PCR test and quarantine for a minimum of two days

When you get a negative result you're free to travel on to your hotel

If your PCR test comes back positive you will need to quarantine at the government facility for 14 days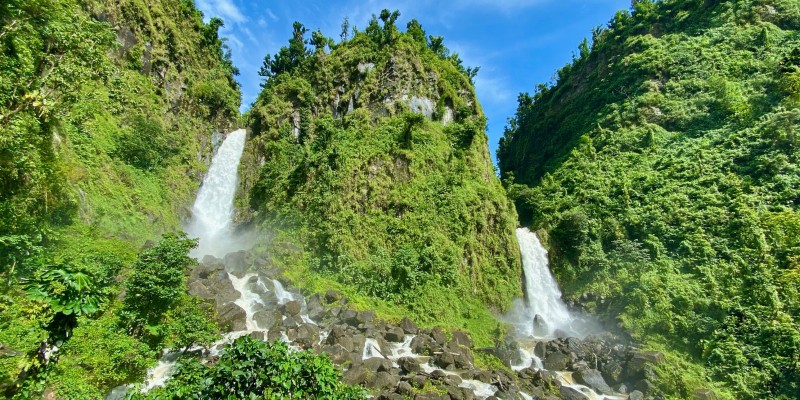 Unvaccinated travellers
If you haven't had your jabs, or you're not fully vaccinated before travelling to Dominica. You will have the follow the same entry requirements, but your quarantine in Dominica will be extended to at least five days (provided you test negative).
---
Grenada
The specifics for entering Grenada are a little cleaner cut than in Dominica. You will need to apply for travel authorisation by completing the form and take the obligatory pre-departure PCR test. This time you're required to provide negative results from a test taken 72 hours prior to arrival.
Once you've completed the above steps and arrived in Grenada you need to take a further PCR test. However, the good news is while you do need to quarantine for 48 hours until your result comes back, you can complete your isolation in government approved accommodation. And one of our favourite Green List resorts is on the approved list, so you can quarantine in style.
After your two days you're free to explore the best things to do in Grenada, provided, of course, that your PCR test comes back negative.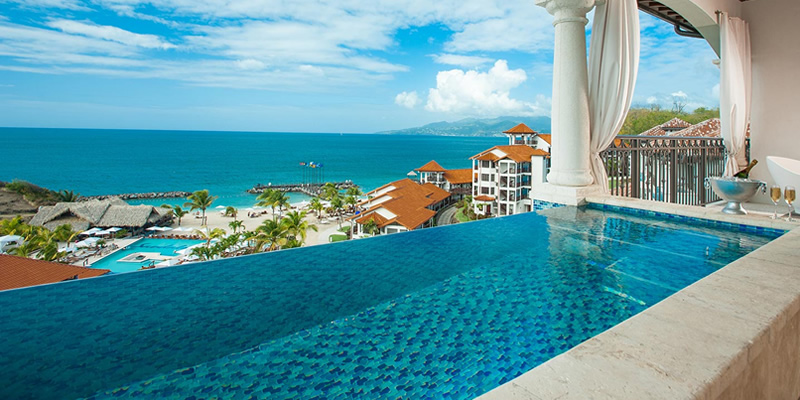 Unvaccinated travellers
The process is virtually the same if you haven't completed your jab regimen. However, your quarantine time in Grenada goes up to 7 days.
You need to get a test on day 5 of your isolation. Test results should be with you within 48 hours. But the Grenadian government have confirmed, regardless of your test result you're still required to complete the 7-day isolation period before being allowed to explore the island.
---
Montserrat
Montserrat is one of the UK's green list destinations, but the government of Montserrat haven't made it abundantly clear as to whether they're accepting foreign leisure travellers as yet. Their entry requirements are on the stricter side again too.
However, they have confirmed they are accepting travellers into the country. But you need to complete an access declaration form and have confirmation of a completed vaccination regimen from two weeks prior to travel. You must also have confirmation of a negative PCR test taken 5 days prior to travelling. On arrival you need to quarantine for 5 days in a government sanctioned facility and take another test on days 3-5.
For unvaccinated travellers that quarantine time goes up to 14 days. And you will need to take a test between after 24 hours of arrival and a further one on days 12-14 of your isolation.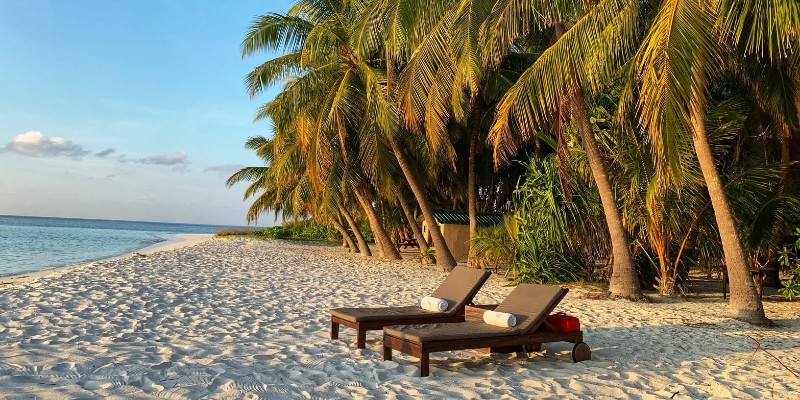 ---
Turks & Caicos
Finally, we come to Turks & Caicos. These stunning islands have been welcoming awe-struck travellers for years. And now it's one of the UK's green list destinations we can do so again. But what do you need for entry?
Well, they're probably boasting the most relaxed entry criteria. As long as you have completed the three pre-departure steps and uploaded the details to their Assured Portal, then access seems simple.
There doesn't seem to be any talk of quarantines for vaccinated or unvaccinated visitors. So, what are the three steps to getting authorisation?
Provide a negative COVID-19 PCR test result. Taken 5 days prior to travel. Children under the age of 10 excluded.

Proof of COVID-19 inclusive insurance cover

A completed online health screening questionnaire.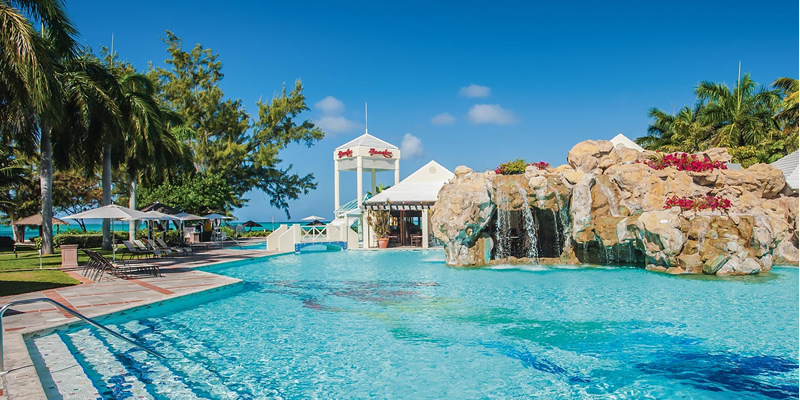 ---
Remember, remember
It's worth saying here, when you complete any of the pre-departure checks listed for the countries above, make sure you take conformation of your results with you when you travel. Think of them as you would your passport and boarding pass. You will also be required to have travel insurance with COVID-19 cover included.  
So, to confirm that's: your official vaccination status (for vaccinated travellers), COVID comprehensive insurance, confirmation of negative PCR taken within the alotted pre-departure timeframe and any governmental approval to travel documentation – usually an email or letter.
Without these things you can be as immune to infection as you like, chances are you won't be allowed entry.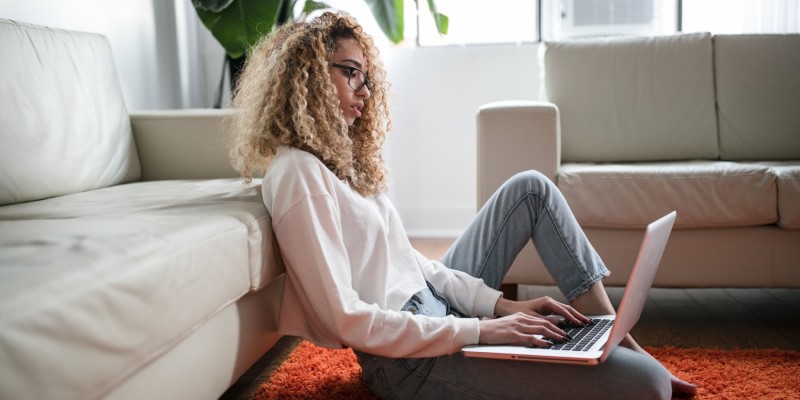 ---
Coming home
All these stunning Caribbean islands being green list holiday destinations basically means you will have to abide by UK green list entry protocols on your return to the UK.
While the good news is that means no quarantine when you touch down in good ol' Blighty. You will still be required to complete a three step entry process. Now, you probably know this already but, if you're not sure, the three steps for gaining re-entry to the UK are:
Take a test 3 days before you're due to arrive home

Complete a passenger locator form

Test again two days arrival in the UK
---