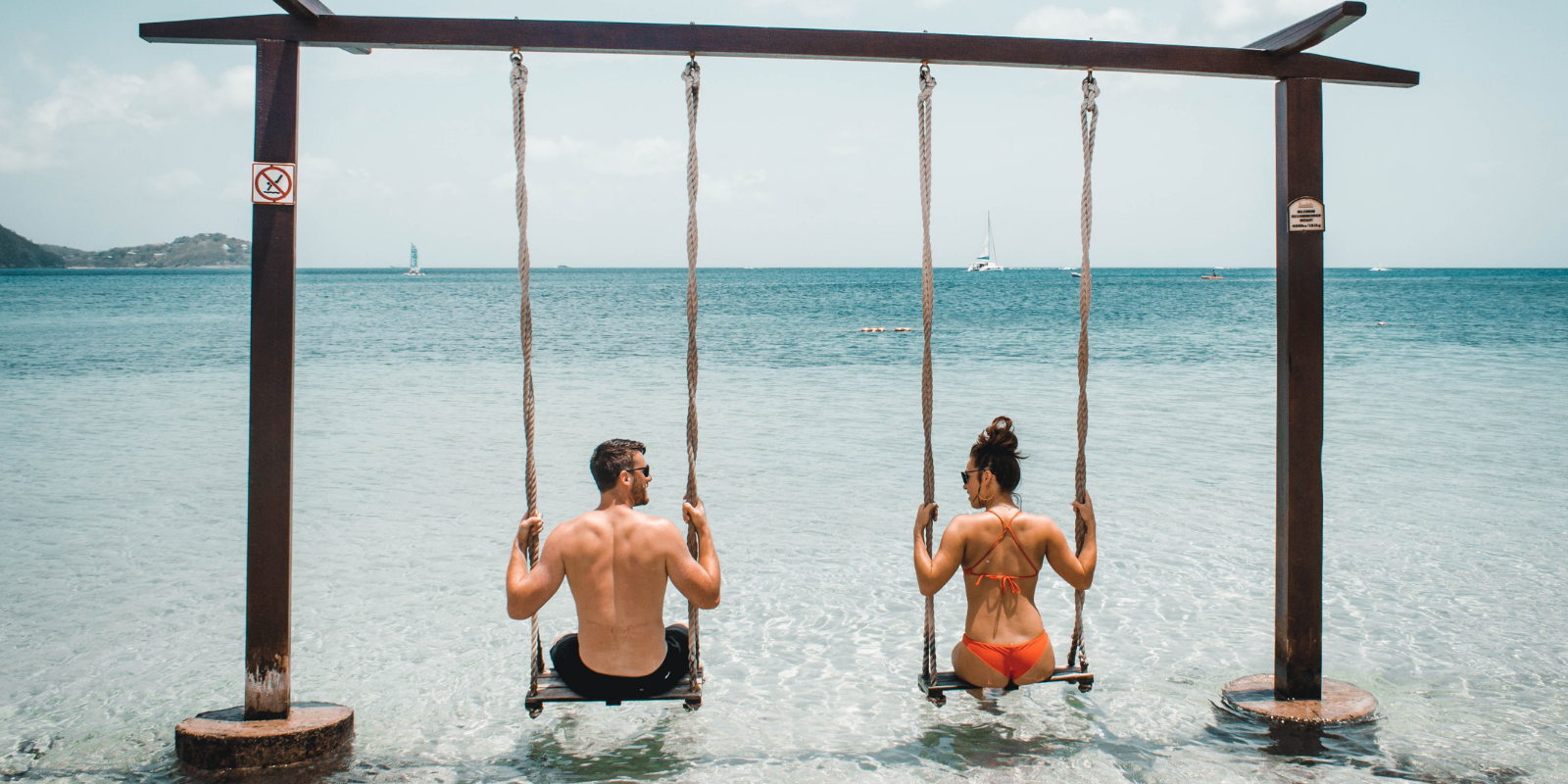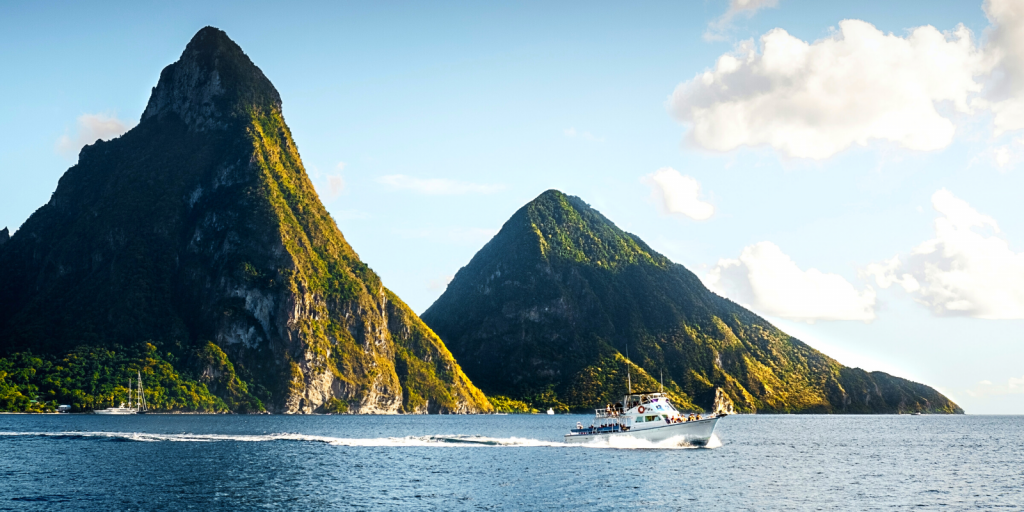 Travelling as a couple and want to know what the best excursions in St Lucia are? You've come to the right place because we're going to show you how to tick some of those top trips off your bucket list. Yay!
Awaken your sense of adventure and discover some of the most beautiful spots on the island while ticking off your bucket list, with some of the best excursions in St Lucia, for couples.
Travelling with your significant other doesn't always mean is has to be private dinners on the beach and romantic turn down service, although who's complaining about that though, really? Exhilarate your senses and experience some of the best excursions in St Lucia.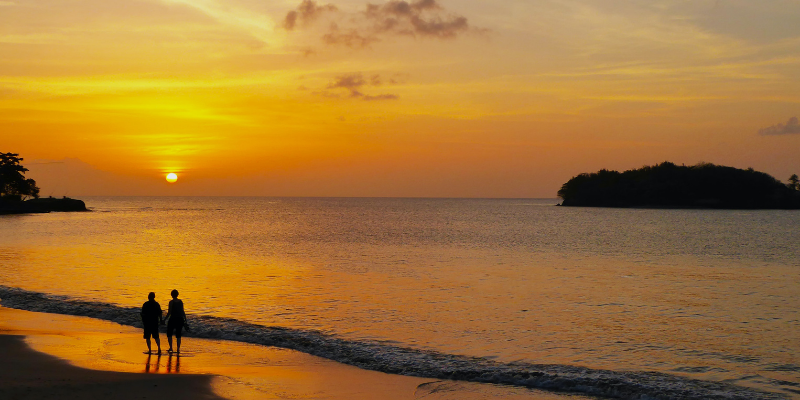 ---
What are the Best Excursions in St Lucia, then?
Discover The Pitons
Sea Trek Adventure at Pigeon Island
A visit to Rodney Bay
Sulpher Springs St Lucia
See at least one Waterfall
---
The Pitons
Let's start off big. Go big or go home, right?
All you have to do is type 'St Lucia' into Google, and you'll see images of the iconic, world-famous Pitons. This just had to have the top spot as one of the best excursions in St Lucia.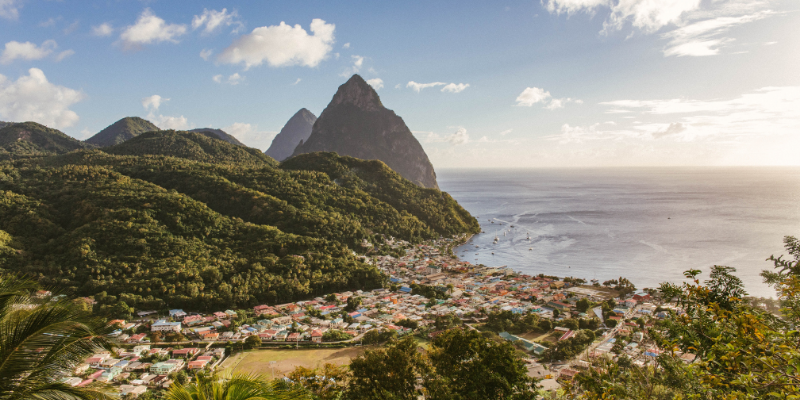 But, what are The Pitons?
The two Pitons are perhaps the most majestic landmarks in the whole of the Caribbean. They are known as Petit (little) Piton and Gros (big) Piton, these Volcanic Spires stand nearly 800 meters tall. You won't need your binoculars, that's for sure!
The Pitons are Volcanic plugs, but they have been dormant since the 1700s, so there's no need to worry about having to escape an eruption on your trip.
---
Fun Fact:
The Pitons were made an official UNESCO World Heritage site back in 2004, too. And yes, you can climb them. Each to their own, I guess!
---
How can I see them?
There are multiple ways to visit The Pitons. The only thing you've got to do is make the decision on which way suits you best.
Stairway to Heaven
If you're a view hunter and want that perfect picture for the socials, then the Tet Paul 'Stairway to Heaven' Nature Trail could be for you. A guide will engage you with commentary about St Lucia's nature, culture and history, while taking you to some of the best views on the island.
Catamaran Cruise
If you love the water then there are loads of catamaran cruises you can do, too! A combination of half and full day cruises are available so you're bound to find the one that's right for you. Combining snorkelling, a catamaran cruise and a view of The Pitons in one trip? Best. Day. Ever!
Helicopter Tour
Alternatively, you might decide you want to get that adrenaline pumping and treat yourself to a once-in-a-lifetime Helicopter tour of The Pitons. Take in views across St Lucia including the Capital City; Castries. You'll also see lush rainforests, fishing villages, coral reefs, waterfalls and loads more.
You don't even need to tell me; I already know these Pitons are on your bucket list.
However you decide to explore The Pitons, whether it's by foot, catamaran or helicopter, you will make some unforgettable memories and have some stunning photos to add to your album, too!
---
---
Sea Trek Adventure at Pigeon Island
Ever wondered what zero gravity would feel like? We have! AND you don't even need to go to space for this, either!
Exploring the world that is buzzing with sea life beneath the surface has never been easier. All you need to Sea Trek is the helmet and your sense of adventure and you could be spotting Zebra fish and Eagle Rays in no time! Head over to Pigeon Island for your Sea Trek excursion.
Where is Pigeon Island?
Pigeon Island is a 44-acre national landmark in Gros Islet… a huge green area in the north-west, basically. It is the pinnacle of a historic landmark. All over the island are artefacts telling the story of Pirate gangs, the American Civil War and Fort Rodney.
---
Fun fact:


In 1972, Pigeon Island was actually artificially joined to the western coast of the mainland by a man made causeway, which went on to form Rodney Bay Marina.
---
Anyway, back to sea trekking. Although you don't need to take anything with you, it's recommended that you take a water camera. You obviously want to prove you've walked along the seabed to all your friends, family, and followers, right?
Oh and by the way, you don't even know how to swim for this one!
Talking of seabed, make sure you wear some of those super fashionable water shoes, the fish won't judge, promise! But other than remembering to take the obvious sunscreen and swimwear, enjoy it – you're in for a fabulous day out together!
---
Visit Rodney Bay
If being on dry land is more your thing, then make sure Rodney Bay is on your list of places to visit. It's the visitor hub for bars, shops, and restaurants.
Do you like to be in the middle of it all? Do you both like to party? If you answered yes, then you should know that every Friday night you can experience a Jump Up Street Party. Dance to Caribbean music and enjoy the street vendors authentic St Lucian food and drinks.
If this sounds like your bag, then check out our 4 Things You Absolutely Must Do While in Rodney Bay!
---
Sulphur Springs St Lucia
You're both reading this blog because you want to know what to do together in St Lucia, right? Well, you can't go all the way to St Lucia and not do one of the best excursions on the island.
Dive into the Sulphur Springs! Who doesn't want to experience of the world's only drive-through volcano's, get super muddy and bathe in waterfalls, together?
What are the Sulphur Springs?
What was once an active volcano (over 200 years ago, don't panic), Sulphur Springs St Lucia is a collapsed volcanic crater. This is natures way of gifting you hot springs, some of the most perfectly stunning waterfalls you've ever seen and of course, sulphur to play in.
Decorate each other with mud and snap a picture worthy of the gram, or centre-stage on the mantlepiece! If you want to see more of what you'll get up to, check out 13 Times Sulphur Springs St Lucia Exploded on Instagram.
---
Waterfalls
Taking us nicely onto Waterfalls, St Lucia is home to some of the most magnificently magical waterfalls in the Caribbean. Why wouldn't you want to immerse yourself into nature?
If you've been keeping up with the blog, then you'll be familiar with the 5 Waterfalls to Chase in St Lucia. If not, then take it from us, this is your sign to visit at least one waterfall while you're there.
Waterfalls are one of St Lucia's most popular natural attractions, and it's easy to see why. Creating memories together is absolutely priceless, and this is an experience you'll never forget.
Through the rain forest and botanical gardens, you can surround yourself with nature. Try to spot the Parrots (The National Bird of St Lucia) as you meander through the jungle, too! You'll feel like you feel into another world as you appreciate the native plants, bathe in the waterfalls, and feel the breeze through the palm trees. Easily one of the most memorable and best excursions in St Lucia.
---
I'm packing as we speak, where do I stay?

The good thing about St Lucia is that it is a small island, meaning that everything you'd want to do is accessible within a couple of hours.
If reading about some of the amazing things you can get up to in St Lucia, then let us recommend some places to stay!
Whether you need somewhere to rest your head or would like to heighten your St Lucian experience, the island has it all. To name a few of our fave resorts; Opening soon we have SoCo House as well as all of the Bay Gardens Resorts.
Click the button below and we'll let you in on the secret of getting three resorts for the price of one at Bay Gardens on your St Lucia trip.