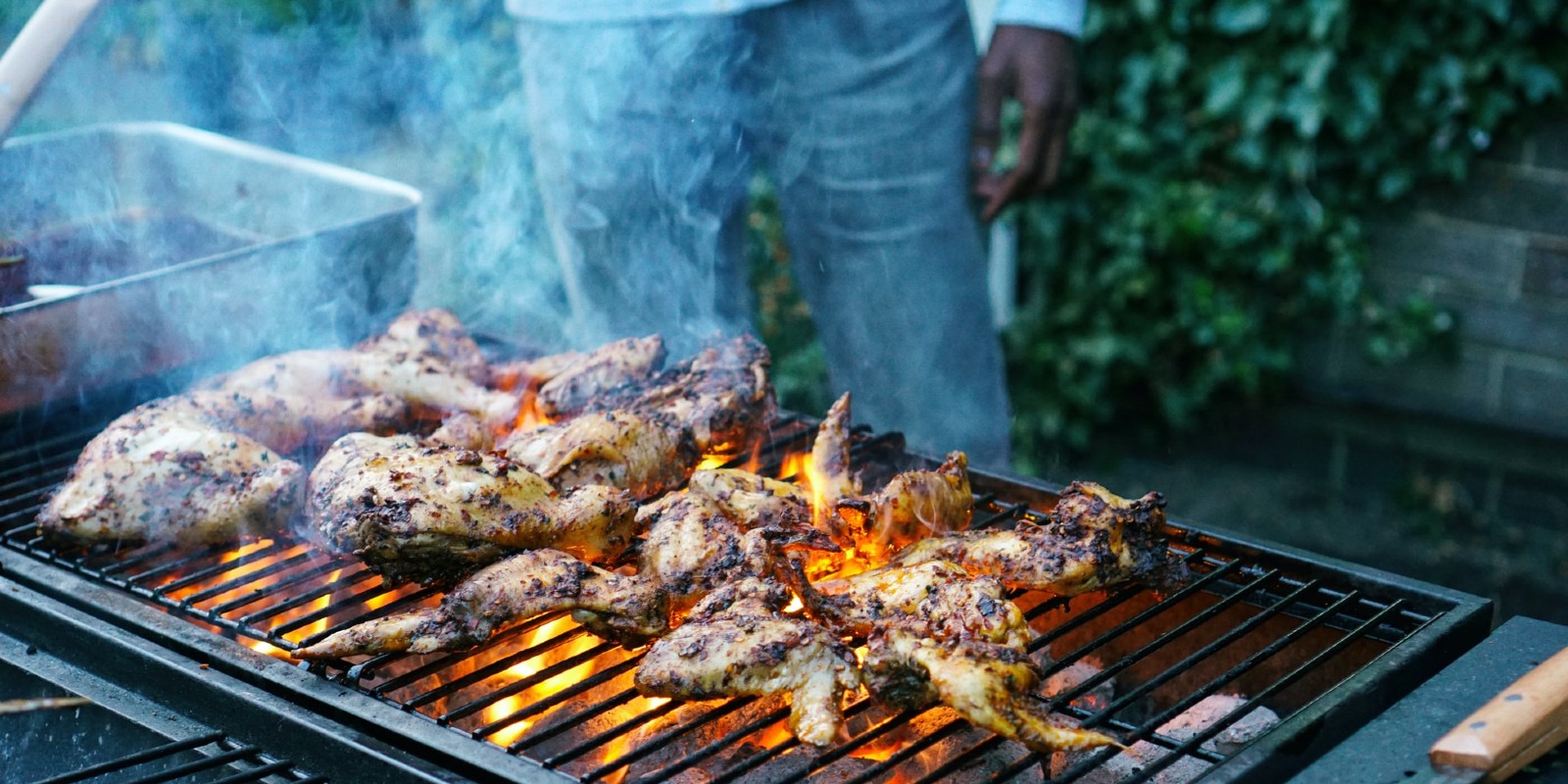 Warning: Do not read if you're hungry!

These top joints for street food in Barbados will have you salivating.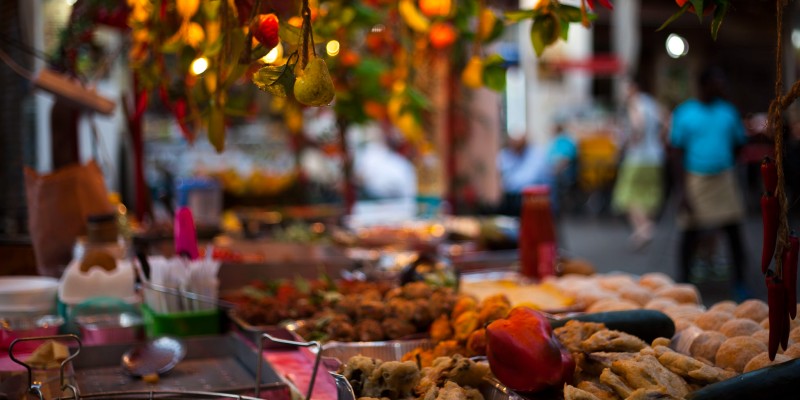 Barbados, famed for its beautiful beaches, dazzling resort and endless entertainment. But foodie-fans rejoice, because another reason for festival-style celebration is the secret Barbados Street Food offerings guaranteed to tantalise the tastebuds.
---
Where are the top 10 spots?
---

---
Street food to savour
We know more than anyone it's very tempting to stay behind the gates of luxury resorts, in the presence of delicious unlimited food and rum cocktails that flow on tap, BUT you'd be truly missing out if you didn't explore these Top 10 Street Food Spots in Barbados.
Brace yourself, here we list some of the most authentic and tantalising dishes in Barbados. Try everything from Legendary Fish Cakes, Breadfruit Bowls and Macaroni Pie…
Read on for more about the best street food in Barbados.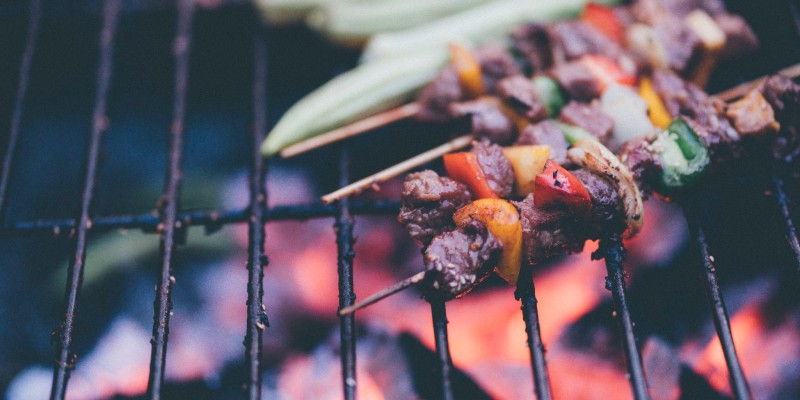 ---
1. Yelluh Meat
Breadfruit may be an up-and-coming staple in the diet of many a vegan, like the popular Jack Fruit. But Yelluh Meat are the true originators of the Breadfruit Bowl.
The speciality dish starts with charring the Breadfruit skin over hot coals. Its flesh is then mixed with ingredients of your liking and re-filled to create a pocketful of deliciousness. Enjoy a visit, and choose everything from pulled pork, fish, beef as well as fresh veggies, herbs, and sauces.
Where to find them:
Black Rock, St Michael, Barbados
---
2. Chefs Pow Kitchen
Connoisseurs in Seafood Boil, Chefs Pow Kitchen Barbados specialise in bringing the flavour and quality ingredients to your palate.
You can't get much better than Barbadian Sea Food anyway, but with everything from Lobster Boil to Calamari Basket's on offer, this place is another one of the reasons why we love Bridgetown.
Where to find them:
Bridgetown, Barbados
---
3. Fire Brick Oven Barbados
Italian fare in Barbados? Surely Not? Surely YES!
We all know the feeling, walking around in a place unknown, exploring away from your hotel. The air is hot, with a fresh smell of tropics and sea in the air… Bliss. Then your stomach calls, reminding you there is no better way to end the night than taking a freshly cooked pizza back to you room.
Believe us – we have ALL been there. Fire Brick Oven Barbados will fulfil that need through their wood-oven cooked pizzas and creamy pasta dishes aplenty.
Where to find them:
Warrens, St Michael, Barbados
---
4. Bearded Hogs BBQ
There's two words in this world guaranteed to get the taste buds going: Barbeque Food. Marry that with the scorching heat of Barbados and you're transported to a state of pure bliss.
Bearded Hogs BBQ's speciality is simple, quality meat smoked to perfection. Whether you want to chow into some smoky BBQ ribs, or indulge in pulled pork slathered over fries – you want it, get it.
Where to find them:
Charnocks, Barbados
---
5. Hot Legendary Fish Cakes
As urban Barbados eateries go, Hot Legendary Fishcakes lives by it's name. This hidden gem is a must-visit for avid street-foodies. As with most of the best street food spots in Barbados, simplicity is key.
Here you'll find spherical fish cakes with a crunchy outer shell, soft and fluffy middle with a spicy kick, deep fried fresh to order.
Accompany them with hot sauce or ketchup for a delicious treat. And at just 0.75 cents a piece you absolutely can't say no.
Where to find them:
Bridgetown, Barbados
---
6. Oistins Fish Fry Friday
We absolutely cannot do a Barbados street food round-up without mentioning one of the best things to do in Oistins, the Fish Fry Friday. The go-to for any Barbados traveller (and trust us- we've been-and we have the video below to prove it).
At the end every week the market place comes alive with the sound of reggae beats and aromas of sizzling BBQ. Suggestions of curried goat, chargrilled chicken and fish flow through the air. And, of course, rum is offered in abundance.
Here the environment is just as enticing as the food as you mix with locals and dance the night away. Go here for a truly unmissable experience.
Where to find them:
Oistins, Barbados
---
7. Cuz Fish Stand
Going back off the beaten track, it's time to visit the local secret that is the Cuz Fish Stand.
The colourful shack ran by a gentleman by the name of Cuz, opened 52 years ago by his father. Ever since it's been selling the best cutters in the area.
Cutters are salt bread bun sandwiches filled with fish, eggs or cheese. Cuz's personality and age-old recipe are the ingredients for a perfect street food visit.
Where to find them:
Hilton Car Park, South Cost, Barbados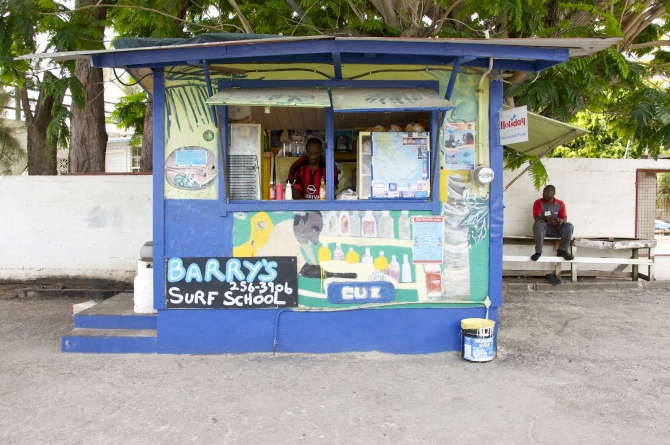 ---
8. Bay Tavern
Bay Tavern overlooks the gorgeous Martins Bay. It has a solid reputation for serving some of the best authentic food, with fresh lobster and fish being staples on the menu.
The atmosphere is vibrant, with music and a bar situated in this beach shack. You can dine in or choose to take your selection on a walk down the beach with some rum punch in hand.
Where to find them:
Martins Bay, St John, Barbados
---
9. Brown Sugar Barbados
Brown Sugar Barbados is known as the home of Bajan Cuisine. As one visitor described it on Trip Advisor:
Ask a Barbadian where you can find the very best in Barbados and Caribbean cuisine, and then answer is due to be Brown Sugar Restaurant.
While not technically street food, they have a takeout menu available so you can enjoy traditional Bajan flavours on a picturesque beach.
Tuck into everything from Bajan Rum Burgers or Blackened Mahi-Mahi. They are most famous.
Where to find them:
Aquatic Gap, St Michael, Barbados
---
10. John Moore Bar
This quaint beach shack is a hidden watering hole offering quality rum and fresh fish dishes.
If you want to have some fun with the locals, experience Sunday Night Karaoke, taste some local fish and enjoy a vibrant night alive with great conversation and picture-perfect views – John Moore Bar is the spot for you.
Where to find them:
Weston, St James, Barbados
---
Hungry yet?
If you're aching to hear more foodie titbits, but you're on the hunt for something more refined. Check out our Top 8 Places to Experience Afternoon Tea in Barbados.
Or how about having a butchers at our first hand experience of the incredible food and rum festival. A whole five-day party dedicated to great food and incredible rum. What could be better?
Find out how we fared there by clicking the button below.