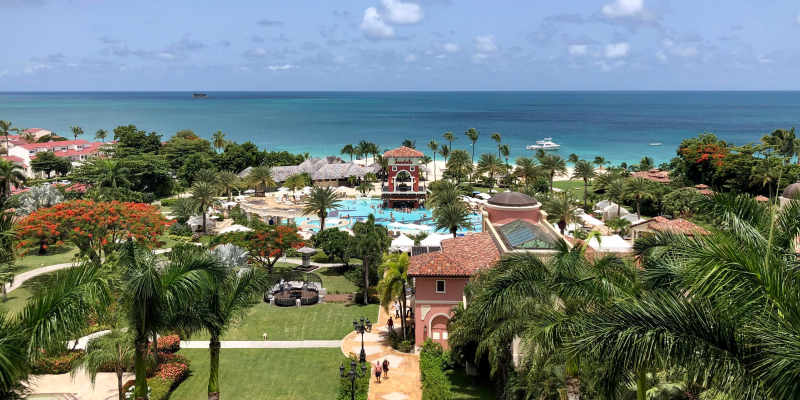 Our roving reporter Camilla makes the journey to answer the question: Is it safe to travel to Antigua?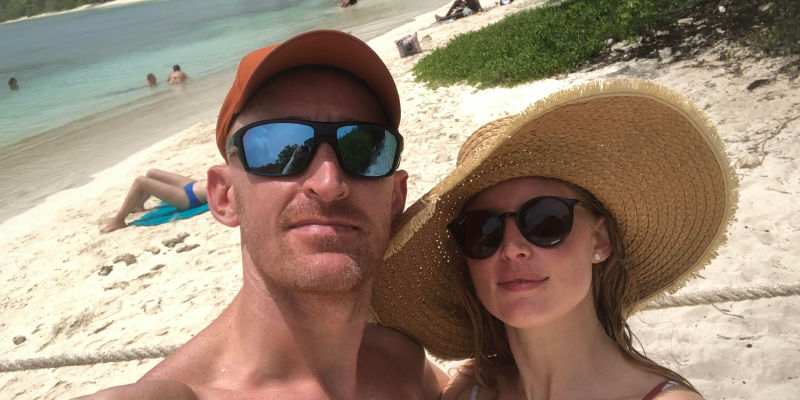 With the ever expanding Green List and an insatiable hunger to holiday, you may find yourself asking: is it safe to travel to Antigua?
After spending a week at Sandals Grande Antigua in late August 2021, with my partner, I'm here to tell you it absolutely is!
All you have to do is get the fundamentals out of the way, which is surprisingly easy and massively outweighed by the fun stuff!
In this blog we'll give you a rundown of our experience, guidance on travelling during COVID, and some top tips.
---
Before you go
Within seven days of our flight, we had a COVID-19 RT-PCR test. But having a week to get our testing done and negative results back really took the edge off.
Tip: You still need proof of a negative test even if you're vaccinated. Plus, the test has to be administered by a health professional, not taken at home.
---

---
Take Note of Test Times
Up until 30 September 2021, tourists aged 5 years or over must provide evidence of a negative COVID-19 test taken no more than 7 days (168 hours) before arrival in Antigua.
Whereas, from 1 October 2021, all tourists entering the country must be fully vaccinated and provide evidence of a negative PCR test taken no more than 4 days (96 hours) before arrival.
However, if you are not fully vaccinated, you will be unable to enter into Antigua from 1st October.
Check Antigua Travel Advice
We definitely recommend keeping an eye on the Antigua and Barbuda Travel Advisory in case anything changes. They also provide thorough detail on all aspects related to travel during the pandemic.
Tip: If you're flying with British Airways or American Airlines (amongst a few others), be sure to download the VeriFly app. This digital wellness application made travelling a breeze by streamlining the check-in and COVID documentation verification process at the airport before departure (and returning to the UK too!).
Book Your Day 2 Test
We did this before departing for Antigua so we had the confirmation reference handy for the Passenger Locator Form. The form needs to be completed and submitted any time in the 48 hours before you arrive back in the UK.
Tip: Blue Bay Travel are working with Randox to help with testing. Prices start from £39.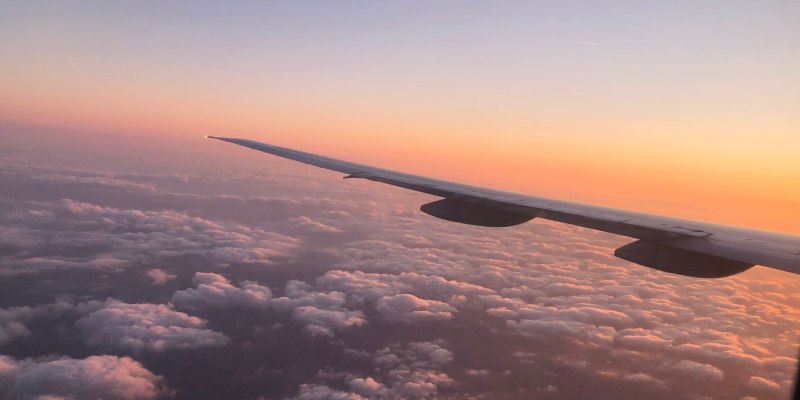 ---
Airport Arrival
Health Declaration Form
The form is provided in-flight, so be sure to bring a pen to fill it out before you land.
Face Masks
Wearing a face mask in public spaces is mandatory throughout Antigua and Barbuda and social/physical distancing protocols must be adhered to. So be sure to keep your mask on when you disembark from the plane, and keep it on until you get to your resort.
Tip: Pack a few extra masks in case you feel like taking a certified excursion or a trip into Saint John's. Don't worry if you forget, you can get some disposable masks from the Beach Shop at the resort.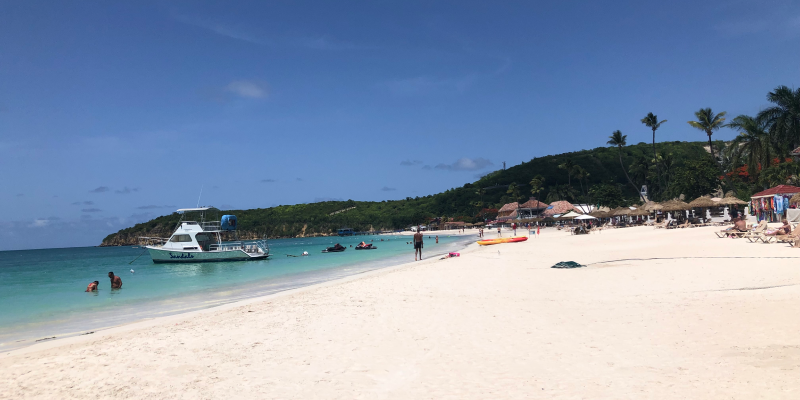 Health Screening
Once you arrive into Antigua and Barbuda, you will be subject to further health screening which includes temperature and travel history checks. Officials will also ensure your accommodation is on the approved list.
Sandals Grande Antigua is well known, so all we had to do was mention it by name. If you're fully vaccinated, they will either ask to see your vaccination card or your NHS Covid Pass.
Prepare yourself for a bit of a wait, the health screening process may take an hour or two. But once you're through, it's a quick stop to the baggage carousel before you're on your merry way to get transferred.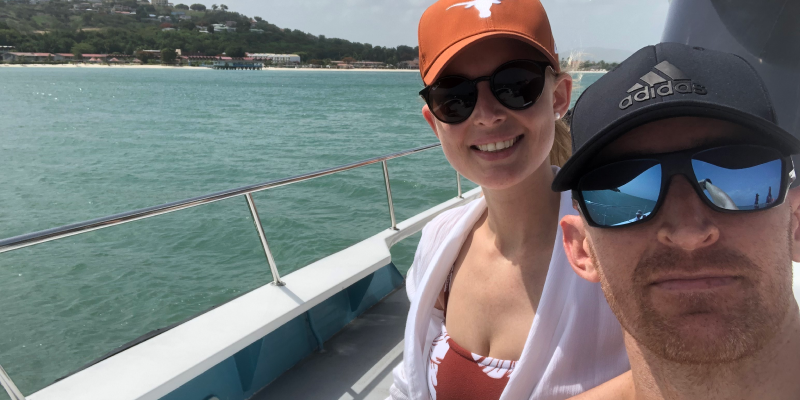 Tip: Bring an additional $100 in cash per person in case you're required to take a further test for coronavirus at the airport.
---
Exploring the resort
Transfer
As soon as we left the airport, we were immediately greeted by jovial shuttle staff who whisked up our bags and escorted us to the Sandals transfers' desk. While we were getting checked off the list, our bags were sanitized.
Before we could say Jack Robinson, we were in the transfer van with two other couples exchanging holiday stories. Our driver chipped in too, from the other side of a clear screen for everyone's safety. All guests require a negative test result before entering the country, so we felt very safe knowing that everyone in the transfer had been through this process too.
Arriving
After a short 15 minute transfer from V. C. Bird International Airport, we pulled up at Sandals Grande Antigua.
We felt like celebrities, greeted by a host of Sandals staff with twinkles in their eyes, trays of cool towelettes, and a Blue Lagoon welcome cocktail. While the staff wore masks, we were free to remove ours as soon as we entered the resort.
Masks are only required if you're not in an open space, such as the on-site shops and testing centre, or when you're transferring off-site. Leaving you free to enjoy the beach and resort as much as possible.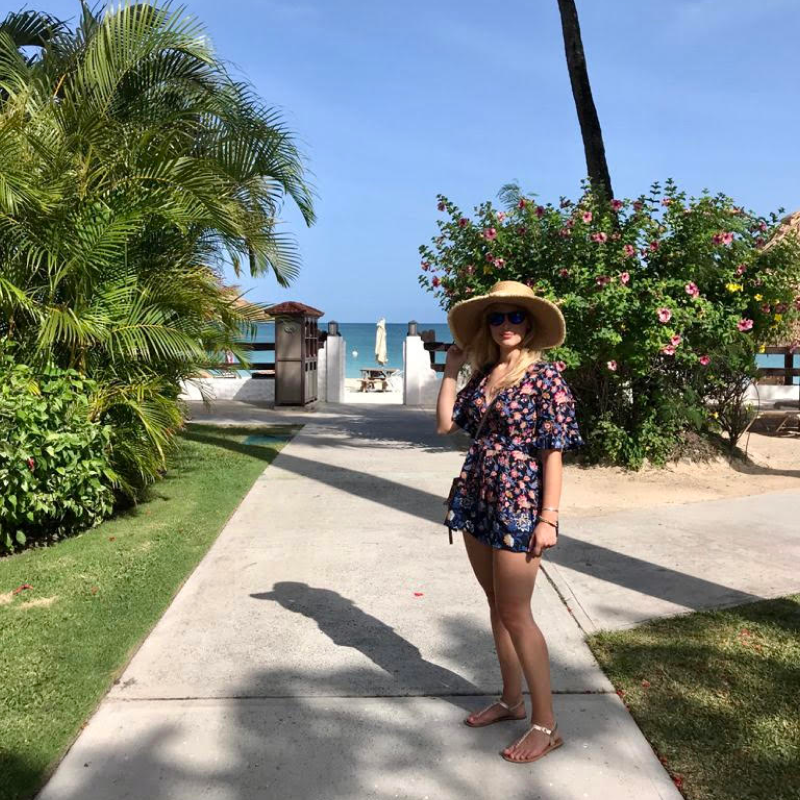 Tip: Upgrade to a butler room if you want to speed up check in and do so from the comfort of your suite. Almost as soon as you arrive, your butler will escort you directly to your room where your bags will already be waiting. CLICK HERE to find out more about the Sandals Club Levels.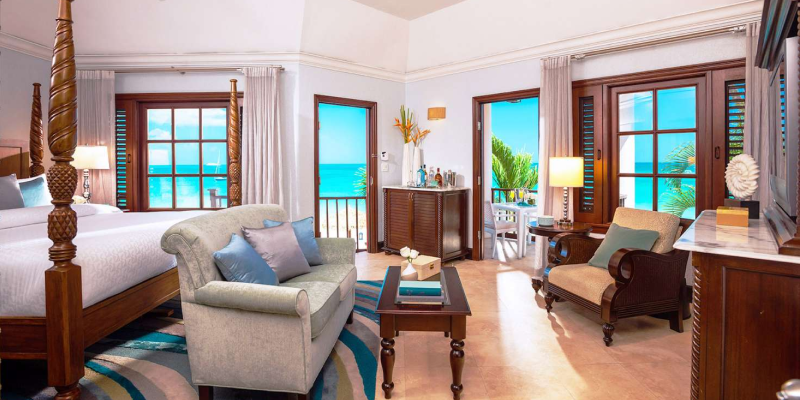 Cleanliness & Safety
All Sandals Resorts adhere to the Platinum Protocol of Cleanliness to guarantee the highest level of health and safety for guests. The resort was spotless which put our minds were at ease, allowing us to fully sit back and relax, which is all you want when holidaying in the Caribbean!
Re-entry COVID-19 test
These are complimentary and the process from start to finish couldn't have been simpler.
The day we arrived, we received a test registration form which we pre-filled before heading to the nurse's station to arrange our test date and time. Experienced staff ensured it was within 72 hours of our return flight home to the UK.
On the day of our test, we head back to the nurse's station and waited to be called through for the nasal test to be administered by a medical professional. We were in and out, and instructed to come back the same afternoon to get the printed results of our test.
Tip: When booking and attending your appointment, be sure to wear a mask.
Restaurants
In keeping with the cleanliness protocol, we were expected to hand sanitize before we were seated. Also, quite a few of the more popular restaurants required dinner reservations to allow for some measure of social distancing. So, don't forget to book these soon after you arrive.
If you have a butler, they will be able to arrange the reservations for you instead.
Tip: If you're after something particularly romantic, book a private candelight dinner, where you'll dine under the stars served by a personal waiter.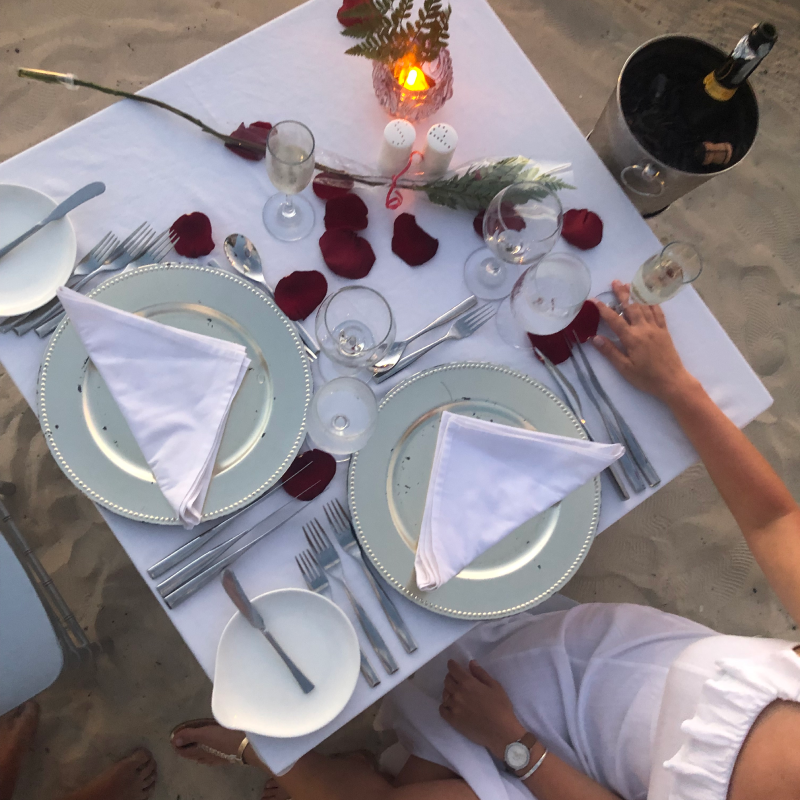 Excursions
There are some top excursions in Antigua. We booked ours through Island Routes who are affiliated with Sandals and conveniently have a desk at the resort.
We wanted to get out on the sea, so we booked a cruise the day before sailing and only had to wear masks as we boarded.
Thereafter, we were free to remove them and enjoy the outing.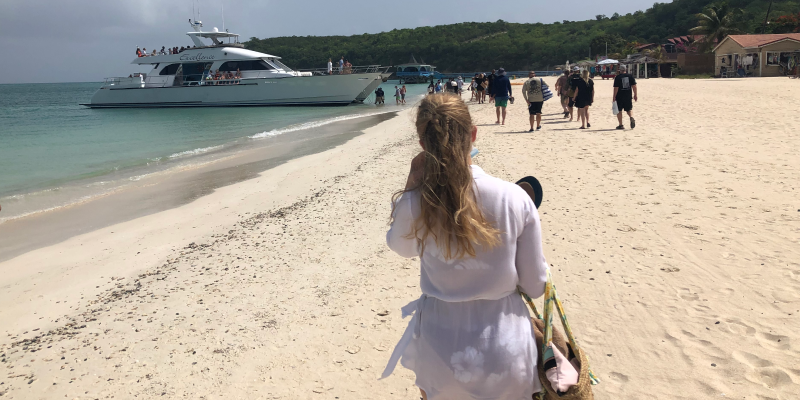 ---

---
In conclusion
From our experience, Antigua is safe to travel to.
The resort being at over 90% capacity during our stay is testament to that. Plus, by staying at Sandals Grande Antigua where everything was so well executed and taken care of, the pandemic was the last thing on our minds and we were able to truly enjoy an amazing holiday!
So, our general advice is to just keep it chill. Travelling to Antigua during the pandemic is way easier than portrayed by the media. As long as you have planned and booked the correct tests for the island protocols at the time of travel, you'll be golden.
What are you waiting for, it's time to get back on that horse and start travelling again!
We can make that journey back out there a little easier to organise by telling you about four top TripAdvisor resorts to check out in Antigua. Or, if you've heard enough, click the button below to get started on your super-safe Sandals quote now.