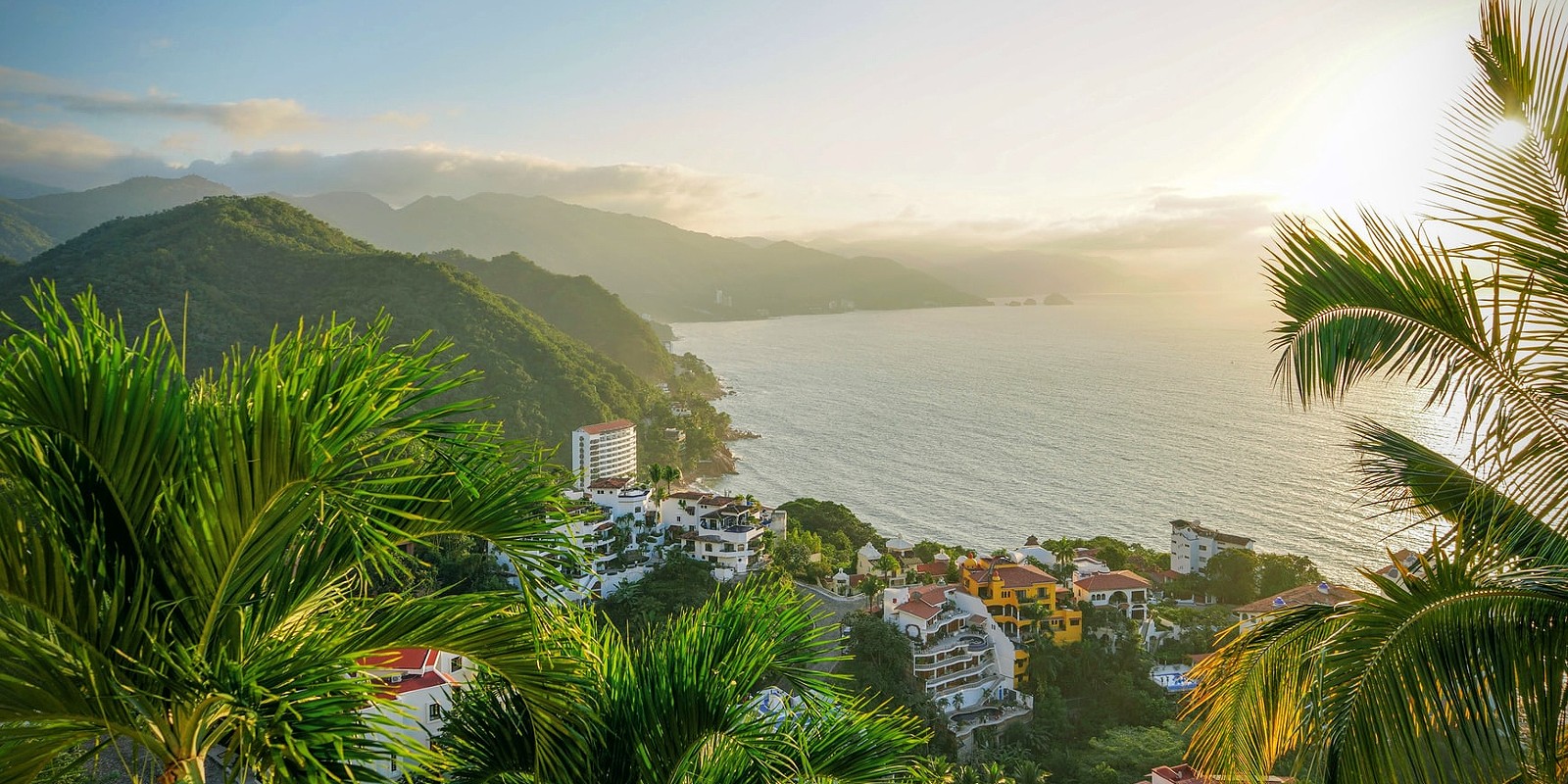 We'll take a deeper dive into all the best things to do in Puerto Vallarta. So you know where to go before you… go.
There are so many amazing things to do in Puerto Vallarta, it can be difficult to know where to start as a first-time visitor.
With this in mind, we wanted to cut through the bluster and tell you about a bunch of sights you need to see. While you may not be able to cram them all into one 7 night stay, it's definitely worth packing a few in, then maybe saving one or two for next time?
Through this blog we'll look at a number of things to do in Puerto Vallarta. But we'll also break them down and talk about what makes them so great.
But first, what are the best things to do in Puerto Vallarta?
---
Pick of the things
Malecón
Our Lady of Guadalupe Church
Zona Romántica
Food tours
Casa Kimberley
Mirador de la Cruz
Go on an Artwalk
Botanical gardens
Rhythms of the Night show
Marieta Islands
Drag shows
Visit Tequila
Explore the jungle
Los Arcos National Park
Chocolate
Beaches
Plaza de Armas
Marina Vallarta
Visit the "Magic Towns"
---
---
A brief introduction to Puerto Vallarta
Puerto Vallarta is a Mexican resort city on the country's eastern Pacific Ocean coast.
Split into four zones: the Hotel Zone, Downtown Zone, Romantic Zone and Marina Vallarta. It rests between the incredible Banderas Bay and verdant Sierra Madre Mountain Range. This unique topography ensures it packs a lot of holiday punch into it's coblled streets.
Vallarta (as it's also known) is renowned for its incredible coastline, mountainous backdrop, and vibrant city streets. Playing host to an intoxicating world of bars, restaurants, boutiques, architecture and artwork unlike anywhere else in the world.
A favourite with the LGBTQ+ community, Puerto Vallarta offers a plethora of interesting and exciting things to do. So, let's get into those 19 spots to see.
---
---
1. Malecón
The Malecón, or Boulevard, is the place to be in Puerto Vallarta to get a concentrated dose of what the area is all about.
Everywhere you look along the Malecón you're greeted by incredible sights. Stretching from the historic Hotel Rosita where Richard Burton and Elizabeth Hurley's romance blossomed in the 60s, down to the Cuale River.
But you don't have to stop there, carry on and you'll drop straight into the achingly beautiful Zona Romántica. Here incredible shops, bars, restaurants, and art galleries are plentiful. Time your jaunt right and you might catch a stunning sunset too.
We weren't joking when we said there's something to look at everywhere on the Malecón. The Pacific Ocean provides a majestic backdrop while the stunning antiquated brass statues which line the boulevard offer sparks of inspiration – make sure you stop by the most famous scupture "El niño sobre el caballito de mar" (the boy on the seahorse). Even looking at the floor will dazzle you, as kaleidoscopic Huichol artworks adorn the street.
---
2. Our Lady of Guadalupe Church
Inspired by the neoclassical style, the Church of Our Lady of Guadalupe errupts out of the red-tiled roof scenery to punctuate the Puerto Vallarta skyline.
Work on the imposing parish began in 1903. Since then it's become an icon of the city. In addition to being a local point of interest the church is also the location for the annual Our Lady Of Guadalupe Festival held on 12 December. A huge party with street perfomers and parades to celebrate the saint.
Take a wander along the boardwalk and you'll soon come to the town square, Plaza de Armas – more on that later, which sits just in front of the chapel.
---
3. Zona Romántica
Alongside being a central hub for the LGBTQ+ community, Zona Romántica also boasts a world of beautiful bohemian bars, restaurants and galleries.
Nestled in the city's historic old town area, the red-tile roof buildings project a quaint vintage market square vibe. Enjoy a bite to eat on a quiet cobblestone courtyard outside one of the super-trendy restaurants. Or explore one of the contemporary art galleries showcasing local talent.
However, while Zona Romántica may by quaint by day, it comes alive when the sun goes down. If you're looking for the best nightlife in Puerto Vallarta, you've found it. As well as boasting excellent nightlife and beautiful pueblo-style aesthetics, the romantic district also plays host to some of the best beaches in Puerto Vallarta.
---
4. Food tours
With so many incredible places to eat, just on the Malecón and Zona Romántica, it's pretty impossible to try every eatery in one trip, trust me we would if we could. However, you can wrap your tastebuds around this city's sumputous soul through a food tour.
Vallarta Eats offer the chance to discover real tastes of Vallarta through their selection of culinary excursions. Choose to find secret spots, eat like a local or indulge in some authentic sweet treats.
But if you to soak up the romantic atmosphere over a meal for two in Puerto Vallarta, then you need to check out Casa Kimberley and La Iguana.
---
5. Casa Kimberley
This is the actual house where Richard Burton and Elizabeth Taylor's romance started to bloom. Now a luxurious nine-suite boutique hotel, Burton arranged for Taylor to stay at Casa Kimberley, while the duo were filming Night Of The Iguana, as it lay across the street from his own casita.
The revered actor then built a stone bridge over to his lover's room, which still stands today, so he could visit her away from the prying flashbulbs of the paparazzi.
Nowadays Casa Kimberley has been loving returned to its former glory. As a luxurious nine-suite boutique hotel. Stay there and explore relics of the a-lister's relationship like the lozenge-shaped pool they swam in and the heart-shaped tub commissioned by Taylor.
But, circling back to that food theme for a second, if you do visit Casa Kimberley make sure you book in for a super-romantic meal at La Iguana. This sublime restaurant delivers the mouth-watering flavours of Mexican cuisine in an elevated setting. Soak up the a-list glamour as you savour the food and spectacular views out over the city.
---
6. Mirador de la Cruz
If you've treated yourselves to a meal at La Iguana or headed out on a decadent food tour one evening, then exploring Mirador de la Cruz is the perfect next day activity.
Mirador de la Cruz is an, almost, one-mile long walking trail which sits like a halo above the city. Culimating in a viewpoint which offers unrivalled vistas of the Pacific Ocean and Sierra Madre Mountains. The hike up to Mirador de la Cruz takes about 15-20 minutes. But, be warned, it's steep.
Journey up the steps and take in the most breathtaking views of the city you're ever likely to see.
---
7. Go on an Artwalk
Mirador de la Cruz does a perfect job of framing the natural beauty of Puerto Vallarta. But there are a plethora of manmade wonders in the city too.
Much the same as the food tours, Puerto Vallarta Artwalks are designed to allow you access to some of the best art in this crafty colosseum.
Every Wednesday night you have the opportunity to explore some of the best galleries in the city. Discover the finest paintings, ceramics, sculptures and jewellery created by the city's creative cohort.
---
8. Botanical Gardens
The Vallarta Botanical Gardens are a brilliant way to experience more natural beauty in the city. Take a wander through the incredible flora and be lost in a gallery of indigenous colours and aromas.
Don't miss the kaleidoscopic collection of orchids or the opportunity to visit jaguar country.
---
9. Rhythms Of The Night show
When covering the best things to do in Puerto Vallarta this night of entertainment was always going to pop up.
The Rhythms Of The Night show is a must-see. During the show you'll be treated to some Cirque du Soleil-esque dare-devilry. But if you get on a show day trip you'll also be treated to a cruise across the Bay of Banderas, plus a pre-show meal.
What could be better than dinner and a show?
---
---
10. Marieta Islands
A UNESCO Biosphere Reserve since 2008, the Marieta Islands or Islas Marietas lie just off Puerto Vallarta in the Bay of Banderas.
While the islands' main attraction is easily the hidden beach (we'll get to that in a moment) they do also benefit from a galaxy of wildlife. The array of animals, plantlife and ornathological wonders on display in the Islas Marietas National Park is extremely diverse.
Take a hike around the national park and discover rare natural sights like the blue-footed booby, the spiny-tailed iguana, the green iguana and the Red-billed tropicbird, plus many more. However, while all this wildlife is exciting, many people journey to the islands to discover the hidden beach.
---
Hidden beach
Also known as Lovers Beach, this tiny stretch of sand is visible from the air. The superb sandy cavern is a natural phenomenon fed by ocean water through a small tunnel to create a little cloistered beach inside the lush green island.
Needless to say, spaces on tours to the island are snapped up quick. So if you fancy adding a Hidden Beach day to your Puerto Vallarta itinerary then you'll need to act quick.
---
11. Drag shows
For some of the liveliest nights you'll have in Puerto Vallarta you need to head for the Romatic Zone and settle down for a drag show.
These super talented performers incorporate stunning musical numbers, comedy and incredible costumes into their dazzling acts. They're not to be missed!
---
12. Visit Tequila
We may be stretching the boundaries of things to do in Puerto Vallarta with this one, as the town of Tequila actually sits around 3.5 hours away from the city. But, that being said, it's still worth a visit.
To clarify straight away, the spirit was named after the place – before you start picturing a town full of Tequila shots and people who've been stripped of their tastebuds.
As you might expect, the main attraction in the town are the ditilleries. Home to the oldest tequila distilleries in the world, you can head off on a private Tequila tour and sample some of the good stuff yourself.
---
13. Explore the jungle
As we said at the beginning, while Puerto Vallarta boasts plenty of incredible beaches, it also offers moutainous scenery too. The Sierre Madre range spines the city and offers even more depth to the activities on offer.
An outdoor zipline adventure is one of the most popular things to do in Puerto Vallarta.
On this trip you'll rappel down a waterfall, hike through the jungle, ride exhilarating zip lines, and crash over undulating terrain on an ATV.
---
14. Los Arcos National Park
If your idea of a good excursion is paddling around in the wet stuff, then Los Arcos is perfect. Here you can explore one of the best diving and snorkelling spots in the area.
While you're off exploring the Malecón, if you gaze out over the ocean landscape you'll be able to see some granite arches errupting out of the water. These arches form part of the Los Arcos Marine Park, but that's not all you'll find here.
Swimming through the arches you're treated to a number of submarine sights including a colourful coral reef, eerie caves, and dark tunnels. Flitting around all these aquatic exhibitions are a host of mesmeric tropical fish.
---
15. Chocolate
When you think about chocolate in the Caribbean your thoughts probably turn towards destinations like Grenada. But you can get involved and learn more about cocoa production in Puerto Vallarta too.
At the Puerto Vallarta Chocolate Museum you follow the journey of the sweet confectionary from bean to bar on a number of tours. You can even have a go at creating your own treat.
---
16. Beaches
As we covered off in our guide to the best beaches in Puerto Vallarta, there are some incredible stretches of sand in the city.
From the bustling shores of Playa De Los Muertos to the serene seclusion of Playa Las Gemelas. You're sure to find the beach to match your mood here.
If you do think about heading to the former of those two beaches then catching a spectacular sunset at the end of Los Muertos Pier is a must.
---
17. Plaza de Armas
Sitting regally in front of the Church of Our Lady of Guadalupe, like the world's most attractive outdoor foyer, Plaza de Armas is the centre of the city.
A place where artists come to showcase their work, street performers ply their trade and many come to just watch the world go by. Plaza de Armas displays an old town atomsphere with its cobbled streets leading to the elegant bandstand focal point.
It's a beautiful place to just sit and rest a while and engage in that most British of pastimes, people watching.
---
18. Marina Vallarta
As with any marina in the modern world, the Vallarta Marina boasts a high-end vibe. Just minutes from the international airport, north of the main city, the marina is a brilliant day out.
Stroll along the waterfront boardwalk and choose from a range of restaurants offering delicious international fare. Each one offers a view of the yachts, boats and other charters bobbing in the marina.
Away from the restaurants, Vallarta Marina boasts a world of other activities. Bars, high-end boutiques and even an 18-hole championship golf course lie in wait.
---
19. Visit the "Magic Towns"
There are five so called Magic Towns near Puerto Vallarta: San Sebastian del Oeste, Talpa de Allende, Tequila, Sayulita and Mascota. But where does the name come from?
The Mexico Secretary of State dubbed these destinations as magic towns for their cultural charms. It is essentially a way for the nation to preserve it's rich heritage and dearest historic treasures.
---
Our resort pick in Puerto Vallarta
Puerto Vallarta is full of intersting, vibrant, and diverse areas, making it a perfect spot for a memorable couples escape.
But the perfect destination deserves the perfect resort, and we believe we've found it at Dreams Villamagna Nuevo Vallarta. This stunning TripAdvisor award-winning, hotel boasts a range of pleasures. Not to mention, it's pretty easy on the eye.
With a spa, fitness centre, golf course and plenty of eating and drinking options we think you'll agree there's nowhere better for exploring Vallarta. Click the button below to find out more about this awesome resort and why we think it's one of the best looking around.