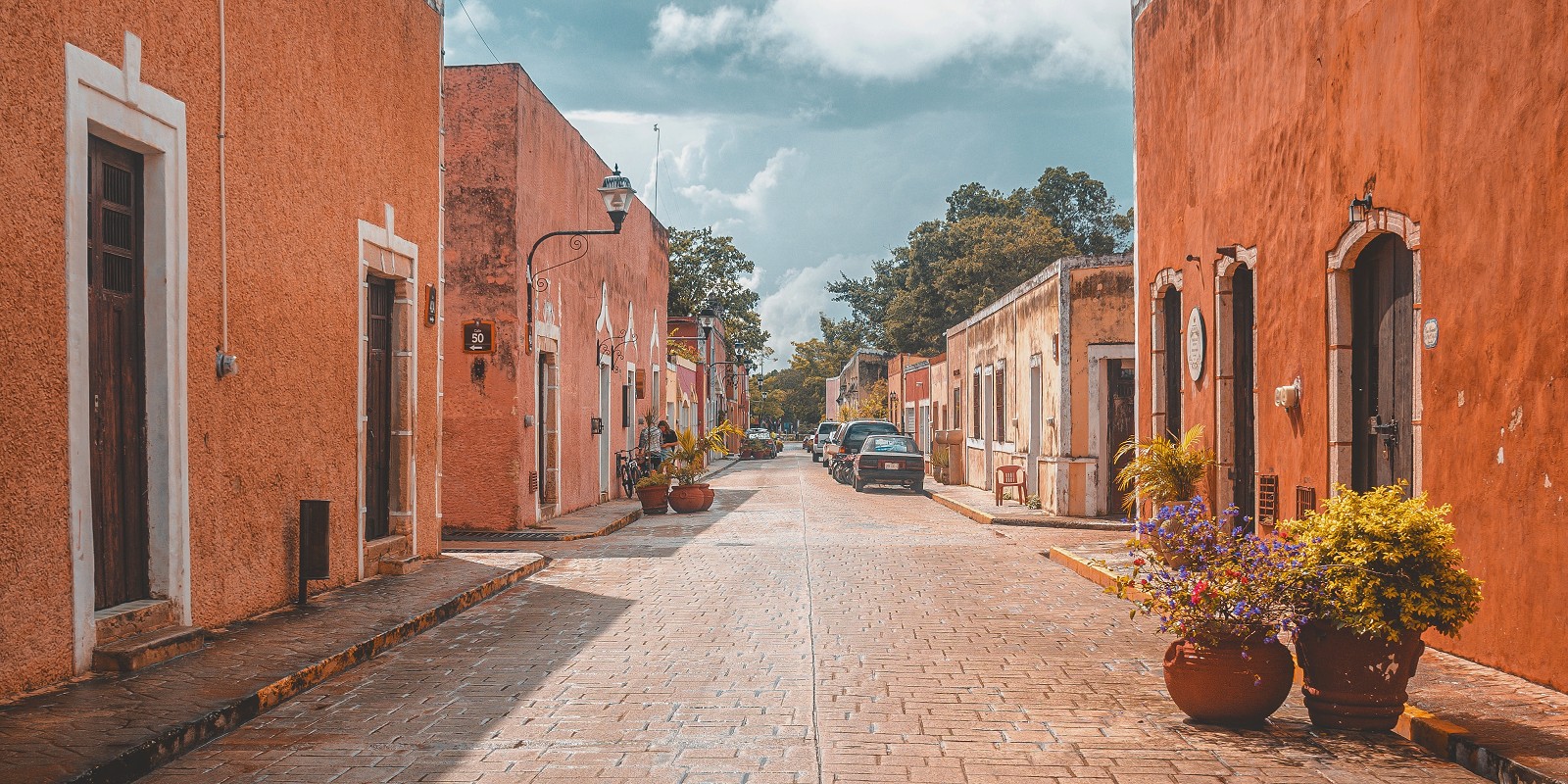 It's a beach less beauty but there's so much more to Valladolid Mexico than strips of white sand. Grab some culture and come join us.
If you've never heard of it before, we forgive you, it's not a well-known place. In fact, Valladolid Mexico is one of the country's best-kept tourism secrets.
But, in this blog, we'll take you on to the magnificent streets and show you all the reasons why it needs to be on your must-see list.
Forget about glistening beaches for a sec. We're talking sun-soaked cobbled streets, quaint technicolour colonial architecture, boutique bars, restaurants and Mayan culture in abundance. Sound good?
Let's get into it!
---
Where is Valladolid?
Before we talk too much about all the fantastic things you can see and do in this awesome town, we thought we'd better tell you where it is.
Located in the Yucatan Peninsula, just between Cancun and the state capital of Mérida, Valladolid is a place like no other. Chances are, if you've been on a resort tour to Chichen Itza from Cancun, you've probably passed through without knowing it.
An incredibly colourful town boasting a proud Mayan culture, it has flown relatively low on the Mexican tourism radar. But more and more people are starting to learn about the place.
With all these incredible reasons to visit, it's no wonder why!
---
What Are the Reasons to Visit Valladolid Mexico?
Instagram-ability
Experience authenticity
Stunning cathedral
Convent of San Bernadino
Cenotes
Mercados
Bus routes
Ruins access
Rio Lagartos
Scooter adventures
Getting a snap at the sign
Cultural artwork
Mayan performance art
No beaches
Friendly locals
Uncover a hidden gem
---
---
1. The Most Instagrammable Town in Mexico
The first thing that hits you about visiting Valladolid Mexico is the incredible colours. This quaint town is bathed in eye-catching shades.
Streets like Calle de Los Frailes are perfect examples of the colourful and charming architecture. Along the cobbles of this calming pedestrianised street, you'll find lots of examples of stunning colonial architecture, boutique shops, restaurants and bars all waiting to dazzle your senses.
But, before you go in, you'll definitely want to grab a snap of the mismatch hues on the doors and masonry. It's basically a whole town dedicated to impressing your Instagram followers.
The video below beautifully showcases some of the amazing spots we're going to be talking about. But it also gives you a first-hand view of Calle de Los Frailes and the town's staggering good looks.
---
2. Best for Experiencing Authenticity
Away from inducing feelings of envy in your following, Valladolid is perfect for understanding more about everyday life in Mexico.
Because the bright lights of tourism haven't been completely trained on this sleepy town as yet, you can have a truly authentic experience here.
From the mouth-watering food stands to the charming bars, restaurants and artworks (we'll come on to all of those in a moment). It's the best living, breathing example of Mayan culture infusing with contemporary living.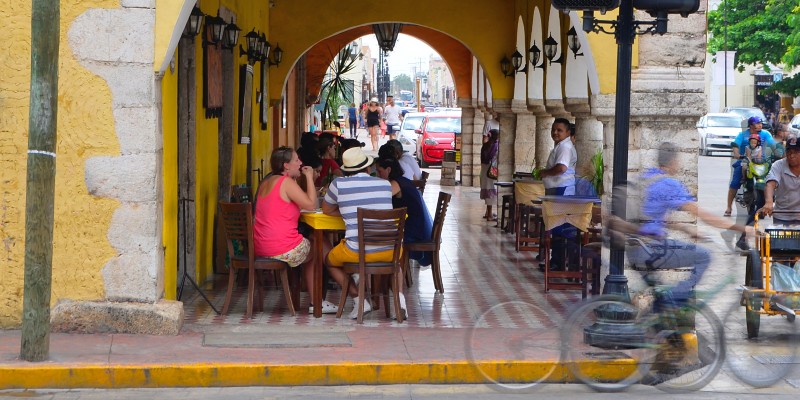 ---
3. Valladolid Cathedral
Also known as Iglesia de San Servicio or Cathedral San Gervasio, this stunning building dominates the skyline of Valladolid. Originally built by Spanish priest Priest Francisco Hernandez in 1545 on the site of an ancient Mayan pyramid. The aging site was restored in the early 1700s to the incredible church we see today.
Lit up at night it's an impressive sight no matter what time you visit. But, if you want to get the best view, you'd better take a wander inside (preferably when mass isn't being read) and take in the fabulous internal architecture.
---
4. Convent of San Bernadino
While we're talking about historical sites in Valladolid we need to talk about the incredible Convent of San Bernadino.
If, you're out taking the chance to tour Valladolid and you're strolling along that stunning Calzada de Los Frailes, carry on to the end and you'll be rewarded with a visit to this beautiful old convent and fort.
Like the cathedral, the convent was built back in the 1500s. You can take a walks around the grounds, tour the interior and head up to the bell tower for beautiful views of the plaza. Plus, if you visit at night from Tuesday-Sunday you can be treated to a spectacular video mapping show which tells the story of the building.
---
5. All the Cenotes
Cenotes are some of the best natural attractions in Mexico and, in Valladolid, you have a smorgasbord of choice when it comes to picking one to visit.
In fact, you could take a trip around many of the local pools by just hiring a bicycle. Located just a five-minute walk from the central town square, Cenote Zaci is by far the easiest one to explore.
The paved steps down to the crystal-clear waters make going for a swim super easy. Although, the daredevils among you might like to fling themselves off the diving platform instead. Whichever way you choose to enter the water though, make sure you take your camera for capturing the staggering natural beauty.
5 other cenotes to see in Valladolid Mexico
Ik Kil – perfect for a dip when visiting Chichen Itza
Suytun – this is the most instagrammable cenote
Agua Dulce – a closed-top cenote, meaning it's actually in a cave
Xcanche – the most eco-conscious cenote in Mexico
Oxman – meanwhile cenote oxman is a sacred underground swimming pool
---
6. Magical Mercados
You can't visit Valladolid without paying a visit to the incredible Municipal Mercado. Open every morning from 6am, this hub of activity is where the locals go shopping, chat and browse the wares.
Inside the bustling market you'll find beautifully fresh produce, cheap clothing and souvenirs.
You might also be able to wrap your tastebuds around some stunning street food. If you're looking for kaleidoscopic colour, it's best to explore the east side. With blooming flowers and mouth-watering ingredients lining the stands here.
---
7. Bus Routes Galore
Another great thing about this incredible town is that it's so easy to access. In fact, many people choose to base their Mexican adventure in Valladolid because of it's central location and accessibility.
The main bus stop lies in the centre of the town just minutes from the main square. From here you can catch regular ADO buses, pretty much, anywhere in the Yucatan Peninsula. The standard bus route to Chichen Itza passes through the town, so feel free to hop on and go exploring. On the other hand, you might like to venture out to see the best things to do in Cancun or Playa Mujeres.
This video from madventures showcases the bus stations and demonstrates just how easy it is to get into and out of Valladolid.
---
8. Easy Access to the Ruins
As we said, those amazing bus routes mean locations like Chichen Itza and Ek Balam are super accessible. Although, if you prefer to get away from the crowds and have your own experience of the ruins, then we'd recommend Ek Balam out of the two.
Ek Balam remains reasonably unknown to many tourists around the world. Dating back as far as 600AD, the site itself is still in wonderful condition with much of the original stonework and Mayan sculptures still in place.
Inside the Acropolis is a tomb for the ancient civilisation's first known king, Ukit Kan Le´t Tok, among other things. Check out the video below and climb the ancient pyramids with the Raising Voyagers family.
---
9. Rio Lagartos
But if ancient ruins aren't your bag, then how about a spot of nature? Another great reason to get Valladolid on your Mexico must-see list is Rio Lagartos.
Based an hour-and-a-half north of Valladolid, Rio Lagartos (or Alligator Lake) is a spot of renowned natural beauty. Holding the country's densest population of flamingos, if you time your visit right you can spy a smorgasbord of ornithological wonders… and the alligators, of course.
---
10. Exploring Via Scooter
While there are no car hire places in Valladolid, there is a scooter rental option. This is a great way to get around the area and visit some of the amazing sights we've listed so far.
With a scooter, you're free to explore in your own way, from darting up to Rio Lagartos to checking out Chichen Itza in your own time.
---
11. Get a Snap at The Sign
Another one of the classic Valladolid things to do is getting your picture taken with the town sign.
As with many locations in Mexico, Valladolid has its own colourful sign. It's perfect for stopping the scrollers on the 'gram.
Let people know you've found a hidden gem.
---
12. Enchanting Artwork
From one form of colourful art to another. As we mentioned at the start of this blog, Valladolid is a great example of how Mayan culture has been infused with contemporary life. At Casa de Los Venados that culture bursts into vibrant life.
Not so much a museum of fine art as a big house filled with thousands of examples of stunning Mexican folk art. The building was a traditional hacienda before being turned into a wonderful home and museum by owners John and Dorianne.
---
13. Nightly Mayan Cultural Performances
If you want to extend that Mayan experience and head for complete immersion, then you'll want to make your way to the picturesque main square at about 5:30pm.
Around this time, every evening, traditional Mayan dancers put on a suitably colourful show for the town. Take in the dancing and give them a tip (if you want to) but we're sure you'll be surprised by the performance.
---
14. Not a Beach in Sight
Granted, this might not be a good reason to go for everyone, but Valladolid Mexico could be seen as an escape into culture rather than beaches.
While there aren't many stretches of gorgeous sand too close by, you're still in a super central location.
For example, all the incredible beaches of Cancun and Playa Del Carmen are around one-and-a-half to two hours away. But so too are the best things to do in Tulum. Many visitors to Valladolid choose to get a bus on to experience Tulum.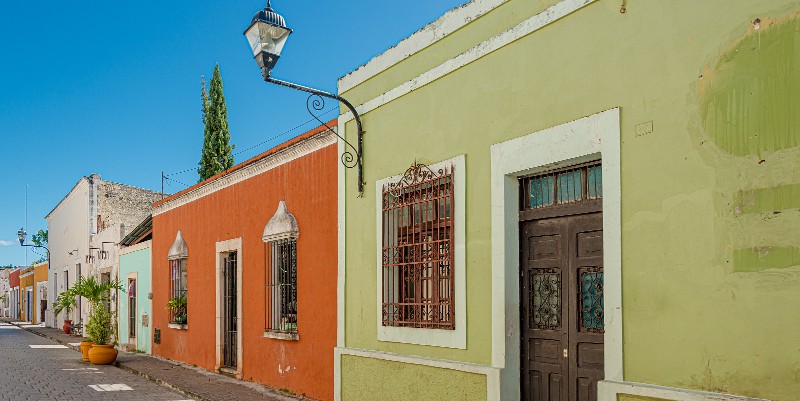 ---
15. Super Friendly Locals
A great reason to visit Valladolid is the people. They are some of the warmest around and they love to see you enjoying and snapping their town.
So, we've found that the best course of action is to just get involved! Try the local street food. Grab a coffee in a boutique café. Shop at the local markets and, most of all, join them for a drink in a local bar or cantina. Dust off your Spanish and have a laugh.
You'll find plenty of places in Valladolid to chill out and shoot the breeze with the residents. If you're in the mood for some awesome street food, we recommend grabbing some Cochinita pibil, a delicious BBQ pork dish. And why not finish it off with a blob of ice cream from a local gelato parlour.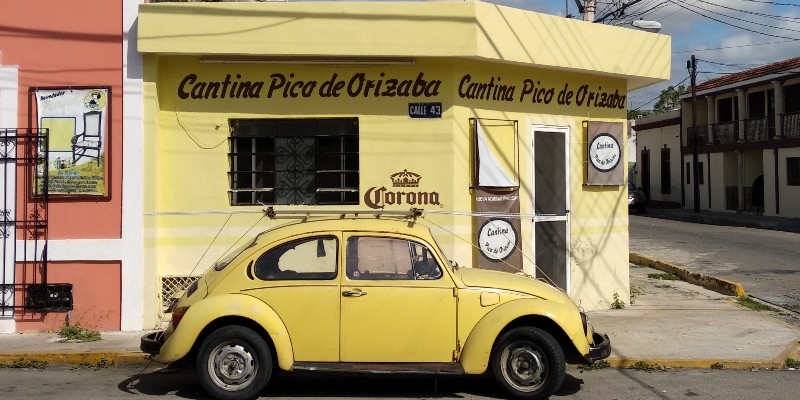 ---
16. It's a Hidden Gem
Despite all the incredible things to do in Valladolid, the ease of bus access and even the through route to hotspots like Chichen Itza, the town has managed to stay reasonably under the radar.
Remarkably, you can experience all the amazing activities and locations we've listed above with relative ease. The town is still relatively quiet, but some are beginning to be turned on to the virtues of Valladolid.
This avoidance of the bright glare of the tourism spotlight means the town still manages to retain its authenticity. Hence why the cathedral, Mayan cultures and wonderful markets are still on offer. We're just not sure how long it can keep dodging the limelight.
---
Where to Stay?
By now you're probably thinking; "Sounds great! Where do I stay?" And you have two options really. You can either choose to find a nice B&B in the town.
Or you can click the button below and we'll show you four awesome Cancun resorts located just a couple of hours by bus, of course, from vibrant Valladolid.