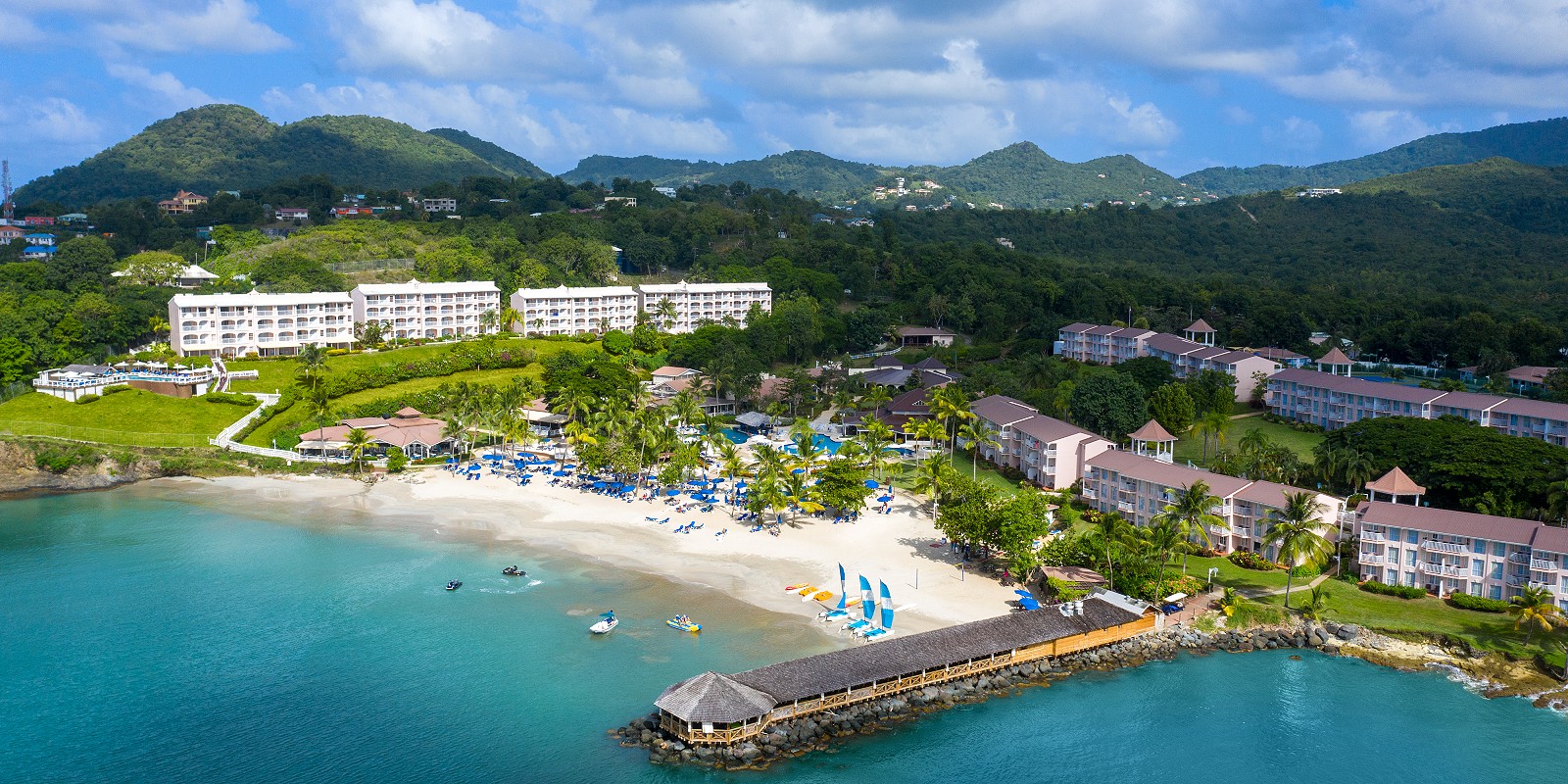 Prepare your best curtsy or bow, you're about to meet a saint! Allow us to bring you the stunning St. James's Club Morgan Bay. 
Make way for a 2022 TripAdvisor Traveller's Choice Award winner, St James's Club Morgan Bay in beautiful St Lucia. 
It's a resort that caters for couples and families without sacrifice. Creating stunning escapes in St. Lucia. Now we want to introduce it to you. 
In this blog, we'll take a look at the incredible St James's Club Morgan Bay Saint Lucia and tell you everything you need to know about it.
So, without further ado, let's get you two better acquainted.  
---

---
Getting to know you
With its 4 pools, 7 restaurants, 4 bars, fitness centre, kid's club and selection of water sports, it's easy to see why this place is so popular. But it's St James's Club Morgan Bay's location as much as those other things which make it sooo good. 
Nestled serenely on St Lucia's dazzling northwest coast, the resort finds itself in a great locale. Pretty much slap bang in between Gros Islet and the capital Castries. 
So, you could spend a romantic couple of days in Castries. Or you might like to explore all the best things to do in Rodney Bay, in Gros Islet. But, for now, why don't we get back to the matter at hand? Let's take you to your room. 
---
What are the rooms like at St. James's Club Morgan Bay?
Each room in this four-star haven comes packed with Caribbean charm. The floor-to-ceiling windows welcome the sea breeze, while the bright and airy decor keeps the room feeling fresh.
Because St James's Club Morgan Bay finds itself settled on a hillside, you'll also be treated to some awesome views of the city, manicured gardens or shimmering coastline. 
But, with our latest upgrade offer, you only need to concern yourself with the latter of those options. As part of the promotion, you'll be bumped up to an incredible Beachfront Room and given $200 resort credit to boot. 
So, now you know where you're staying, how about we talk bars and restaurants?
---
How many bars and restaurants are there?
As we said at the beginning, St James's Club Morgan Bay benefits from 7 restaurants and 4 bars. So keeping your strength up shouldn't be hard to achieve. 
But the number of eateries isn't the story here, it's the sheer breadth of cuisine on offer. In that selection, you can travel the world from the dining room. 
Of course, there's the obligatory buffet restaurant which offers international favourites. But there's also venues delivering Asian Fusion, Caribbean, Italian, and BBQ flavours. Meanwhile, the array of bars ranges from swim-ups to beach shacks to elegant cocktail lounges. 
---
What about things to do?
If you can drag yourself away from all those dining and bar options, as well as the 4 resort pools, there's still plenty on offer around the site. 
A smorgasbord of activities across land and sea await. Stay entertained on dry land with beach volleyball, pilates, Thai Chi and tennis. Or take to the waves and start to really let your hair down. 
Motorised and non-motorised water sports are available. Although, there's also something to be said for keeping it simple. Grab your snorkel and take a dip into a blue realm made up of kaleidoscopic marine life. But, if you don't fancy slipping below the surface, then a good smooth kayak ride offers a beautifully unique perspective of the island.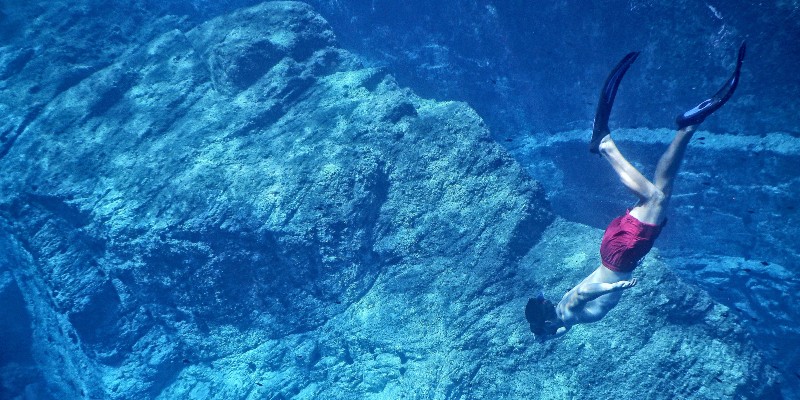 ---
One for the Kids?
The little ones haven't been forgotten at this resort either. In fact, there are two dedicated clubs to ensure explorers of all ages are able to have the time of their lives too. 
The Mini Club specially caters to kids aged 31 months up to 4-and-a-half years. With lots of playtime, crafts, and pool activities to keep them smiling. 
Meanwhile, the kids club covers off 4-and-a-half to 7-year-olds and there's also a separate program on offer for little ones up to age 12.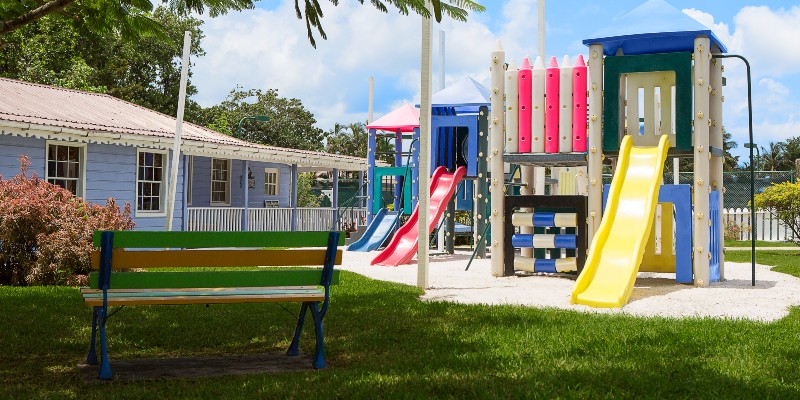 ---
Out and about
As we said at the start of this thing, St James's Club Morgan Bay couldn't be better located for getting to know St Lucia. The resort team knows this which is why they offer a selection of excursion options. 
Get out and see Castries and Rodney Bay on your own. Conversely, though, you could join a tour and go ziplining through the rainforest, discover the Grenadines or explore the waterfalls in St Lucia. 
The point is, you can do anything you like in this resort. From climbing the Pitons to chilling on the beach, it's your escape!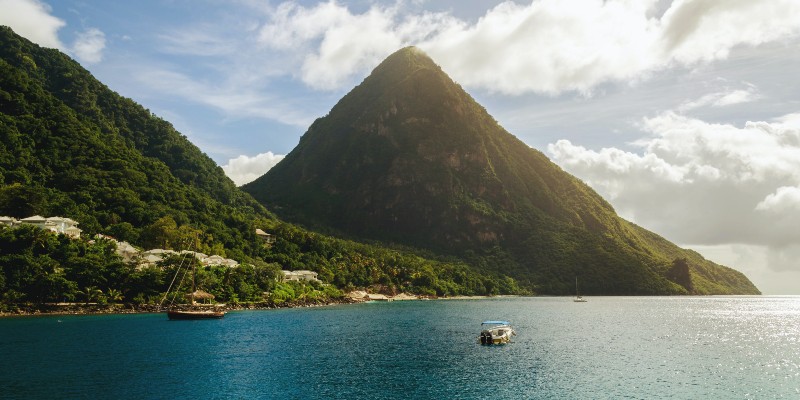 ---
Is there a spa?
When you're not out enjoying the local areas and other tours or spending some time around the pool, you could be kicking back in the spa. 
The Tranquillity Body & Soul Spa is a haven of relaxation, wellness, and indulgence. Set high in the hillside boasting awesome views out over the Caribbean Sea, the specialist spa team offer soothing therapies and rejuvenating routines. 
In addition, whether you choose a pampering massage or an energising beauty treatment the team only uses opulent Pevonia Botanics products. So your skin is in safe hands.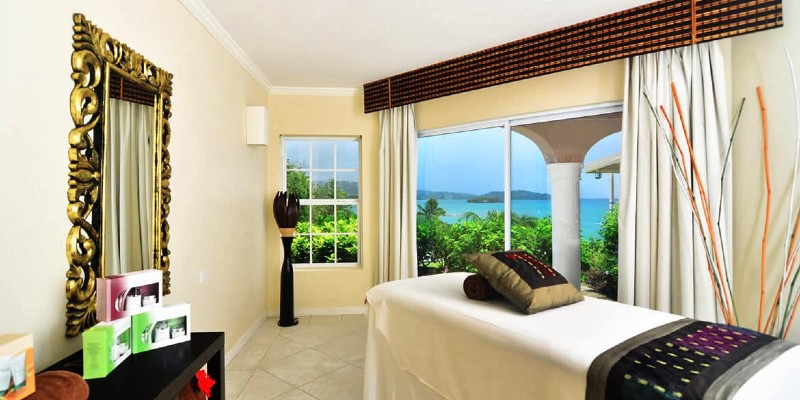 ---
Book online today
We can't think of many more reasons to get an incredible stay at St James's Club Morgan Bay on your horizon. And getting there couldn't be simpler. 
Just click the button below to start building your free online quote today. We'll see you on the sand.