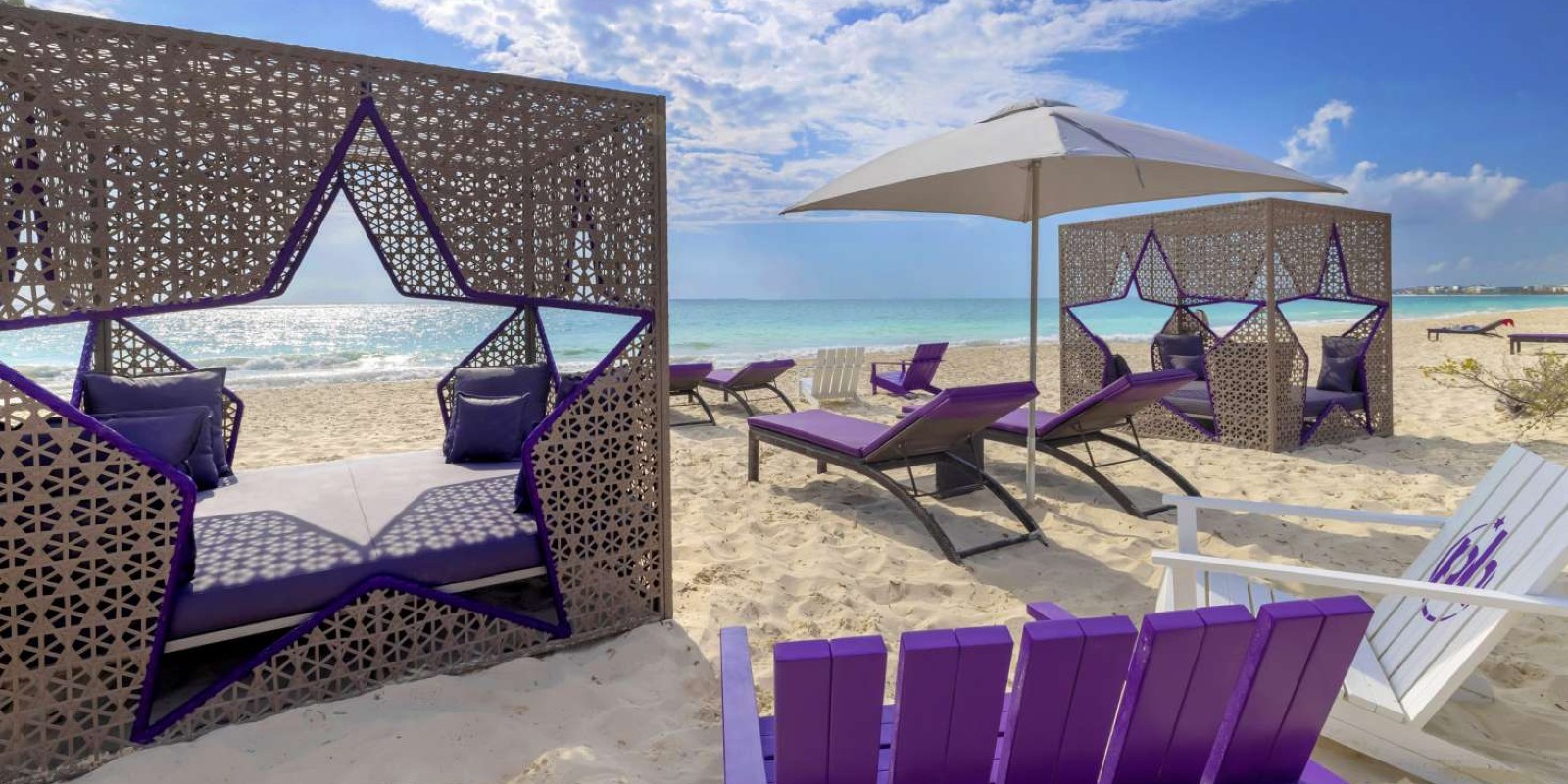 Out on the shimmering cosmos of white-sand beaches in southeast Mexico sits Planet Hollywood Beach Resort Cancún. And here's why it's rocking our world.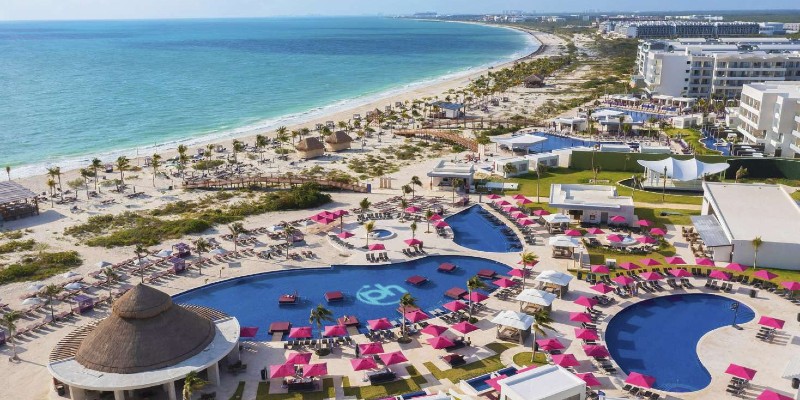 With 5 pools, 10 restaurants, and 11 bars, as well as a veritable Milky Way of activities, Planet Hollywood Beach Resort Cancún is star quality. 
There are many reasons why we love Cancún. But Planet Hollywood Cancún, the brand new, five-star, Autograph Collection All-Inclusive Resort, may have to be added to that list. 
But makes this place so out of this world?
---
All the reasons we're in love
Choice is king
Location, location, location
Watery fun
Upgraded accommodation
STAR Class
All the restaurants
Planet Spa
24-hour all-inclusive
Kid things
Planet Play
Interior design to die for
Cineworld
Outdoor theatre
Fitness fanatics welcome
Ethics
Wonderful weddings
---
1. Be Choosey
Author Catherine Pulsifer once said "Life presents many choices, the choices we make determine our future." And that's certainly true here.
Except the choices you make at Planet Hollywood determine how many marks over 9.0 out of 10 you give your Mexico break. Here every element of your break comes with a plethora of options, even down to which pool you take a dip in.
But with all those options can come confusion. So, in this blog, we'll introduce you to this new planet, do a reccy over the surface, and show you all the other reasons we love it so.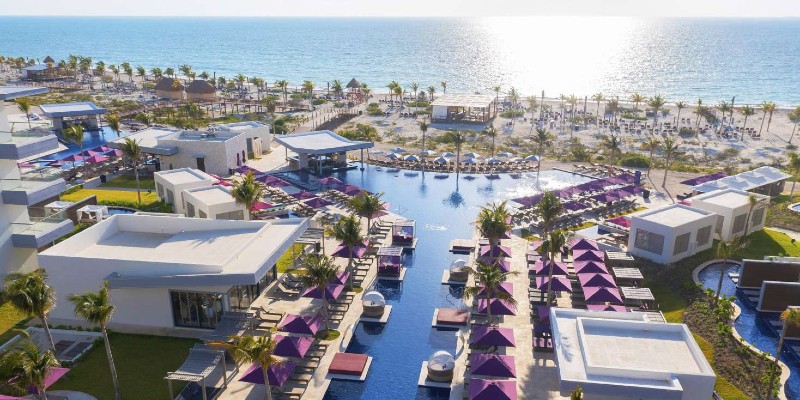 ---
2. The well placed planet 
Every planet in the solar system will tell you: location is key. Just look at Neptune, it's the furthest planet from the sun's heat, making it a windy, ice giant – terrible place for a break! But enough about ice and wind, we're more interested in sunshine and sand. 
While there might be a plethora of choice awaiting you at Planet Hollywood you wouldn't want to change a thing about the location.
The five-star resort is perched, elegantly, on a stunning stretch of powder white Caribbean sand in Costa Mujeres. With the plethora of bars available you can kick back on the warm sand and enjoy a cool glass of your favourite tipple while staring out to sea.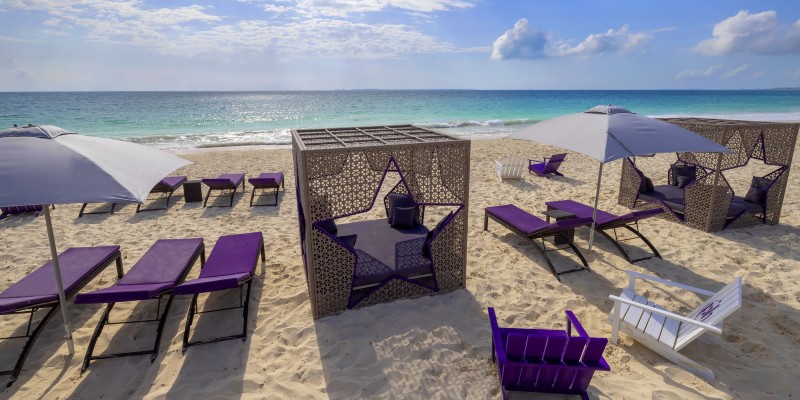 ---
3. The blue planet
While this resort may be settled on a stunning stretch of sand, it's the watery fun that really has us purring. You can slip into your bathing suit and find submarine silliness all over the place.
Jurassic Splash Park and Shipwreck Cove are perfect for the little ones. Two watery playgrounds filled with all sorts of aquatic antics to keep them busy for hours. But if all that splashing isn't for you, change the pace and take in a leisurely float along the lazy river.
On the other hand, if you're looking for something completely different, how about trying your hand at surfing? Now, the waves out on the balmy Caribbean Sea probably wont be gnarly enough to hang ten (or whatever surfers say). But in the Flowrider® area it doesn't matter how calm conditions are, you'll always be able to catch a wave. You might discover you're actually a world-class surfer!
---
4. Journey to the centre of the upgraded accommodation
All the accommodation at Planet Hollywood Beach Resort Cancún is aimed at allowing you to kick back like a star. But with the latest offer from Caribbean Warehouse, you can make sure you're living right.
Within the deal you're bumped up to an incredible Star Class Junior Suite. Each spacious suite offers a comfortable place to get your head down, as well as a spacious balcony to stare out over the immaculate resort gardens.
But, that's not all, you'll also gain access to all the extended privileges of Star Class membership. Read on to find out what that's all about.
---

---
5. Star Class
You have the option to upgrade any suite to Star Class and get a whole host of added benefits. Just don't let the fame go to your head.
Get even more choice than you would have normally at the resort. Select everything from your favoured room location through to what type of pillow you'd like to rest your weary head on. You can even pick what drinks you want gracing your minibar.
As an added bonus you're also allowed access to exclusive Star Class member areas like private bars and pools, including a hydrotherapy pool. Plus, you've now unlocked aromatherapy in the spa too.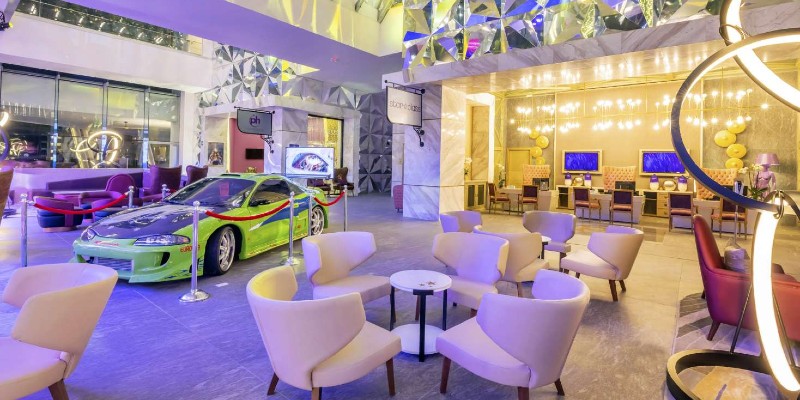 ---
6. Planet of the tastes
If you're one of those people who can never choose which restaurant you want to go to, then you may hate it here. We alluded to it earlier, but there really is an embarrassment of riches when it comes to dinner time at Planet Hollywood.
When we say every cuisine is covered, we absolutely mean it. Whether you fancy sumptuous pasta or fresh sushi there's something for every palate. The 10 resort restaurant themes include a steakhouse, Indian restaurant, sports bars, a burger joint and a Mexican cantina, plus so much more.
Moreover, if you've taken that Star Class upgrade you can also choose to satiate your appetite at the Star Class Bar & Grill.
Grab some fine meats from Brazza Grill

Try some Teppanyaki or stunning sushi in East

Treat yourself to delicious Italian fare at Gusto

Fancy a laid back dinner? You need Guys Burger Bar

The Sports Bar is the place to be for some friendly competition

Watch the world, and tide, go by at Surf's Up

Disco Studio Bar is the place for a late drink

Drop by Fuel for a refreshing coffee and maybe something sweet? You're on holiday after all.

Is there anywhere more perfect than the Blue Lagoon Bar?
---
7. Planet Spa 
Away from the beach and marine madness there is a little cove of tranquillity, just waiting to be discovered. Make sure you take the chance to check out PH Spa while you're sunning it up in Cancún.
Using high-end Eminence Organic Skin Care products, the trained spa team are happy to help when it comes to working out your stress.
In addition to the spa you might also want to check out the Beauty Bar, again utilising Eminence Organics'. Treat yourself to a celebrity-style beauty routine. You'll feel amazing after a massage and facial before heading out to another gorgeous dinner.  
---
8. 24-hour All-Inclusive
Come on… who doesn't love 24-hour all-inclusive?!
---
9. Junior Astronauts
A lot of what we've outlined so far has been about the adults enjoyment, but don't think that we've forgotten about the child stars. Because Planet Hollywood Beach Resort Cancún caters to little ones perfectly too!
In addition to the amazing watery fun we outlined earlier, little ones can also have a whale of a time at the Stars Kid's Club.
Not your everyday kid's club, Stars engages your little ones through a range of awesome activities, while simultaneously encouraging their personalities to the fore. With everything from movie nights under the stars through to singer-songwriter classes and scavenger hunts to a wardrobe room your kids can really let their hair down.
---
10. Planet Play
Not content with water parks and a dynamic kid's club, the good people at Planet Hollywood Beach Resort Cancún also give you Planet Play – which is like a small moon just off Planet Hollywood.
Once you've safely docked in Planet Play you'll find the trampoline zone, golf simulator, a basketball court, and an arcade. 
All this kid-friendly activity makes this resort one of the best all-inclusive resorts for families in Cancún.
---
11. Stellar design
For us, the décor is the unsung hero in this resort. You will notice the incredible restaurants, comfortable and spacious rooms, and enthralling activities. But all of that is built on a foundation of stunning interior design.
From the little touches like "Director" chairs your room, through to themed restaurants. You can see that time and effort has been poured into every detail. Not to mention they've probably spent a fortune on lighting!
---
12. Planet film
Now, we know catching a film might not be high-up on your list of holiday priorities especially with everything going on at Planet Hollywood. But it's not every day you come across a cinema in your hotel, right? Plus, sometimes it's nice to have a little time to yourselves, either as a couple or family.
The 76-seat resort cinema plays everything from family-faves through to classic films throughout the day. So, if you fancy catching a flick, you can do that too!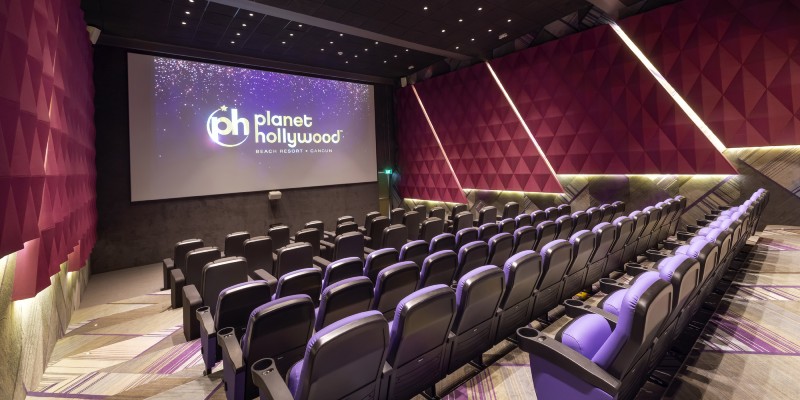 ---
13. Outdoor theatre
Drama at this resort isn't confined to the silver screen.
In the outdoor theatre area you can settle down each evening to a bumper show that will blow your mind. Forget what you know about resort entertainment because we guarantee you haven't seen anything like this.
---
14. Planet fit
With all those restaurants and bars, as well as the 24-hour all-inclusive offering, you might be happy to hear the gym is just as impressive as the other in-resort attractions.
As with everything in this resort, if you want to take your holiday fitness routine to the next level there's a plethora of choice. From morning and evening yoga to every HIIT class you can think of, you're free to stay completely in control of your workout. You might also like to test your mettle against the beachfront Spartan Obstacle Course.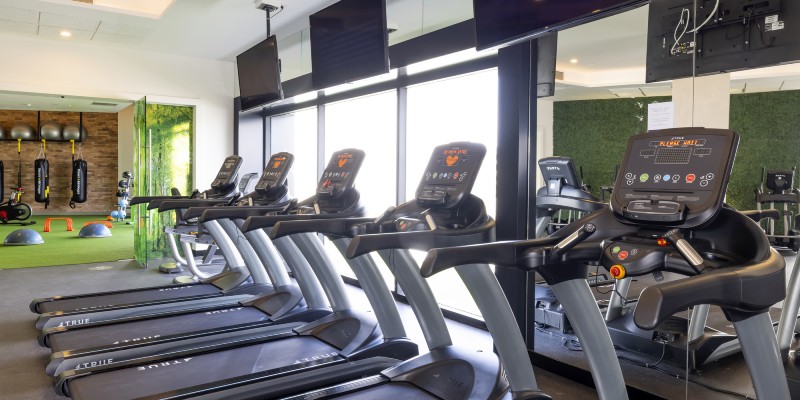 ---
15. Green planet
Looking after this planet is high on the agenda at Planet Hollywood. Through use of a wide-ranging conservation programme they're trying to hone in on reducing the amount waste they produce.
Another good touch comes from the restaurants. The resort works hard to ensure the overall lifecycle of their food is kinder to the environment and local community. Utilising local producers to fill up their menus means the food fresh and delicious, plus the Yucatan Peninsula farmers benefit too.
However, the resort are also keen to ensure the conservation efforts don't end at there. Any surplus food is also donated to charitable causes, right down to the peels which make their way back to the local livestock as feed.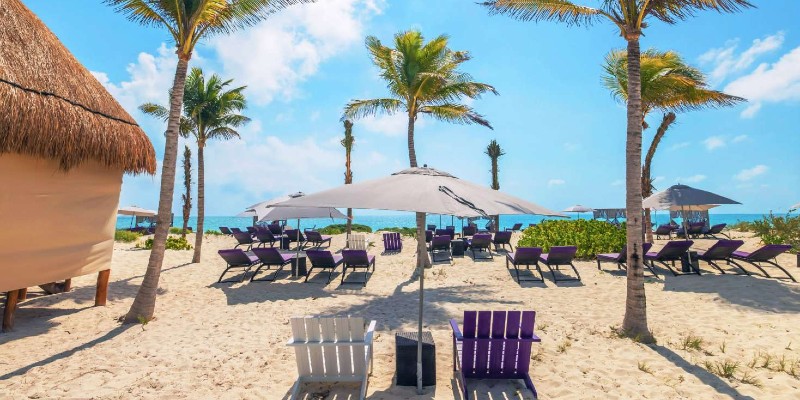 ---
16. Planet romance
You might be forgiven for thinking a destination with a Jurassic Splash Park isn't the most sentimental place for a wedding. But Planet Hollywood has a galaxy of romance just waiting to make your day super special.
With a smorgasbord of wedding packages and so many themes, destinations, and backdrops to choose from. Have a day all of your own creation.
Want casual glamour affair on the white sand beach with the turquoise ocean as the backdrop? You can have it. Want a day where you're married on sun-drenched roof terrace and celebrate with a bounce in the trampoline zone? You can do that too, but we'd recommend saving the cake for after the bouncing, yeah?
But if you want to keep your eye on the purse strings Planet Hollywood could also be perfect. Alongside all this choice, they're also another resort offering a free destination wedding package.  
---
Ready to go?
If hearing all about the abundance of choice available at Planet Hollywood Beach Resort Cancun has got you pining for a break, we can help. Just click the button below and start building your quote online now.
There really is something for everyone at this resort, so we're sure you've found something you love.