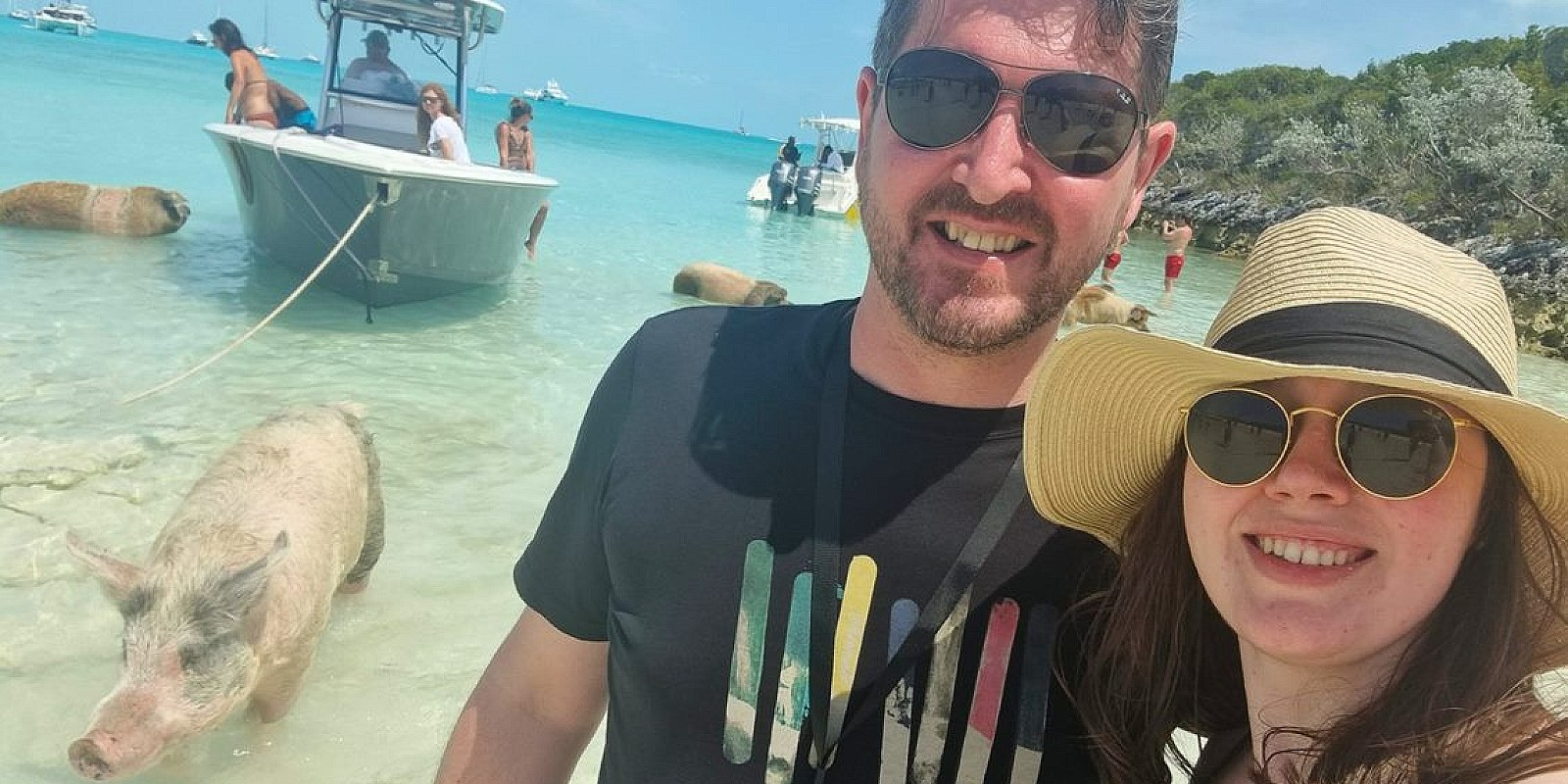 Find out what happened when Alice went swimming with the world-famous Bahamas pigs.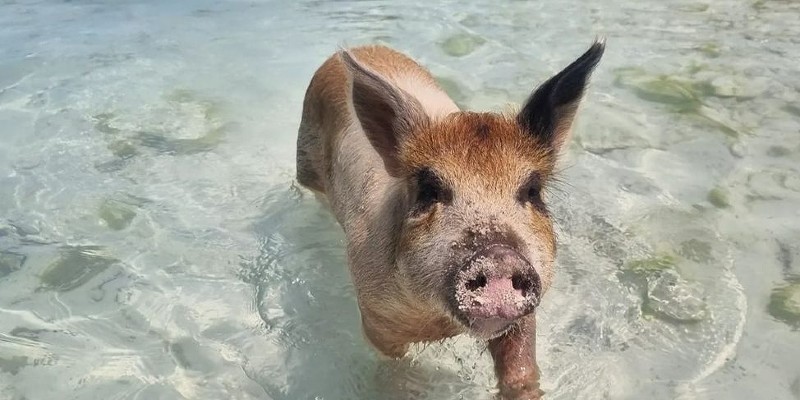 Celebrating your birthday swimming with the Bahamas pigs sounds pretty special, right?
Well, the big 3-0 was on the horizon for our travelling titan Alice, and there was only one place she was going to spend it.
In this blog, we'll hand over to Alice for a complete rundown of her celebratory stay at Sandals Royal Bahamian. As well as that awesome trip to see the aquatic oinkers.
---

---
How was the trip, Alice?
Oh, it was absolutely amazing! The hotel has just been refurbished in January, so everything was brand spanking new. We stayed on a new island recently built in Cupid's Cay in one of Sandals Royal Bahamian's Island Village Walkout Butler Hideaway Villa Suites with a Private Pool.
In the middle of the resort, they've built a new open-air hub called Coconut Grove. This is where all the nightly entertainment takes place. There are sofas and swing chairs in the sand, so you can enjoy a show in super-comfort. Plus, two covered campervans offer trendy tacos and coffee. Trust me, the coffee van does the best coffee at the resort. 
Another nice touch was that these campervans also sold crepes after the shows for anyone who fancied a walking home snack!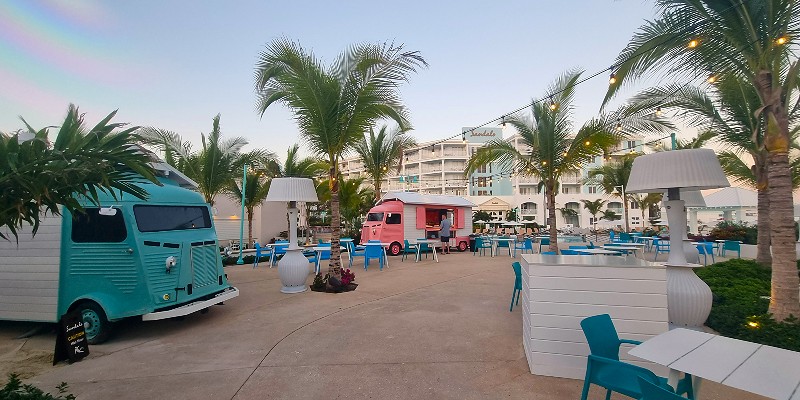 Aside from all those bits, there's also the incredible beach which just looks like a picture you'd see in a brochure. The white sand and water are immaculate.
I would say, out of all the Sandals Resorts I've been to (including our St Lucia trip), this one was my favourite.
---
So, what was the room like?
The room was brilliant. It didn't have the problem that most swim-up rooms face which is that they're usually in the shade. This one had maximum sun all day until about 7 or 8 pm.
So it was great if you'd been at the pool all day as you could go back to the room and still be able to enjoy the sun from the comfort of your own space. The outside area also had large sun loungers and the pool lights up in different colours at night, like a "disco pool".
Having said all that, we didn't spend lots of time in the room. But having the luxury of being able to retreat to that amazing exterior space was perfect.
---
What are the resort vibes like?
To get a decent snapshot of how broad the spectrum is at the resort you just need to look at the two pools. Both show that every type of traveller is well catered for her. 
So, the pool which is closer to the spa is a quieter area where you can just have a chill on your sun lounger and enjoy the ocean views. Alternatively, though, the pool on the other side of the central hub offers a bit more of a party atmosphere. There's music, activities and entertainment if you want it. 
You have the choice of creating the holiday that you want. Whether you want fancy a quiet stay, non-stop fun, or a mixture of both, you can have it. 
---
Taking an island-hopping tour to see the pigs
Seeing the pigs in the Bahamas for my birthday was so good, that I could cry. We did the pigs as part of a larger tour which took us to a couple of different places via boat. So I'll break the trip up into 6 parts:
Feeding iguanas
Swimming with the pigs
Lunch on Black Point Island
The sand bar
Swimming with sharks
Pablo Escobar's sunken plane wreck
---
The world-famous wild iguanas
We got our transfer from the resort to the speedboat and were taken on to Allen Cay which is home to Iguana Rock.
During the boat ride, you're given free drinks, as well as some fruit and veg to feed the iguanas. Then you get 20 minutes to feed and watch the animals.
But, I should say, these are uninhabited islands, so when you arrive you literally have to jump off the boat into the sea.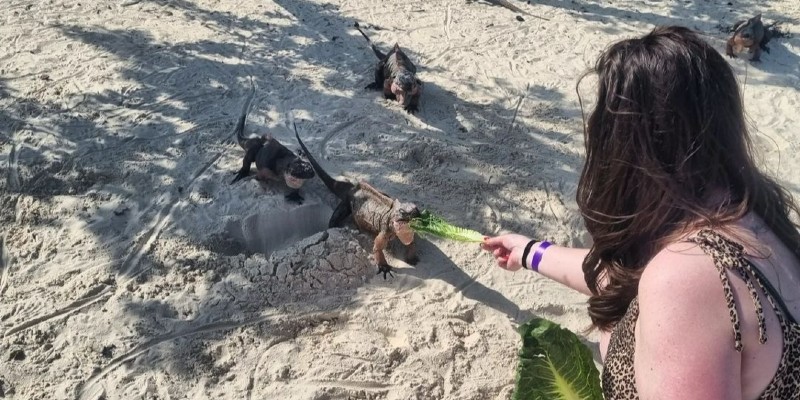 The pigs
From the iguanas, we continued on to Big Major Cay which is where the pigs are. There are other places in the Bahamas with pigs but this is the most famous spot.
The Bahamas pigs were so friendly, they're almost like dogs because they're so used to people coming and feeding them. If you tell them to sit they'll sit and you can feed them. Also, if you show them your empty hands they'll leave you alone. Some of them are gigantic too!
But, again, because it's an uninhabited island they swim up to you to be fed so it doesn't feel at all like a zoo or a forced interaction at all. They were just being pigs in the Bahamas and we were there with them, which was an amazing experience.
Because we were doing the island-hopping tour we only spent about 20-25 minutes with them. So, from there, we went on to a place called Compass Cay for some lunch.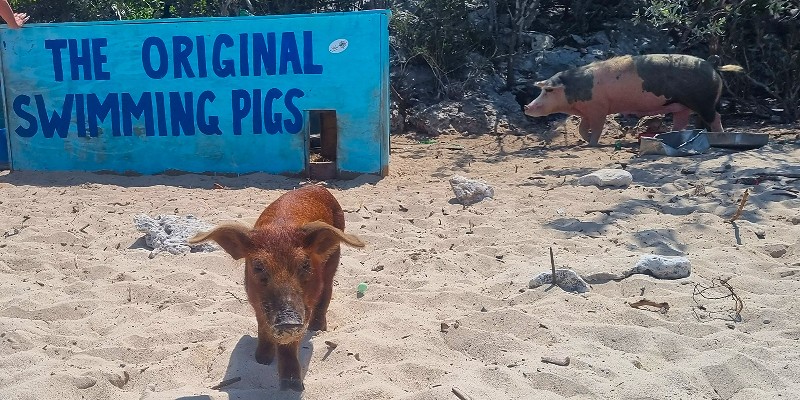 Lunch at Black Point
When you get Black Point island, you're booked into a local restaurant which serves up Bahamian food. When you sail up to it you can see sharks and stingrays swimming around.
But on the way, the tour guides were pointing out incredible things to us like dolphins swimming by the boat and local celeb spots. For example, we saw islands owned by Steven Spielberg and Johnny Depp. Plus, we also saw the place where Jay Z and Beyonce stay when they're in the area.
The sand bar
After lunch, we were taken to the sand bar which is a stretch of sand exposed by the sea at certain times. If the sea and sand at the resort looked good, this place was like heaven.
It's super quiet, perfect for lots of Instagram snaps. When they dock, you jump off straight into the azure water. We stayed for a while and had drinks served from the boat.
Swimming with sharks at Compass Cay
From the sand bar, we went on to swim with sharks in Compass Cay. Similar to the pigs and iguanas, the sharks are used to people so they come up to you and swim around.
If you don't bother them, they won't bother you.
Some people on the boat were a little apprehensive about jumping in the water with sharks. But it was completely safe and an incredible experience, there were even kids in the water, loving their lives.
Snorkelling over Pablo Escobar's sunken drug plane
The final stop on this incredible day trip was a snorkelling excursion over Pablo Escobar's sunken drug plane.
So the boat stops in Norman's Cay and you hop off with your snorkel gear – they provide the gear for you if you don't have your own.
When you're over the wreck you can see everything inside it. But, as with all wrecks, it's kind of gone on to become a makeshift reef so there's so much colourful marine life swimming around it too.
---
Would you recommend the tour?
Absolutely!
In the end, the whole tour ended up costing us around £360 per person which sounds expensive, but it's really not. When you break it down, you get all your drinks, lunch and transport included and about 4 bucket-list activities included. Plus, seeing the pigs alone can cost upwards of £200 – not to mention the other activities we did, so we actually got quite a lot for our money.
And, aside from all that, it made for the best birthday ever. I'll never forget it.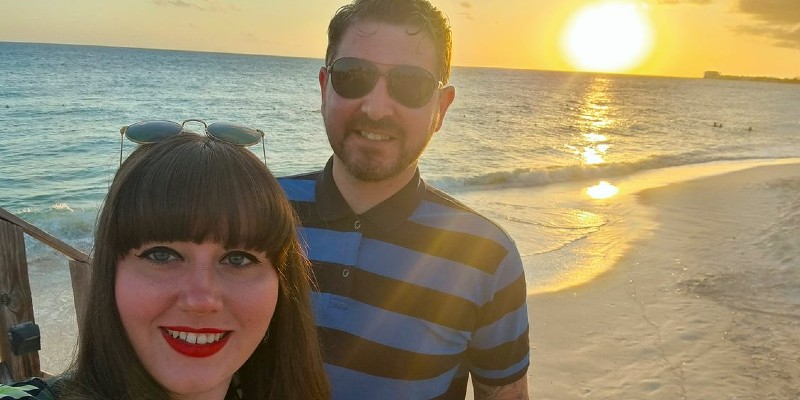 ---
Set up your special occasion
If you fancy celebrating in a similarly large style or you've just always wanted to go swimming with the Bahamas pigs, then this is the place to be.
Get yourself out there now. Just click the button below to start building your free online Sandals Bahamian quote today.